WEBINAR
How to use the Qualtrics Remote Work Pulse XM Solution
---
As part of Qualtrics' efforts to help organisations plan for the disruption caused by COVID19, Qualtrics has developed a FREE remote work pulse XM Solution, which includes a pre-build survey as well as a pre-configured report (both customisable) that can be sent daily or weekly available now to all companies worldwide.
It is vital during times of such disruption, to actively listen to employee needs, diagnose areas of improvement, and take action on critical gaps to ensure that the workforce has the required clarity and support to adapt to changing workplace experiences.
Please go to this link to set up an account and join us in this webinar as we demonstrate:
How to set the system up
How to customise the template
How to localise the surveys into local languages
How to report on the results
Featuring
---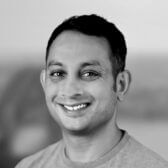 Dino Kumar
Senior Principal Sales Engineer - SEA, Qualtrics
Dino Kumar is a Senior Principal Sales Engineer for Qualtrics in Singapore, having spent the last 6+ years helping organisations in SEA & EMEA derive value from their CX & EX programmes through the use of combining technology and people together. Dino has worked with some of the largest organisations across the globe in key verticals such as Retail, Financial Services, Hospitality, Automotive & B2B. Dino was born in the UK and has been working in the Solution Consulting space for the past 12+ years, allowing him to bring best practices from key geographies to the table
Request a personalised demo today!
More than 16,000 brands and 99 of the top 100 business schools use Qualtrics
---