---
Nurses continue to be the unsung heroes of the healthcare industry. This would be a sad statement in a normal year – especially heading into National Nurses Week – but after everything nurses did for us during the pandemic, it is a true tragedy.
It may seem easy to blame COVID-19 for the current nursing shortages. And while it's true the pandemic heightened stress and burnout among nurses, the fact is the system was failing nurses long before the first surge of positive cases.
In this blog post we'll break down the factors affecting the nursing shortage and look at what healthcare organisations are doing to alleviate the situation.
How many nurses are needed?
The International Council of Nurses estimates there is a current global shortage of 5.9 million nurses, with the potential for the number to rise to 13 million by 2030. In the US alone, the Bureau of Labor Statistics expects to see nearly 200,000 vacancies for registered nurses each year as the industry faces mass resignation.
Why is there a nursing shortage?
The reasons for the nursing shortage are complex and multifaceted. In this post, we'll focus on 5 of the main factors affecting the nursing shortage:
Lack of nursing education resources for training new nurses
A record number of nurses getting ready to retire in the next decade
Burnout and stress related to the pandemic and general working conditions
Staff nurses transitioning to more lucrative travel nurse roles
Nurses feel their jobs are changing rapidly and often for the worse
Lack of educational resources
Potential nurses run into roadblocks before they even enter the workforce. Schools are citing a lack of qualified nurse faculty and budget constraints as primary reasons for turning away aspiring nurses. In 2019, US nursing schools turned away over 80,000 qualified applicants due to nurse faculty shortages and insufficient resources.
The American Nurses Association estimates that more registered nursing jobs will be available in 2022 than any other profession in the United States. At this point, nursing schools are not keeping pace to meet the demand. That problem will only worsen in upcoming years as the nursing shortages intensify.
Additionally, schools do not seem to be preparing nurses properly for entry into the workforce, with some estimates reporting that between 30-57% of nurses quit their jobs within their first two years of employment. New nurses often cite workload, scheduling, and lack of resources to meet their patients' needs as reasons for leaving.
High turnover rates among new registered nurses, combined with a lack of resources for prospective nursing school enrolment, lead to the current situation where there are not nearly enough nurses entering the workforce.
Record numbers of nurses getting ready to retire
The average age of a practicing nurse is 50 years old and it is estimated that nearly one-third of the workforce will reach retirement age in the next 10-15 years. Without a steady pipeline of new registered nurses to fill this gap, the industry expects to see a massive lack of nurses by 2030.
An additional aspect to note is that as each of the highly trained nurses retires, it will represent a loss of leadership in the industry. There will be a need for a new round of experts to step into these leading roles even as healthcare organisations deal with increasing challenges in the industry.
Burnout due to the pandemic and other factors
The pandemic undoubtedly exacerbated stress and burnout among nurses. However, it is important to remember that burnout was already prevalent before the onset of the pandemic. In 2020, before COVID-19 had been recognised in the US, studies found burnout affecting more than 60% of nurses.
Burnout among nurses has been a widespread problem for many years, resulting in immeasurable costs. As for costs that can be measured, burnout was estimated to cost the U.S. healthcare system $4.6 billion per year prior to the pandemic.
Burnout is a complex idea and one not easily measured. Organisations have begun to look deeper into their employee experience data to better understand the drivers of burnout and learn what they can do to improve their nurses' experiences.
The rise of travel nurses
As hospitals were overwhelmed with COVID-19 cases, they turned to travel nurses in record numbers to make ends meet. Regular full-time nurses, already struggling to deal with the increasing pressures of patient care during the pandemic, watched as travel nurses earned as much as 3.4 times more than them on average.
In some extreme cases, travel nurses earned more than $10,000 per week during the pandemic. With the average salary of registered nurses pre-pandemic at just under $80,000 per year, it is no wonder that many nurses switched to becoming travel nurses to take advantage of the massive pay discrepancy.
The problem is hospitals aren't regularly budgeted to pay premium rates for travel nurses. It has been estimated that hospitals paid $24 billion more for labor during the pandemic, a price they weren't prepared for even with pandemic funding from the government helping ease the cost.
As more nurses transition to traveling roles, the demand for regular full-time nurses increases. Hospitals don't have the budget for traveling nurses, but they also don't have access to enough full time nurses to fill the roles.
Nurses report the profession is changing rapidly and often for the worse
The healthcare industry is in the midst of massive disruption caused in large part by technological advances, the COVID-19 pandemic, growing demands upon providers, and an increase in health information among patients. Caught in the middle of these changes, nurses are having a hard time adjusting.
68% of nurses believe their jobs have changed considerably in the past 10 years, with many saying their jobs have gotten worse. Rather than staying and continuing to struggle with these changes, nurses are leaving their jobs in record numbers. Early turnover reached as high as 30% for the profession in the past year.
Additionally, physical and verbal assaults against nurses have reached epidemic proportions. Studies have shown that over 44% of nurses were physically assaulted in just the first three months of the pandemic in 2020. Nursing has always been a physically and emotionally demanding job, but when 20% of nurses reported an increase in workplace violence in 2020, it was clear there was a shift occurring for the worse.
And while nurses often make the commitment to their profession as a vocation to help patients, they are finding themselves unable to meet the standards they believe necessary to provide high-quality care. 41% of nurses report they don't have the time they need to spend with their patients, which in itself leads to a whole host of other problems regarding patient outcomes.
What healthcare organisations are doing to alleviate the nursing shortage
Healthcare systems have been working to solve the projected nursing shortage for many years. They have tried to adopt a more modern model of work by implementing programs like flexible work hours, childcare options, tuition reimbursement, and high sign-on bonuses to attract and keep talent. Unfortunately, these solutions have done little to mitigate the problem.
This workforce crisis exposed the need to strengthen and modernise employee listening and experience strategies. Traditionally, organisations have relied on engagement metrics, typically administered in an annual survey,  to gauge the health and loyalty of their workforce. Recently, however, the annual survey approach has been called into question.
There are some clear opportunities to strengthen healthcare employee experience programs:
Collect feedback more often. Once a year is not nearly enough given the nature of healthcare and the ever-changing environment in which nurses find themselves.
Track more than just engagement. Organisations have an opportunity to embrace a more modern model that tracks all levels of employee experience, from work-life balance to inclusion and more.
Implement a nurses' journey from hiring all the way to retirement. Gain a better understanding of the moments of friction throughout the journey and more accurately solve for them.
EX25 for Healthcare
Using the innovative EX25 framework, researchers have begun digging deeper into the drivers of the nurse experience to better understand and address their needs.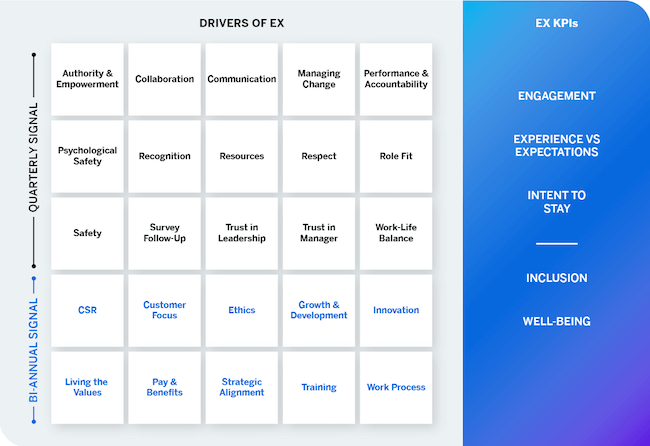 Leveraging the EX25 model as a modern model of caregiver experience, researchers conducted a study of over 5,000 healthcare nurses and physicians in an effort to better understand the key drivers that are most important to them. This study was conducted in November 2021, bringing current insights into the caregiver experience.
EX25 insights about nurses
Given the prevalence of burnout, researchers were eager to understand the key drivers leading to nurse burnout. The following themes emerged as key drivers for nurse burnout:
The ability to meet patient needs through the support of organisational processes
Confidence in senior leadership to make the right decisions for the organisation
The ability to manage one's job responsibilities in a way that enables healthy work/life balance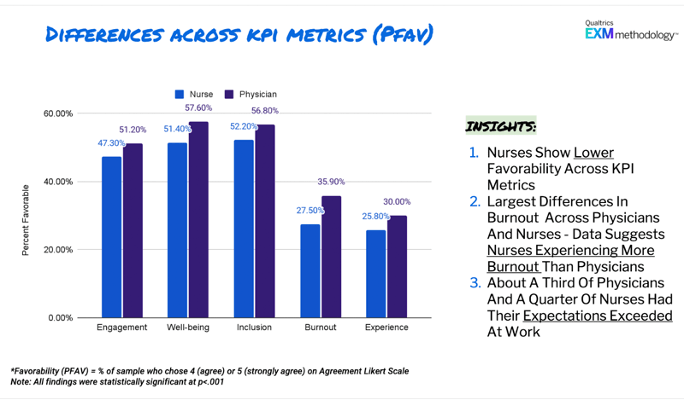 Another interesting outcome of the study was to learn the key drivers of nurse intention to stay. Given the great need to retain current nurses, these outcomes should be of particular interest to healthcare leaders. The top drivers were:
Support in adapting to change
Encouragement to find better ways of doing things through innovation
The belief that my manager cares for me
Some of the biggest opportunity areas were around fostering a culture of growth and innovation. Those themes presented strongly on many of the outcome measures, which makes sense given the working conditions over the last 2 years.
Healthcare went through a period of incredible stagnancy where the focus of each day was surviving rather than thriving. Leaders would be wise to consider amplifying their learning and development opportunities for nurses, and also to consider other aspects of growth such as personal growth, career ladders, and innovation hubs.
By looking at such specific drivers, organisations can be better informed about how to best provide for their nurses. For example, by seeing one of the key drivers of burnout is receiving meaningful recognition, the organisation could implement a robust reward and recognition program to recognise their top talent and create an environment better suited to deal with burnout.
Another example could be an organisation seeing that support for adapting to change is a top driver for intention to stay, and then working with their nurses to create programs to help them learn new technology as it is implemented in the practice.
Additionally, organisations can differentiate themselves among potential nurses by integrating further key learnings from provider feedback, such as the idea that modern employees are more likely than ever to look for employers whose values align with their own set of beliefs.
The first step to an action plan is listening
The current nursing shortage is a many-pronged problem affecting the profession at every level. Nursing schools aren't turning out enough new nurses, burnout is a major concern, and the aging population in the nursing workforce will see major retirement levels in the coming years. As the general population in the US continues to age and people are living longer with more access to medical care and more chronic health issues to manage, the challenges faced by healthcare organisations and nurses will continue to grow.
In the face of such a significant crisis, it is imperative for organisations to start working to improve the experiences of their current nurses and develop sustainable programs for new nurses entering the workforce.
Groups will want to take advantage of modern frameworks and analytics to better understand their workforce. Without pausing to listen, organisations will never be able to hear the voices of their employees.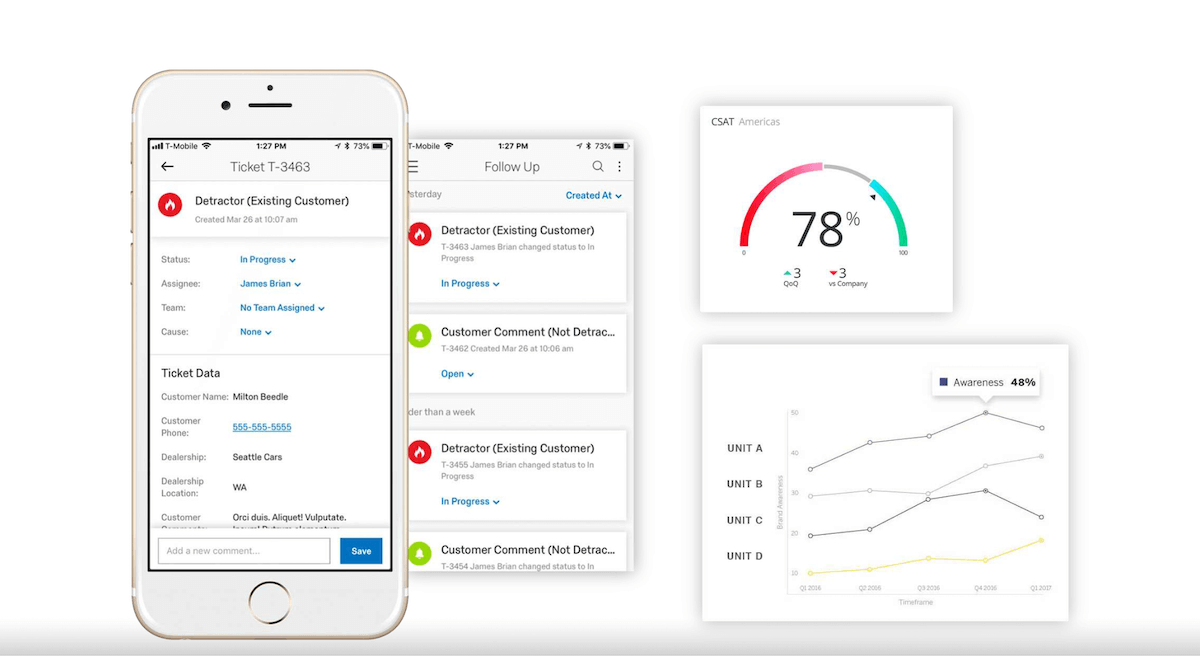 The Qualtrics EX25 for Healthcare framework is a starting point for organisations looking to improve their provider experience and work toward a more sustainable environment for their current providers. By giving nurses a voice about each aspect affecting their work, and giving organisations the tools to listen, we can achieve a new dynamic of better mutual understanding.
It is time to put an end to nurses being the unsung heroes of health care workers in the US. Instead, it is time to sing their praises, listen to their needs, and help the nursing workforce build the better future they deserve.
Want to see the Qualtrics Healthcare Patient Experience Management in practice?