3 Big Takeaways from X4 Day 1
The Salt Palace came alive today as over 7,000 professionals from around the world came together to learn how to drive the experience management industry forward.
We heard from keynote speakers like Qualtrics CEO, Ryan Smith; HuffPost Founder and ThriveGlobal CEO, Arianna Huffington; happiness researcher, Shawn Achor; mountain climber, Alex Honnold; and NYT Best-selling author, Angela Duckworth.
We learned about how personal health, happiness, grit, and mental-toughness contribute to a thriving company culture, and about how measuring and optimizing experiences helps to perpetuate the cycle of satisfied employees and customers.
If you missed any of it, here's a recap
Ryan Smith on X-Data
Ryan Smith kicked off the event introducing the idea of experience data, X-Data. While most of us already rely on operational data, we need to focus on X-data. Only by measuring feedback can we start to understand and predict why customers and employees choose us. And stay with us.
X-data is essential to close experience gaps.
80% of CEOs believe that they are providing an exceptional overall customer experience. But in reality, only 8% of consumers fee that way. #X4summit18 Introducing "The Experience Gap". @RyanQualtrics

— Gabe Villamizar (@gabevillamizar) March 7, 2018
@RyanQualtrics "Most companies are O-data rich but X-data poor"… spot on 🎯 #X4summit18 #CX #XM pic.twitter.com/yoShb4EWz8

— Luis Melo, CCXP (@luismelo78) March 7, 2018
"Don't need more data – need the RIGHT data." Talking about experience data – a.k.a "X-data" – @RyanQualtrics #X4summit18

— Annie Cutler Davis (@annie_c_davis) March 7, 2018
Arianna Huffington & Julie Larson-Green on creating better companies starting with better quality of life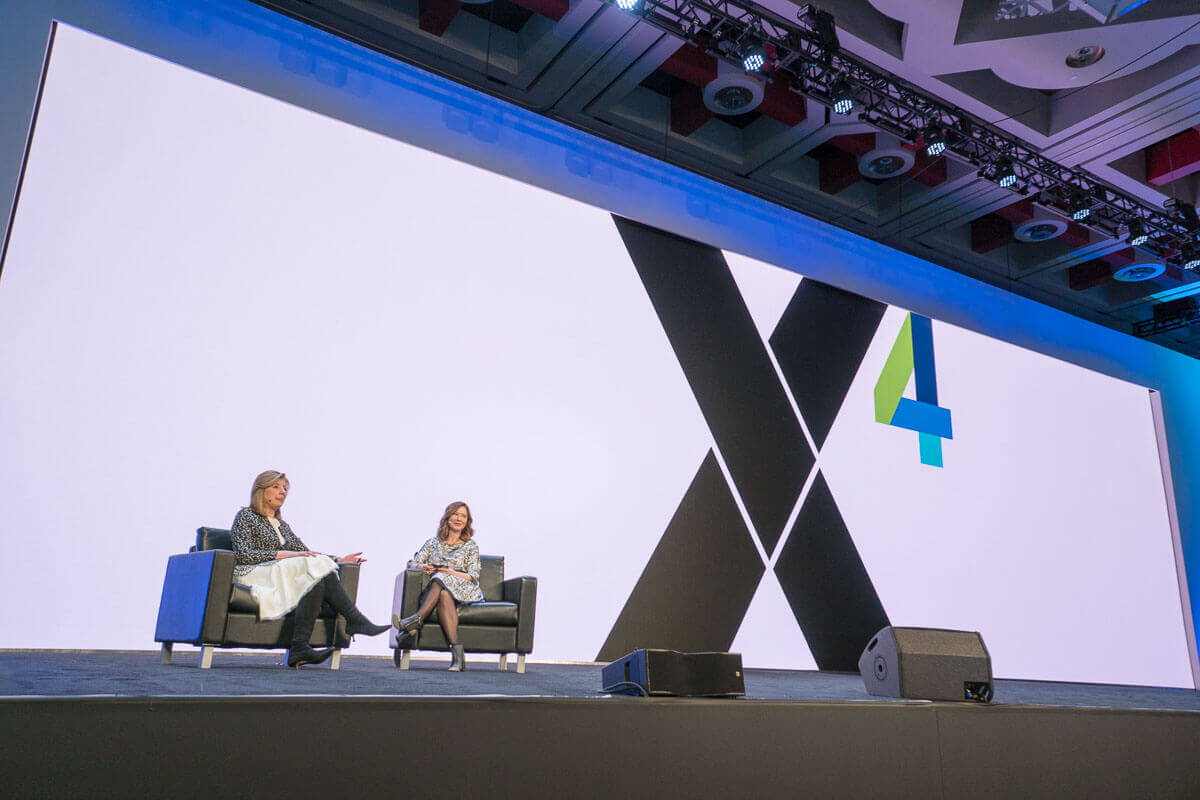 Arianna Huffington and Qualtrics Chief Experience Officer Julie Larson-Green discussed the importance of quality of life, and how creating a better mindset for yourself, can actually contribute to a better, and more effective company culture.
"Now companies are understanding that an employees well being directly impacts the bottom line." – @ariannahuff #WorkLifeBalance #X4summit18

— Kelley Whalen (@Kelley_Whalen) March 7, 2018
Companies are realizing the direct connection between employee well being and the bottom line @Julie_LGreen @ariannahuff #X4Summit18 pic.twitter.com/Mm4Nk3G1CV

— Gail Giacobbe (@ggiacobbe) March 7, 2018
Running on empty doesn't help anyone involved. Great insight about recharging from @ariannahuff at the @Qualtrics #X4summit18

— Kayt Leonard (@KaytLeonard) March 7, 2018
"If you don't learn to delegate as a leader, if you don't trust your leadership team, you're never going to have a star leadership team. No star leader is going to join you if you're going to micromanage everything." Arianna Huffington @ariannahuff

— Mercy (@MRock90) March 7, 2018
Alex Honnold and Ryan Smith on Preparing for Big Challenges
Alex Honnold was the first climber to free-solo Yosemite's El Capitan. Challenging — and dangerous. Alex and Ryan discussed what it's like to prepare for, and ultimately commit to mentally tough challenges. He inspired a few of us to take on our own challenges.
Never thought of visualization the way @AlexHonnold is describing it. What it would be like if he fell at different points in the climb. "If I fell here I would land there, break my legs, then possible land on that spire." Doing this helped to avoid fear. #X4summit18

— Taylor Brightwell (@tabrightwell) March 7, 2018
Doubt is a big precursor to fear. Over come doubt and fear isn't an issue and you're able to simply enjoy the experience. @AlexHonnold #X4summit18

— Chris Hill (@RandomChill) March 7, 2018
And, it's just Day 1. Catch more of the the X4 Summit by following along with the hashtag #X4summit18.