Experience Management
Experiences matter more than ever in election cycles
As the campaign trails in Australia heat up for major leaders and parties, so do the conversations of citizens across social media channels. While there is significant political commentary across traditional news and broadcast media, at Qualtrics we are taking a closer look at the experiences citizens are having with government agencies and service providers and how they are sharing them across social media.
Experience drives meaningful outcomes for government agencies
More than half (53%) of Australians and New Zealanders reported that their experiences influence who they vote for, according to Qualtrics public sector research conducted in late 2021. The survey of over 1,500 people found that 25% of respondents indicated that experiences with government will strongly influence who they choose on polling day.
Emotional reactions provide a glimpse into how individuals experience their government agencies and benefits. But what do those reactions look like in aggregate, do they change as the election unfolded and what topics are generating the most conversation? And for the elected party, how can they use this feedback and sentiment to inform and support their time in office?
To answer these questions, Qualtrics analysts are using XM Discover - a new set of products with sophisticated natural language understanding (NLU) capabilities — to analyze more than 120,000 social media verbatim comments related to the upcoming elections in Australia.
Listening to citizen experiences
Understanding citizen and customer generated social conversations can be challenging. Between agency names, hashtags and text alone, aggregating meaningful social data takes more than just pulling a few agency users. In tandem and seamlessly integrating with XM Discover's NLU, Qualtrics has deployed Social Connect to collect volumes of relevant data to the Australian election cycle and make sense of people's direct interactions and experiences with federal government agencies and key services.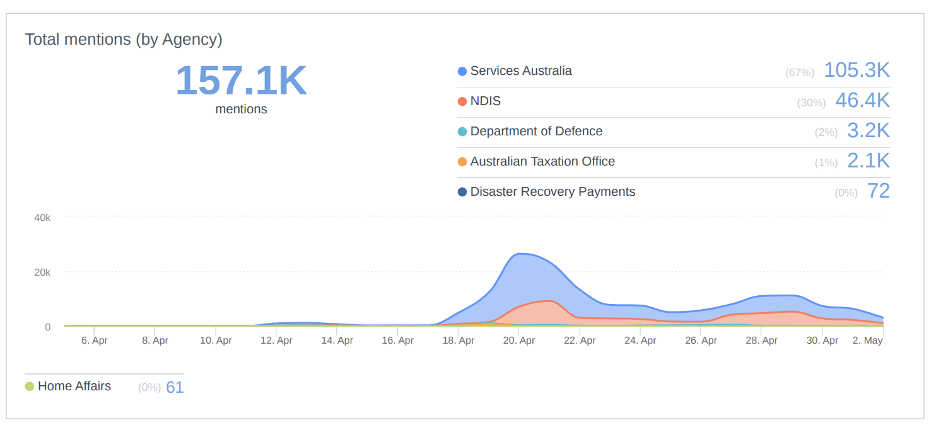 Figure 1: Mentions of federal government agencies (including Twitter handles, plain text, and hashtags) and service provisions throughout April.
With Qualtrics, government organizations can take tweets seen above and analyze the sentiments expressed within each "conversation." Tweets inside of Qualtrics Social Connect are automatically tagged for the sentiment they expressed. Sentiment, defined as positive, neutral, or negative, highlights where emotive conversations about a citizen's service experience happen.
Analyzing recent sentiment impact of NDIS, Qualtrics Social Connect can provide actionable insight into how different topics related to NDIS make citizens feel. Through our own analysis we can see the positive support Australians express towards the NDIS program and the meaningful social conversations expressed. These insights provide valuable insight into the behaviours that drive advocacy and also the interaction experiences that form beliefs. Defining service, experience and issue centric topics in a more structured approach is crucial to listening effectively and growing the service capability.
Seizing a significant opportunity to listen
Government agencies have an opportunity to listen more deeply into channels outside of their ownership. With election campaigns generating increased conversation about personal experiences with government services, this is a key opportunity to capture and understand unsolicited feedback from citizens. Indirect feedback provides raw, unfiltered emotions in response to an experience, traditionally uncaptured by government agencies. Capturing and analyzing high volume conversations fueled by election coverage can lead to improved service design, processes and policy making decisions.
For a campaigning party, social analysis of agency experiences provides a different perspective to traditional polling insights. Parties can analyze large volumes of citizen interactions with government and take an emotionally conscious approach to developing policies, messaging and commitments.
By taking an always-on listening approach government agencies and parties can be gathering leading insights at any time and in response to any situation or event.
Learn more about XM for government