Customer Experience
Build vaccination trust with a resident-centric approach
The scientific community has done an amazing job of accelerating the creation and testing of very effective and safe vaccines. Their work has provided the world with hope. But vaccines on their own are not the answer. To curb COVID, we need vaccination programs that increasingly "get shots into arms."
While the U.S. government has put in place many of the pieces to distribute the vaccines, it's sorely ignoring a fundamental element of the effort: human behavior and sentiment. Ending the pandemic requires widespread adoption of the vaccine; which, in turn, requires people to trust the government enough to engage with the vaccination process.  Unfortunately, trust in government is at a historically low rate, suggesting the need to proactively counteract the trust deficit, especially with underserved communities who have in many cases been hardest hit by the pandemic. Several challenges specific to the vaccination campaign make this particularly difficult:
Safety concerns. Despite compelling scientific evidence about the safety and efficacy of the vaccines, many people don't trust what they may be hearing. In a recent study of 1,000+ U.S. adults, Qualtrics found that 40% of respondents reported they are either unsure or plan not to get vaccinated. The top reasons cited for this hesitancy were concerns about the vaccines' safety and possible side effects.
Eligibility confusion. While the CDC and other agencies set rollout priorities, the news is full of stories about the wide variety of decisions states and individual locations are making about who gets doses when. Without a definitive "source of truth" for who is eligible to get the shots, people are left to wonder and speculate -- causing inequity, anxiety and a lack of faith in the public officials managing the vaccination campaign.
Process challenges. Without a streamlined registration and vaccination process, people are forced to wait in long lines and "hope" for a vaccination. The experience being shared by those people along with the stories we regularly see in the news are enough to embolden the naysayers, and even turn vaccination wanters into waiters.
Tapping into experience management capabilities
We've worked with many organizations across a wide variety of industries to address exactly these kinds of challenges. Without a keen focus on the experience being created for all of the stakeholders involved in a process —suppliers, employees, and customers—companies default to just pushing out products and crossing their fingers hoping that customers will embrace them. Clearly this is not a sustainable model.
In place of this suboptimal, inside-out, push approach, many organizations have adopted Experience Management (XM) as the foundation for creating a more positive, long term relationship with customers and stakeholders.  What is XM? It's the discipline of using both experience data (X-data) and operational data (O-data) to design and improve the four core experiences organizations deliver: customer, employee, product, and brand.
As organizations adopt XM, they better understand how people are thinking and feeling, and tap into that insight to more quickly respond to any changes and shifts across their ecosystem. That's because XM enables organizations to:
Continuously learn. XM helps organizations more effectively sense and interpret what's going on all around them, collecting and analyzing signals from the actions and feedback of employees, partners, vendors, customers, and even competitors. XM can help vaccination leaders better understand what's keeping the specific segments of the public from wanting a vaccine, and what needs to be improved throughout the vaccination scheduling and administration process for residents and all of the people working on the program.
Propagate insights. XM helps organizations put actionable intelligence in the hands of people across their ecosystem who can use it immediately, creating seamless access to the right information in the right form at the right time. XM can help all participants in the vaccination chain—from drug companies to logistics teams to vaccination sites—uncover the actions they need to take, with automated insights and alerts that are tailored to the key roles in the process.
Rapidly adapt. XM helps organizations act on the insights they've uncovered at an increasingly faster pace, finding ways to create new experiences and renovate existing ones. As useful insights start flowing, leaders across every aspect of the vaccination program will be able to make more frequent adjustments in the face of problems they uncover, shifts in the overall vaccination plan, or changes in population sentiment.
Introducing a resident-centric vaccination approach
As governments start applying the XM discipline, and shift their focus from doses to people, they will be equipped to drive successful countrywide vaccinations. This new resident-centric approach doesn't abandon the need for a very strong logistics program, but instead augments those activities with the focus on human experience that's required to build trust and encourage widespread participation.
A resident-centric approach is different than the current vaccine-centric model in many ways, including that it will focus much more on:
Designing experiences that satisfy residents' diverse needs. Rather than just assuming the public will comply with the program's goals and guidelines, this new approach will focus on addressing the needs and concerns of different segments of residents, and use those insights to develop appropriate interactions and processes at the local level. This approach will also allow for more targeted development of experiences to meet the needs of underserved communities that often require culturally-specific experiences.
Improving processes based on experience-centric insights. Instead of expecting that complex efforts to deliver millions of vaccine doses will be appropriate on the first pass, this new approach will enable ongoing adjustments with insights from residents and front-line vaccination workers.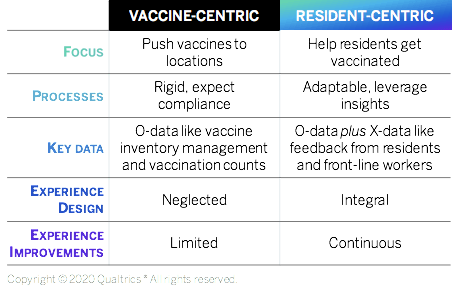 8 Recommendations for a resident-centric vaccination approach
Based on our experience helping 100s of organizations adopt more human-centric practices, here are eight recommendations:
The bottom line: Vaccination programs need to be more resident-centric.
Put residents at the center of your vaccine rollout with Vaccine Navigator