Customer Experience
Check out all the customer experience innovations from X4 2019
X4 2019 saw over 10,000 of the world's Experience Management leaders gather in Salt Lake City for the biggest XM event ever seen. And for customer experience teams it was a chance to get a look at the latest innovations on the Qualtrics Customer Experience Management Platform™ that are helping transform how the world's most successful brands are delivering breakthrough experiences.
---
---
Here's everything you need to know about the latest CX innovations from X4 Summit 2019:
World-class customer experience in the palm of your hand
Simply having a customer experience program is no longer a competitive advantage - to succeed in today's experience economy, CX leaders need the tools to cut through the noise and react quickly to keep up with customer demands, wherever they are.
That's why we've launched an entirely new mobile CX experience.
It starts with push notification, straight from the XM Mobile app, which takes you straight to focus areas - an intelligently prioritized ranking of key drivers, so you know exactly what to focus on first.
It means you can get straight to the heart of the issue - no root cause analysis, or scrolling through data - iQ does all the hard work for you and immediately pinpoints the focus areas that will have the biggest impact on your customers.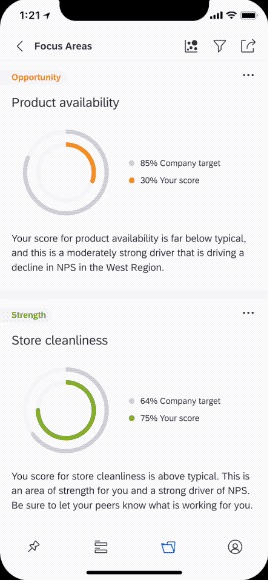 It's also now easier than ever to collaborate across teams straight in the app - with our new collaboration feature, you can move from insight to action in a few taps.
And, if you want to run your own root cause analysis, all it takes is a few taps - all the functionality of Qualtrics CX is available in the palm of your hand. Just tap on a card, run your analysis and see everything from your NPS scores to key drivers and iQ results direct in the mobile app.
Understand EVERY customer at EVERY key moment
Customer surveys are just one way to gather feedback — but what about all those interactions with customers that go entirely unnoticed like phone calls with support agents or social media and online reviews left on sites like Yelp or Google?
With the new xSTREAM, you see all your Experience Data (X-Data) together in a single feed, wherever your customers may leave it. No matter the channel, Qualtrics now helps you bring together your X-Data for a complete view of the customer experience.
It includes the latest addition to our iQ suite too - Voice iQ, that automatically turns conversations with customers into powerful insights. A phone conversation with your support team is automatically analysed and sorted into key topics and sentiment, so call centre agents can now analyze topics and sentiment call-by-call or zoom out to see trends over time and spot common themes from their phone conversations.
Frontline feedback - straight from the people closest to your customers
Think about the people in your organization who are closest to customers — it's not usually your teams in HQ pouring over dashboards and data, it's typically your frontline staff.
Technicians on the road, restaurant waiting staff, shop assistants… they all work closely with customers every day.
So it's no surprise some of the best ideas, like Apple's Genius Bar, often come from frontline employees.
We're excited to announce Frontline, a scalable way to integrate the voice of your employees into your CX program and get first hand insights from the people closest to your customers.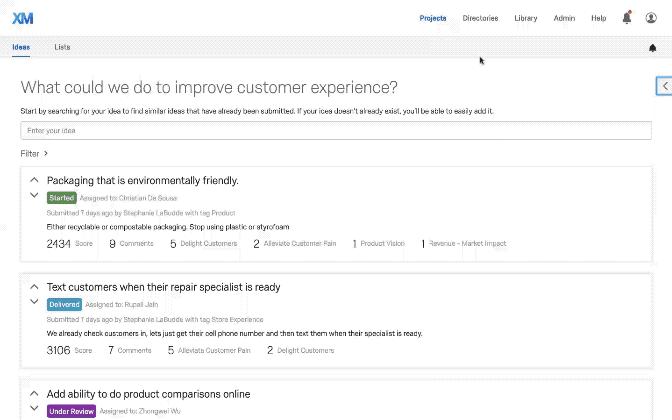 It's an always-on collaboration tool where employees can share their ideas, upvote ideas submitted by colleagues and provide comments on existing ideas. It puts the people closest to your customers at the heart of your CX program and helps move you you build a more customer-centric culture.
Break down CX silos with Smart Routing
Many CX platforms are built around silos, with each team using them to get THEIR data and focusing only on THEIR actions.
But customers don't think in silos. Just because someone receives an IVR feedback request after a support call for example, it doesn't mean they'll limit their feedback to the call they just had. And why should they?
With Smart Routing, X-Data is now directed to the right place wherever your customers leave it.
If they respond to a web intercept to complain about an in-store experience, it goes straight to your in-store team. If they raise an issue about their product on a call to your billings team, it's automatically routed straight back to your product team.
Smart Routing breaks down CX silos by directing feedback and recommended actions to the teams that can have the biggest impact. And it's not limited to the Qualtrics XM Platform either - it can automatically trigger actions in other platforms too, like your CRM or Jira, so whatever platform your teams are using, Smart Routing gets the insights to them and helps them take action in the fastest, easiest way.
B2B is different from B2C - now your CX program is too
The vast majority of CX best practice comes from B2C - but what about B2B models, where key a minority of accounts deliver a disproportionately high amount of revenue?
At X4, we launched the Qualtrics B2B Command Center — a purpose-built CX program for B2B.
It prioritizes key accounts, intelligently surfacing key actions for your reps so you can focus on keeping your most important customers happy.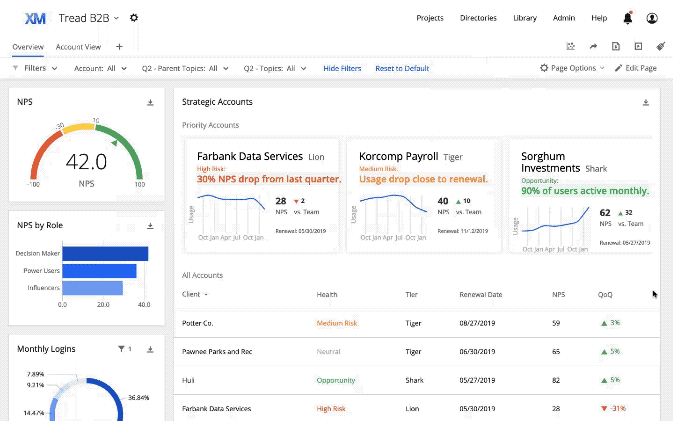 With integrations into your CRM from SAP to Salesforce, Oracle, Microsoft Dynamics and an API for homegrown programs, it allows you to be more strategic when it comes to running your B2B CX program, combining O-Data and X-Data to make powerful predictions about churn and customer satisfaction, so you know which actions to take, on which accounts, to have the biggest impact on the business.
How good is your customer experience really? Introducing XM benchmarks
Last, but not least, X4 saw the launch of the Qualtrics XM Benchmarks. Using benchmarks from Temkin Group (now the Qualtrics XM Institute), you can compare your CX program to others both in and outside of your industry.
Plus, working with partners like Bain, Kantar, Walker and more, we're integrating more third-party benchmarks into the XM Platform than anyone else.
So now you can see how you compare to almost anyone, in any region, so you can set new standards in customer experience to help turn your customers into fans.
---
Related Articles