Experience Management
Get the help you need without leaving the XM Platform with dynamic support
We're excited to introduce a great new feature to the XM Platform – a Dynamic Help Window. It makes it faster to get the help and support you need when using Qualtrics. Need a hand choosing the right survey questions? Looking for help analyzing your data? Need instructions to pull in data from other sources? - now you can get step-by-step help without ever leaving the platform.
Simply click the question mark icon when you're logged in and our new, AI-powered Dynamic Help Window will appear, giving you instant access to the latest support articles.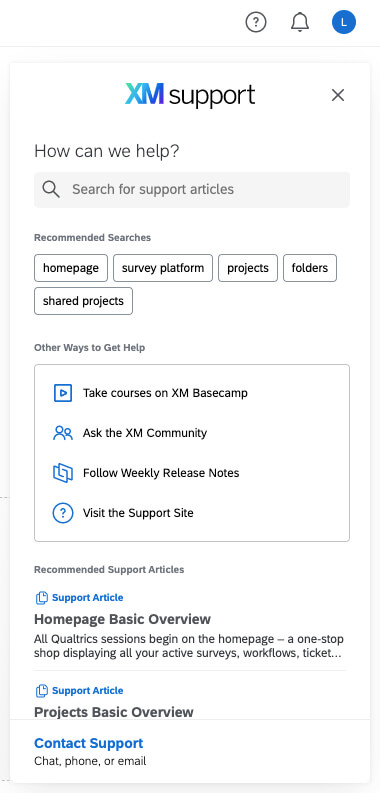 You can now:
+ Search and view support articles directly in the window itself, so there's no need to navigate away to a separate support site
+ Get smart recommendations of articles and resources based on where you're working in the XM Platform™
+ Easily navigate to other help resources, including Basecamp, XM Community, and our Weekly Product Release Notes
+ Automatically log in to the Support Portal without re-entering your credentials
This new in-product experience is now available to all users who have their Qualtrics account language set to English (EN-US) with roll-out to other supported languages planned in the future.
See it in action in your account
We're always interested in your feedback, whether you have a Dynamic Help Window feature recommendation or just want to tell us about your experience. Share your thoughts via this survey!
Related Articles