Employee Experience
Employee experience is part of our nation's recovery
Along with the annual cherry blossoms that adorn the nation's capital, we see many signs for much-needed optimism in April 2021:
The post-COVID economic recovery appears well underway, with job numbers suggesting a surge in employment opportunities;
CARES and American Rescue Plan funds are starting to flow to mission critical operations across key government operations in health, education, housing, and social service programs;
Agencies are planning in earnest for an eventual return to work, while embracing the lessons the 21st century's Pandemic Year has taught all of us about managing a virtual workforce.
Success will depend entirely on the public sector workforce:
Usually unsung heroes, public servants are the individuals who implement rescue plans through day-in, day-out operations and management of public policies and programs. The positive turn of events presents immediate challenges for both government leaders and human capital professionals:
Immediate need for surge hiring to execute the emergency programs that the nation needs to accelerate recovery;
Intense competition for the specialized skills required to meet the nation's priorities at all levels of our government - from county vaccination programs to state economic development strategies to national infrastructure investments;
Fatigue and burnout among employees who have seen increased workloads in sometimes dangerous conditions while struggling to balance family responsibilities in the stay-at-home environment of the past year.
Onboarding new hires, engaging talent, and addressing employee needs as they adapt to a changed work environment – these are mission critical activities for government leaders and managers to achieve the outcomes demanded of their agencies. The government must equip supervisors, managers and leaders with the actionable insights they need to create an engaging, inclusive and equitable environment for Federal talent. Digital tools are needed that match the new reality of work in a fully digital ecosystem. The good news is that these technology capabilities are already available.
In our new digital environment, good government employee experience programs will have these five characteristics:
It's deeply embedded across the employee's journey with the organization:
Employee experience management is not a stand-alone program limited to an annual survey and rote action planning exercises managed by HR. Instead, it's designed into the entire range of touchpoints employees experience as they engage with an organization from recruitment through deployment to eventual departure. These touchpoints can be mapped based on qualitative data from employees and leaders who can tell us the key moments that matter to them.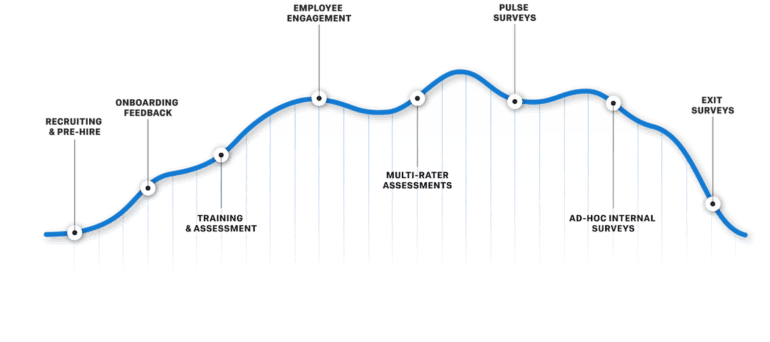 Embedding always-on feedback loops within each interaction employees have with their organizations equips leaders and managers with the insights they need to continuously improve and flex to evolving needs.
It closes the gaps between data collection, analysis, reporting and action:
Gone are the days when employees are willing to respond to surveys that then fall into the black hole of data analysis, static paper-based reports, and additional data collection required to interpret the results. Employees simply will not engage in data collection when they do not see timely action based on their input. That's why the democratization of employee experience data is so critical:  It places near-real-time insights into the hands of leaders and managers who can then immediately take the actions needed to get employees what they need to succeed.  Role-based dashboards can be configured to give each manager or leader the specific view they need to lead their people effectively, balancing the need to manage sensitive employee information with the imperative for organizational responsiveness to their voice. Action templates can be loaded into the dashboards to inspire leaders and managers to take specific best-practice actions whose implementation is tracked to ensure follow-through.
It applies natural language processing to open text responses for richer data:
The point of collecting employee engagement data is to understand their sentiments - what we call the "voice of the customer" – in this case, the employee as the recipient of our efforts to retain, engage and support them. But too often, we limit their input to pre-set questions and five-scale response options – essentially telling them that our concerns are what matter to us.  Employee surveys can now use natural language processing to allow respondents to use their own words, in their own voice, to articulate what matters to them. Leaders and managers can see the words their employees are using in data visualization techniques like word clouds and heat maps that link users to the original, unedited responses for further insights.
It generates insights using sophisticated analytic methods:
Many government engagement surveys limit their analysis to descriptions: items are up or down over time, issues are more or less important to employees. Descriptive analytics are not actionable - they don't tell leaders and managers why their people's perspectives are changing, so they don't know what to do about it. Digital engagement platforms now deliver sophisticated analytic methods, in near real time, that dig deeper into the root causes of employee sentiment. Examples include:
regression-based driver analysis: helps to identify which underlying operational activities (drivers) will have the most impact on improving a metric (outcome) that you care about. In other words, it shows which of multiple drivers are most predictive of a specific outcome, so you can fix the root cause of the metric's performance.
semantic analysis: draws from open text responses to identify where sentiment is heading - positive, negative, or neutral - across aggregated responses, while also linking analysts and leaders to item-level responses for further insights.
integrated analysis: provides a single, coherent source of truth by bringing together in one place the results from always-on feedback from specific touchpoints, focused pulse surveys and routine engagement surveys.
It pulses employees more frequently, to keep pace with changes in their environment:
Institutionalizing digital platforms for employee listening positions organizations to respond much faster to the sudden changes in circumstance that have become the new normal for most government agencies. So agencies like the General Services Administration (GSA) can send employees home for their safety, and immediately pulse them to determine what they need to stay productive. And agencies can be responsive to new requirements, like programs to address diversity, equity and inclusion, without investing in entirely new, stand-alone systems.
The results
Tools like these can directly help fulfill government's vision to create the work experiences employees need, desire, and demand as they choose where to work, how much discretionary effort to commit, and whether to leave for better environments. Governments can also save significant resources – time required to collect, analyze and act on employee sentiments; recruitment costs saved when high performers stay with their organizations; efficiencies achieved by fully engaged employees who are encouraged to make evidence-based improvements to how they fulfill their mission.
Most importantly, the government would equip supervisors, managers and leaders with the actionable insights they need to create an engaging, inclusive and equitable environment for the people who serve our country every day.
Learn more about our Experience Management solutions for government in action