Brand Experience
Friends of FENTY: Five brand experiences based on core values
FENTY transformed the beauty industry for good, embracing diversity and inclusion to create a breakthrough brand and an incredible business. What can we learn from other brands who have led with their values to create outstanding experiences that reframe entire categories?
If you've seen the Fenty Irreverent episode on XM+, you'll know FENTY's business approach is an unabashed love letter to its diverse customer base. No matter how you want to look — natural, snatched, alien, Kardashian (same thing?) — FENTY promises it all and actually delivers.
For decades, the beauty industry had told the world we needed to buy into a female-focused Eurocentric beauty ideal. That we must have lighter or sun-kissed skin, hide our wrinkles, make our eyes larger and lips smaller, shrink our noses, and conceal less feminine features…
These standards led to the purchase of billions of dollars worth of beauty products over the years, and spawned an entire industry that profits from making people feel more insecure and less than they are.
But what counts as "beautiful" can feel out of reach for many, especially those who don't happen to fit this ideal.
With FENTY, Rihanna has turned the industry on its head, taking an ultra-inclusive approach to beauty to allow people of all genders, races and sexualities to find ways to express themselves using the power of makeup.
So, why is diversity and inclusion so important?
Why isn't diversity and inclusion important? Aside from the obvious "because it's the right thing to do", there are other valuable reasons to think about these factors.
FENTY's radical acceptance of all types of people led to an astonishing $100 million sales in its first 40 days. This approach definitely contributed to its current value of just under $3 billion (Rihanna can definitely Take a Bow with those numbers!).
There's also the fact that consumers are much more willing to support brands that show they care: 57% of consumers show more loyalty to brands that commit to addressing social inequality, and 47% of Gen Z are more trusting of brands that represent diversity like theirs in ads.
We also want brands to see us, and help us to express ourselves — not impose ideals upon us. For instance, 71% of LGBTQ+ consumers are more likely to engage with an online ad that authentically represents their sexual orientation.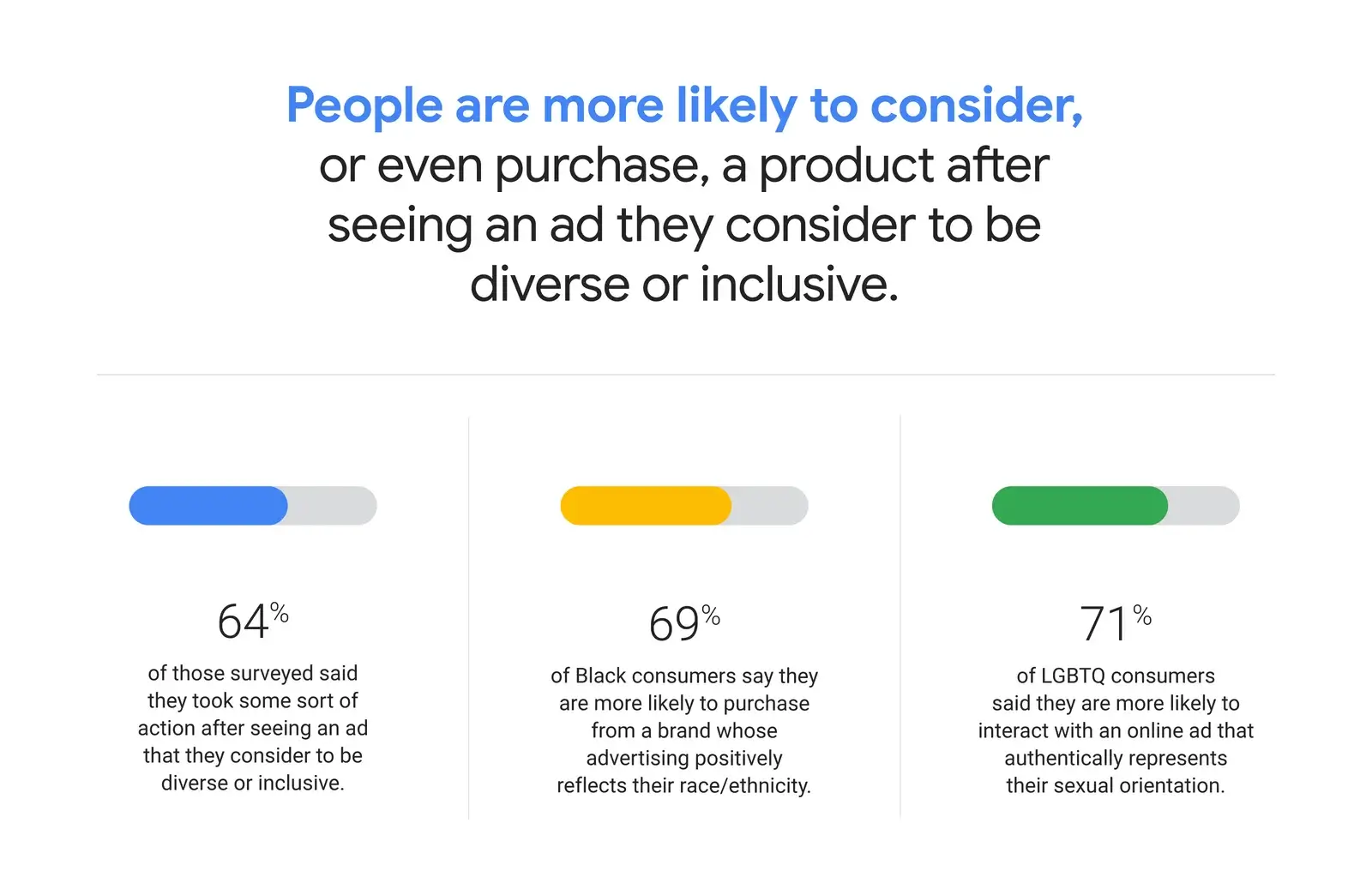 (Credit: Google)
And diversity and inclusion are just the start — there are many issues that consumers care passionately about: 55% of US buyers believe it's vital for companies to take a stance on important social, environmental, and political issues — it's no longer okay to just sit on the sidelines, or even the fence.
Similarly, nearly eight in 10 consumers say sustainability is important to them, with over 70% of these consumers happy to pay a 35% premium for environmentally responsible brands.
Overall, our appetite for authentic experiences has increased over time. We're not just looking to buy a product — we're hoping to have an experience that makes us feel something, and to see ourselves reflected in a brand's behaviors and values.
But FENTY isn't the only brand making waves by investing heavily in the experience and closing clear gaps. Here are five more brands that have transformed their markets to close experience gaps and deliver more meaningful interactions at every touchpoint.
LEGO: Building for the future
Though LEGO has existed for almost a century, it's held a firm grip on the toy market by staying true to its mission: to inspire and develop the builders of tomorrow.
Indeed, from the building blocks that we're all familiar with to theme parks, movies, video games and more, LEGO has a knack for entering new markets and pivoting its strategies to attract and inspire others.
Since 2008, LEGO has leveraged digital technologies to create more integrated and meaningful customer experiences, most prominently with the LEGO Ideas online community.
This community allows members to share their creations and offer proposals on new LEGO ideas, becoming part of the process and experiencing LEGO in a new way.
Similarly, in 2017, LEGO created another integrated customer experience: LEGO Life, a social network app for kids under 13. It lets them share photos of what they've made with LEGO and comment on other people's creations. The community has over 10 million members, offering a great way to build brand awareness and empower people to connect over something they love: LEGO.
(Credit: LEGO)
"Lego has this incredible ability to engage with people and that has single-handedly enabled it to weather very, very difficult seas," — says Simon Cotterrell, Interbrand.
PATREON: Putting creators at the center of the creative economy
Leading the transformation of the creative economy, Patreon has quickly become the go-to platform for those looking to earn a monthly income from their artistry. And it's redefined the experience of how content creators connect with their audiences.
For content creators, some of the biggest challenges are connecting directly with their fans, receiving fair compensation for their work, and becoming less dependent on the platforms driven by advertisers and algorithms.
Unfortunately, much of this is managed through intermediaries — third-party platforms that dictate the processes and reap the lion's share of revenue.
Patreon flips the script and closes that gap by bringing content creators and their fans closer together, and paying creators fairly for their work. No more middle man.
Now, creators have greater access to the people they want to reach most: their fans. Patreon allows artists to receive income directly from the people that support them on a recurring basis or per work of art. At the same time, Patreon regularly analyzes user data to uncover experience trends, demands and opportunities, using that information to build what comes next — for both creators and fans.
As well as empowering creators, Patreon was the platform for creators when the COVID-19 pandemic hit and people were forced to find new ways to connect. Through Patreon, content creators reached their audience in new ways, and users rate the platform higher than YouTube, Facebook, Instagram, TikTok, Twitch and OnlyFans.
Find out more about Patreon's transformation of the creative economy
Etsy: Keeping human connection at the heart of commerce
When it comes to purchasing vintage or craft goods, few ecommerce marketplaces deliver an experience as delightful as Etsy.
Despite having more than 800 million sellers, it provides one of the most consistent and personalized experiences for individual buyers. From the moment you arrive, everything is carefully tailored so that you can find exactly what you need. What's more, as you continue to shop, the marketplace serves up related categories and other sellers that you might find interesting.
Etsy achieves such a seamless and enjoyable experience by focusing on the values and authenticity that customers look for when purchasing handmade and craft products:
The process of finding and buying items is easy — the top sellers are highlighted on the homepage and products are carefully curated so that customers only ever see the best.
Star ratings and reviews for each seller help customers make more informed purchase decisions.
If customers want to communicate with sellers, all it takes is a few clicks of their mouse to reach the seller's profile. It's that simple.
At the same time, while Etsy is a champion brand for small businesses, it provides the security of an established ecommerce brand. You can buy from anyone, anywhere and have it delivered to you.
"What underpins the Etsy experience is the connection between our buyers and sellers," reflects Brendan Mulryan, President of Member Services at Etsy. "We lend our brand to our sellers."
In 2021, Etsy invested further in its community and craft experience to attract 31 million new buyers to the site. With the $1.6bn purchase of second-hand retailer Depop, Etsy brought Depop's huge and growing audience into the fold, offering new experiences and merchandising opportunities to Etsy's existing customer base.
Find out more about Etsy's approach to personalized experiences
MONZO: Creating a bank for the new generation
When the digital-only challenger bank Monzo was launched in 2015, many were skeptical. After all, it arrived in the UK at a time when the big four banking giants (Barclays, HSBC, Lloyds Bank and the Royal Bank of Scotland) held the vast majority of the market.
But despite these banks having dominated the industry for decades, everyone acknowledged the same thing: the overall experience offered by them wasn't great. For years, consumers complained about traditional banks — their excessive fees, transparency, outdated customer service and lackluster digital services.
The expected experience just wasn't there.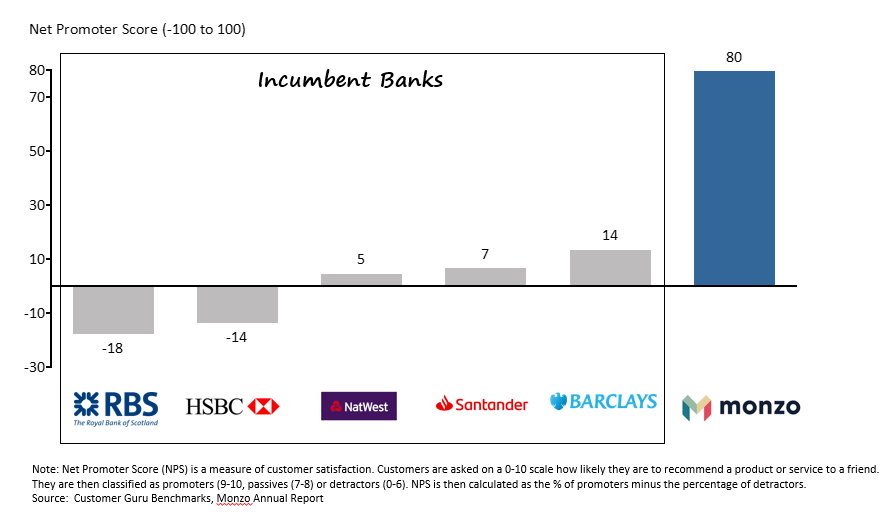 It's here where Monzo spotted an opportunity to close a gap in the customer experience by digitizing services and empowering customers with greater control over their finances.
The idea was simple: to create a smart bank that worked for the new generation, with the security and convenience of a typical bank, but without the need for branches and check books. In Monzo's parlance, an "intelligent hub for your entire financial life". The value here for both the brand and the customer — is unfettered access to accounts, transparency and a platform fit for the future.
So rather than requiring people to visit a physical branch to open an account, Monzo wanted to create a fully digital and automated process. This would enable anyone, anywhere to open a bank account, manage their finances, and contribute to building a bank for the future.
And people bought in. In February of 2016, Monzo set a world record for the quickest crowdfunding campaign in history. In 96 seconds, the company raised £1 million through "CrowdCube", proving that it had a service that people believed in. The rest is history.
As well as giving people a more flexible service, Monzo promised smartphone-first banking, customer feedback forums, biometric passwords, predictive spending, and third-party services based on customer needs.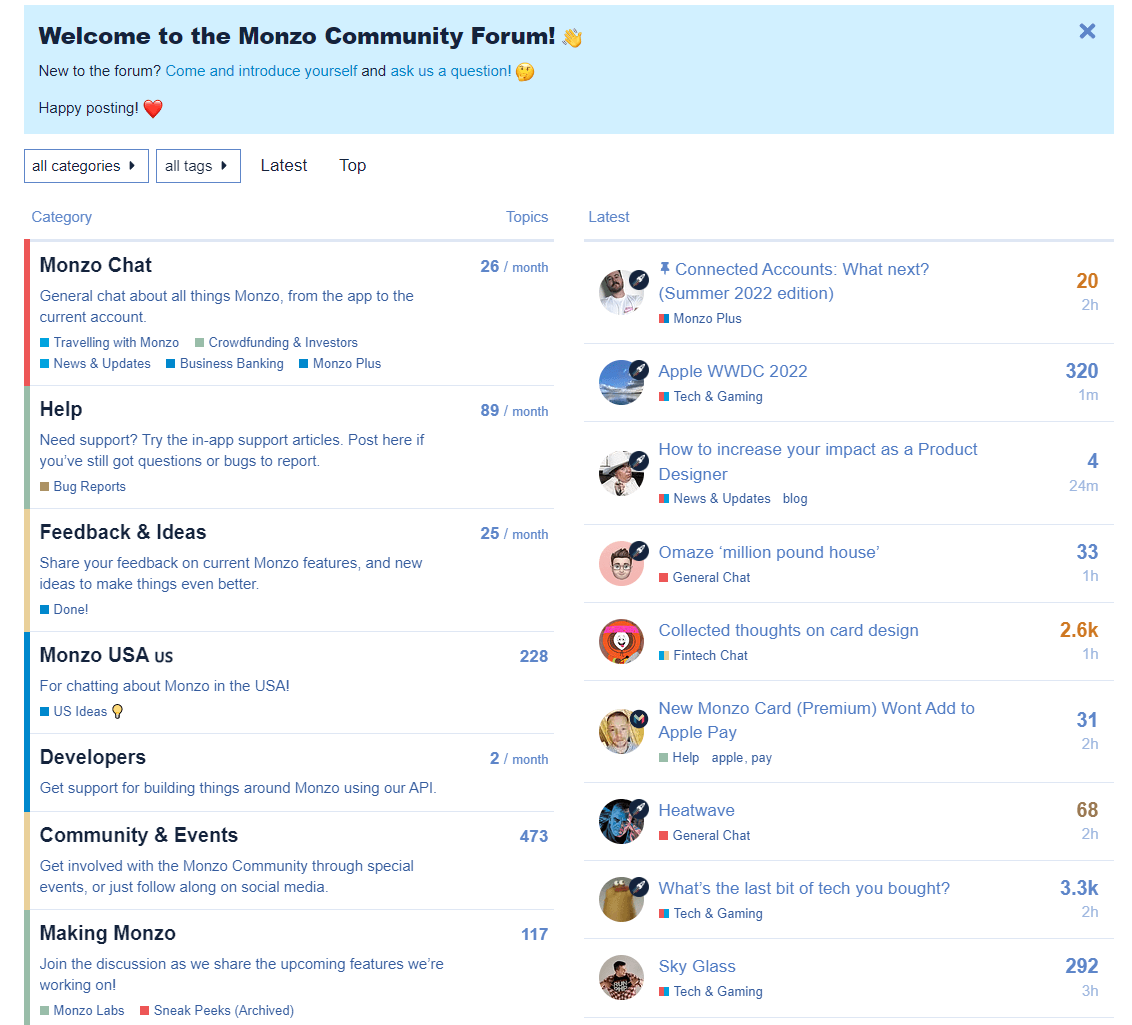 Today, existing customers use the forums to access new capabilities early, share feedback and provide ideas on how to improve the overall experience. The benefit for Monzo is that they can carry out product testing and feedback at scale to create a truly customer-oriented product.
Furthermore, following community input, Monzo delivers product updates via its forum so that users know exactly what they're getting and when. It's this kind of approach that shows users Monzo is listening and building with them.
Ultimately, the experience Monzo provides reflects the values it's committed to: the service is transparent, everything is designed to work in the digital age, and users get maximum accessibility.
UPS: Putting employees first
Being inclusive isn't just about what you tell the world. It's about how you represent the people who work for your brand.
Shipping and logistics company UPS puts its employees and their views first. It uses Qualtrics' DEI surveys to ensure it deeply understands the employee experience across nearly half a million staff, from psychological safety and emotional wellbeing to employee preferences.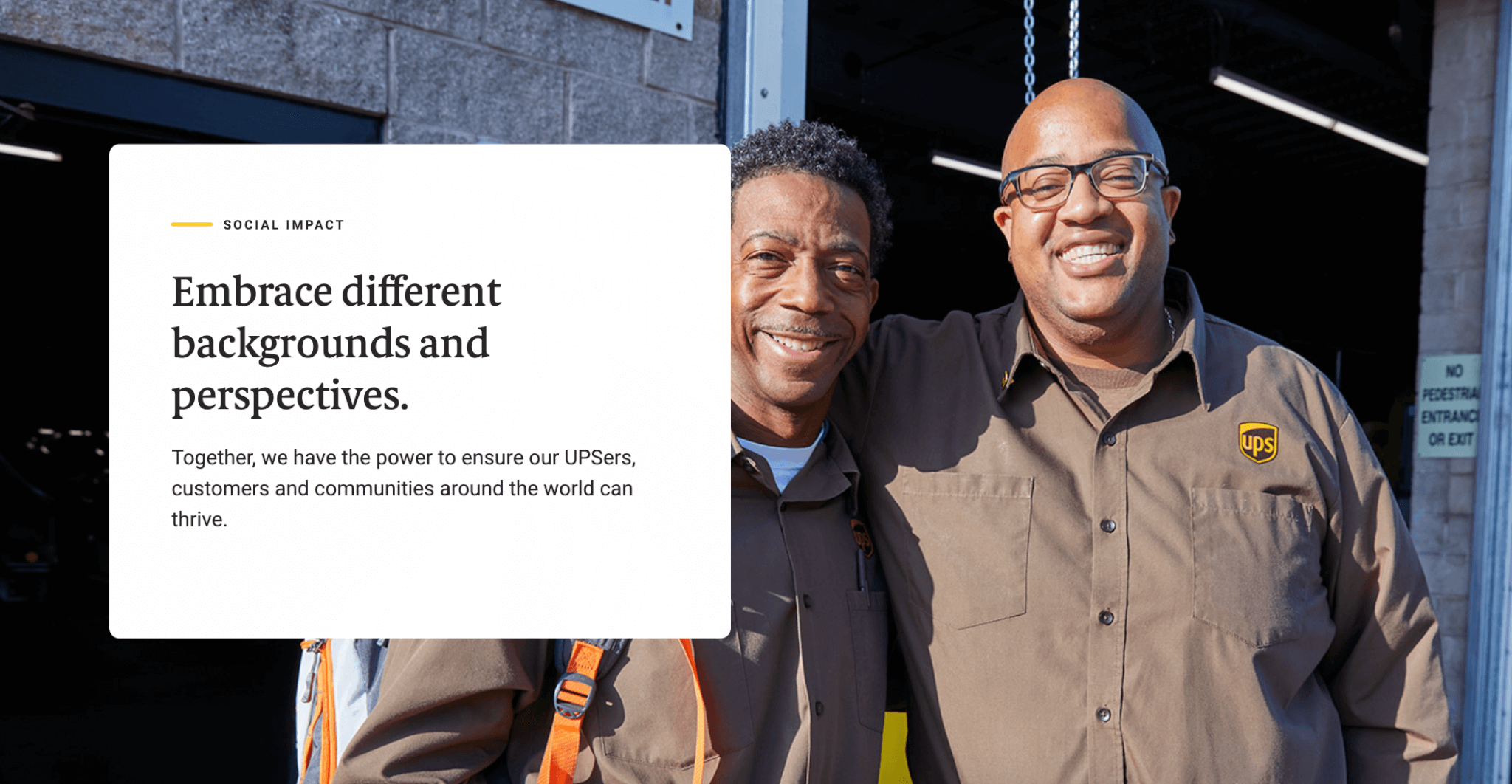 Listening isn't enough, however — brands need to take real action. UPS has implemented programs to the tune of $1 billion to boost the careers of under-represented groups, upskill the workforce through education, and open up spots for mentorship, training and sponsorship internally.
Preaching inclusivity and acceptance starts at home — or in this instance, the workplace. Brands looking to build diversity into their teams should take a hard look at their internal operations before they reach out to the masses. You don't want to be called out for jumping on the bandwagon without actually doing the hard work.
Empathy: good for people, good for business
Whether focusing on customer or employee happiness, ad campaigns or product design, creating connections that feel authentic is just good for business. Listening to, understanding and acting on the needs and expectations of all is what helps brands become successful.
Judging by these examples, demonstrating empathy for a wider range of people pays financial dividends — but more importantly, it's the right thing to do.
With 70% of Americans believing it's "somewhat" or "very important" for brands to improve the world. It's never been more vital for brands to not just talk the talk, but walk the walk as well.
Brands should focus on sticking to their principles: hearing their customers and practicing what they preach. We all want to feel seen and heard, now more than ever, and we're demanding brands show us they care.
So when you think about FENTY and how it has transformed the makeup industry, it's more than just matching makeup to skin tones — it's about telling each and every customer that they are important, represented, and loved for who they are.
Take note, brands: you have the power to change not just your future, but also those of everyone else around you (and be on fleek while you do it!).
Explore why brands like Costco, Fenty, Impossible and Patagonia are loved by customers in the Irreverent docu-series. Dive into the future of the workplace experience in Work: New.0. And finally, hear from creators and brands who are paving the way for better and more human experiences, and the technology helping them to do it.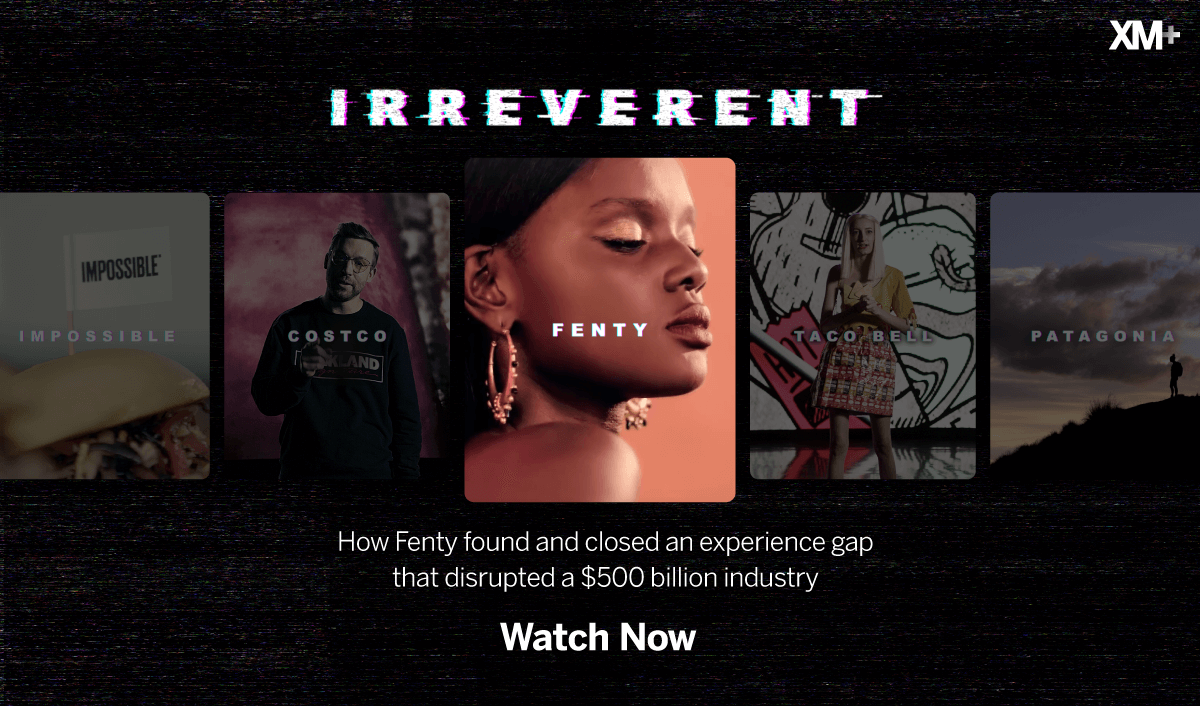 Related Articles