Experience Management
New XM Institute Research: The Global State of XM, 2020
The XM Institute has just published a new report, The Global State of XM, 2020. This report examines a survey of more than 1,200 executives of large organizations from eight different countries: Australia, Canada, France, Germany, Japan, Singapore, the U.K., and the U.S.
We found that:
There's a clear benefit to having strong XM skills. Of respondents who rated their XM performance above average for their industry, 89% report revenue growth that was better than industry competition in the previous year. Similar results hold for profitability (90%) and employee retention (84%)
CX and EX work better together. Respondents that are better-than-average in both CX and EX reported the strongest business results. In fact, those with the strongest CX and EX outperformed those with the weakest CX and EX by over 30 percentage points.
Strong XM prioritizes customers. Respondents with better-than-average XM capabilities are more likely to report "meeting or exceeding customers' needs" as a priority for senior executive teams. In comparison, XM laggards are more likely to focus on "meeting or exceeding profit goals."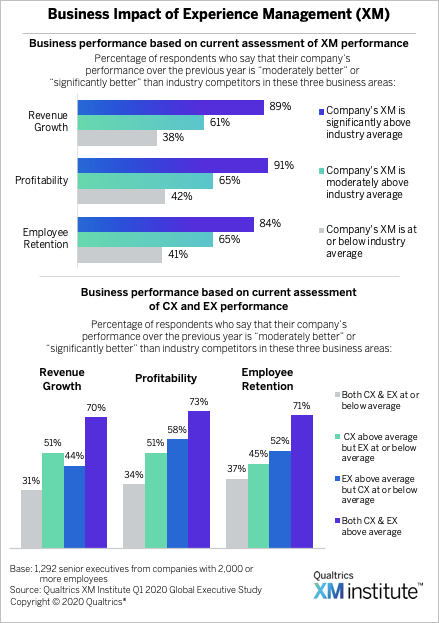 XM Around the Globe
Our analysis is just limited to the relationship between XM capabilities and business performance. We also looked at how XM behavior differs around the world. We found that:
XM's importance is recognized around the globe. In each of the eight countries we surveyed, more than half of respondents say improving their XM capabilities over the next three years is "critical" or "very important" for their organization. The U.S. topped this least at 77% with Japan at the other end of the spectrum with 56%.
Customer and employee insights are not used equally. Across all eight countries, three-quarters or more of respondents reported their use of customer insights as "very effective" or "somewhat effective." The same level of confidence was not seen for employee insights: the U.S. topped the list at 74% while Japan, at the bottom, was at 55%.
Technology limitations are a global obstacle to XM success. Nearly every country was most likely to identify "technology limitations" as a significant obstacle to XM success. Other key global obstacles include lack of funding and conflict across internal organizations.
You can download the full report, The Global State of XM, 2020, along with the rest of our research library for free at our website.
Download report: The Global State of XM, 2020