Brand Experience
Impossible: Making sustainability taste and feel great
In 2020, Impossible's CEO Patrick Brown made the bold claim that the company would completely replace the use of animals as a food technology by 2035. Two years later, Impossible has moved an entire industry. We examine why they chose this mission, what decisions that led to the brand's creation, and why carefully-crafted experiences are driving the meatless revolution.
At Web Summit 2020, Impossible's CEO Patrick Brown told the audience
that his company's plant-based meat was going to get even better.
So good in fact, that he claims that by 2035, people will no longer eat meat from slaughtered animals — at all.
"Our mission is to completely replace the use of animals as a food technology by 2035. We're dead serious about it."
It's a bold brand promise for sure, but it speaks volumes about Impossible's commitment to creating a more sustainable future. Not only that, but this drive to not only infiltrate the market, but change hearts and minds (and tastes!) is at the core of why Impossible Foods has had so much success.
A mission to change the world
A Stanford University professor, Brown credits a 2009 sabbatical with the decision to change his career to address climate change. This urgent issue led him in 2016 to bring together a collection of scientists to develop the Impossible Burger: a burger that tastes, smells, and even looks like the real thing. The design of the Impossible Burger focused on the science of experience and united it with the desire for more ethical and sustainable consumption.
The birth of the Impossible Burger in 2016, closely followed by the Impossible Burger 2.0 in 2019, entirely changed how we think about, create, and consume meat. It heralded a new age of ethical and sustainable consumption, and did it in a way that didn't put off a large portion of its target market: meat eaters.
The winning recipe
Impossible Foods has tapped into a winning formula: following the public zeitgeist, sticking to a central scientific goal, and using experience as a focal selling point. When combined, these three factors are a winning recipe for success. Let's dig into why:
Identifying public taste
For many of us, sustainability is now a top priority — and we're increasingly focused on, and driven by, the promise of more ethical practices, products and services.
Globally, the average annual growth in plant-based food and beverage launches grew 57% between 2015-2019, and it's only going to grow exponentially as time goes on. There are predictions that the global market for plant-based foods could see fivefold growth by 2030 to reach $162 billion, making up 7.7% of the world's protein market.
This isn't at the whim of big businesses — it's the result of public opinion shifting towards a more ethical, more sustainable way of eating. Half of global consumers surveyed by PwC in 2021 said they'd become more eco-friendly, and 39% of consumers told Deloitte that they'd reduced consumption of animal and meat products in 2022. All around the world, consumers are looking for ways in which they can do their bit for the environment — and Impossible Foods has offered a delicious, guilt-free way of doing so that won't feel like a sub-par replacement.
Sticking to a scientific goal
Rather than focus on food or ethics, Impossible Foods has taken the unique route of putting science and the environment at the center of its brand ethos. It wasn't out to create the best-tasting burger in the vegan market specifically; its goal has always been to create a food technology that can replace animal products entirely, resulting in a significantly lower impact on the environment.
As its website details, eating its newer products — the Impossible™ Sausage Made From Plants or Impossible™ "Chicken" Made From Plants — instead of animal meat lowers your environmental footprint by up to 88% less water usage, 77% less global greenhouse emissions and uses 47% less land. With animal agriculture behind 14.5% of global emissions and 65% of those emissions sourced from beef and dairy cattle, it's vital to target this particular type of meat product to make an environmental change.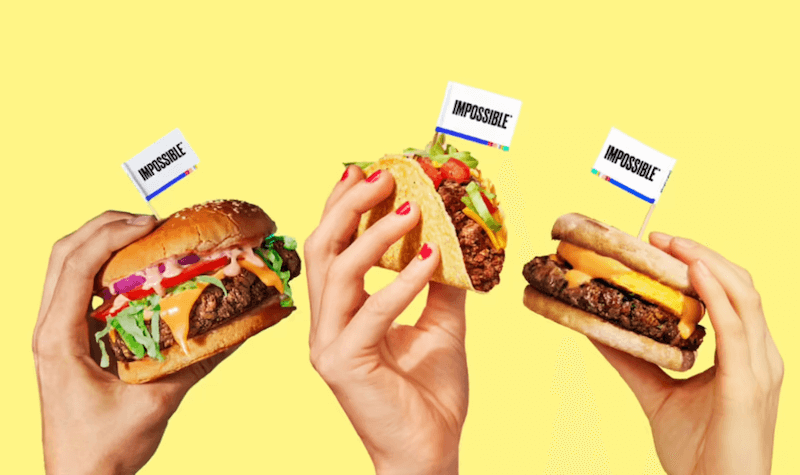 By focusing on creating a specific food technology and the science behind it, Impossible Foods has not only blown its meat-based competitors out of the water, but ensured that it developed a new market of its own. They've shown the world that there are new ways to do things and proven that they can be successful. No mean (or meat) feat!
Putting experience at the top of the food chain 
Although science is at the crux of Impossible Foods' success, the third part of their formula is their focus on experience. What do people value about their meat experience, and what could be offered to them that would tempt them away?
There's clearly support for meat-style products. Burger King now has the Impossible-branded Whopper. McDonald's is testing its new McPlant, co-developed with Beyond Meat. Restaurants around the globe now offer meatless options that thrill the taste buds much more than tired tofu options.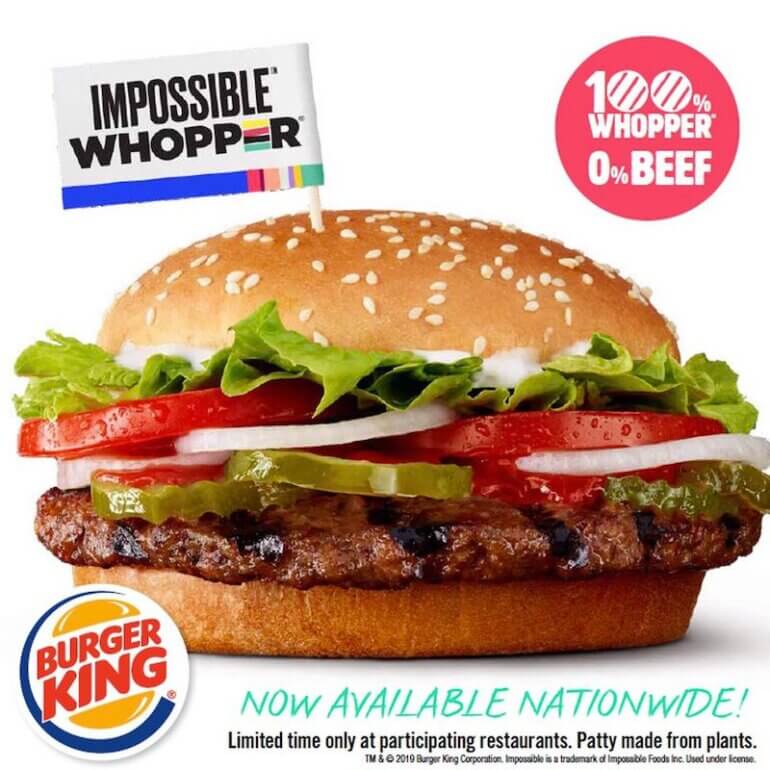 Surprisingly, this meatless food revolution has crept almost imperceptibly into the public consciousness over the years, rather than changing eating choices with a bang.
It wasn't necessarily that there weren't any options available - but what was on the menu wasn't appealing to the masses, just a smaller group who needed the alternative. Much like Spotify revitalizing a seemingly-saturated market or Amazon changing how we order online, brands like Impossible have proven customers, even skeptics, are happy to pay for experiences that exceed expectations.
Experience is the deciding factor for many contemplating their dining choices. Impossible Foods is unlikely to beat out the lower environmental impact of a bean burger — but a bean burger might not tempt a meat-lover to turn to plant-based alternatives. By targeting those who still love meat but want to be more environmentally friendly, Impossible Foods can nudge the masses in the right direction without asking them to compromise on a flavorful experience. Perfection!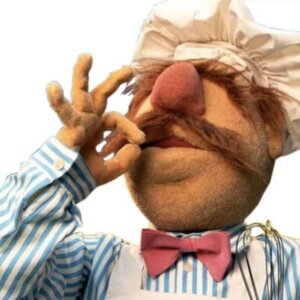 The best part? Consumers are willing to pay more for sustainable products. Nearly 90% of Gen X consumers are willing to spend an extra 10% or more for sustainable products. However, many retailers aren't cognizant of this. In fact, though two-thirds of consumers say they'd pay more for sustainable products, two-thirds of retailers think that consumers won't.
Impossible Foods has realized that they can not only tempt consumers towards their own environmental goals, but make money at the same time by offering a familiar experience with a twist. It's a powerful combo, and one that is working. Best of all, it'll keep working in the long term. Scalable growth will be achievable because the market is maturing in the same direction, in large part because of Impossible Foods' influence.
Serving up a food model that works
Impossible Foods has hit on a unique approach to creating a successful food brand, but it's not rocket science (kitchen science, maybe!).
The top lessons other food brands can learn are:
Tap into public trends - but have your own goal in mind
Understanding what consumers want is key — but you should also be directing public choice at the same time. Give them what they want, but also tell them what they're looking for.
Use positive sentiment to motivate consumers
Though guilt can change some minds, if you're looking to change behavior on a mass scale, you'll have to offer something that requires a minimal amount of change. People are reluctant to make large-scale lifestyle changes, particularly when it inconveniences them.
By asking for a little more in terms of cost but not compromising on taste, accessibility or benefits, Impossible Foods has changed many palates with ease.
Build technology for the future
How we produce our food is changing dramatically. Science will likely drive the future food revolution, so investing in the technological backbone of your product will pay you dividends over time.
Offer unforgettable experiences
A system of action tied to experience, as well as helping the planet, has helped to propel this startup brand into the public consciousness. Impossible Foods bets on people, technology and sustainability to deliver unmatched experiences — and it is this latter part that has swayed people to their cause, one delicious bite at a time.
See how brands like Impossible, Costco, Fenty, and Patagonia have changed the market forever in each episode of the Irreverent docu-series. Understand what the workplace of the future will look like in Work: New.0, and hear how the human experience is being brought into a new age through creators' own words.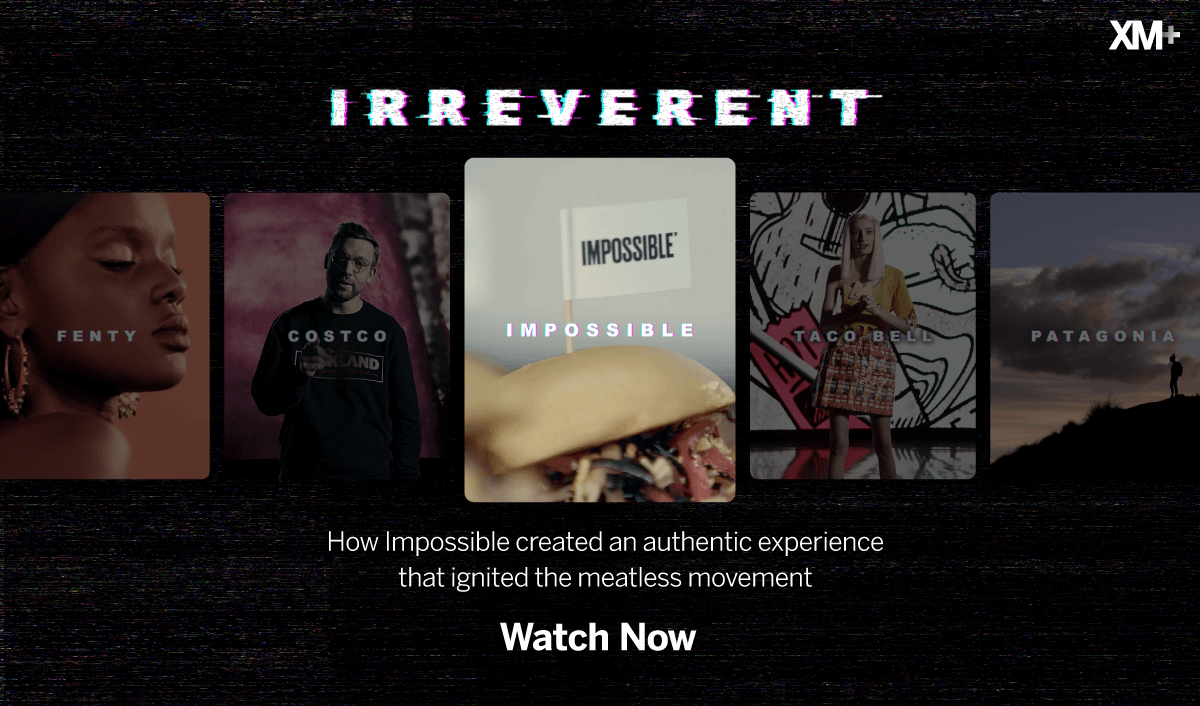 Related Articles