Customer Experience
Reading between the lines: How the City of Kitchener is improving services by listening to its citizens
When leaders of the City of Kitchener in Ontario, Canada set out to understand their customers' satisfaction with the process of requesting a monthly parking permit online, they discovered something unexpected. Although they were getting feedback about an online process, they received a number of customer comments about the great phone service they had received. Why were customers calling the city for a process designed to be entirely completed online?
A call with the parking team quickly uncovered that customers often called to get a few key pieces of information before completing the online form – an issue that could easily and quickly be resolved by updating the website content. With a few quick questions, the city uncovered an unexpected opportunity to improve their customers' experience and a solution was in place within days.
The opportunity for governments to innovate and be creative is clearer now than ever before. In order to better serve their communities, local governments are realizing the need to shift from static and siloed engagement efforts toward an ongoing conversation about the experiences in their communities. Customer experience leaders from the City of Kitchener joined Qualtrics on a recent webinar to talk about what they're doing to move the needle on community engagement.
Resident feedback can be gathered in numerous ways, including town halls, focus groups, citizen panels and surveys. Like so much in government, the challenges with setting up a formal constituent feedback program include securing enough budget and resources, getting enough people engaged and participating, and collaborating across the organization.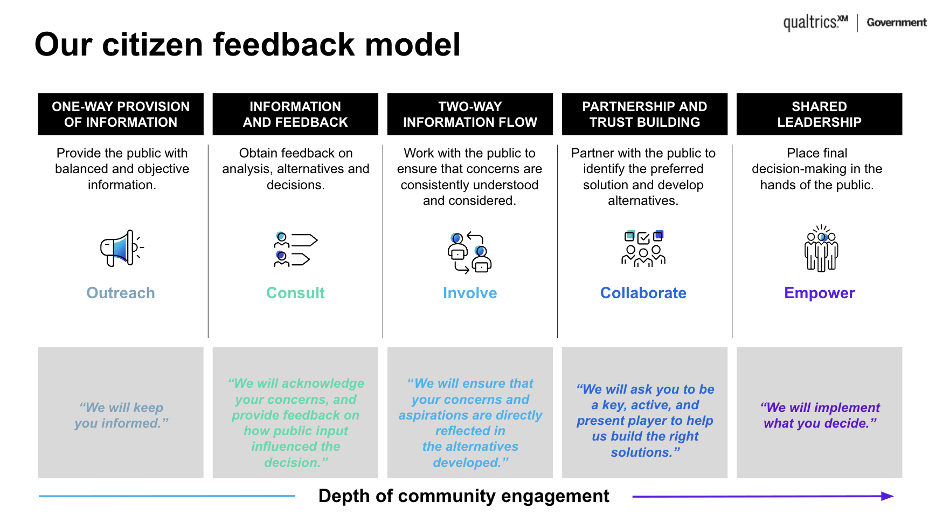 The citizen feedback model is a helpful way to look at the evolution of community engagement for local governments. According to Christine Baker, Manager of Customer Experience at the City of Kitchener, when the city conducted a Customer Service Review in 2018, there was no centralized customer feedback mechanism, which meant reporting was inconsistent and there was no formal accountability to address feedback received. Christine, with the help of Jaclyn Rodrigues, Customer Experience Associate at the City, set out to formalize a citizen feedback program. Their main objectives were to consistently gather actionable feedback and standardize customer satisfaction methods and reporting.
Today, the city measures customer satisfaction by conducting both ongoing and ad-hoc feedback collection projects across all service channels, most being 3-5-question surveys with open text response options. The short surveys are distributed via emails, QR codes and on the city website.
The result? The city has conducted 25 feedback collection projects to-date across 14 service areas. This has led to 75 recommended improvements, helping the city prioritize resources to the areas that will have the most impact for its residents.
From parking exemption requests and delegate registrations to city website feedback, not only has the city's formalized citizen feedback program led to service improvements for residents, it's uncovered new insights that Christine and Jaclyn would not have known about otherwise.
Key takeaways from City of Kitchener:
Leverage your resources - Qualtrics support is a great resource!
Where possible, gather open text responses for more detailed feedback
Don't assume you know the answers - collecting feedback could open up opportunities for creative solutions
Give lots of lead time to get feedback collection projects up and running
Have a collaborative mindset - work with service areas in your organization to show the value that you're bringing to your residents
The community engagement program has been well-received by city leaders. Key to leadership buy-in was demonstrating the value of the program by providing data and recommendations that not only validated that staff were doing a great job but also helped to inform where they should prioritize improvement efforts.
Don't underestimate the time it takes to set up community engagement programs. It takes time and intention to reach and engage a representative number of residents. Getting leadership buy-in to commit the required resources isn't always easy, so sharing wins along the way is important. Just as critical is learning what the challenges and barriers are so you can conduct effective change management and break down silos to encourage collaboration across the organization. The benefit of a service-first culture goes beyond improved resident services and trust in government, it builds employee pride in their work serving the public good.
To learn more about the City of Kitchener's approach to community engagement, check out the webinar recording here.
Learn more about XM for Government