Employee Experience
4 steps to manage the new federal vaccination requirements
With the new executive order requiring businesses with more than 100 employees to ensure their workers are either vaccinated or tested once a week, how can you stay compliant with the employee vaccination mandate? Find out how to develop a robust COVID-19 employee vaccination and testing policy and enable your people to quickly and easily confirm their vaccination status.
On Thursday, September 9, 2021, the Biden administration announced a series of proposals to more aggressively combat the COVID-19 pandemic. Under these upcoming rules, all businesses in the United States with 100 or more employees must ensure their workers are either vaccinated or tested once a week.
Businesses that fail to comply could be fined up to $14,000 per violation — but the main hurdle could be disgruntled employees who object to the mandate.
Step #1 — Establish the right policies to support the workplace
Listening to employees and building trust is now more important than ever, and correlates directly with the success of any new vaccination status management system or policy.
According to our research, most workers say they would support a vaccination mandate (two out of three). Across all industries, vaccination mandate approval is at 60% of employees.
Of course, getting everyone on board is essential to returning to 'business as usual'.
Large U.S. organizations must now think about what policies and solutions they can implement quickly and easily to solicit important health information from employees, all while making the process as simple, easy, and non-invasive as possible. 
Before implementing any kind of vaccination status management solution, it's important that organizations establish the right approaches and build around them.
Whatever the solution, it must be easy to use and access. App-based tools that can be used via mobile, laptop or desktop, regardless of where or when will make it incredibly simple for employees to submit their digital vaccination certification or update their current status. This could also include a single portal with seamless workflows, combined with backend systems for vaccine scheduling, attestation, testing, and symptom checking, for example.
Related: Check out our Back to Business for Employees solutions
Educate employees and explain the process
Ensuring employees are informed about new vaccination verification policies and potential solutions will help to establish buy-in and reduce friction throughout. It isn't just about providing resources to help educate, but also about giving them the opportunity to ask questions, provide feedback and be involved. Transparency is key and ultimately leads to better outcomes and understanding.
Create a culture of listening
Vaccination mandates can be polarizing for work relationships. This moment is both a challenge and an opportunity for businesses to shift their organizational cultures towards greater empathy and mutual understanding. By building a culture of listening into vaccination mandate compliance and using the appropriate tools and solutions, it becomes much easier to glean insight and create more engaged teams.
If COVID-19 has taught us anything, it's that changes happen fast and often unexpectedly. Over the next few years, it's highly likely that vaccination requirements, mandates, and even certifications will change — especially if the virus evolves. As decisions change regarding required mitigation methods, therefore, having a flexible solution with plug-and-play capability can help organizations and governments to respond at the speed required to keep pace with these changes.
Step #2 — Leverage the right solutions
From reducing risks and protecting employee health to supporting the needs of workers returning to the office, we all know that every organization needs a way to ensure the safety and wellbeing of its employees.
However, as COVID-19 regulations and policies continue to rapidly change at every level, from local constituencies to national governments, brands, businesses, and leaders worldwide are having to work tirelessly to keep up with the latest legislation and compliance.
Some organizations have systems and policies to manage vaccination status, masks, and testing. However, most lack the means to securely capture and organize this kind of information, or do so in a way that's easy and comfortable for their people, nor are they flexible enough to keep up with the current pace of change.
Qualtrics has a solution, one that can enable you to remain compliant with mandates while supporting employee wellbeing and empowering them to be a part of the conversation.
Step #3 — Confirm employee vaccination status quickly and easily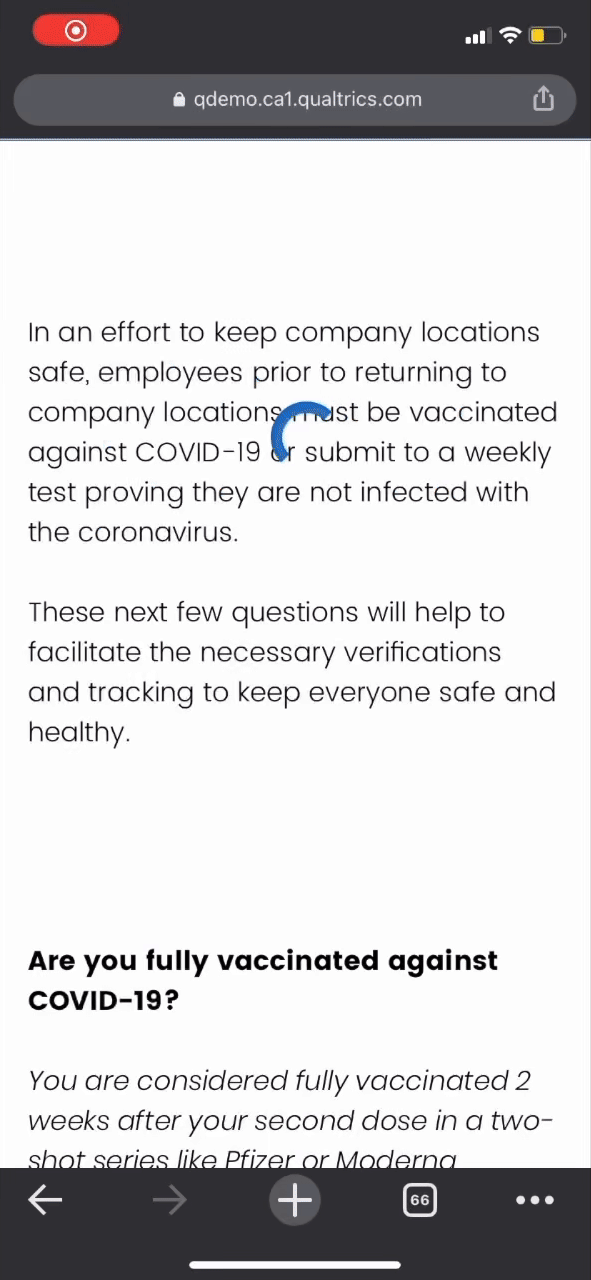 The Qualtrics Vaccination & Testing Manager enables you to confirm employees' vaccination status, ongoing test results, and screen for COVID-19 symptoms - all in one single platform. The lightweight and no-code setup enables you to get started in days, not months, and has the flexibility to adapt to future needs and changing regulations.
Employees can easily and confidentially confirm their COVID-19 vaccination status — all they need to do is upload their vaccination cards, digital certificate(s) or exemptions via your preferred digital channels (email, text or webpage).
And as a solution with minimal administrative overhead and automated workflows, it's easy to guide employees through the process — meaning less work for HR leaders.
"Working through a global pandemic has been difficult for so many. Every CEO and company leader is thinking through how the pandemic has impacted their workforce and what they can do to keep their people safe," said Jay Choi, chief product officer, Qualtrics. "The unpredictability of the spread of COVID-19 means the regulations and requirements that keep employees safe will continue to change over time. Having a flexible platform like Qualtrics allows organizations to remain agile and make adjustments to their programs as needed in order to protect employees."
Over 10,000 organizations turn to Qualtrics to keep their people safe and productive.
Qualtrics Vaccination & Testing Manager is secure by design, with built-in features that keep PHI and vaccination information separate. Qualtrics is FedRAMP and HITRUST compliant, and configurable to meet HIPAA requirements.
Step #4 — Streamline the return to the workplace
During COVID-19, we've worked with hundreds of organizations to reach 100M+ citizens across 25,000 COVID programs that span screening, appointment scheduling, testing, QR scans, and vaccination status management.
We have done several COVID-19 projects, but this is by far the largest and most sophisticated effort. It has increased our capacity to monitor very large numbers of cases and contacts, and continue to do the best public health to contain the spread of the virus.
We're already seeing companies across the U.S. require vaccinations for all or part of their workforce — and in some cases, their customers.
As the means to confirm employee vaccination status becomes increasingly important, particularly with new mandates, organizations across the U.S. have the opportunity to implement employee-centric vaccination status and confirmation solutions that are robust, flexible, and ready for the challenges of the future.
Learn more about the Qualtrics Vaccination & Testing Manager