Customer Experience
Bring more empathy to the contact center with SAP Service Cloud and XM Discover's new integration
Today, 8 out of 10 people believe customer experience needs to be improved. 62% believe that companies need to care more about their customers – and when they do, 60% of customers would spend more with them. 
For many organizations, especially in an increasingly digital-first world, the contact center is oftentimes the only line of defense between a good or poor customer experience and a positive or negative brand perception. Customer service agents are expected to be knowledgeable about a variety of topics/issues and help customers quickly and efficiently. At a time when organizations - across all industries - are managing agent burnout and turnover, contact centers are under more pressure than ever. 
To help organizations build deeper, trusted relationships with customers, Qualtrics and SAP are building an integration to connect XM Discover and SAP Service Cloud.
The new integration will bring Qualtrics XM Discover's AI and machine learning capabilities into SAP Service Cloud to help customer service teams resolve customer issues quickly, increase resolution rate, and improve customer satisfaction.
XM Discover's Natural Language Understanding capabilities analyze 100% of structured and unstructured customer feedback captured within SAP Service Cloud, including contact center calls, agent notes, customer support emails, online reviews, post-call surveys, and more. The analysis captures, and tags, the emotion, effort, and intent behind every customer interaction. This helps organizations understand why customers are reaching out and how they feel about their experiences. If it's revealed that an interaction didn't go well, either based on an assessment of sentiment, effort, or agent behaviors, an organization can trigger proactive customer recovery activities so it can recover even without any customer complaints. 
In addition to tagging customer interactions with sentiment, or experience data, XM Discover automatically summarizes every dialogue that happens between an agent and customer, saving every agent anywhere between 30 seconds to three minutes post-call and allowing them to focus on helping the next customer. XM Discover can also automatically flag compliance risks that might have surfaced in an interaction so agents can be coached in real time, preventing a one-time mistake from becoming problematic for the company.     
All of this data enriches SAP Service Cloud's customer profiles, giving organizations a comprehensive view of their customers' purchases, interactions, experiences, and feedback over time. Using this information, organizations can identify churn risks or upsell opportunities and automatically create new cases that are routed to the appropriate teams to take action within SAP Service Cloud.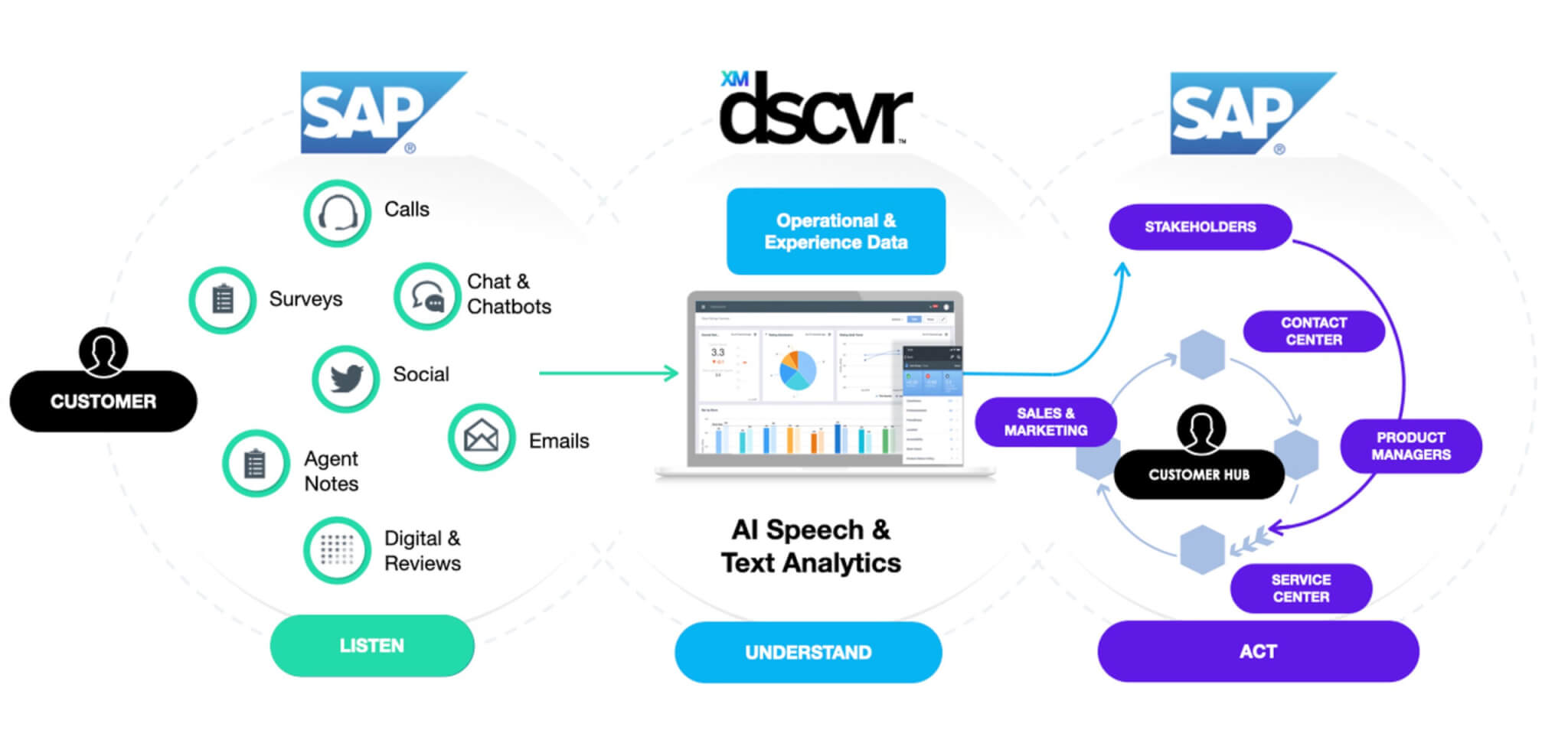 With this integration, customer service teams can streamline operations, improve agent and self-service effectiveness, and design support experiences that boost customer satisfaction and NPS. Some benefits include: 
Optimizing costs through continuous improvement. By understanding the contact topics, agent performance, and customer perception of every interaction - across every channel - customer service leaders can make critical decisions. Some examples might include where they focus on improving self-service, where to invest in new systems, and how to coach agents. Additionally, the integration automates quality assurance and quality management processes, improving operational efficiency. 
Improving agent efficiency and performance. Agents spend a lot of post-call time summarizing conversations, tagging topics, and flagging compliance risks. The integration helps contact center teams eliminate manual call dispositioning, automate topic categorization, and quantify script adherence, effectively improving agent speed to resolution and reinforcing agent coaching opportunities. 
Increase customer retention through proactive service recovery.  When an interaction is flagged as not going well in XM Discover, either based on an assessment of sentiment, effort, or agent behaviors, it can trigger some follow-up or customer recovery activities in SAP Service Cloud. This helps the organization to recover a customer even if they did not submit a complaint.
The integration will be generally available in the second half of 2022 to SAP Service Cloud and Qualtrics XM Discover customers.
Related Articles