Experience Management
Make your research easy with the Stats iQ + R Integration
Here at Qualtrics, we always talk about designing new experiences for your customers. That experience could be a product, service or an offering that really stands out and creates differentiated value for consumers.
But as more and more organizations embrace experience design, they need a firm understanding of the value their products bring to customers. This understanding comes from analyzing customers' current experiences, and getting insights from the data you have about their experiences with your products.
As organizations develop future products with innovative features, it's critical that new experiences are not designed in a vacuum. Data-driven decisions — backed by insights from flexible and powerful analysis of data — should support every strategy for new experiences or products.
And this is where the R integration comes in.
What is the Stats iQ - R Integration?
The Stats iQ - R Integration supports the R programming language as a native feature within Stats iQ.
So when you need to perform advanced analysis techniques that are not provided out-of-the-box in Stats iQ, you can leverage the flexibility of R to write code that can execute any analysis technique that you require on your data.
Why use the Stats iQ - R Integration?
You can use the Stats iQ - R Integration to:
Perform all analysis workflows in one platform without having to export your data
Accelerate analysis workflows by combining out-of-the-box functionality from Stats iQ with custom R code
Leverage 400+ of the most popular R packages for any analysis needs
Generate beautiful visualizations that communicate the insights extracted using custom R code
Automatically scale analysis in R with Qualtrics cloud infrastructure
We have all heard the statistics about the percentage of product launches that fail. And according to McKinsey, 50% of all product launches fail to hit business targets.
It's an uphill battle to produce products that resonate. Because of this, product teams should arm themselves with every tool they can to improve their odds.
Advanced analysis with R can help product teams discover deeper insights that previously would have been difficult to extract. These insights are a must-have as they enable data-driven product development.
What are the benefits of the Stats iQ - R Integration?
A prime reason why R is the premier programming language for advanced analysis is because of its flexible nature. It enables exemplary support for data wrangling, high-quality visualizations, machine learning and statistical capabilities.
When we combine the power of R with the power of Stats iQ, we have an extremely comprehensive analysis tool that allows your data to be analyzed faster and deeper than ever before. Otherwise, the data has to be exported and imported into multiple tools, where each tool has a different user experience and learning curve, ultimately slowing down the analysis process and your ability to make quick and confident data-driven decisions.
Successful products are built by product teams that are ready to iterate quickly and incorporate data and analysis into their decisions. The Stats iQ - R Integration is the right combination of analysis features to rapidly extract deep and actionable insights.
Why use Qualtrics for R?
Qualtrics is a best-in-class technology solution for analyzing your data with R. Featuring an easy-to-use interface that walks users from start to finish, it enables teams to quickly get deeper insights.
Our integration with the R programming language removes all the boring cruft of setting up your data and environment to do analysis. The integration enables users to jump right into coding, without having to worry about where the data is located, which packages to install and whether the analysis will scale. Users are able to focus on the questions they have and answers they want from their data.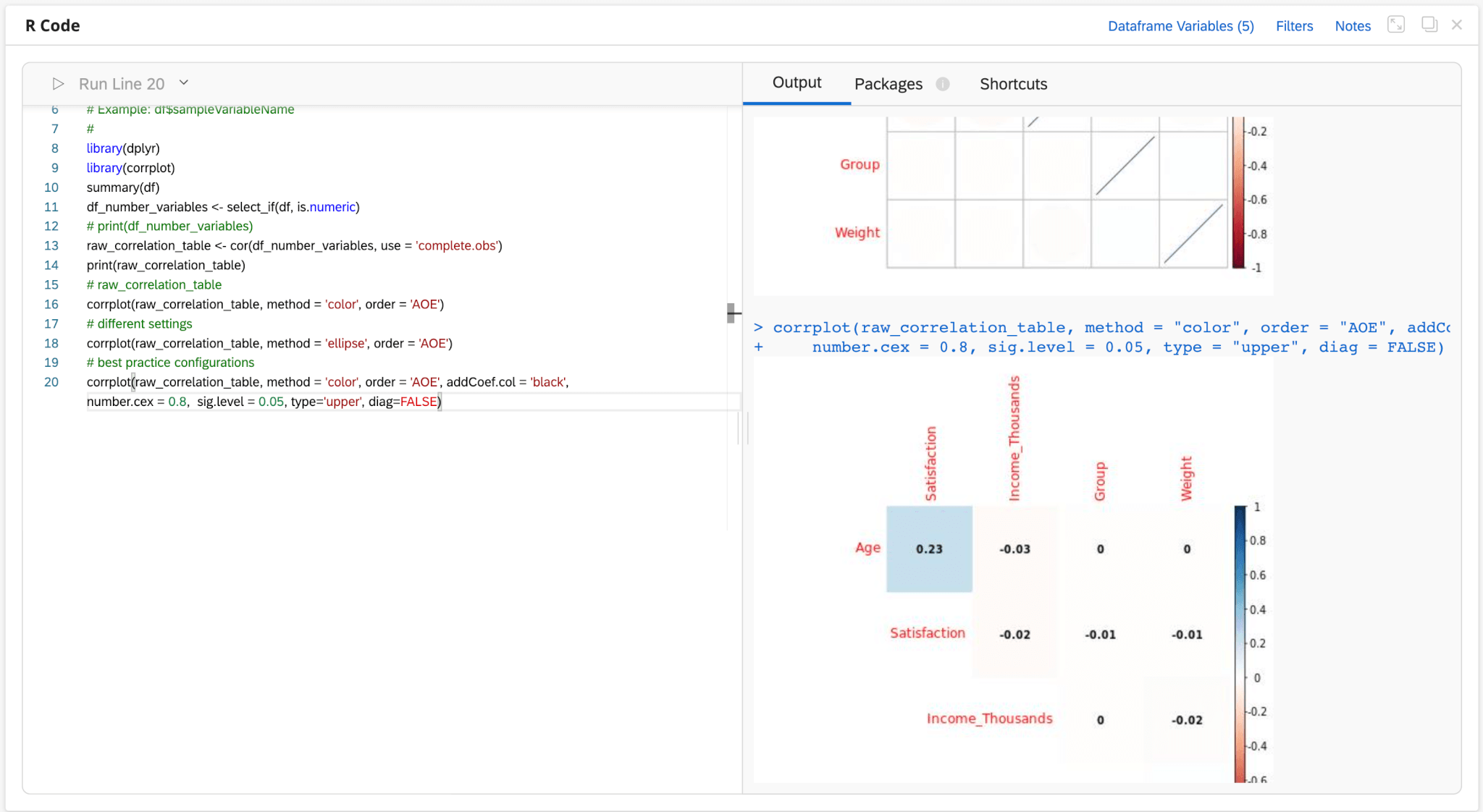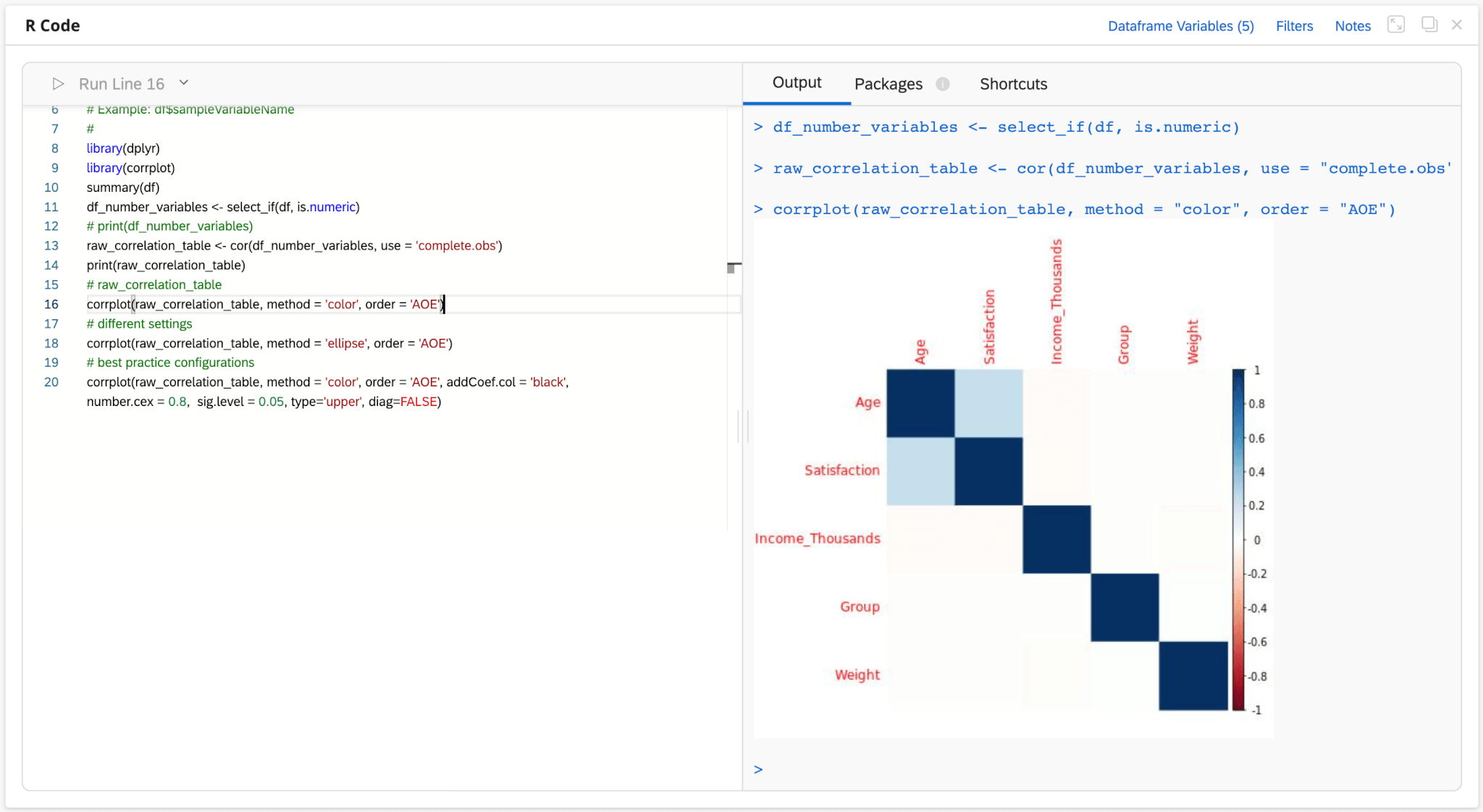 With the recently announced "Stats iQ - R Integration Templates", you can use Qualtrics starter code to jumpstart your analysis workflows for techniques such as reliability, factor, cluster analysis and more.
You can even customize and share the starter code with your team to extract insights exactly how you want to!
If you want to see how easy it is to run analysis with the Stats iQ - R Integration within DesignXM, see the demo video below.
You can also book a demo and speak to our experts if you want to explore the software further and see specific use cases in action.
Related Articles