Employee Experience
Top Tips for Leading Remote Teams
Remote work is all the craze these days. Recent data from CloudApp shows that 1 in 4 employees work from home at least once a week. Moreover, the majority of Gen Zers work remotely at least once a week.
With the technology we have at our fingertips and the world embracing a Gig Economy, it's no surprise that remote work is growing and being fully embraced by younger demographics. It can be a challenge as a manager when you don't have employees next to you. During a stint of my time at Adobe I managed several global employees and I picked up some tricks along the way that I want to share with you today along with some other great resources. My hope is that the information will help both remote employees and those managing a virtual workplace.
Working remotely tips
Meet in person
First things first, if possible you need to meet in person. There is a sort of power that comes when you have connected with someone in person vs. always over email, video calls, or Slack. There were countless times working at a big company that I was able to get projects and buy-in from other teams done quicker if I had met them in person at least once.
It can also help to have an annual team meetup. That could be at HQ or an offsite where everyone is brought together for planning, team building, and creating those connections that can be fostered and referred to back in Slack throughout the year.
Connect virtually with your team
We aren't robots, we aren't meant to be 100% productive during an 8 hour workday. If you are working remotely, you need to find ways to connect with your colleagues who are either also remote, or in an office without you. Slack can be a great place for that. Bringing your personality into channels, creating fun channels (Pets, Cat GIFS, Walking Dead banter) where you can connect informally will help to keep those connection points high to keep or grow a high performing culture and team.
In 2018 at Adobe we also went all-in on video conferencing, and I haven't looked back since with CloudApp. Video is now par for my meetings. There is a power to looking people in the eye and seeing body language matched with tone.
Use collaboration tools
Collaboration is especially important when it comes to working with remote employees because you can't just walk into someone's office or arrange an in-person meeting, you have to get a little more creative with how you effectively collaborate and communicate.
CloudApp

Source: CloudApp
Visuals play a massive role when it comes to better understanding what people are doing and how they are doing certain tasks. CloudApp allows for easy visual collaboration through screen and webcam recording. Remote workers can show team members exactly what they are doing, their process, the final result, etc. This can alleviate the back and forth emails trying to put everything into words and the potential for miscommunication.
Slack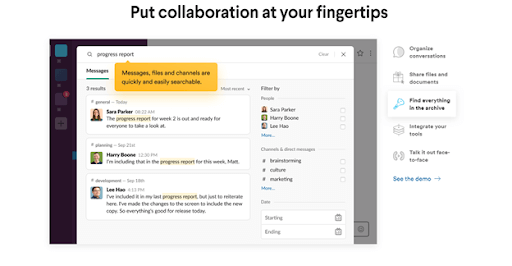 Source: Slack
I challenge you to find someone working in the digital space who ISN'T on Slack. It goes without saying that Slack is a popular and extremely useful tool for collaboration. The ability to create a number of streams allows for better organization of teams and tasks. For example, you can have a stream for designers, a stream for developers, and a team for a certain short-term project. This can help ensure tasks and messages don't get lost in the mix of things.
Airtable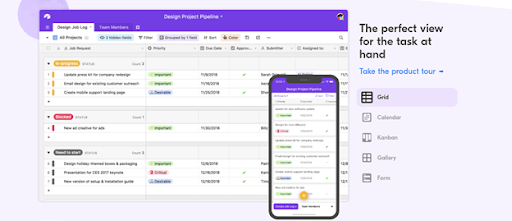 Source: Airtable
While on the topic of organization and its role in collaboration, I have to touch on Airtable. Airtable is an easy to use planner and calendar that can organize all your tasks at hand. Tasks can be organized by team, type of task, due date, urgency, etc. Although you can do a lot using Airtable, the interface is clean and simple - any remote team member can get the hang of it!
Calendar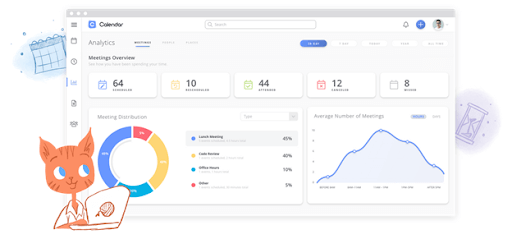 Source: Calendar.com
Ah, how can I not pay homage to the trusty, handy-dandy calendar? Have a deadline? Calendar. Team meeting? Calendar. Remote presentation? Calendar. From pen and paper to digital, using a tool like the one from calendar.com can not only organize your meeting schedule, but can also provide impressive people analytics to help you to optimize meetings schedules and best practices in the future.
Asana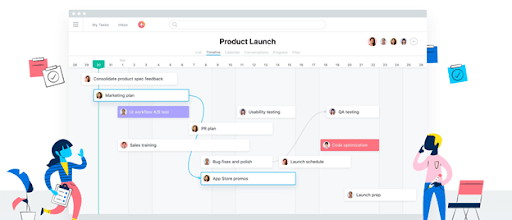 Source: Asana
How important is structure? I mean, we all know the answer to that. Structure is essential in an office space, but when it comes to remote teams, it's even more critical. Since interactions can't be done face-to-face, right away, remote teams have to navigate ways to delegate and structure tasks. Asana streamlines tasks, prioritizes them, and helps you organize them so your team isn't stuck in a disorganized rut!
Do virtual activities
Fantasy football, March Madness, Quora/Wikipedia challenges - these are all ways that can bring the team together virtually. Digital sports, trivia, challengers, etc, can provide weeks of friendly banter and connections that put everyone on the same plane. If you are working virtually, bring up these options or talk to a manager about having a contest for the team. The remote activity can do wonders for engagement for remote workers. They can also help remote workers feel more engaged with their team which can boost overall workflow and productivity.
Managing remotely tips
All of the above can be used as the manager of a remote team. As the leader you may find that you have to be super aware of how remote workers are feeling and being recognized. Success and remote employee engagement can start from the top down. Here are some remote management tips:
Give remote employees same advantages as HQ employees
This may seem a little crazy, but sometimes just a video conference isn't enough. Have you ever been in a call as the only one not in the conference room? You can feel disconnected and may have a hard time expressing your opinions about the topic. There is an energy that you don't get to be a part of. As a manager, I tried something a little different that worked pretty well. For big group meetings I had everyone dial in, rather than having a few people in a conference room and a few people online.
The result was everyone being on the same medium and at the same disadvantage. That may seem a little extreme, so you could also just be hyper aware of the remote employees not in the room to ensure they are included in topics or their opinions are asked. As the manager, it's partly up to you to provide an environment for remote work to succeed.
Lead informal conversations on Slack
Conversing with your remote team doesn't strictly have to be about the tasks at hand. Your communication back and forth should go beyond what is currently being worked on. Leading informative conversations on Slack to your various teams can help them leverage the knowledge you give them, apply it to their work, and add their own ideas to the mix. Found a good article related to the design field? Want to experiment with a new marketing strategy? Tell your team. Inform them, educate them, and be receptive to their input.
Be a remote worker advocate
Practice what you preach. I'm sure you have heard that a million times before, but it holds merit. Don't hire remote workers simply because it may be easier or save you money, but rather, advocate for the value remote workers can bring to the table, not only for business owners, but for aspiring or current remote workers as well. Advocating for remote workers will allow your remote team to feel like a larger part of the entire picture which is a challenge a significant amount of remote workers deal with. When working away from an office, workers may feel as if they aren't an important part of the team when in reality, they contribute highly. Understand, practice, preach, share, advocate!
You can also learn this well by working remotely yourself at times. If your work allows, you can work remotely once a week or more to get a feel for what people on your team might be encountering. Empathy and understanding for remote work will help you to be a better manager of remote workers.
Hold regular 1:1's
More commonly than with office workers, remote workers may feel a gap between what they contribute to the business and the business themselves. Holding regular 1:1's to go over their work, address any concerns, listen to their ideas, and plan ahead can make all the difference for bridging that gap. These meetings don't have to be long. Sometimes when I hold 1:1s they are 5 minutes and other times they are 50. The real key is to have it on the calendar blocked out for that discussion.
Hold accountable through OKR tools or virtual goal platforms
At the end of the day, your business has goals and objectives that you need to reach in order to stay afloat and maximize profit. Remote workers, just like in office workers, should be held accountable for their objectives and goals. OKR tools can help organize and reiterate KPIS, goals, objectives, and targets. Virtual goal platforms can bring these stats to light and allow owners and workers to go over them, make changes, address concerns, or remodel certain ones.
Conclusion
With remote work becoming increasingly popular, businesses are encouraged to learn more about how to create an adaptive and welcoming environment for all those who work away from the office. Navigating these practices and tips can help you improve the overall satisfaction of your remote workers which in turn can also help increase productivity, workflow, and customer experience. I have managed remote workers for quite some time and I can attest to the importance of leveraging the tools available out there to bridge that gap between you and the workers who help you build up your business on a consistent basis.
Learn How to Keep a Pulse on Remote Employees
Related articles