Featured
XM Platform: Fall 2020 updates make XM easier and more powerful than ever
Fall is here, and that means a busy summer for our engineering teams — and an unforgettable one for us all! — is behind us with plenty of new updates to the XM Platform. Check out what's new on the platform...
New purpose-built solutions and products
In the last few months we've unveiled five new CustomerXM products and one new product on EmployeeXM designed to save the world's workforce from bad IT experiences. Check them out:
Customer experience for the entire organization
Customer experience isn't just one team's job. From CX leaders to digital teams to the frontline of customer service and in-person locations, everyone plays a role in delivering exceptional customer experiences.
To better enable every team in your organization, we have taken the power of CustomerXM and packaged it into a series of purpose-built products, expertly designed and tailored specifically to drive the outcomes your teams are focused on. They can all run independently and work in concert to enable you to bring your XM vision to life across every team and every stage of the customer journey.
It means you get a program designed and road tested for where you want to use it, with purpose-built products for:
Say goodbye to bad IT experiences
The experience employees have with the technology they use day-in-day out is essential. With the right tech, paired with the right support from your IT teams, is mission critical to helping employees succeed, and be engaged in their work.
But while 90% of c-suite executives say they pay attention to employee needs when rolling out new technology, just 54% of employees agree. It's an experience gap organizations need to close if they're to enable their people.
EmployeeXM for IT is designed to do just that. From improving the IT Help Desk experience, to optimizing new software implementations, and putting the voice of your employees at the heart of your roadmap it will help you close the technology experience gap.
Improvements and updates to the XM Platform
It's not all about new products at Qualtrics — in fact, we're constantly adding new functionality to the XM Platform that powers all our products.
Whether you're running a customer, brand, product, or employee experience program there's plenty of new features to help make your program more powerful including new personalization capabilities, analytics tools, and additional governance controls.
Check out what's new below, and if you want to find out more about how they work, don't hesitate to get in touch with us.
Never miss a chance to close an experience gap
Keeping track of all your feedback, across every channel, is a challenge — and in disruptive times, as customer needs and behaviors change faster than ever, staying on top of the customer experience 24/7 is daunting.
That's why the Experience Management Platform™ now does the legwork for you, thanks to a smart innovation called Trend Based Actions. It does exactly what the name suggests — the system constantly monitors trends in your KPIs, across the entire organization, and automatically triggers an action if they drop below a certain threshold.
It's like an early warning system, that automatically spots an issue, and steps in to resolve it with the right actions before it starts to impact your business.
We are also launching a collection of pre-built actions which gives you access to templates for actions by role and industry. Taking action is now easier than ever with recommended ways to create workflows, send notifications and more with just a few clicks — no advanced coding skills required.
Mass personalization, now at scale
Customers increasingly want more personalized experiences from the brands they deal with — and we're not just talking about targeted promotions. They expect to be treated as individuals, with products, offers, and communications that are uniquely relevant to them.
Personalization starts with having the right data — and in the XM Directory you have everything you'll ever need, with a complete history of all your customer's interactions and behavior.
Now, we've added Segments into the XM Directory so you can build your own dynamic customer segments and personalize experiences at scale based on rich insights into your critical customer groups.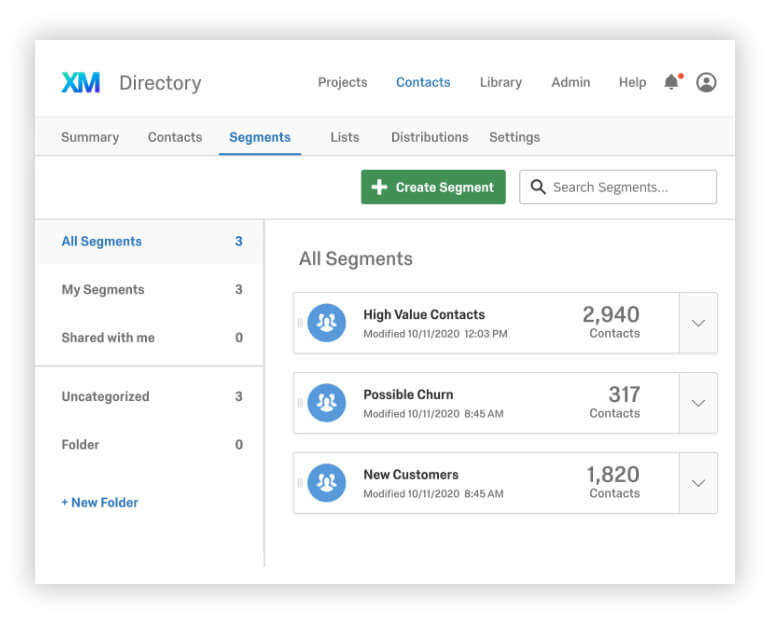 With Lists, it was possible to create static groups using contact information. Segments provide the ability to create dynamic groups based on demographics and other psychographic or behavioral criteria. You'll be able to use those segments to target feedback requests, personalize communications, and filter dashboards so you can get a better understanding of the key drivers for different customer groups.
Plus, we're making it easy for everyone to take advantage of the power of XM Directory with Role Based Access Control (RBAC). It allows you to establish granular controls on user access to data so you can enable everyone, while maintaining overall control of how data is accessed and used.
New updates to iQ - our powerful analytics engine
Expanded topic libraries in Text iQ — when analyzing text, iQ uses topic libraries to automatically sort tens of thousands of open text responses into topics. We've added new libraries for government, retail, and finance, so you now have access to even more out-of-the-box libraries for your industry.
Prioritize with Focus Areas — know where to act with built-in intelligence that automatically surfaces the areas you need to focus on to fix broken experiences. Focus Areas brings together all your structured and unstructured data with the power of Text iQ and boils it down, in plain language of course, to the actions you need to prioritize for the greatest impact.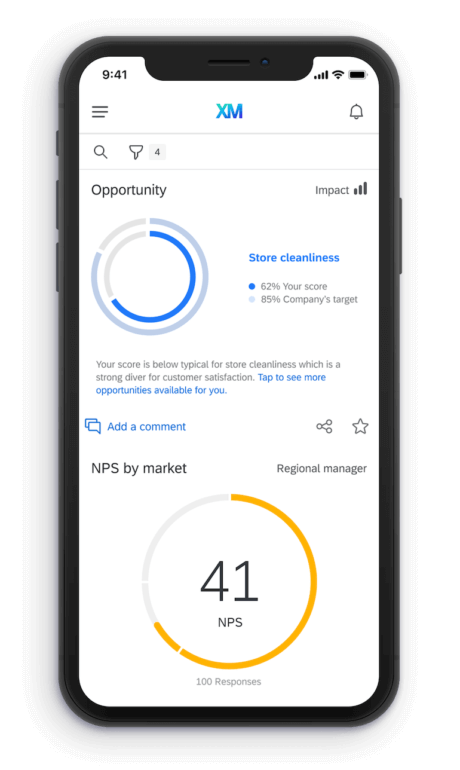 Relative Importance Analysis — a technique previously only available to data scientists and seasoned statisticians, relative importance is now built into Stats iQ. It's a best practice regression model that makes it really easy to understand the key drivers in your data, so you can find the root cause of bad experiences.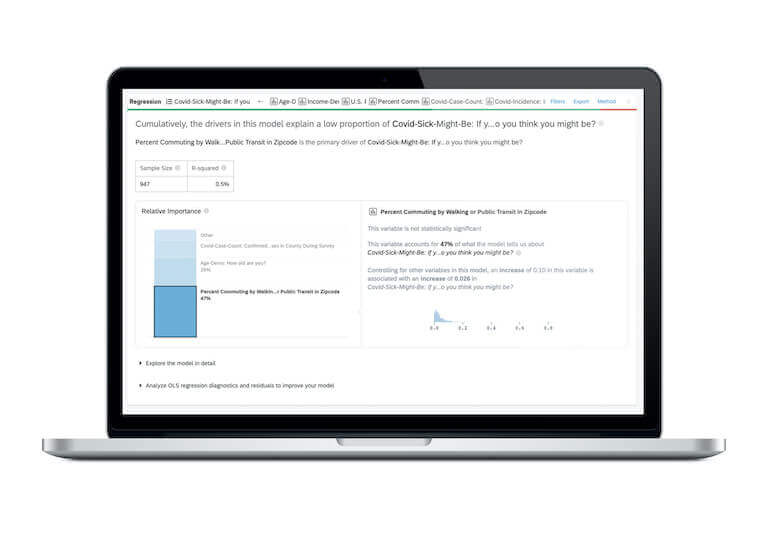 More customization options on the XM Platform
We've seen organizations do incredible things by customizing on the XM Platform and leveraging its powerful listening, analysis, and action engines for custom tasks. We continue to add more options for you to harness the power of the platform with your own customizations, including:
Extensions SDK — customize action triggers and tasks in the platform to build a system of action tailored to your business. It means you now have the flexibility to turn any trigger in Qualtrics into an action both in or outside of the platform.
Developer Portal — develop your own extensions for the XM Platform with easier access to our developer portal, including access to all our API documentation.
COVID-19 Solutions: Get your communities and workplaces back up and running
As part of our COVID-19 solutions designed to help communities and businesses respond to the pandemic, we've launched solutions on the platform designed to help workplaces re-open with confidence and governments and education institutions keep their residents, students, and faculty safe.
Workforce symptom check — contain the spread of COVID-19 by assessing employee health
Workforce contact tracing — automate the tracing of workforce contacts to ensure you can quickly and easily respond to cases in your teams to stay safe, secure, and open for business
Back to Business for Communities - understand the current state of public health risk in your community and take a fact-based approach to managing when and how you open your restrictions with Symptom Check, Testing integration, Contact Tracing, and Vaccine Management + Citizen Experience.
Return to Learn - turnkey set of solutions to help K12 and higher ed institutions listen to students, families, faculty, and staff, use experience data to assess risk, and take appropriate actions to deliver on your educational mission.
Industry-leading governance
Governing your XM programs and keeping them secure requires a centralized approach with enterprise-wide visibility on users and data. Here's what's new for Fall 2020 to continue delivering on this vision:
SOC 2 Type 2 Certification — we've added to our line up of certifications. This one's all about security, and certifies that the XM Platform meets the gold standard in security, availability, and data confidentiality.
Project approval controls — set up rules for when new projects need approval before going live. It's a great way of staying on top of what's happening on the platform, and ensuring your teams' projects meet your standards before they go out.
New purpose-built products, tailored XM Solutions with best practices built in and a set of innovations to enhance the best platform in Experience Management. We're excited for you to try it all and experience all the power of modern XM.
See the latest updates in action: Join one of our demo days