Optimizing Website & App Feedback with Our Latest Product Releases!
KatharineS
Seattle, WA
Community Administrator
Administrator
Optimizing Website & App Feedback with Our Latest Product Releases!
Today we're going to talk about Digital Customer Experience innovations at Qualtrics – essentially, the latest and greatest available to Website / App Feedback projects!
Simplify managing website feedback tags and track customer feedback and behavior more efficiently with the XM integration for the Adobe Experience Platform Launch. With Adobe Launch, Website Feedback Intercepts can be deployed to your site with a click, empowering users in the organization to create and deploy Intercepts through a self-service interface. This Qualtrics extension is available on the Adobe Launch Catalog for current Launch users to install and configure, but you can also check it out on the XM Marketplace here. If you have questions on set up, don't forget to consult our Adobe Launch support page!
Have you tried Website Feedback for mobile apps? (AKA our Mobile App SDK!) Drive improved iOS and Android App reviews within your mobile app while enabling feedback capture from all users. Check out our Soliciting App Reviews support page to learn more!
The Feedback Button is a brand new Creative type available for Website / App Feedback projects that enables you to make accessibility compliant Creatives responsive to different device sizes. Additionally, this new creative has a completely overhauled authoring experience, making it much easier to quickly create feedback buttons for your websites. (This Creative is replacing the old Feedback Tab.) Check out the Feedback Button support page for more details on its improved authoring experience.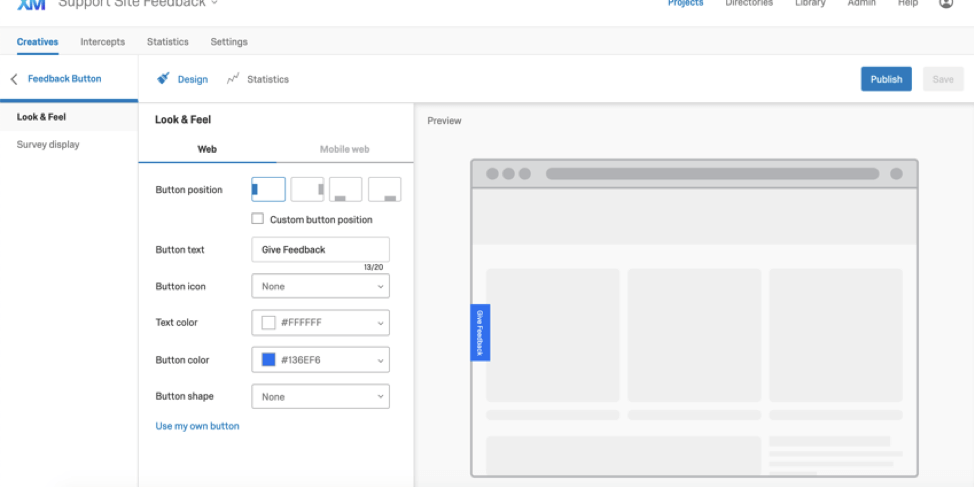 Website Feedback now also offers improved flexibility in tracking site visit history through browser sessions or cookies. These storage settings can be adjusted under Project Options.

Benchmark your digital customer experience against peer organizations with the XMI Customer Ratings - Digital benchmarks. Learn more about these digital benchmarks, request a demo, or learn to display this data on your CX Dashboards.
To supplement these new releases, there are two new trainings available on Basecamp. With Implementing a Website Feedback Program, you'll learn how to design, visualize, and turn your Digital Voice of the Customer program into actionable insights. In addition, you can learn more about in-app reviews and authoring mobile intercepts with this video. (Remember, Basecamp requires you to login to view videos. Similar to community, anyone with a Qualtrics account can view this material.)
Tagged: