HEALTHCARE EVENT
Summit in your city
WEDNESDAY, SEPTEMBER 21 / 2 PM ET, BOSTON, MA
---
Today's patients judge their healthcare experiences against their interactions with other industries. Shifting expectations, new technologies, and markets saturated with competition – not to mention a global pandemic that forced rapid change to business models – have made it imperative for healthcare organizations to deliver positive patient experiences that build and sustain meaningful relationships.
You're Invited
---
Come spend the afternoon with Qualtrics. In this invitation-only session, industry leaders along with special guests from innovative healthcare organizations will:
+    Share best practices embraced by providers across the country to deliver differentiated experiences that drive measurable business outcomes
+    Explore the evolution of XM technology and how it's impacting our ability to shape human-centric experiences in healthcare
+    Engage in a round table discussion around harnesing the full potential of omnichannel insights across the patient journey
We hope you and your colleagues can join us for a fun day of learning, sharing ideas, and ideating on how to evolve and elevate experience management in healthcare!
Agenda
---
2:00 PM ET
Sign in and introduction
2:15 PM ET
The Evolution of Experience Management (XM)
3:15 PM ET
15-minute break
3:30 PM ET
Fireside chat with Jason Dupuis, Chief Experience Officer, PM Pediatrics
4:30 PM ET
Q&A
5:00 PM ET
Happy hour with appetizers, beer, and wine
date
Wednesday, September 21
location
SAP America
53 State St
Boston, MA 02109
Speakers
---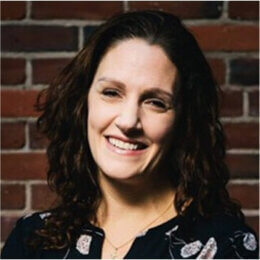 Amy Heymans
Chief Design Officer, UnitedHealth
Amy believes that purpose driven design can improve the human condition. She is a designer, futurist, visionary, and innovator focused on collaboratively designing a better future. She applies her expertise in improving experiences as a strategy consultant, leadership advisor, speaker, writer, teacher, and facilitator. She works with those interested in finding their purpose, aligning with the people they serve, crafting a brave vision, and transforming their organization in the direction of that vision. She is both knowledgeable and passionate about health, financial wellbeing, social impact, and sustainability.
By registering for this event you agree to allow Qualtrics to share and process your personal data for purposes of follow-up with regard to the content of this event, in accordance with our Privacy Statement.
This offer is extended to you under the condition that your acceptance does not violate any applicable laws or policies within your organization. If you are unsure whether your acceptance may violate any such laws or policies, we strongly encourage you to seek advice from your ethics or compliance official. For organizations that are unable to accept all or a portion of this complimentary offer, and would like to pay for their own expenses, Qualtrics will provide, upon request, a reasonable market value and an invoice or other suitable payment process.
This invitation is non-transferrable. Please email Arielle Krigger with any questions – ariellek@qualtrics.com