Choosing the right solution for
employee experience management
Qualtrics
EmployeeXM vs Glint

About the data
The data provided in this comparison report comes from G2 Crowd, a leading peer-to-peer review platform that allows users to compare the best business software and services based on user ratings and social data.
These reports were compiled using G2 Compare Reports, a feature that allows side-by-side comparison of up to four competing products based on satisfaction ratings, highlighting the leading product for each metric.
Experience management category comparisons
Fueled by post-pandemic burnout, high stress and a desire for growth opportunities, more employees are leaving their jobs than ever.
With job openings in the United States reaching a high of 9.3 million, businesses will need to rely on employee insights — engagement, satisfaction, feedback — to engage and retain their existing talent, as well as attract new hires.
You're here for exactly that reason. You know that there's never been a more important time to get employee experience (EX) right — and you want the right tools for the job.
Here, we compare the Qualtrics Employee Experience Management (EXM) platform against Glint on five key categories of employee experience management.
How the platforms perform
Well-being assessments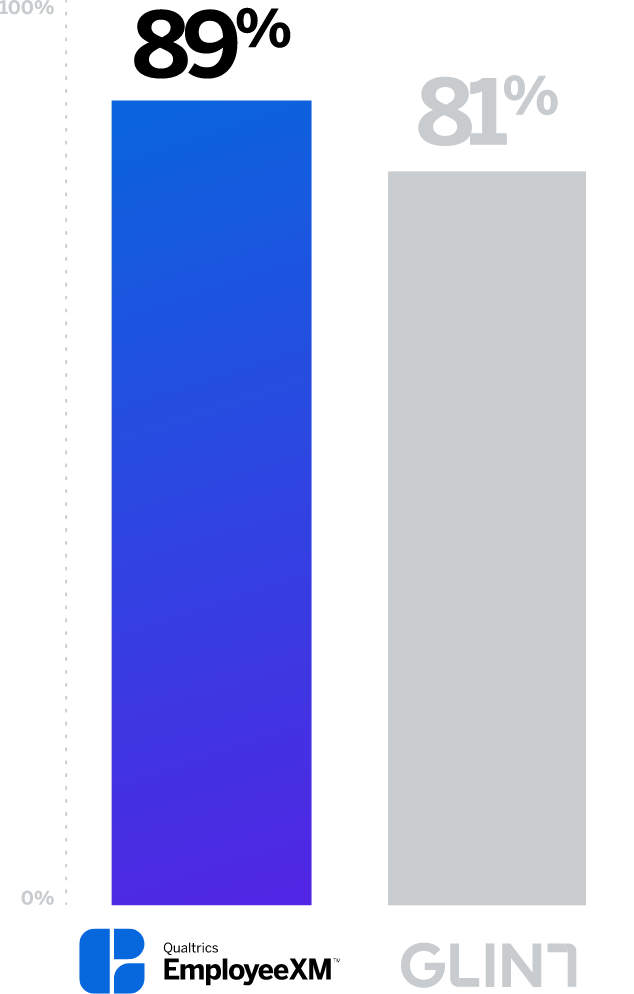 Well-being assessments refer to a platform's ability to evaluate employee well-being and resilience and put into action effective, people-centric programs to improve engagement and satisfaction.
Your employees are your best assets — and it's never been more important to hear what they have to say and act on it.
Rather than disparate, off-the-shelf solutions that solve the basic requirements of employee experience, you need a platform that can provide a holistic, end-to-end view of employee engagement and satisfaction.
It needs to be able to listen, analyze and provide automated actions personalized for each individual employee at scale. It also needs to provide guided assessments and support your existing technology stack so that it can be configured to meet your needs.
And whatever you choose has to be able to deliver whether your employees are in the office, on job sites or working remotely.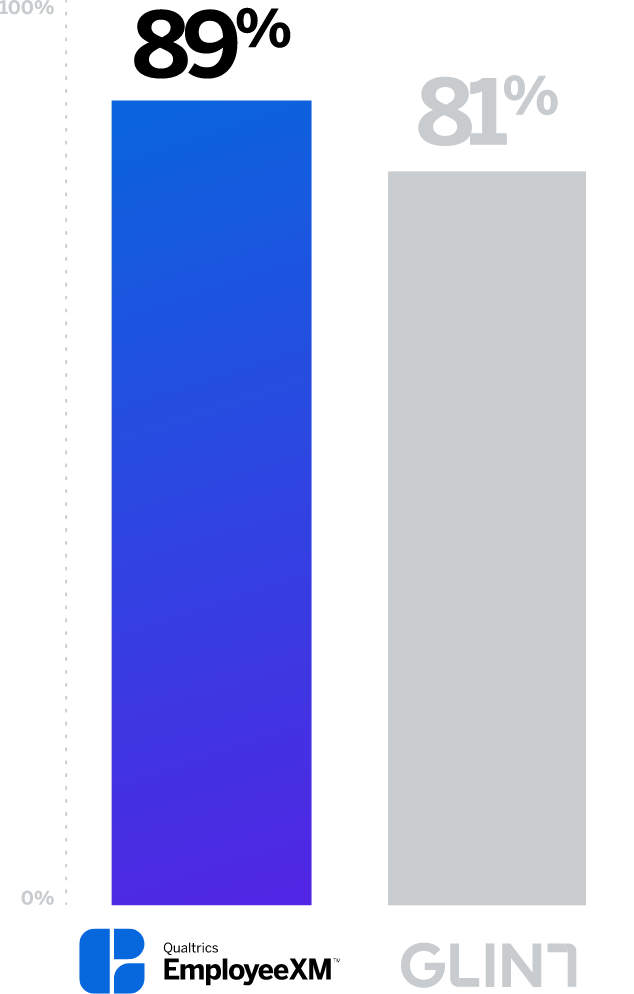 HOW THE PLATFORMS PERFORM
Customization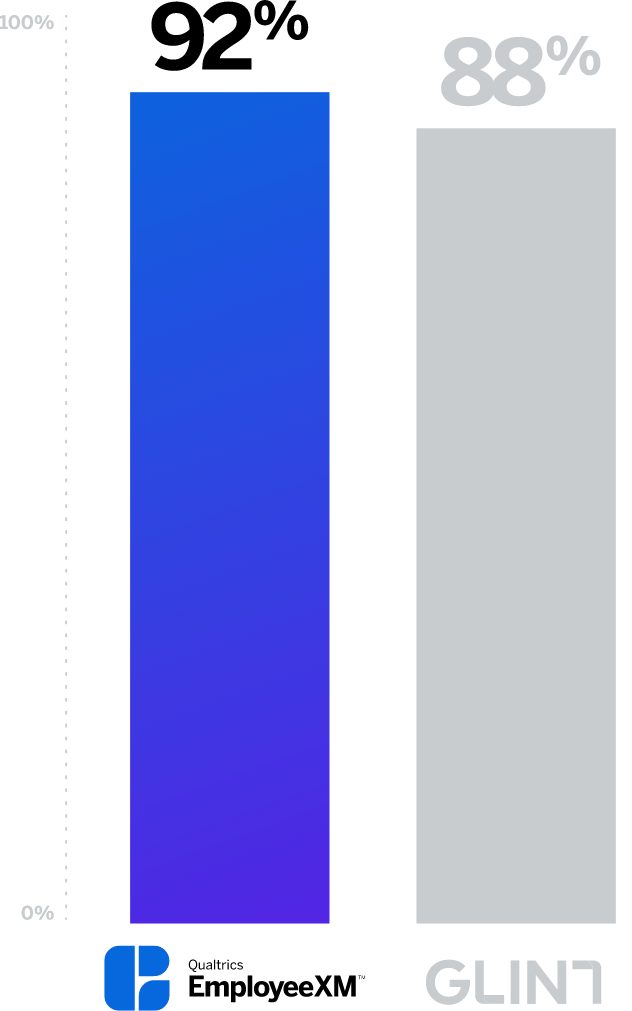 Customization refers to a platform's ability to adapt, scale and grow over time. A good employee experience solution provides a configurable foundation for development — but is also incredibly easy to use, no matter the size of the organization.
As employee needs change, you need a system that's flexible enough to keep up with their expectations.

Run-of-the-mill solutions just won't do. Not only do they lack the feature set you require, they're also difficult to scale and use for today's hybrid workforces.

You have to look at employee experience as a broad, business-defining vision; one that lays the foundation for future employee engagement programs and helps you to develop people-centric initiatives.

It's not just a process, it's a culture — and when it works, it can be reconfigured to solve any unique problem your organization has.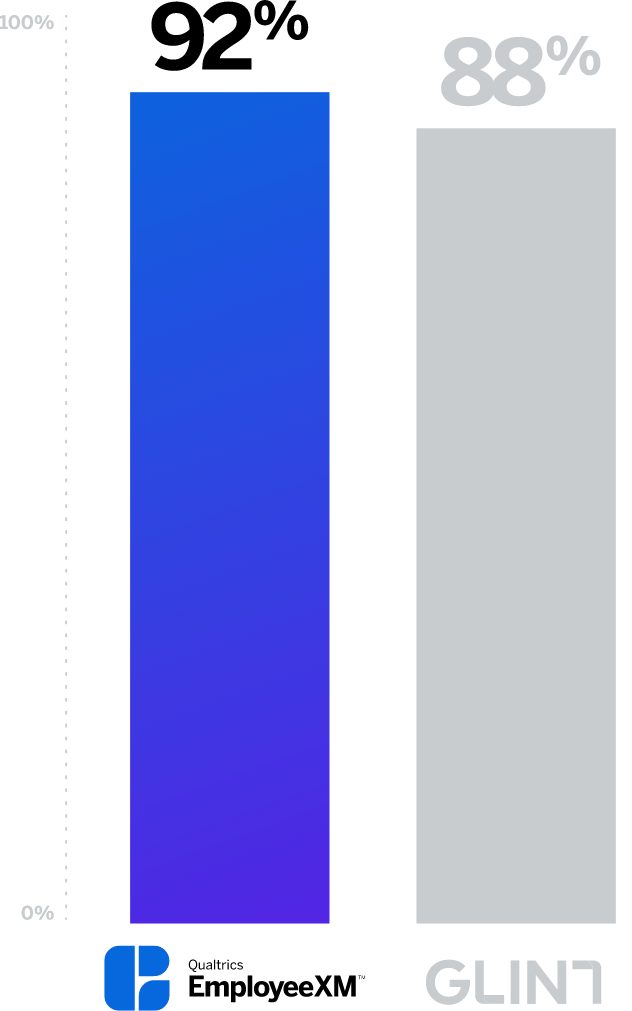 How the platforms perform
Multilingual surveys
and localization
Multilingual surveys and localization measure an organization's ability to quickly, easily and accurately translate survey content into several languages so that it can be distributed to various audiences.
If you want to carry out research across geographies, multilingual surveys and localization are essential.
Through localization, you can translate your surveys into several languages before distributing them to your target audiences. Respondents then select their preferred language(s) and can fill in your surveys with confidence. This not only results in higher response rates, but also more accurate answers as nothing's lost in translation and it's a better experience overall.
The best research platforms will enable you to manage survey translation and consolidate research data in one place, making it far easier for your international teams to glean insights and do regional breakdowns. It's this kind of capability that truly sets researchers apart.
How the platforms perform
Goal and challenge creation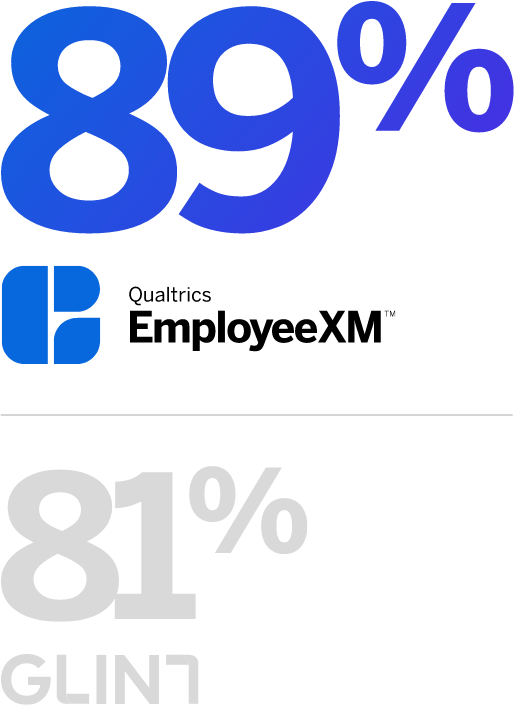 From a software perspective, goal and challenge creation is all a solution's ability to identify what matters to employees — from inclusion and diversity to remote working policies and safety — and put into action strategies to resolve issues or improve initiatives.
No matter the size of your business, being in a position to understand how employees feel about remote working or diversity across your organization is transformative.

And that starts with developing a plan to understand, improve and transform employee experiences.

With the right tools, you can take the guesswork out of what matters to your employees, enabling you to set and track the engagement goals that matter.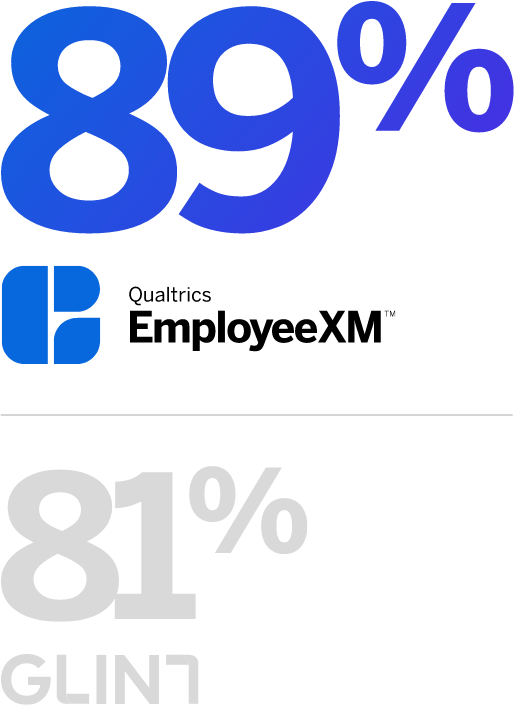 How the platforms perform
Internationalization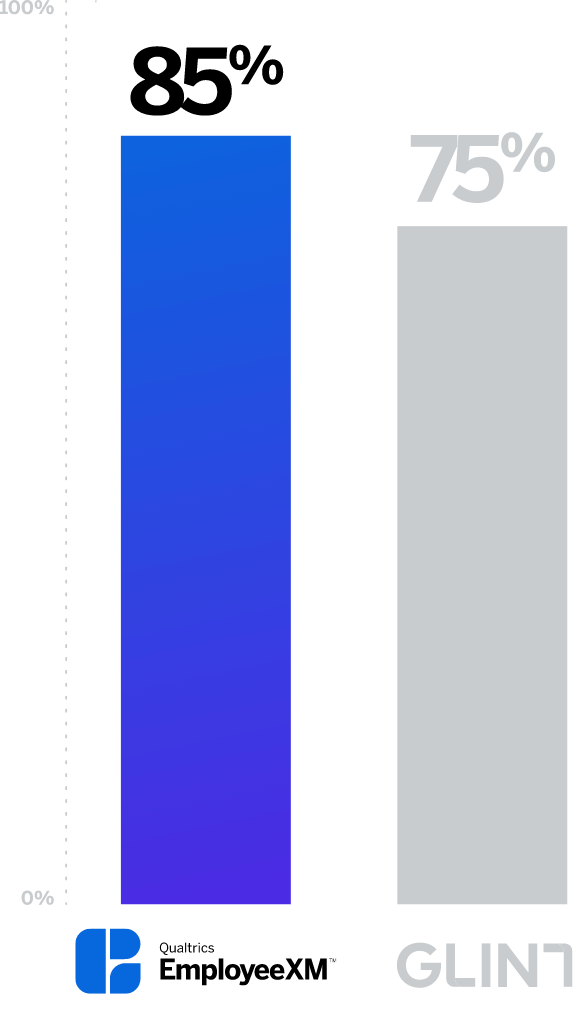 This category measures global reach, e.g. the ability to meet the needs of users in different countries, product-market adaptability, product localization, and language availability.
Ensuring you have an EX solution that's adaptable and supports localization will make it significantly easier for your international teams to use and get most value from it.
Best-in-class solutions are designed for internationalization and localization, meaning they can easily enter different national markets and be deployed for specific audiences regardless of language.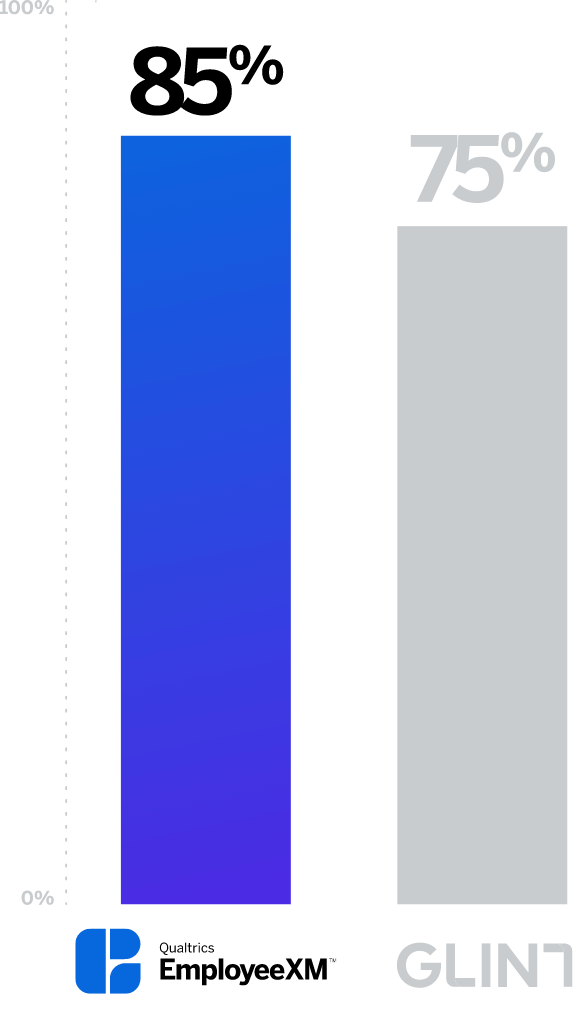 About Qualtrics
Whether in the office, on job sites, or remote, hear every voice in your organization with a listening engine that makes sure you can take action when and where it matters most. From relational census and pulse to multi-rater and always-on feedback, you'll have the listening tools to understand and design the unique employee experiences your diverse workforce requires.