Choosing the right experience
insights platform
Qualtrics CoreXM
vs. Medallia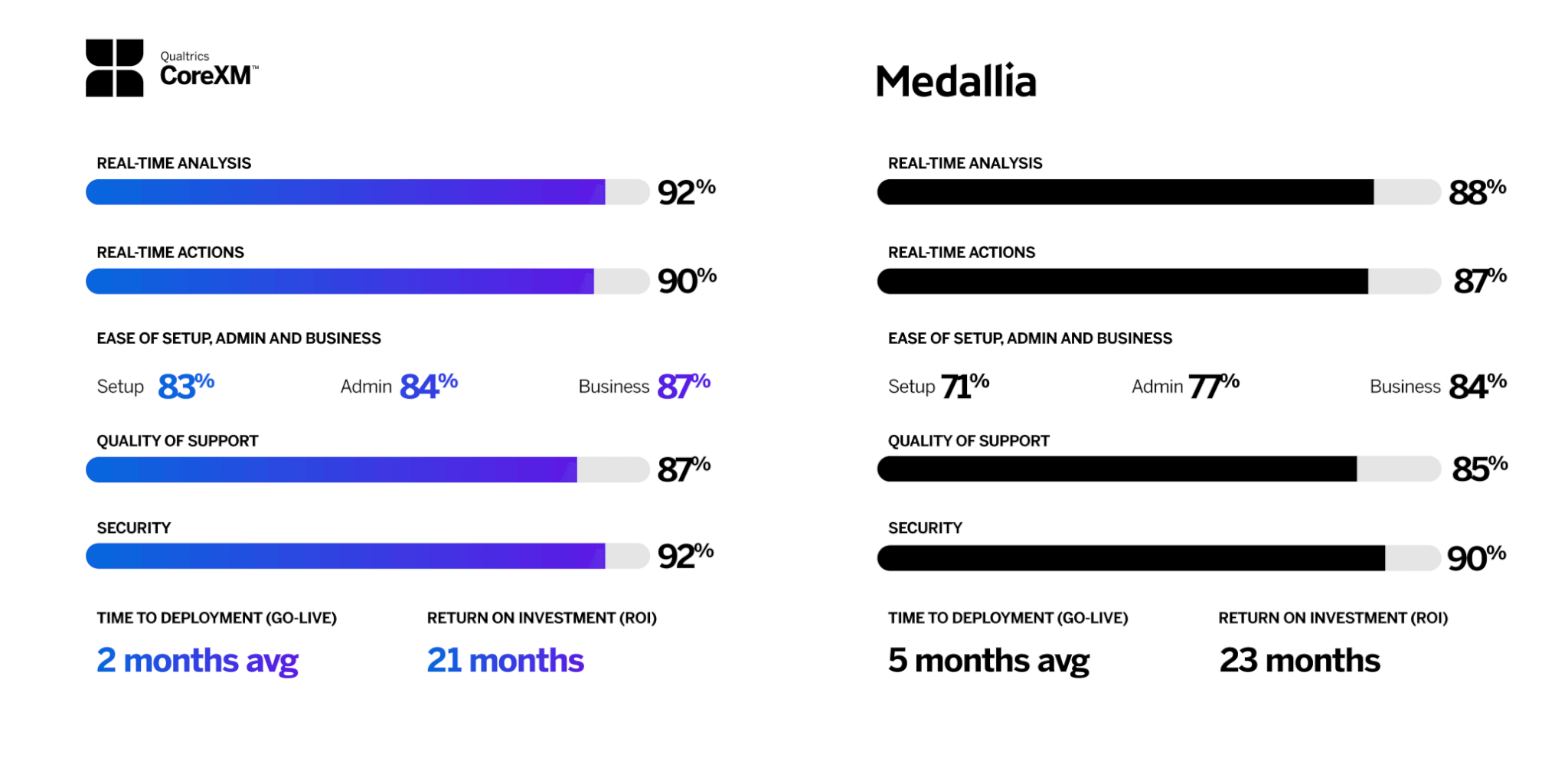 About the data
The data provided in this comparison report comes from G2 Crowd, a leading peer-to-peer review platform that allows users to compare the best business software and services based on user ratings and social data.
These reports were compiled using G2 Compare Reports, a feature that allows side-by-side comparison of up to four competing products based on satisfaction ratings, highlighting the leading product for each metric.
Experience management category comparisons
When you look at companies leading experience transformation, they all have the same thing in common: the right foundations.
The fact is that business and brand success today is tied to delivering amazing experiences — and yet few organizations have the right tools in place to deliver them.
Great experiences require the right insight, and insights are formed from high-quality data captured at every touchpoint, segmented by audience.
You're here because you know just how pivotal experience management is, and appreciate that the way forward requires the right system of action. And we can help.
Here, we compare Qualtrics CoreXM against Medallia for eight key categories that help drive experience management and transformation.
Technology
---
Qualtrics CoreXM empowers businesses with the tools to listen, understand and act on experiences at any stage of the customer journey. With these tools, users of CoreXM are empowered to design and improve experiences on their own accord. Here are just a few reasons why Qualtrics is a leader in the Experience Management (XM) category.

Digital excellence
Providing native, best-in-class digital capabilities, there's no limitations to what's possible with CoreXM. Rather than acquiring leading solutions and attempting to clip them on, Qualtrics focuses on partnering with emerging tools and creating deep integrations that work out-of-the-box, helping to reduce cost and TCO.

Future-proof
Qualtrics CoreXM's self-serve, technology-first approach allows customers to create unique, category-defining experiences on their own accord. The platform can be scaled up and down as necessary, providing a future-proof solution for employee, brand and product experiences.

Analytical depth
With PhD-level analytics made simple, Qualtrics offers users unmatched analytical depth and high-quality insights that reduce time to ROI. You don't need to be a professor or research specialist to leverage the tools available, meaning every member of your team can drive experience transformation.

Best-in-class integrations
Taking an API-first approach, Qualtrics CoreXM helps users to drive down the costs of acquiring and configuring integrations. Users have complete control over how their tools work with CoreXM — and Qualtrics saves time and breaks down silos by integrating into the systems you already use.
HOW THE PLATFORMS PERFORM
Real-time analysis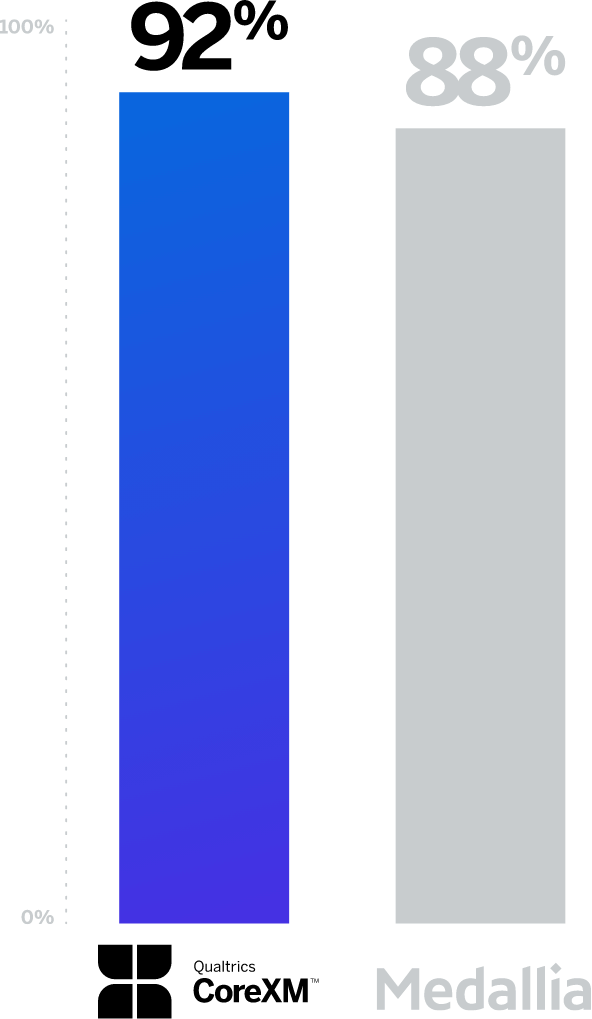 This category measures an experience management platform's ability to track real-time progress against key customer experience and operational targets, understand customer behavior, identify friction points and predict trends.
Analytics is one of the cornerstones of experience transformation and management. Without it, how can you listen, understand and act on what your customers and prospects want?

Leading solutions in this category not only provide listening tools — but also predictive intelligence, real-time insights, dashboards and reporting tools that make data actionable.

If you choose the right toolkit, you can go from customer analytics to business impact by viewing operational data side-by-side with customer data to build a complete view of your business and demonstrate the ROI of your improvements.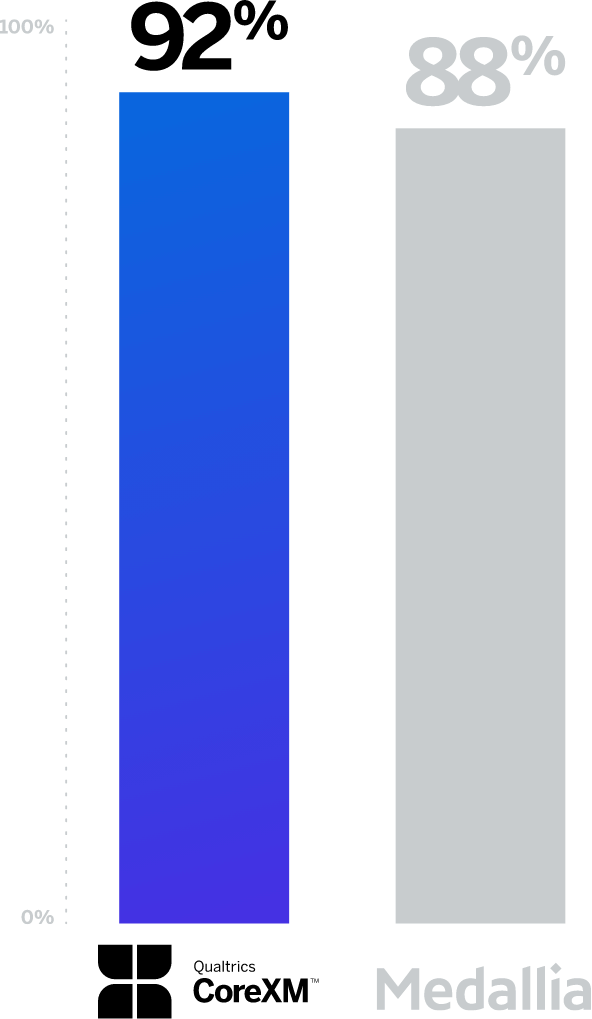 How the platforms perform
Real-time actions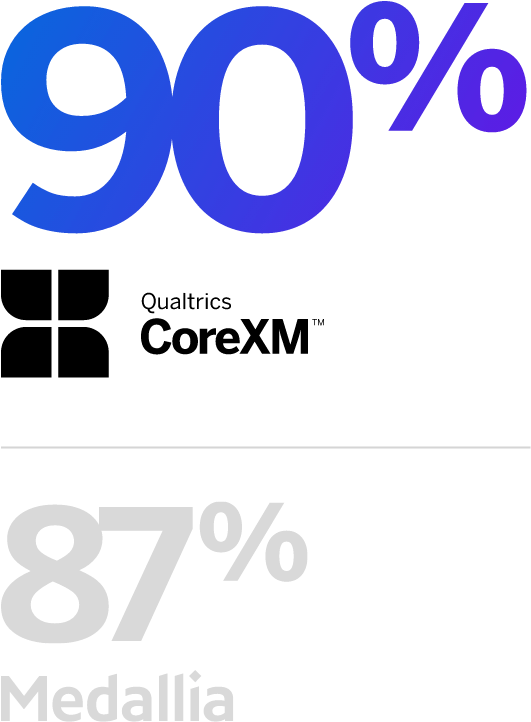 This category measures an experience management platform's ability to manage experience breakdowns as they happen. This includes applying automated actions — such as raising and sending tickets via the CRM — workflows, and tailored recommendations to close gaps.
Experience transformation requires the ability to respond to experience gaps in real time. But if you can't act on them using insight gleaned from listening, how can you meet your customers' expectations?
Through experience management platforms that support real-time actions, you can hunt down and fix broken experiences using automated workflows and intelligent analysis. This includes triggering actions in your CRM to respond to customer enquiries, sending out messages, enrolling prospects in nurtures, and much more.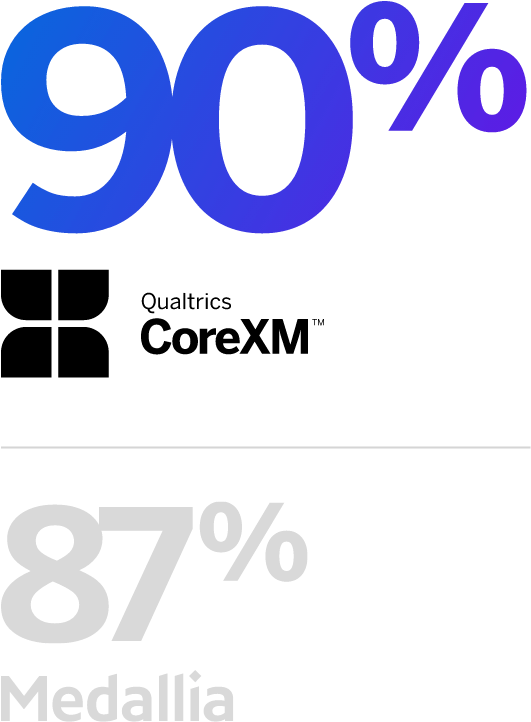 HOW THE PLATFORMS PERFORM
Ease of setup, admin and business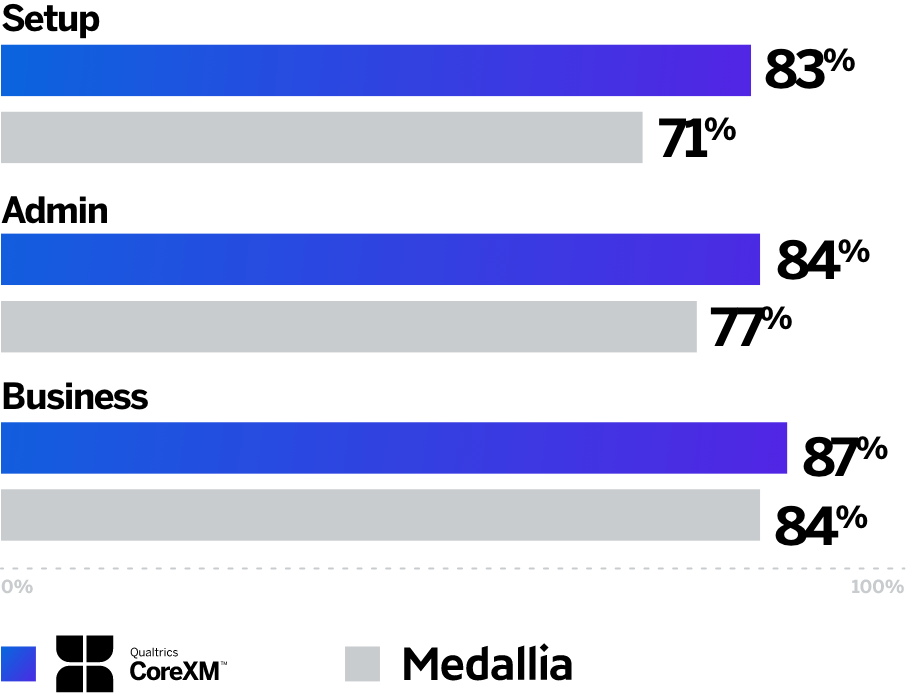 This category measures ease of setup, management and doing business. For solution vendors, ensuring their platform is easy to deploy and use, as well as providing the right support when it's required, is crucial to retaining existing customers and finding new ones.
Just as your customers want seamless experiences, so do you. You don't want to have to spend months setting up your experience management platform, nor do you want to work with a vendor that makes it difficult for that to happen.

The platforms that help drive experience transformation are easy to deploy and use, often requiring little to no specialist expertise or coding (though the option is available for those that need it).

Ideally, you want a platform and vendor that makes the entire process simple and straightforward — one that can help you every step of the way as and when you need support.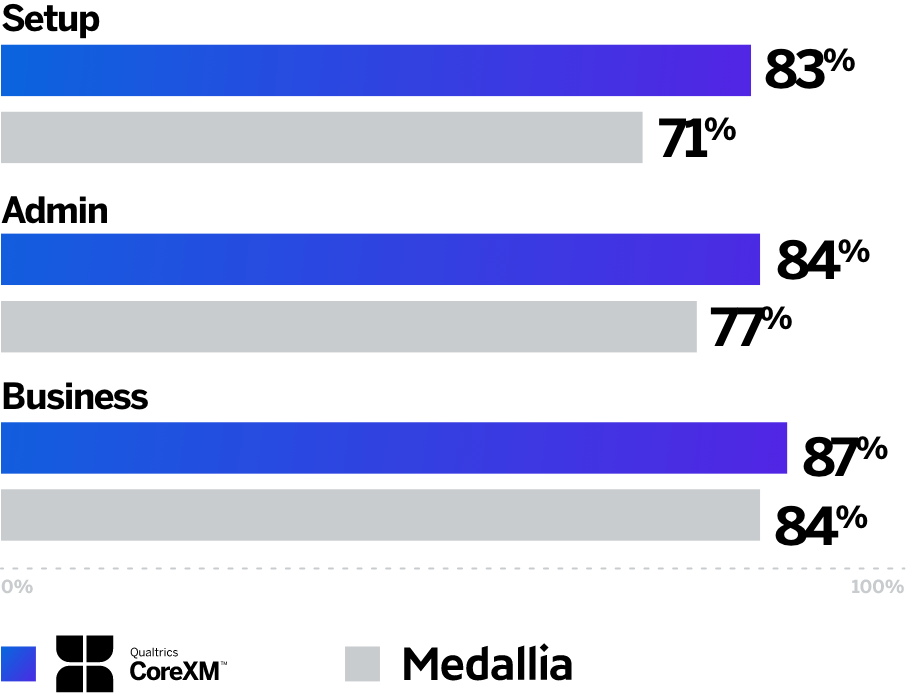 How the platforms perform
Quality of support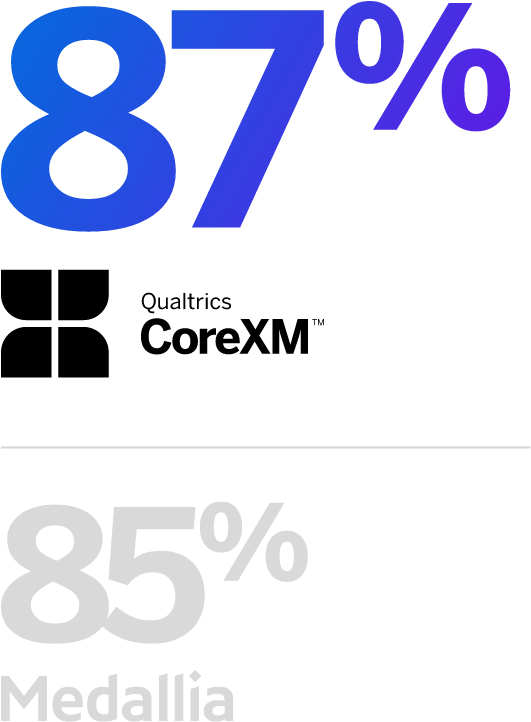 Quality of service and support measures an organization's ability to help and empower customers. This means maintaining effective communication, being transparent, caring and trustworthy. It also looks at the flexibility and reliability of the services provided — from routine assistance to on-demand and on-site services, e.g. implementation and training.
No matter the tool, the quality of service and support provided by the vendor is critical in ensuring customer satisfaction and adoption. And the brands that continue to deliver, are those that are winning.
It's all about having a customer-centric approach; whether you're updating software or running on-site training sessions. When you deliver world-class support, you not only retain your existing customers — you attract new ones as people begin to advocate on your behalf.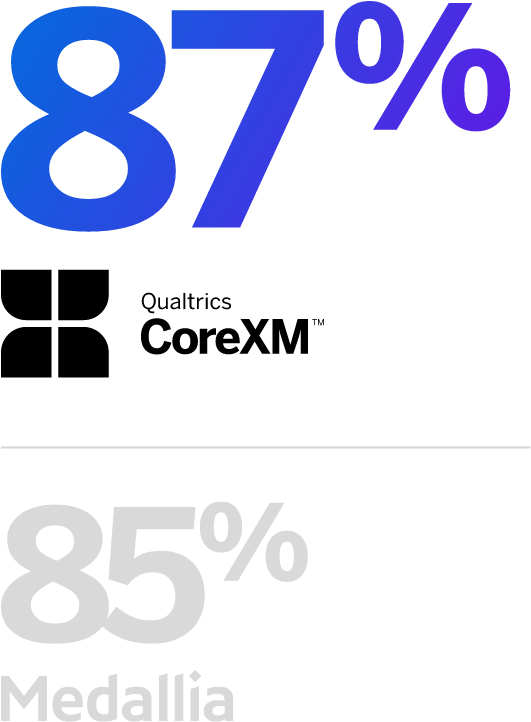 HOW THE PLATFORMS PERFORM
Security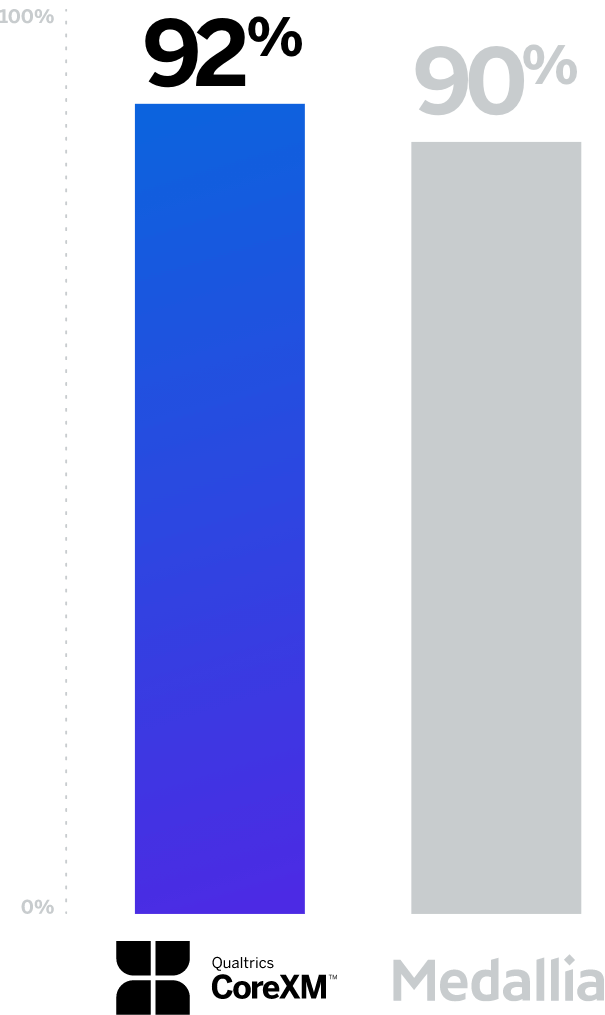 Security measures a platform's ability to keep customer and employee data safe at all times. This includes adherence to recognized standards for risk management and security compliance, such as ISO 27001, FedRAMP and HITRUST.
For organizations around the globe, data security is not just a key requirement but also a competitive advantage.

From managing sensitive data to complying with GDPR, those that can demonstrate their ability to keep customer and employee data safe, anywhere, anytime, are pulling far ahead of those that can't.

Your customers and employees expect you to keep their information safe — but do you have a platform capable of doing so?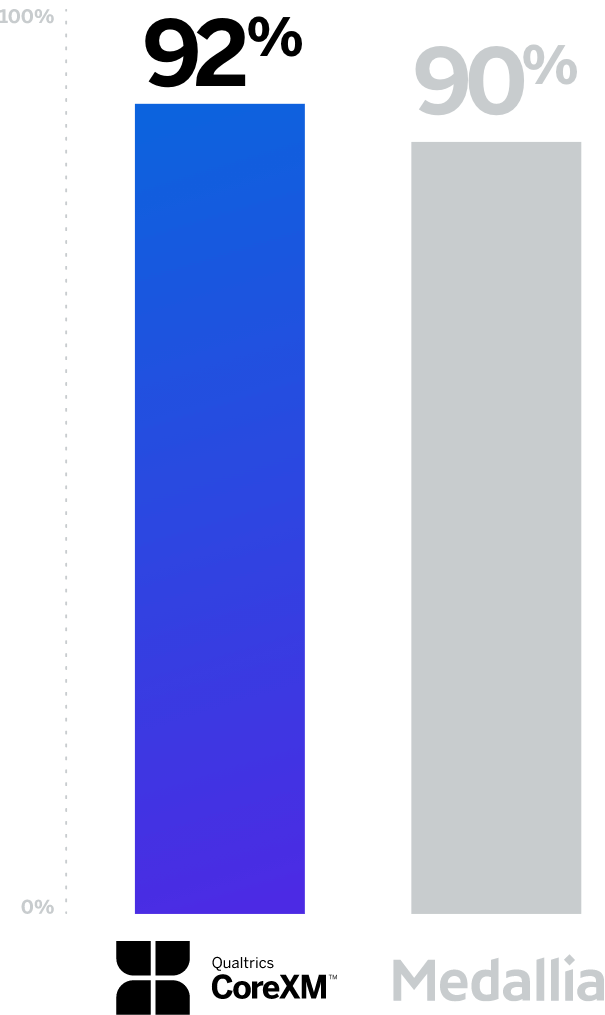 HOW THE PLATFORMS PERFORM
Time to deployment
(Go-live)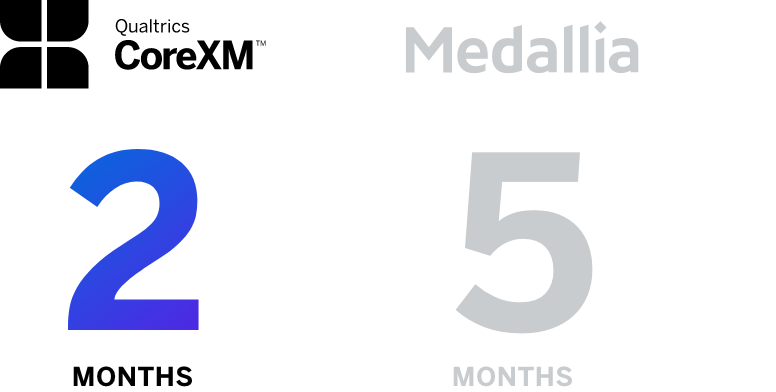 This category measures how quickly an experience management platform can be up and running.
Customer experience matters more than ever. In a world where it's never been easier to switch from one brand or business to another, ensuring you implement a solution to close gaps is now the difference between success or failure.

But your customers won't wait — and you can't spend nearly half a year setting up and deploying an experience management platform.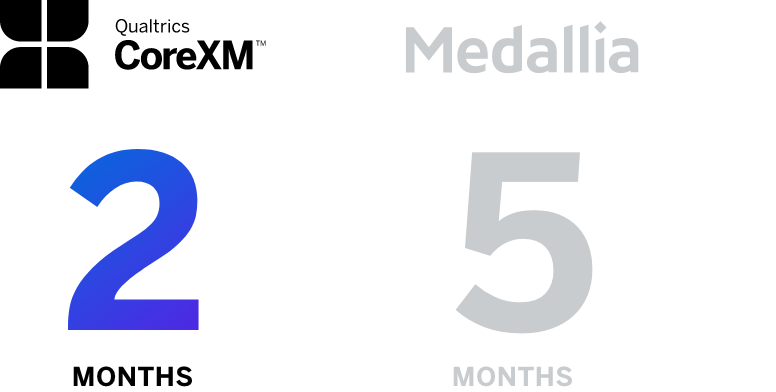 How the platforms perform
Return on investment (ROI)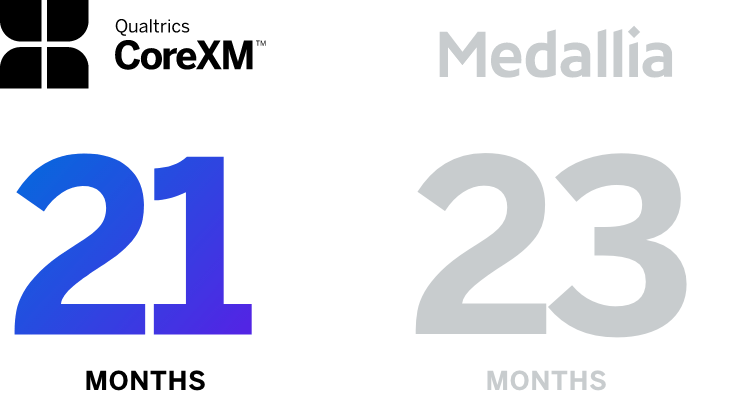 This measures how quickly you can expect to see a return on investment (ROI).
How soon can you see a return on your investment after implementing an experience management platform?
Before acquiring any platform, make sure you take the time to evaluate the solutions on the market and see how long it's taken other brands and businesses like yours to see ROI with certain tools.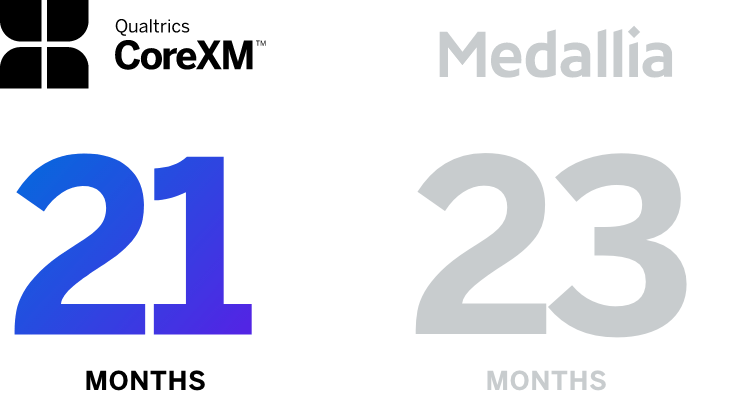 About Qualtrics
Give everyone the tools they need to delight and disrupt at every stage of the experience design process — from market insights and needs assessments, to concept testing and pricing research. Choose from 20+ fully-automated, guided solutions that come with pre-built listening instruments, analytics and reporting to get you up and running quickly.