CHOOSING THE RIGHT SURVEY SOFTWARE PLATFORM
FOR GATHERING DATA AND INSIGHTS
Qualtrics CoreXM
vs. SurveyMonkey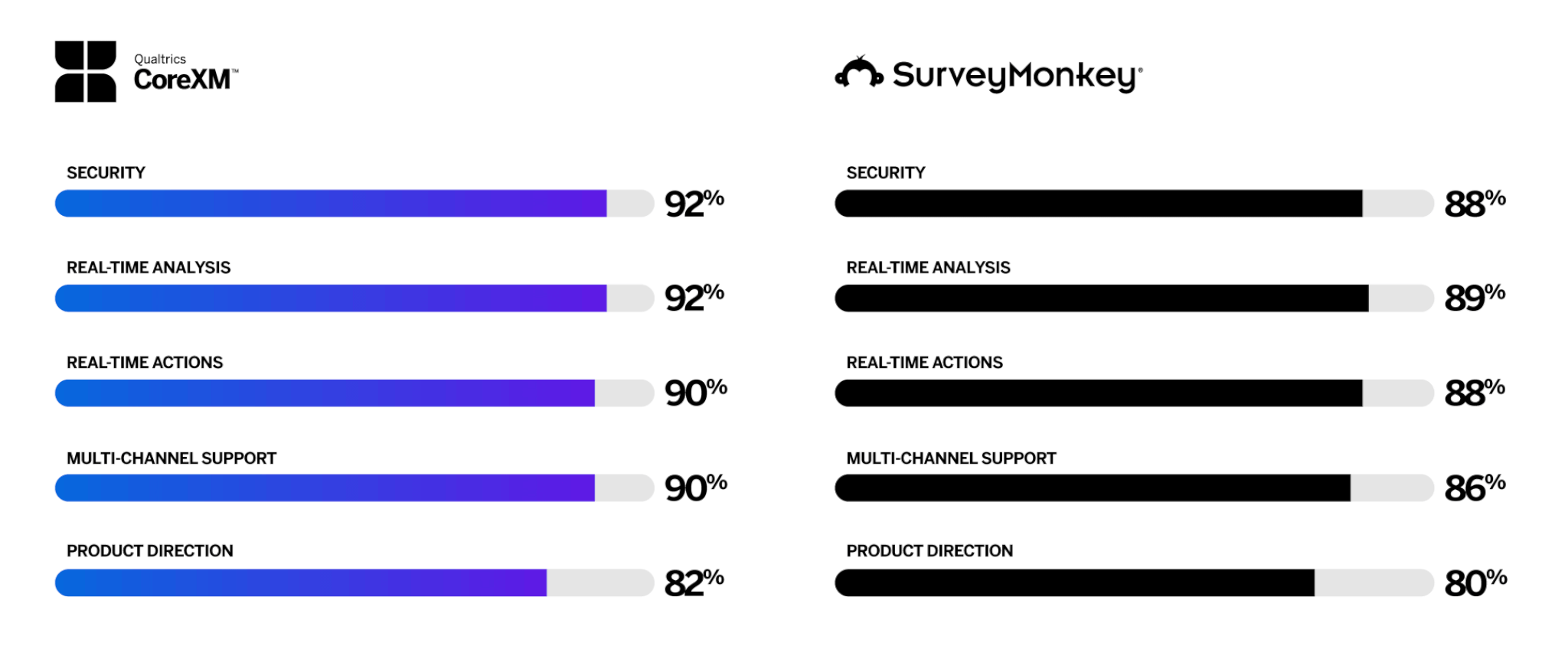 About the data
The data provided in this comparison report comes from G2 Crowd, a leading peer-to-peer review platform that allows users to compare the best business software and services based on user ratings and social data.
These reports were compiled using G2 Compare Reports, a feature that allows side-by-side comparison of up to four competing products based on satisfaction ratings, highlighting the leading product for each metric.
Survey software category comparisons
From understanding how your organization is perceived by your target audience to what products and services customers would like to see more of, market research provides critical information that can help drive success.
Pricing, product features, distribution channels, promotion, expectations — market research can help you to uncover all of this and more, enabling you to develop strategies that attract the right audiences, and create the tailored experiences that keep them coming back.
The challenge, however, is finding the right tool for the job. With the right market research platform you can reduce time to insight, cut costs, respond to trends and changes with agility and cultivate a more data-driven approach to experiences.
Here, we compare Qualtrics CoreXM against SurveyMonkey (now Momentive) on five key categories of market research and experience design.
How the platforms perform
Security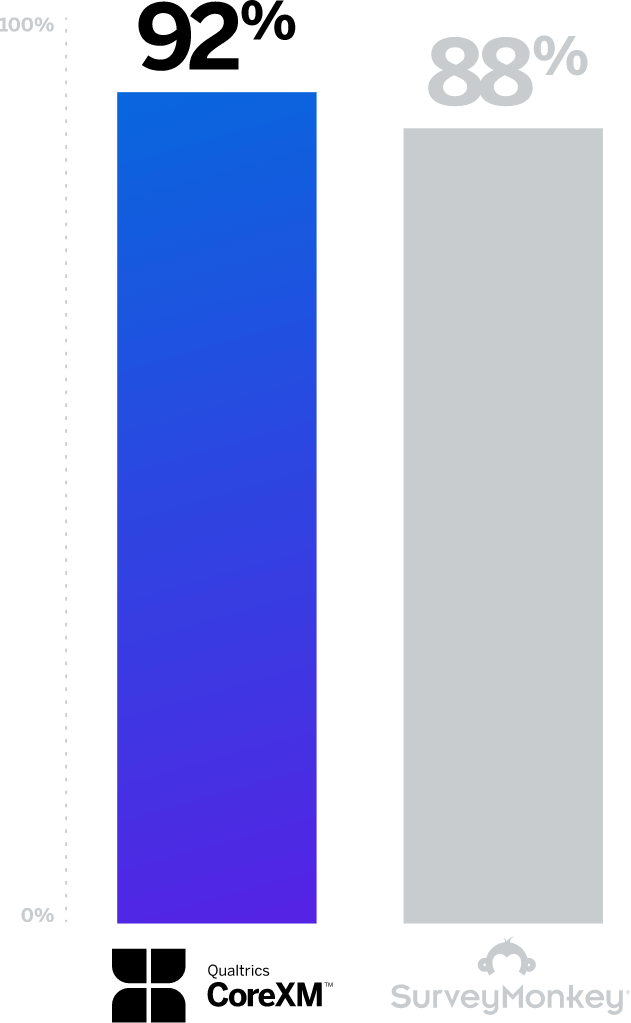 Security measures a platform's ability to keep customer and employee data safe at all times. This includes adherence to globally recognized standards for risk management and security compliance, such as ISO 27001, FedRAMP, HITRUST and SOC2 Type 2 Certification.
For organizations around the globe, data security is not only a key requirement but also a competitive advantage.
From managing sensitive data to complying with GDPR, those that can demonstrate their ability to keep customer and employee data safe, anywhere, anytime, are pulling far ahead of those that can't.
Your customers and employees expect you to keep their information safe — but does your platform have the right capability to do so?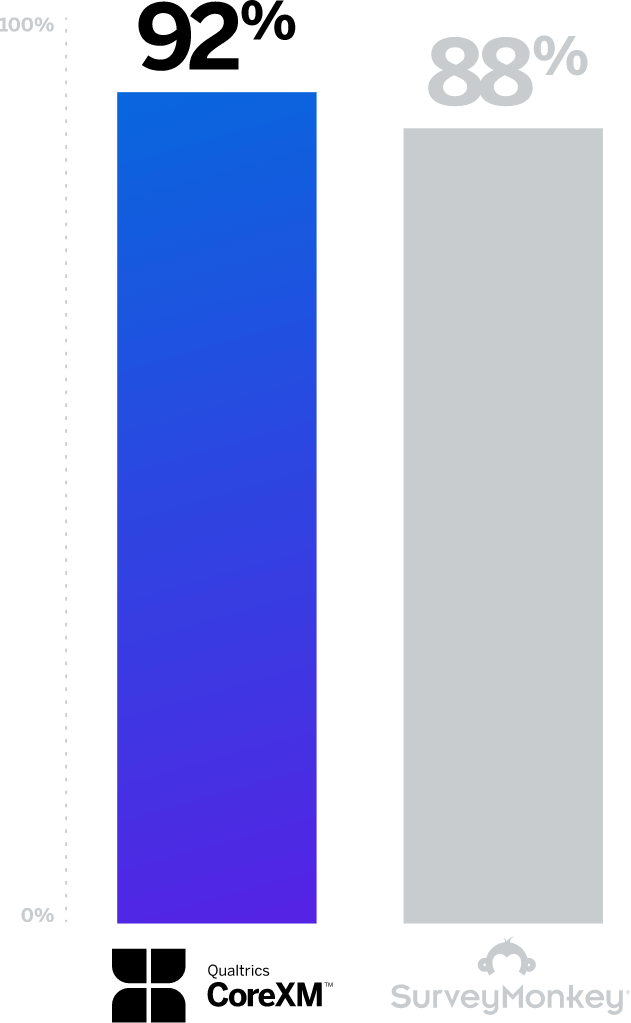 Switching from SurveyMonkey (now Momentive) to Qualtrics was an easy and obvious decision. Qualtrics has the best product experience, best service experience, and is the most trusted company in the category, period. Over the past 20+ years, I used nearly every platform, but for holistic experience management feedback, nobody comes close to the creators of XM.
Sterling Jackson
Vice President of Customer Marketing
UserTesting
HOW THE PLATFORMS PERFORM
Real-time analysis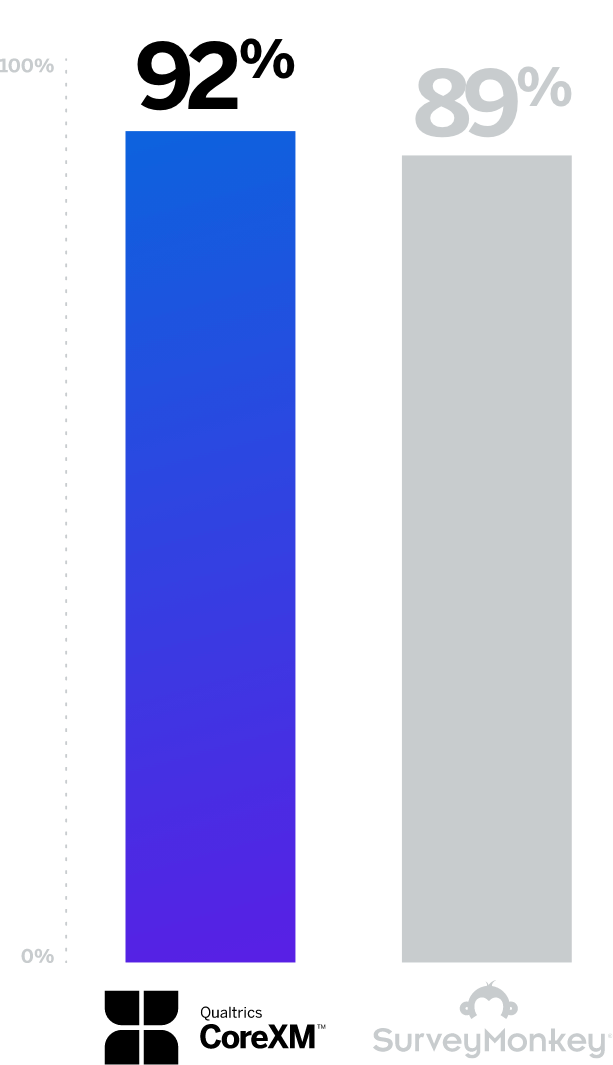 This category measures an experience management platform's ability to track real-time progress against key customer experience and operational targets, understand customer behaviour, identify friction points and predict trends.
Analytics is one of the cornerstones of experience transformation and management. Without it, how can you listen, understand and act on what your customers want?

Leading solutions in this category not only provide listening tools — but also predictive intelligence, real-time insights, dashboards and reporting tools that make customer data actionable.

If you choose the right toolkit, you can go from customer analytics to business impact by viewing operational data side-by-side with customer data to build a complete view of your business and demonstrate the ROI of your improvements.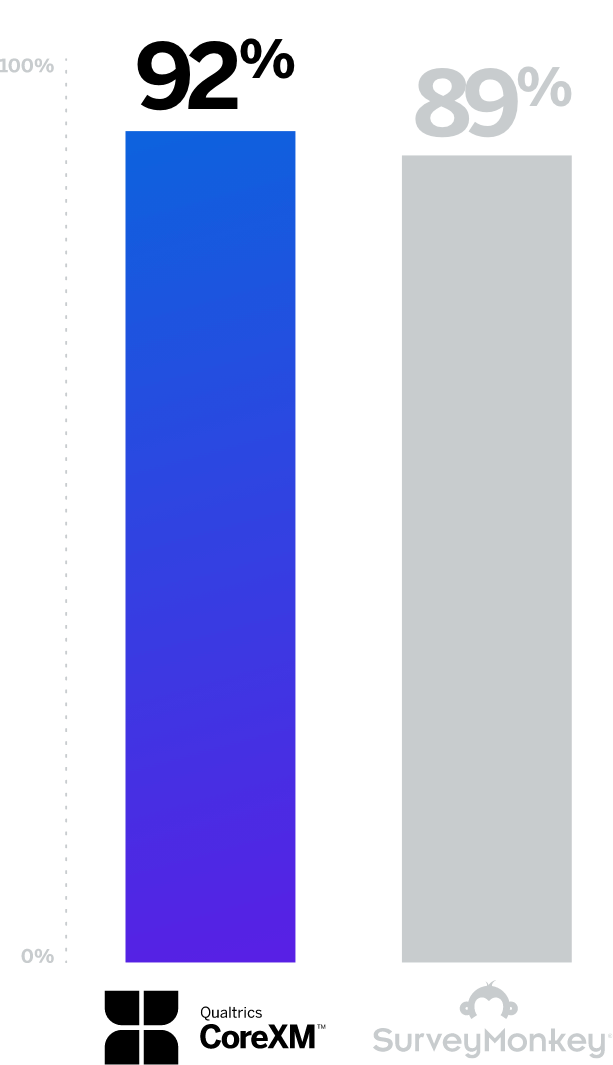 How the platforms perform
Real-time actions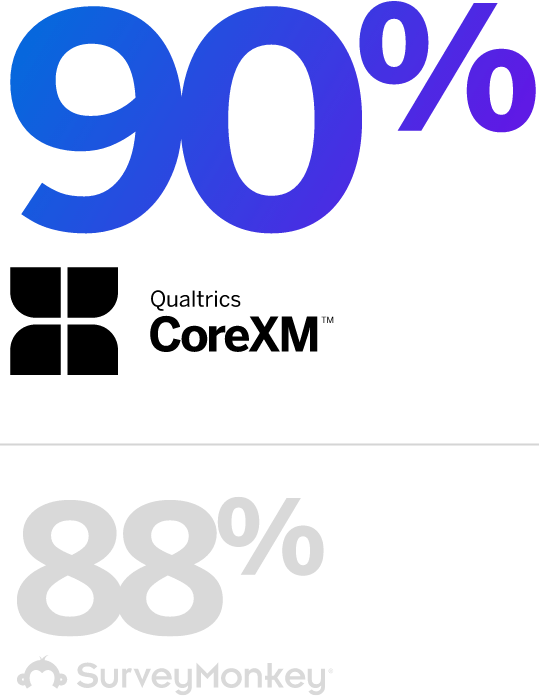 This category measures an experience management platform's ability to manage experience breakdowns as they happen. This includes applying automated actions — such as raising and sending tickets via the CRM — workflows, and tailored recommendations to close gaps.
Experience transformation requires the ability to respond to experience gaps in real time. But if you can't act on them using insight gleaned from listening, you'll fail to meet expectations.
Through experience management platforms that support real-time actions, you can hunt down and fix broken experiences using automated workflows and intelligent analysis. This includes triggering actions in your CRM to respond to customer enquiries, sending out messages, enrolling prospects in nurtures and much more.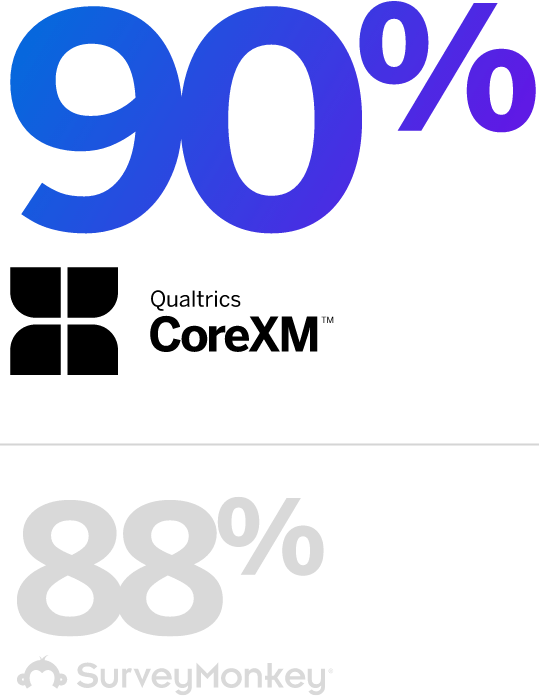 HOW THE PLATFORMS PERFORM
Multi-channel support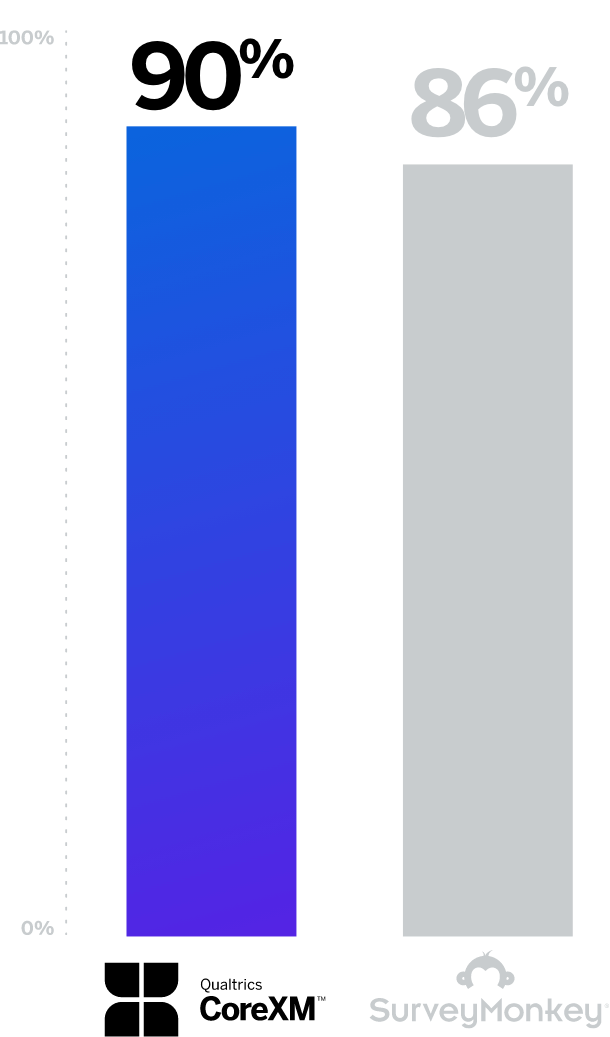 This category measures an organization's ability to provide support across several channels, including via resolution and contact centres, phone (home or mobile), email, text, in-person, social media, or online communities.
Whether it's via the phone, directly through the website, a self-service portal or through an email conversation, great brands and businesses provide exceptional support — regardless of the channel.

Consistent support across every touchpoint leads to a seamless customer experience, and you deserve no less from the brand you choose to work with.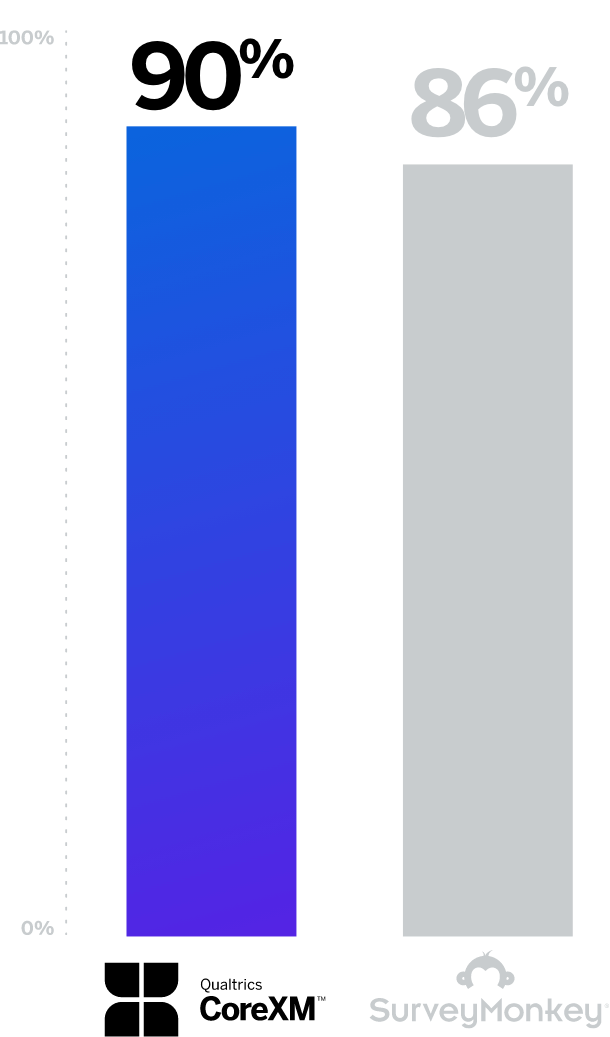 How the platforms perform
Internalization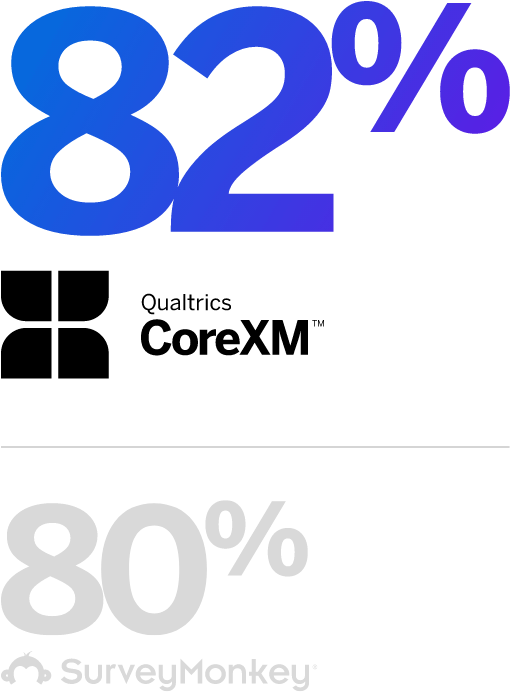 This category measures completeness of vision, how an organization defines its approach to solving real-world problems, and the quality of execution.
Product direction plays a massive role in whether or not brands and businesses decide to work with a specific organization. Those that have a clear plan of action — a strategy and market-ready solution — are infinitely better off than those that don't.
From a market research perspective, this means adding new tools and capabilities to reach specific audiences, carry out certain analyses, automate complex processes and feed information into other areas of the organization to support data-driven strategies.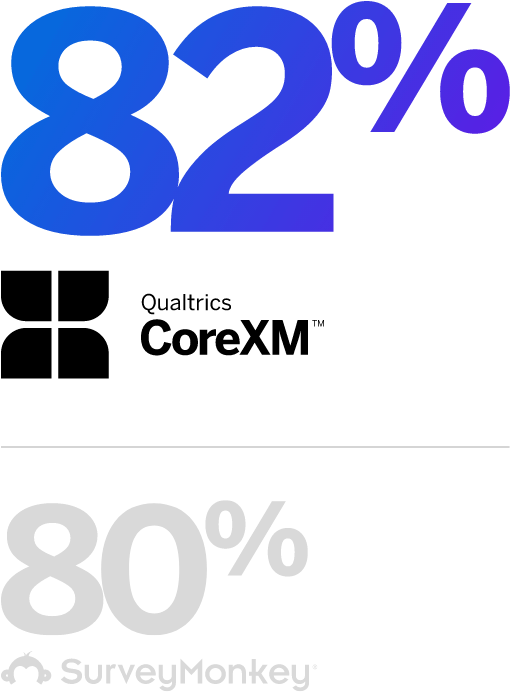 About Qualtrics
Give everyone the tools they need to delight and disrupt at every stage of the experience design process — from market insights and needs assessments, to concept testing and pricing research. Choose from 20+ fully-automated, guided solutions that come with pre-built listening instruments, analytics and reporting to get you up and running quickly.