Why Qualtrics
Sophie Talks Growing a Sales Career in Dublin
Sophie is a sales development manager based out of our team in Dublin, where she and her team cover Southern Europe, the Nordics, Academics, and the Middle East. In her role, Sophie's focus is on the support and development of her team, as they find success in growing partnerships across Europe.
---
I've always looked for opportunities where I can grow and learn whilst working with talented, intelligent people. Qualtrics gives me that opportunity. Over the last 6 years, not only have I learnt so much from being surrounded by fantastic colleagues, but I've also been able to work with some amazing customers and help them leverage Qualtrics to deliver excellent experiences across their organisation.
What attracted you to Qualtrics in the first place?
Firstly, I loved the story - a family business that started in a basement. It caught my attention straight away! I also wanted to work for a company with an incredible product and Qualtrics has one. It's crazy to see the changes in the last few years. The growth and opportunities that come when you work here are incredible.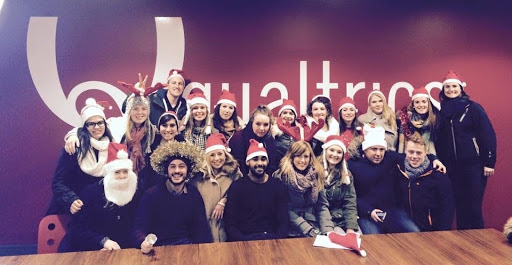 What was the turning point where you "had to have the job"?
From the moment I walked into the office for my interview, everyone was so nice and friendly. They said "Hi," "Best of luck," offered me tea, etc. Then, I met Dermot Costello and Bryce Winkelman and felt so inspired by their passion and enthusiasm. Their goals for Qualtrics EMEA were big, but I trusted they would make it happen. And, they did! I knew that this would be an incredible place to start my career and walked away saying, ''I have to work here!''
Any tips for someone who is considering a role at Qualtrics?
Although Qualtrics is now a large company, we still feel like a small company sometimes, and I love that. For those considering Qualtrics, I'd say this is a good fit if you like a fast-paced workplace, can adapt to change, and like to put your own ideas out there. The ''Scrappy'' in our TACOS values is so important because like in every job, not everything is perfect. That being said, it is an incredible place to learn and grow and a fantastic company for career progression. In sales, you have the opportunity to promote every six months if you overachieve on your quota. Since joining Qualtrics as an SDR, I've been promoted six times and have been able to move through the Account Executive organisation quite quickly. I've progressed from Account Executive level 1 to Account Executive level 6 and am now looking forward to my 7th promotion and a brand new challenge-- sales development leadership!

What are your aspirations in career/life?
I won't lie, I'm not great at reflecting on the typical, ''Where do I see myself in 5 years?'' questions. Once I am happy and constantly learning in my role, I am fulfilled. Dermot Costello told us, ''Life is a journey, not a destination,'' and I think it's a brilliant way to look at things. Don't focus too much on the future and where you want to go, because you might miss all the incredible little things along the way.
What is your top #LifeHack?
Working in sales can be stressful, and you are often managing a lot of things at once. I like to do something simple at the end of each day; I write down my top 3 priorities for the next day. This helps me focus and prioritize my time better.
Qualtrics is growing, and if you're ready to find your "why" at a place like this, you can explore our open opportunities at any time by visiting our career page. Looking to discover more reasons "Why Qualtrics"? You can find the whole series here.
Want to chat? You can get in touch by checking out Qualtrics Life on Twitter, Facebook, and Instagram.
| | |
| --- | --- |
| | Sophie holds a double First Class Honours degree from Dublin City University and NEOMA Business School. She started her career at Qualtrics. She is one of the #emeaoriginals and started in our first overseas office in Dublin. |
Related Articles