Customer Experience

Employee Experience

Brand Experience

Product Experience

Core XM

Design XM
Projects Basic Overview
What's on This Page:
Qtip: This page depicts a user interface update that will be available in the platform starting October 6, 2021.
About the Projects Page
The Projects page is a one-stop shop listing all the XM projects you have created and those that have been shared with you. The Projects page can be accessed in one of two ways:
Qtip:
Clicking the Qualtrics logo does 
not
take you to the Projects page – it takes you to the
Home
page.
The Projects page lets you do the following:
Qtip:
The
homepage
is the default landing page for all users. During the preview period, you will be able to switch back to having the Projects page as your default landing page by clicking
Switch back
. When the preview period ends on November 6th, 2021, you will not be able to switch back.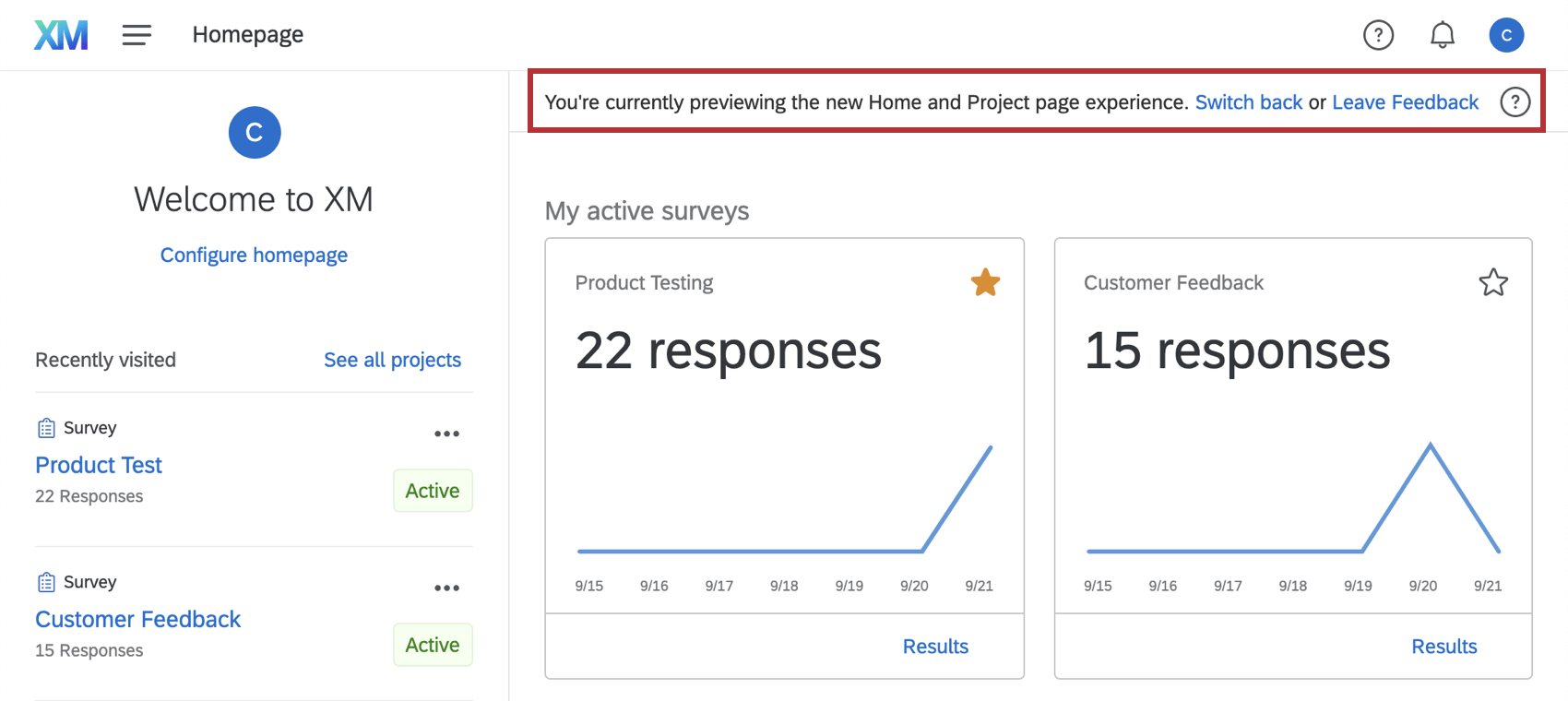 Selecting Your Project Type
Before creating a project, you must understand the different types of projects available to you. When you create a project in Qualtrics, you have several options for Project type. Each Qualtrics software solution has its own unique strengths, so the project type helps determine which software you can use.
Qtip: Because you can customize what project information displays, where your project type displays may vary from the screenshot below.

Survey: Surveys are exactly what they sound like. Each one will have Distributions, Data & Analysis, and Reports tabs.
Imported Data: If you don't want to create a survey before importing data to Stats iQ for analysis, you can create a standalone Stats iQ project.
Website / App Feedback: Seamlessly integrate feedback surveys to your website with Website / App Feedback projects.
Dashboards Project: CX Dashboards. Display data from your surveys here.
Engagement: Empower every leader in your organization with insights on the engagement of their workforce, drivers that will have the most impact on employee engagement, and action planning tools to drive improvement. Participants can be organized into a hierarchy that reflects their role in the company. These hierarchies can then be used in dynamic dashboard reporting to filter data automatically based on a participant's place in that hierarchy.
Lifecycle: Continuously measure and act on employee feedback across lifecycle touch points such as onboarding, exit, and promotion. Allows you to automate the invitation and participant upload process.
Ad Hoc Employee Research: Perform impromptu research to quickly gauge employee feedback and share it with your team. Ask about benefits offerings, recent employee process changes, or other one-off feedback opportunities. You can even add actions to your workflow to alert the right stakeholders' of employee feedback, or set up simple dashboards to share with your team.
360: Conduct 360 assessments with flexible form development, real-time reports, and process management. Here, you can establish the relationships between participants evaluating each other and generate individualized reports for each participant.
Conjoint: Conjoint analysis is a market research technique used to identify consumer preferences and evaluate the product trade-offs they would make. Our choice-based model allows your respondents to provide feedback so you can easily narrow down the types of packages and products you should offer.
MaxDiff: MaxDiff (Maximum Difference) is an advanced survey research technique that is used to obtain preference and importance scores for multiple items. This is done by presenting respondents with samples of the full list of items you wish to assess, and then having them mark the items they prefer the most and the items they prefer the least in each set.
Frontline Feedback: Collect, organize, and prioritize suggestions from users in your Qualtrics license.
Assorted guided solutions: When you create a guided solution, its name will appear as the project type – for example, "Pricing Study (Gabor Granger)" or "Brand Tracker."
Warning
: If you do not have access to one of these project types and would like to make a purchase or request a demo, contact your
Account Executive
.
Not only can you sort projects by type, but you can filter by them. See more under Organizing, Viewing, Searching, & Sorting Projects.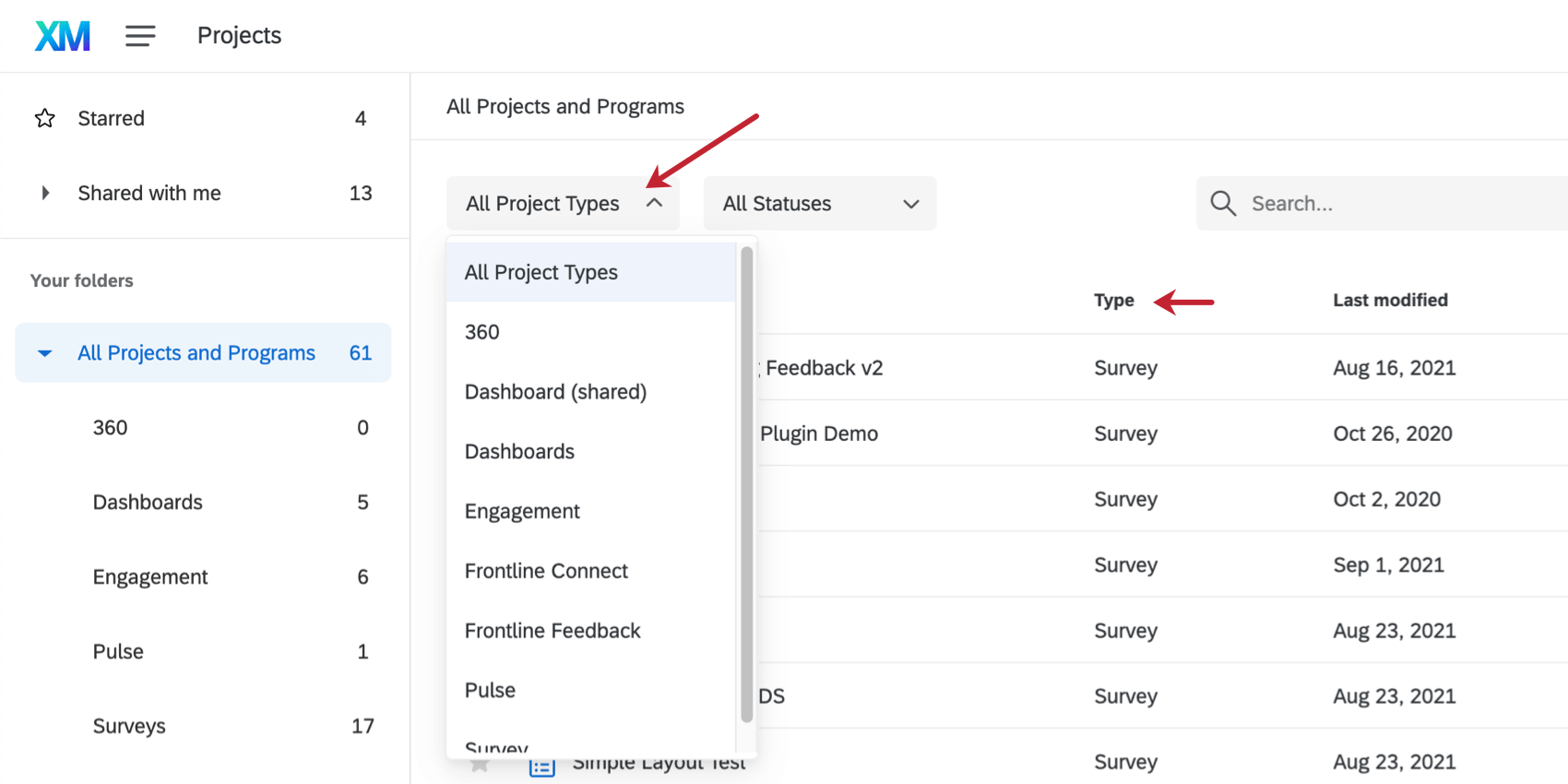 Creating New Projects
A typical project consists of a survey, a distribution record, responses, and reports. You can start with any project type available to you. For simplicity's sake, we'll start with a survey.
New projects are created on the Catalog page. But you can also easily start from Home or the Projects page itself. Below, we'll show you what this looks like on the Projects page.
From any folder on the Projects page, click Create project.


Qtip: What folder you start in does not affect where your project will be stored once it's created.

Scroll through the sections or filter or search to find the type of project you'd like to create.

Select from among the many project creation options, including Survey or one of the solutions offered.
Click Get Started.
Go to the Creating a Project page for step-by-step examples of how to create new projects using any of these options.
Organizing, Viewing, Searching, & Sorting Projects
The Projects page displays practical, at-a-glance information to help you organize, view, monitor, track, and sort through your projects. For example: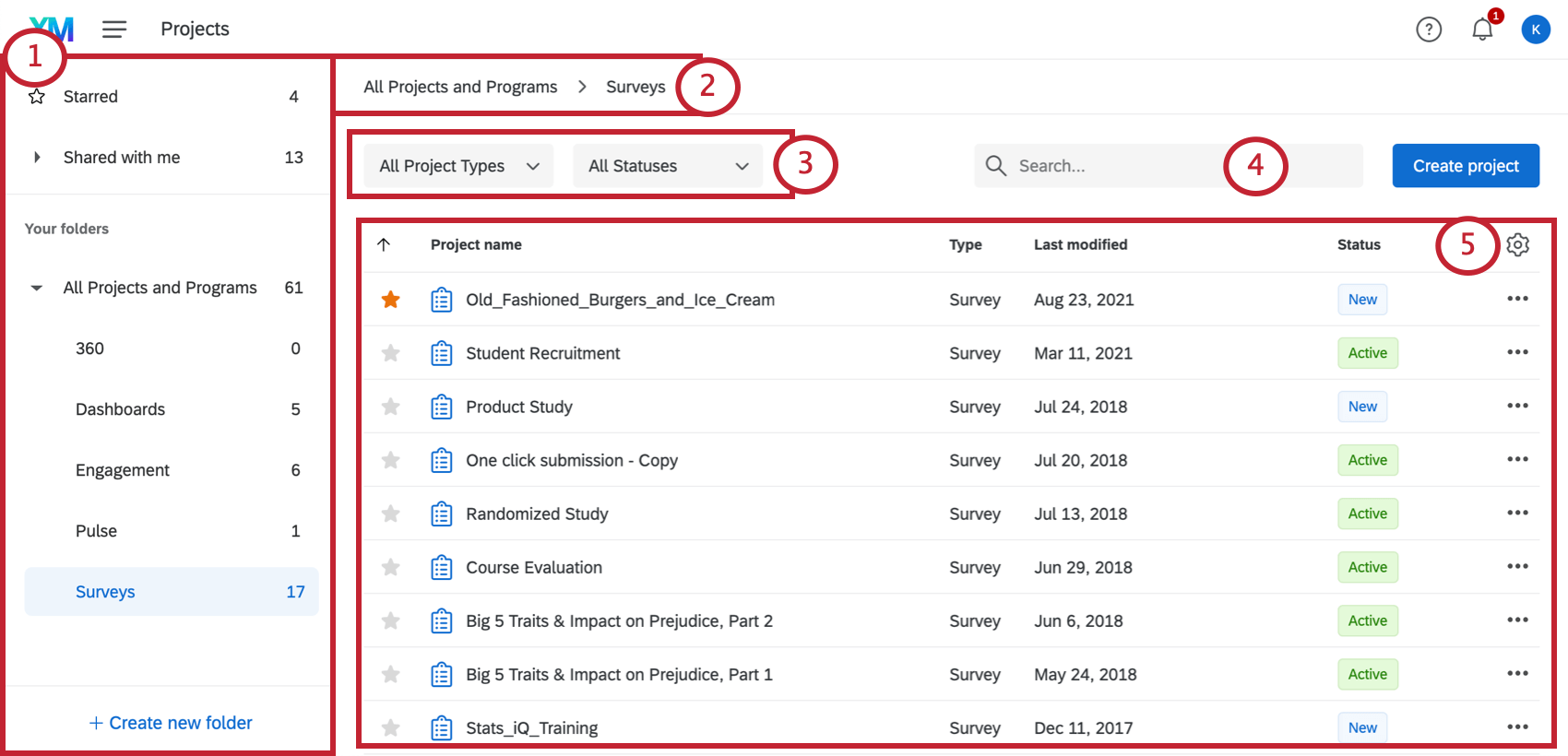 View and organize projects by folder or category. You can choose between:
See the folder you're located inside along the left or the top of the page.
Filter by project types or statuses.
Search for projects, programs, and folders by typing terms into the field. This will search by name, survey ID, or project type.
View different information about your projects and click column headers to sort by that information. You can customize what columns appear here using the gear button on the far-right.
On the far-right of every project name you'll see three dots that open the project actions dropdown menu, which will greatly facilitate your navigation of that project. From here you can activate, rename, copy, edit, translate, and delete your projects, and more.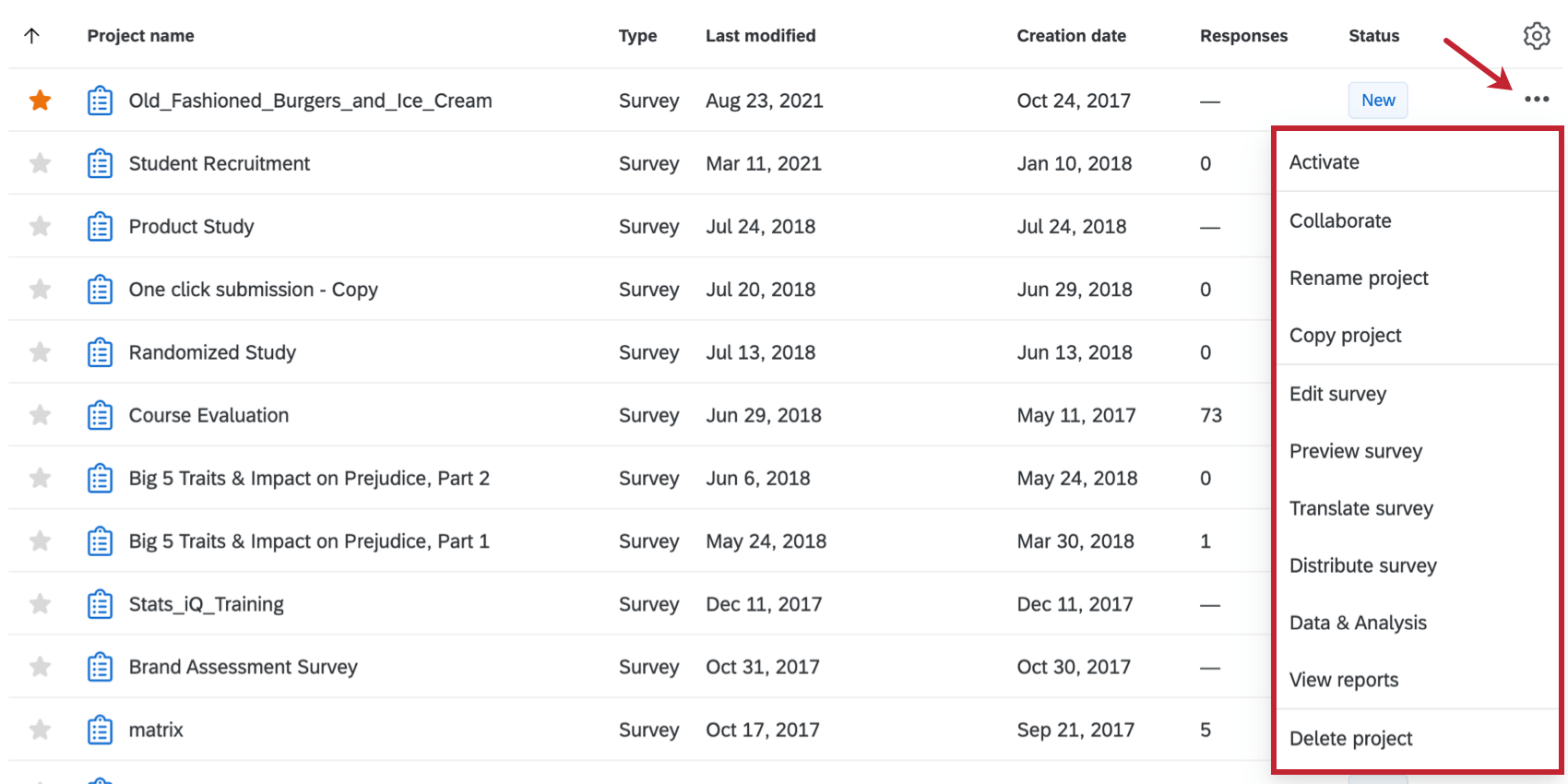 Go to the Organizing & Viewing Your Projects page for step-by-step examples of how to get the most value and power out of the Projects page. On this page you will go through:
The project actions dropdown menu's options.
The organization of your folders and categories.
The sorting and searching of your projects.
Collaborating On Projects
Collaborating on projects is as easy as clicking Collaborate from the project actions dropdown menu.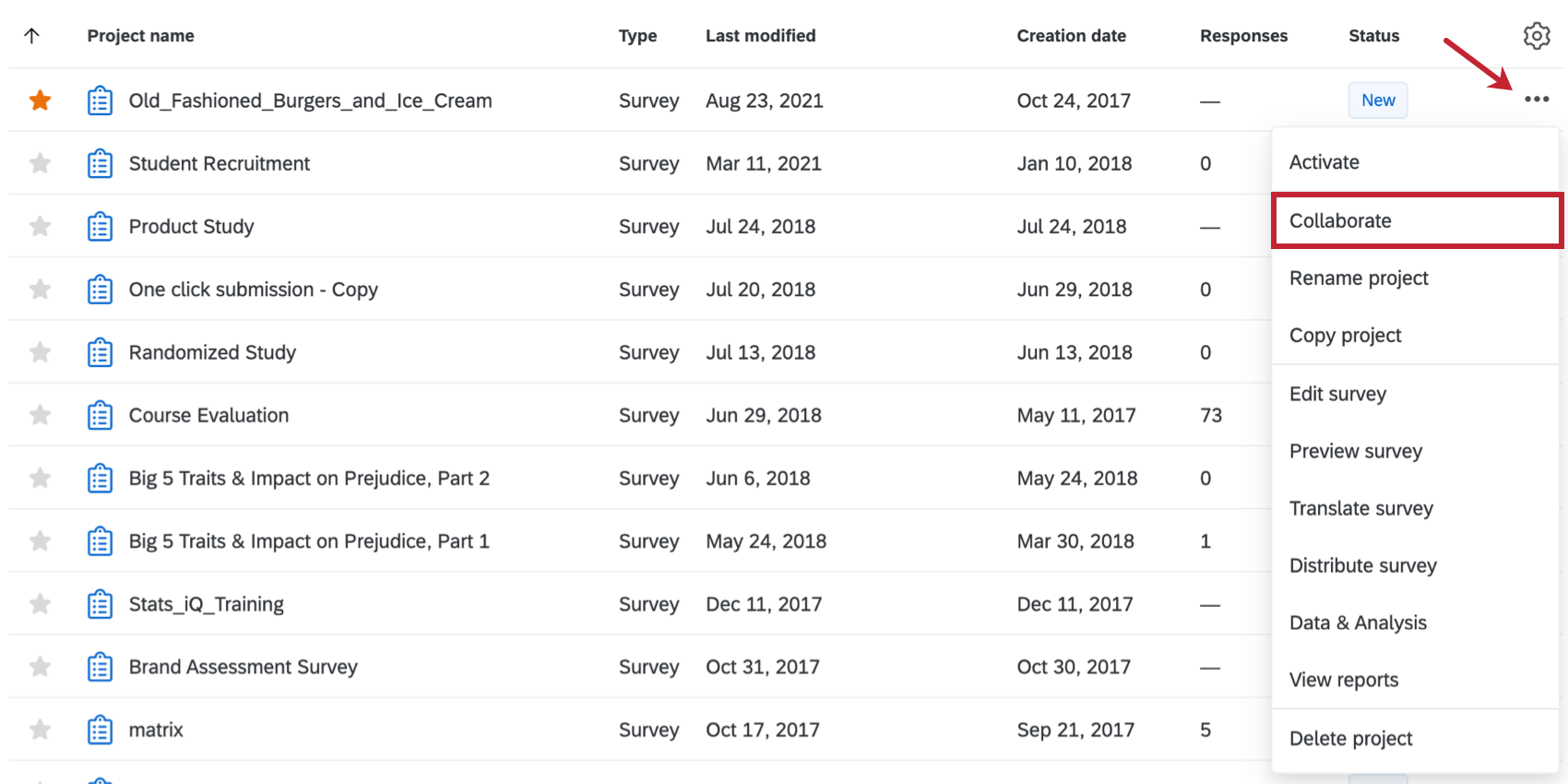 If your account has the proper permissions, you can collaborate with:
Individuals inside your organization.
Groups within your organization.
Collaborators outside your organization.
Qtip
: Don't have the ability to collaborate with any of these? Reach out to your
Brand Administrator
.
To begin collaborating, enter a colleague's email address in the Collaborate popup menu.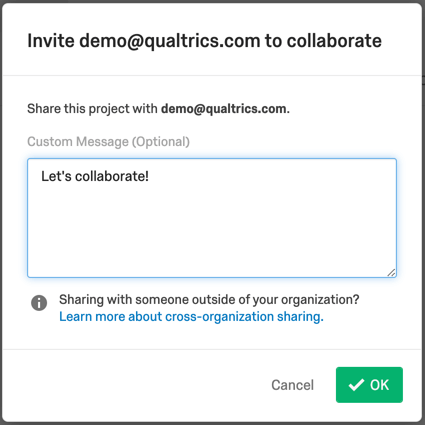 You determine the security level of the projects you share. You can designate full or limited access.
Full access rights: Allows collaborators unrestricted access (while still protecting your account information).
Limited access rights: The Collaborate on Project popup menu lets you customize access to specific collaborator needs.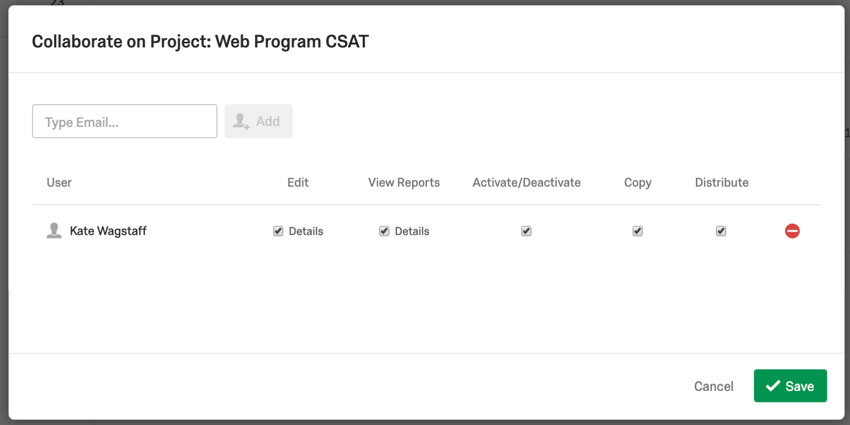 For example, translators may be limited to "Edit" permissions only while their "Activate/Deactivate" and "Distribute" permissions are disabled.
When people invite you to collaborate, their projects will show up in your Projects page. There is even a folder called Shared with me to help you find these projects quickly.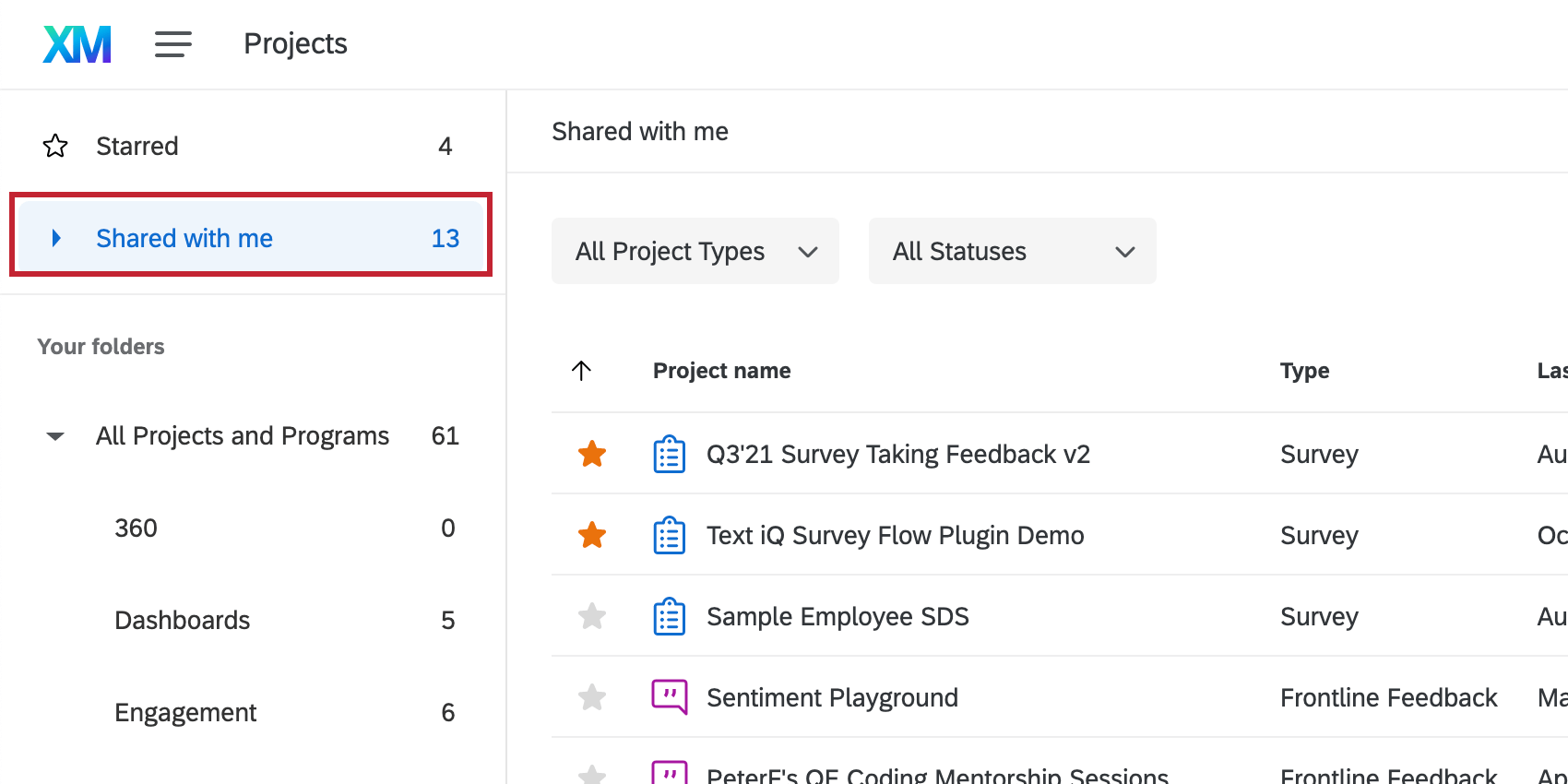 Qtip
: If you would like to transfer a copy of a survey to another Qualtrics account, see our
Import & Export Surveys
page for more information.
Navigate to the Collaborating on a Project page for step-by-step examples of how to collaborate on projects.
Related Articles