State of Play 2018: Employee Engagement in the UK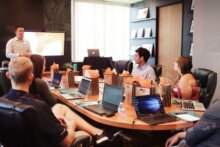 See how the UK stacks up when it comes to employee experience, and see how different sectors and key demographics in the workforce compare when it comes to job satisfaction, engagement, attrition, stress and desire to go to work.
In this eBook, you'll learn:
What's driving employee experience for workers in the UK

Which sectors are doing best (and worst) when it comes to the employee experience

What to focus on to improve the experience for your employees
Download now to see how your industry stacks up in terms of engagement!
---
Based on our bi-annual research into the employee experience for over 6,000, State of Play shows how UK employers are doing when it comes to improving the employee experience. Working with Qualtrics Research Services, we asked people about their job satisfaction, desire to go to work and intent to leave as well as key driver such as how they rated their work-life balance.
The results show the UK still has much to do, coming mid-table in our global comparison for most items we looked at, and uncovers the key drivers of the experience for employees. From working with managers to improve their teams' day-to-day experiences to adapting your engagement strategy based on where people are in their career journey, it provides plenty of insight to help you improve the employee experience at your organisation.
The world's top brands trust Qualtrics to deliver breakthrough experiences