Employee exit interview surveys
Get to the root cause of attrition, quickly with exit interview surveys that help you identify the right actions to take to retain your top performers and drive improvements across the employee lifecycle.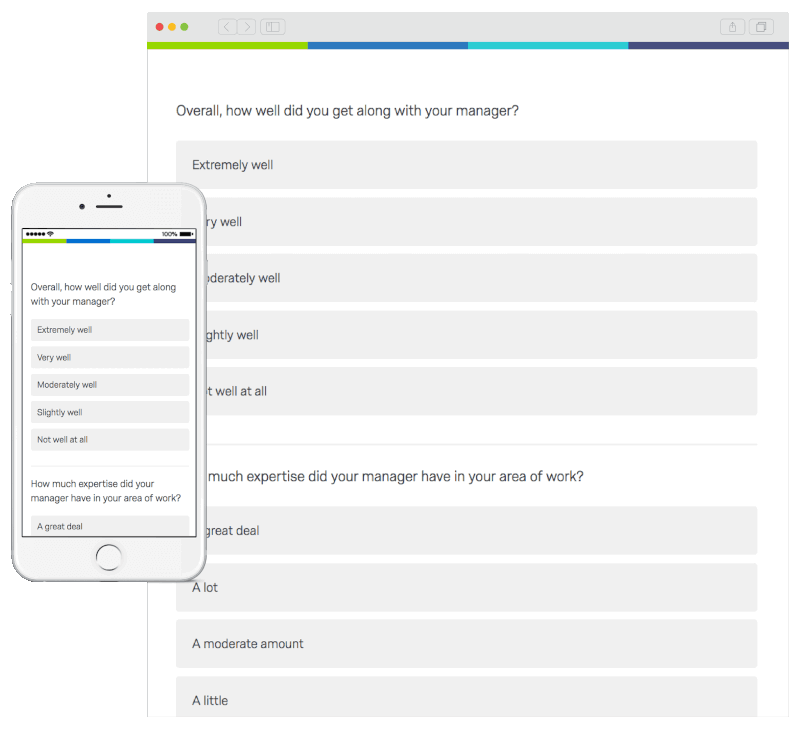 The world's best brands trust Qualtrics to power their employee experience programs
---
Rated best-in-class employee experience management
The right data, always at your fingertips
Ready to go, straight out of the box
Get up and running quickly with a best-in-class employee exit program built on the Qualtrics XM platform. Want to customize it? No worries – with the intuitive survey and dashboard builder you can make changes in seconds, with no coding or IT support needed.
Automatically find the root cause of attrition
All your data populates your dashboard in real time, and powerful, automated analytics get to work to uncover the key drivers of attrition as well as the actions you need to take next. You'll uncover experience gaps quicker, so you can step in early to address the root cause and retain your best people.
Insights with real impact
You don't just see the problem — you get the solution too. The platform proactively recommends the next action to take, and gives you a suite of action planning tools so team leaders can monitor their improvements, and make changes to keep them on track.
Integrate with your HRIS system
Automate your exit feedback with integrations into your HRIS system. Just set your conditions or employee milestones and employees will automatically receive a request for feedback at the time that's right for them. It means you can capture open, honest feedback with no additional resources, so your team can focus on turning exit feedback into improvements.