---
What do we mean by user experience?
User experience (UX) is a customer's-eye view of your business as it relates to completing tasks and using interactive platforms and services.
It's closely tied to the idea of customer experience (CX), but rather than being a holistic view of your brand, it's more focused on utility and usability testing – the hands-on side of things. You can think of UX as a sub-discipline of CX.
For example, CX research might consider how customers perceive a company's customer service levels and how confident they feel in having their issues resolved. Meanwhile, UX research would focus on how successfully those customers navigate a self-service website, whether the language on that site is clear and how easy it is to use.
Discover the top market research global trends of the year 
What is user experience (UX) research?
User experience (UX) research is about diving deep into how customers interact with your brand on a practical, functional level, and observing how easily they can complete their tasks and meet their goals.
User research is the process of discovering the behaviours, motivations, and needs of your customers through observation, task analysis, and other types of user feedback. It can involve working directly with members of your target audience through UX testing sessions, remote session observation using digital tools, surveys to collect user feedback, and many more UX research methods and techniques.
Why is UX research important?
So what exactly is the value of user experience research? After all, you understand your business and its workings better than anyone. How can uninformed external users help you learn more?
The fresh perspective of your end-users is exactly why UX research is so valuable. Because they're not already immersed in your language, processes, and systems, user testing participants are in the best position to help you see where things might be confusing to a newcomer who isn't involved with your business.
Better yet, they can show you where confusion or frustration might lead a new or potential customer to miss out on product benefits, fail to convert, or even give up and look toward your competitors instead.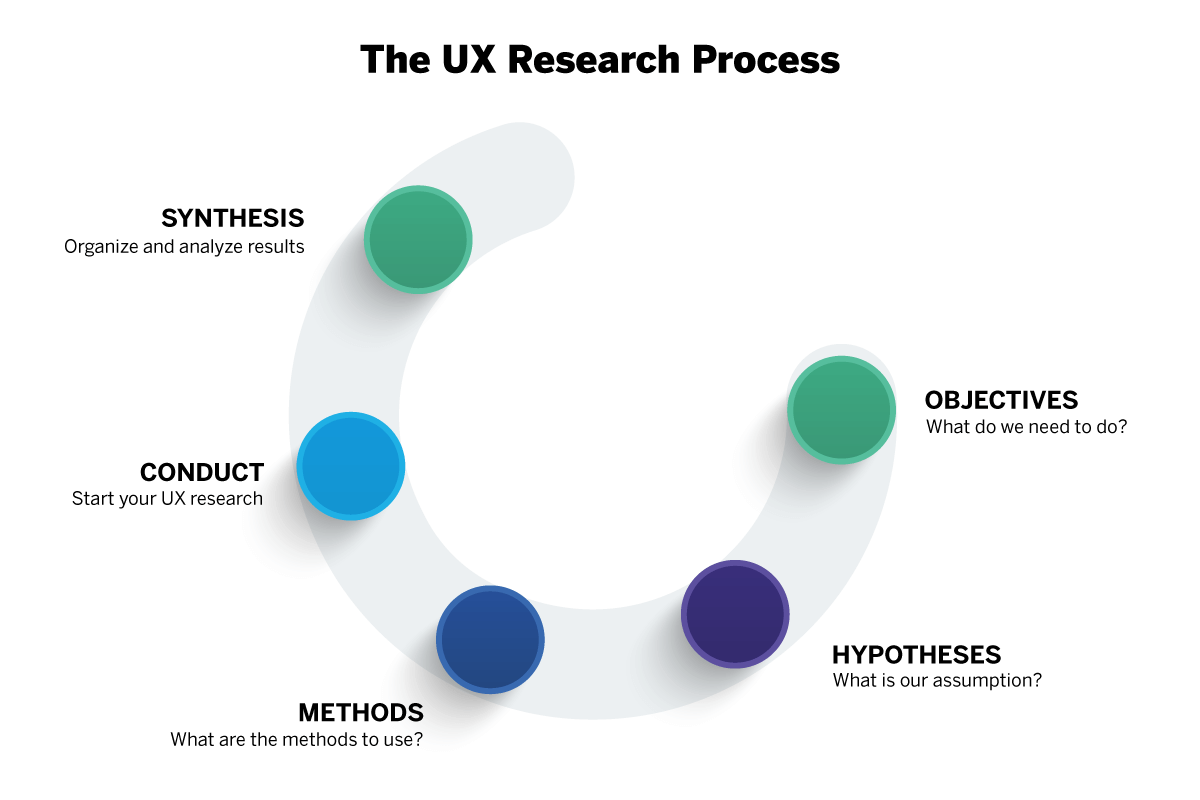 In areas like new product design and development, user research allows you to head off potential issues with products and services before they even hit the shelves. You can design the product correctly the first time, instead of having to fix it later when customers are unhappy.
Simply put, UX research is critical because it keeps you from wasting time, money, and effort designing the wrong product or solution. It's valuable for all areas of your business and yields clear benefits for your product, your users, and your bottom line.
Product benefits
By asking your customers for direct feedback about a potential product, you can discover how and when customers prefer to use a product, what pain points your product will solve, and how to improve your product design.
User benefits
UX research is unbiased feedback, straight from the most valuable source: your customers. Because this type of research is not biased by investors, company leaders, or outside influences, it is the best resource for getting actionable product feedback.
Business benefits
Knowing what your users value helps you spend less time and money fixing flawed designs, speeds up the product development process, and increases customer satisfaction.
UX research helps brands and organisations to:
Understand how users experience products, websites, mobile apps, and prototypes
Evaluate and optimise prototypes and ideas based on UX research discoveries – and nail the design and experience early in a product's life cycle
Unearth new customer needs and business opportunities
Find and fix hidden problems with products and services that arise in real-world use cases
Make informed decisions through the product development process by testing various aspects of product designs
Provide user experiences that outperform other businesses in your sector (UX competitor research)
Understand each user interaction across complete customer journeys
Build a richer, more useful picture of your target audiences for better marketing and advertising
What's the ROI of performing UX research?
The ROI of UX research is tricky to pin down because there often isn't a direct, easy-to-spot correlation between time spent on it and resulting revenue. UX research can and does drive revenue, but it more directly influences metrics that show customer satisfaction, customer retention, and behavioural goals like user signups.
A simple way to draw a straight (if basic) line between UX research and its associated ROI is to calculate your conversion rate, where 'conversion' simply means completing the action you had in mind:
Number of people who took your desired action
—————————————————————       x 100
Total visitors/users
That percentage can be calculated and revisited over time to see how UX changes resulting from your research are having an effect.
Generally, when we talk about ROI, we're talking about the highest possible rates of return you can attribute to an investment. But – while PWC research suggests that ROI on UX research can rise to as high as 301% – it's better not to get caught up in absolutes with operational data like revenue.
Instead, it's worth thinking more about the benefits that come out of tracking human behaviour associated with improving your UX in general.
For example, IBM research states that 3 out of 5 users think that a positive user experience is more influential than strong advertising, while Forrester Research estimates that as many as 50% of potential sales fall through because users can't find the information they need.
Thorough UX research can also cut a project's development time by up to 50%.
Ultimately, when trying to track the ROI of your time spent doing quantitative and qualitative research on UX, you want to look at behaviour and sentiment. If your main goal is website use, you should notice a decline in bounce rate as a sign of positive ROI. If you sell services, run regular CSAT surveys to determine how satisfied customers are with everything.
You might also find that data in unusual places. For example, if you spot a decline in chatbot requests around how to do or perform certain actions, or for information, then you know your new UX implementations are working as desired.
Those kinds of behavioural data points will shine a light on how worthwhile your UX research has been more readily than changes in revenue.
User experience research methods
The type of UX research techniques you choose will depend on the type of research question you're tackling, your deadline, the size of your UX research team, and your environment.
There are three research dimensions to consider as you decide which methods are best for your project:
Attitudinal and behavioural
"Attitudinal" refers to what people say, while "behavioural" refers to what people actually do – and these are often very different. Attitudinal research is often used in marketing because it measures people's stated beliefs and needs. However, in product design and user experience research, what people do tends to be more relevant.
For example, A/B testing shows visitors different versions of a site at random to track the effect of site design on conversion and behaviour.
Another behavioural method is eye tracking, which helps researchers understand how users interact and visually engage with the design of an interface by following their gaze.
Qualitative and quantitative methods
Quantitative UX research studies collect and analyse results, then generalise findings from a sample to a population. They typically require large numbers of representative cases to work with and are structured in their approach.
Quantitative research uses measurement tools like surveys or analytics to gather data about how subjects use a product and are generally more mathematical in nature. This type of inquiry aims to answer questions like 'what,' 'where' and 'when'.
Qualitative research methods, on the other hand, gather information about users by observing them directly, as in focus groups or field studies.
Qualitative research aims to understand the human side of data by gaining a sense of the underlying reasons and motivations surrounding consumer behaviour. It tends to use small numbers of diverse (rather than representative) cases, and the data collection approach is less structured. Qualitative methods are best suited to address the 'how' or 'why' of consumer behaviour.
Qualitative UX research methods
Several UX research methodologies can help UX researchers answer those big 'how' and 'why' questions, and influence the design process of any product or service you've got cooking. Here are just a few …
1. Participatory design
In participatory design, people are asked to draw or design their own best-case version of the tool, product, or service in question. This gives UX researchers the ability to ask qualitative questions about why specific choices have been made. If multiple participants make similar choices, it's easy to spot patterns that should be adopted.
Example
You might ask participants how they would redesign your website. While their responses will naturally vary, you might spot that several of them have moved your site's navigation to a more prominent spot, or have moved the checkout from the left of the screen to the right.
2. Card sorting
Card sorting involves giving participants a range of cards that represent business-specific topics and asking them how they would sort them into groups. UX researchers are then able to probe into why their audience might group certain things, and make changes to existing offerings as a result.
Example
If you have a wide range of products and solutions, card sorting would be a useful way to gauge how your target audience would naturally bucket them on your website. A furniture seller, for example, might use this technique to find that people are naturally inclined to group items by room, rather than by furniture type.
3. Diary studies
If you'd like to know how the UX of your product or service varies over time or throughout the length of its use, a diary study can help. Here, participants are given a way to record their thoughts as they set about using the product or service in question, noting things that occur to them as they go. This is useful as it provides real-world insight over a longer period than a one-off focus group.
Example
Giving people access to an early build of an app and asking them to keep usability testing notes can highlight pain points in the user interface. In a one-off focus group, having to tap three times to get to an oft-used screen might seem fine – whereas participants are more likely to find it annoying in the day-to-day. This kind of longer-term usability test can provide really valuable insights.
Both quantitative and qualitative UX research methodologies can be useful when planning the design and development of your brand presence, as well as for usability testing when it comes to product and service design.
Context-of-use
By collecting and analysing information about users, the intended use of the application, the tasks they perform with the application, and the technical constraints presented by the application, context-of-use analysis allow UX researchers to better understand the overall experience.
Typically, context-of-use analysis data is collected through research surveys, focus groups, interviews, site visits, and observational studies.
Context-of use-analysis is one method for identifying the most important elements of an application or product in the context of using that application or product. This type of UX research is typically done early in the product lifecycle and continued as data identifies which components of the product and UX are most critical.
Types of user research tools
There are many types of user research methods for discovering data useful for product design and development. Below are some common examples of tools user experience researchers may use to gather information and draw insights into mental models, or users' thought processes.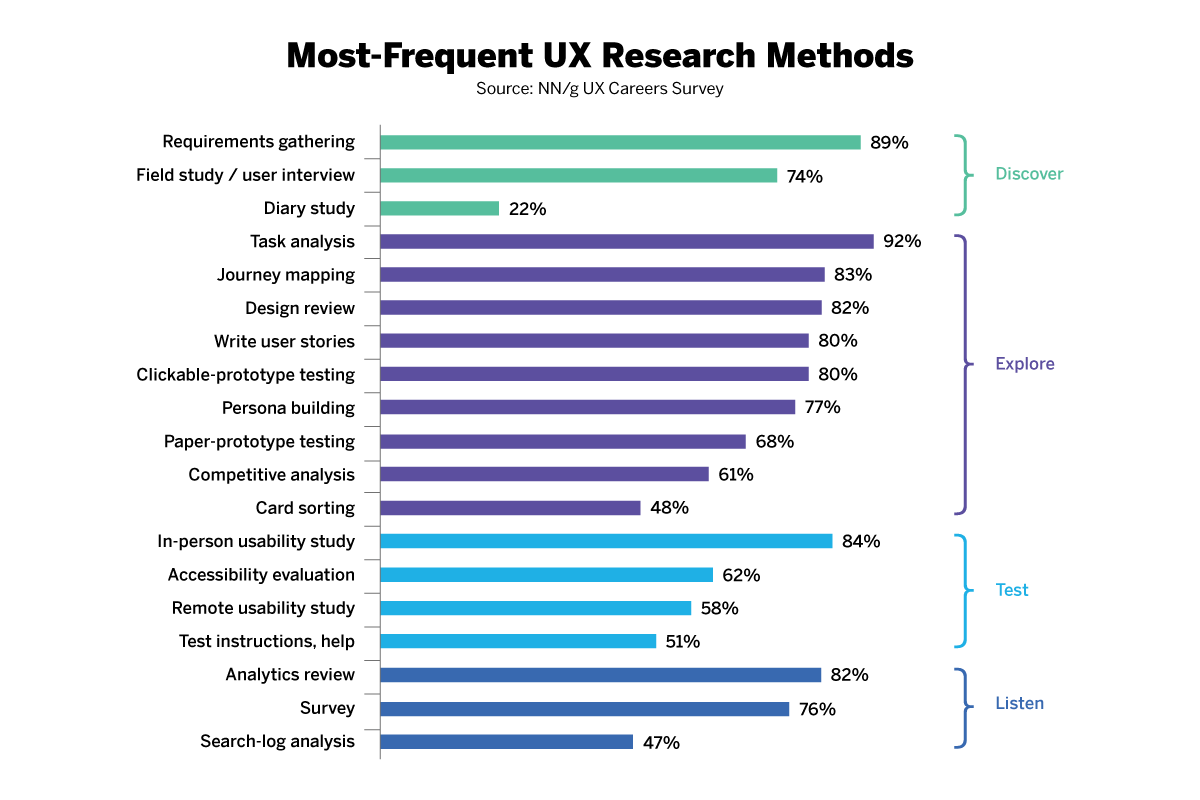 UX research surveys or questionnaires can discover data at scale through in-person or remote polling, with specific questions designed to collate useful information about user experience.
User groups or focus groups are a form of a structured interview that consults members of a target audience on their experience, views, and attitudes towards the product or solution. They usually involve neutral parties, such as a moderator and note-taker, and are led by a researcher who asks open-ended questions focused on specific aspects of an investigation.
User interviews are one-on-one structured interviews with a target audience member, led by a UX researcher to understand more about personal experiences with the product. These user interviews can be directed to compare and contrast answers between users, or non-directed, where users lead the conversation.
Ethnographic interviews take place within the target users' typical environment to get a better context-of-use view. Field studies and site visits are similarly observational in nature, and take place in situ where the product or service is used, but may involve larger groups.
This is not a comprehensive list of research techniques but represents some of the main ways UX researchers might perform usability testing or trial UX design.
When to conduct user experience research
Before launching a new product or service, understanding user preferences that could impact your design or development is key to success. The earlier user experience research is performed, the more effective the end product or service will be, as it should encompass the insights learned about your target audience.
As a product and service's use and value evolve over its lifecycle, the user experience will change over time. User research should be undertaken on an ongoing basis to determine how to adapt to users' new needs and preferences.
Five basic steps to conducting UX research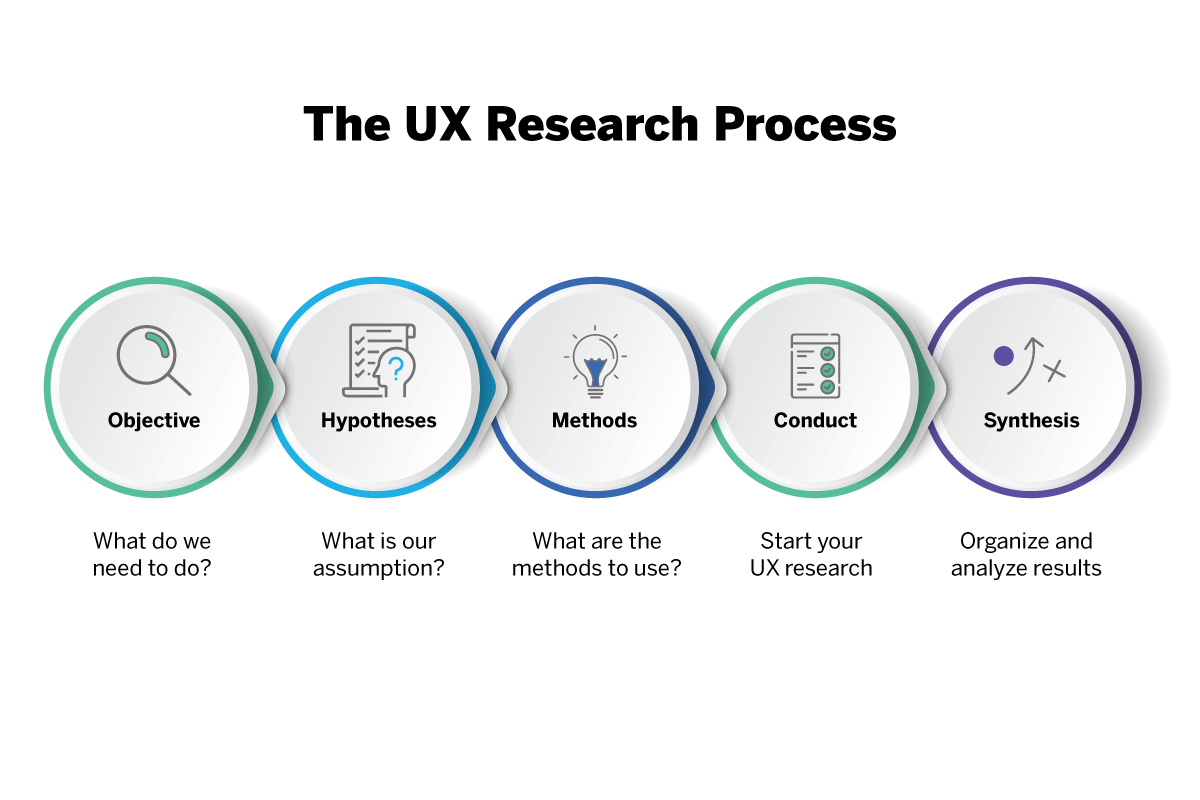 If you're new to UX research, here's a step-by-step list of what to consider before you begin your UX testing program:
Objectives
What do you need to find out about your users and their needs?
Hypothesis
What do you think you already know about your users?
Methods
Based on your deadline, project type, and the size of your research team, what UX research methods should you use?
Process
Using your selected UX research method(s), begin collecting data about your users, their preferences, and their needs.
Synthesis
Analyse the data you collected to fill in your knowledge gaps, address your hypothesis and create a plan to improve your product based on user feedback.
Qualtrics makes UX research simple and easy
User experience research and user testing are multifaceted and can involve a lot of both quantitative and qualitative data. To ease the process and make sure it is efficient and scalable, it's best conducted using a highly responsive platform that allows you to collect data, analyse trends and draw conclusions all in one place.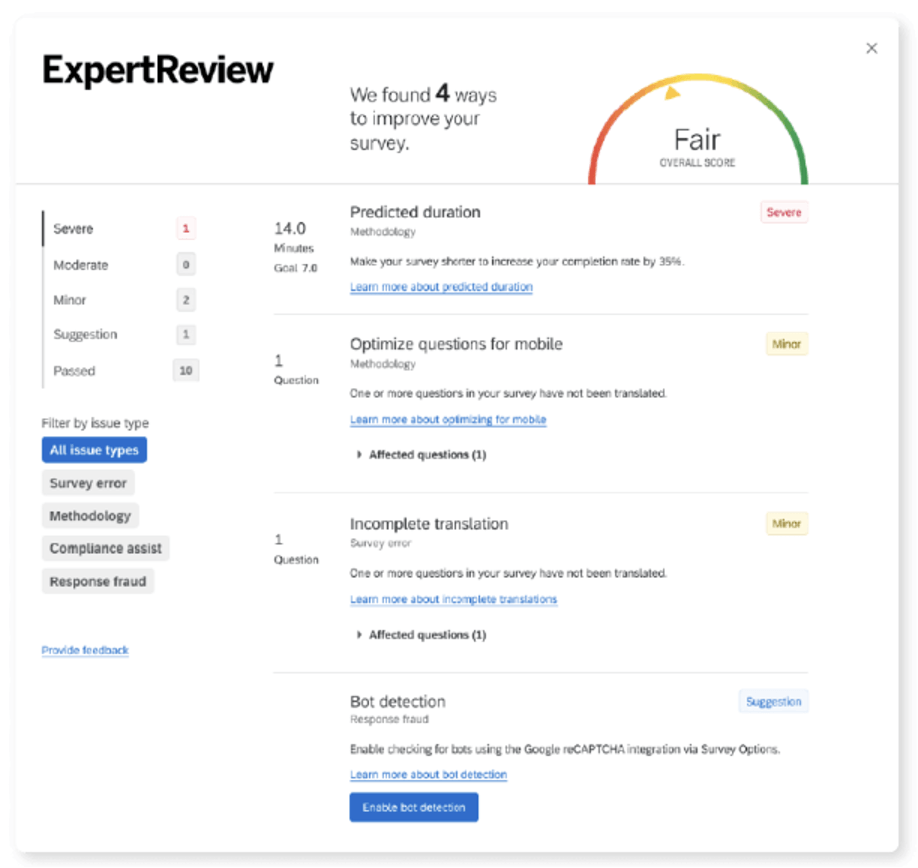 Whether you need attitudinal or behavioural insights, Qualtrics is your go-to solution for collecting all kinds of UX data and making use of it in the context of your wider CX program.
Conduct in-person studies or send beautifully designed surveys easily and quickly, and view your results via custom dashboards and reports using the most sophisticated research platform on the planet.