XM for Customer Frontlines

Digital

Root out friction in every digital experience, super-charge conversion rates, and optimize digital self-service

Care

Uncover insights from any interaction, deliver AI-powered agent coaching, and reduce cost to serve

Locations

Increase revenue and loyalty with real-time insights and recommendations delivered straight to teams on the ground

XM for People Teams

Engage

Know exactly how your people feel and empower managers to improve employee engagement, productivity, and retention

Lifecycle

Take action in the moments that matter most along the employee journey and drive bottom line growth

Analytics

Whatever they're are saying, wherever they're saying it, know exactly what's going on with your people

XM for Strategy & Research

Research

Get faster, richer insights with qual and quant tools that make powerful market research available to everyone

User Experience

Run concept tests, pricing studies, prototyping + more with fast, powerful studies designed by UX research experts

Brand

Track your brand performance 24/7 and act quickly to respond to opportunities and challenges in your market

XM Platform

Explore the platform powering Experience Management

Teams

For Digital

For Customer Care

For Human Resources

For Researchers

All Teams

Industries

Healthcare

Education

Financial Services

Government

All Industries

Customer Experience

Employee Experience

Employee Exit Interviews

Net Promoter Score

Voice of Customer

Customer Success Hub

Product Documentation

Training & Certification

Community

XM Institute

About Us

Careers

Partnerships

Marketplace

X4 Summit

The annual gathering of the experience leaders at the world's iconic brands building breakthrough business results, live in Salt Lake City.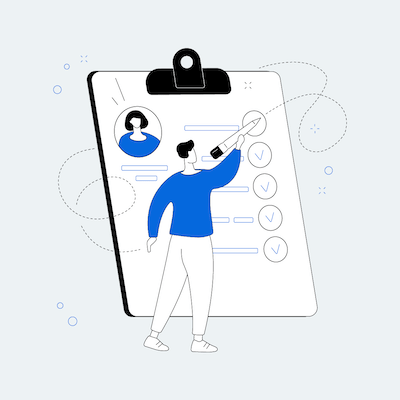 XM Solution Guided Program
EX25 XM Solution
Launch an employee engagement program in days with our practical and actionable EX25 framework that measures the holistic employee experience.
Core Experience
Employee Experience
COST
Included with License
Methodology
Qualtrics EX25
Understand the drivers of the full employee experience, empower managers to act on real-time insights, and facilitate continuous improvement across your entire organization.
The EX25 XM Solution helps you easily and quickly launch an employee engagement program with the first annual baseline study, providing a holistic framework for measuring the 5 KPIs of modern employee experience and the 25 topics which drive it.
With expert-designed survey methodology in 13 languages, as well as communication templates, pre-built dashboard reports, and action planning tools that turn insights into improvements, you can start optimizing more of the employee experience at an effective, yet realistic cadence.
Jump-start your employee engagement program with:
PROGRAM DESIGN
Scientifically validated EX25 methodology
Pre-built (customizable) annual baseline survey, available in 13 languages
Expanded KPIs to measure the holistic employee experience:
Engagement
Experience vs Expectations
Intent to Stay
Well-being
Inclusion
Certified questions based on 25 drivers of EX mapped to robust benchmarks database
LAUNCH GUIDANCE
Guided setup for project creation, setup, distribution, and analysis
Documentation and best practice guides for building and running an EX25 program:

Program Design Guide
Survey Items & Rationale
Dashboard Guide
Communications Guide
Guided Action Planning Tips
COMMUNICATION TOOLS
Communication templates to gain employee buy-in and meaningful responses
Pre-loaded (customizable) invitation and reminder messages for survey distribution, available in 13 languages
ACTION TOOLS
Pre-configured dashboard template for quick data analysis and interpretation
Full heatmap views of group differences across the organization
Built-in analyses and guidance that surfaces and prioritizes insights
Best practice action tips connected to each survey item to drive improvement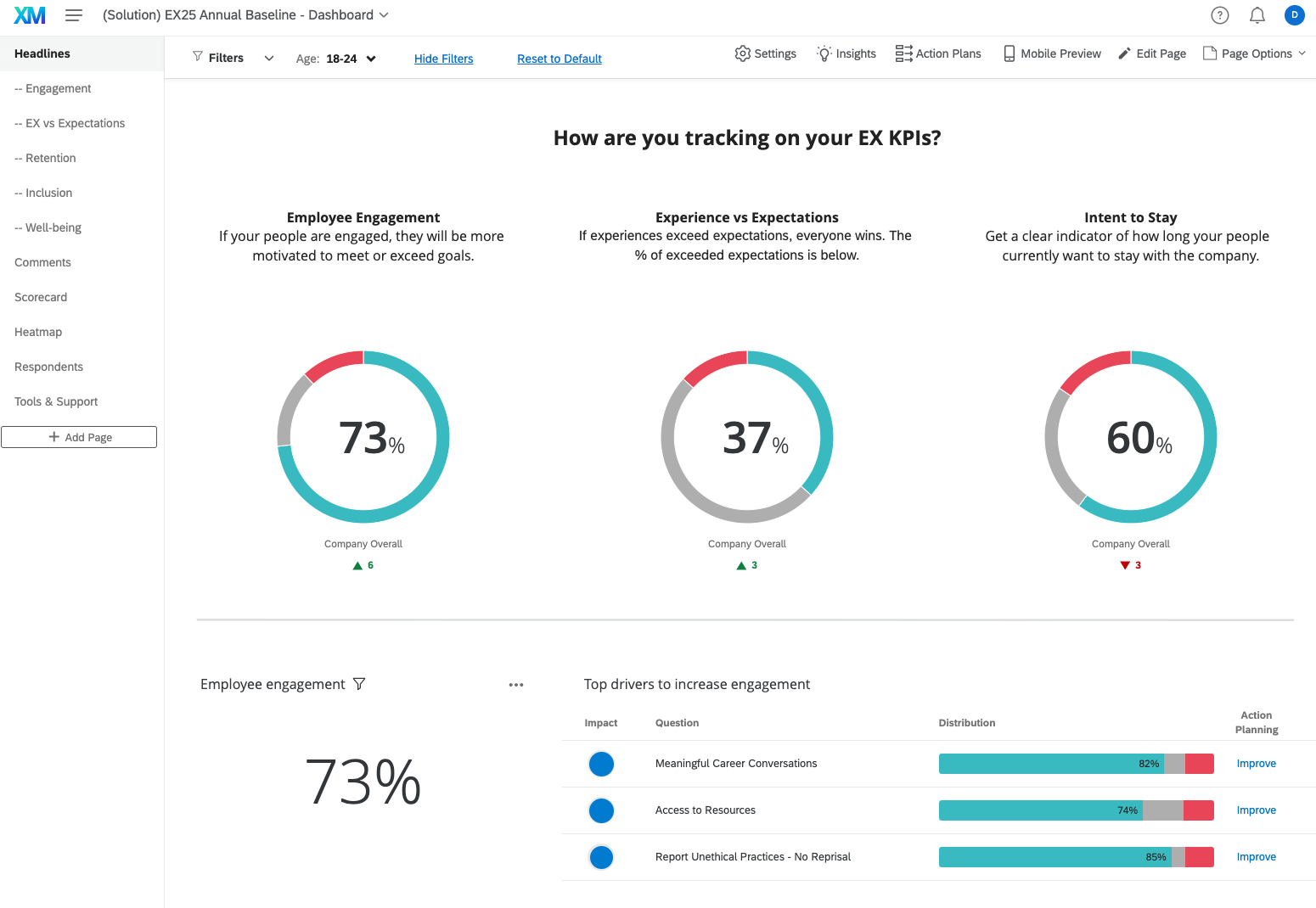 Outcomes Delivered
Improve employee engagement, experience, intent to stay, well-being and inclusion
Launch an expert-designed engagement program in a fraction of the time and cost
Gain faster time to insights and action to improve the holistic employee experience
Category Tags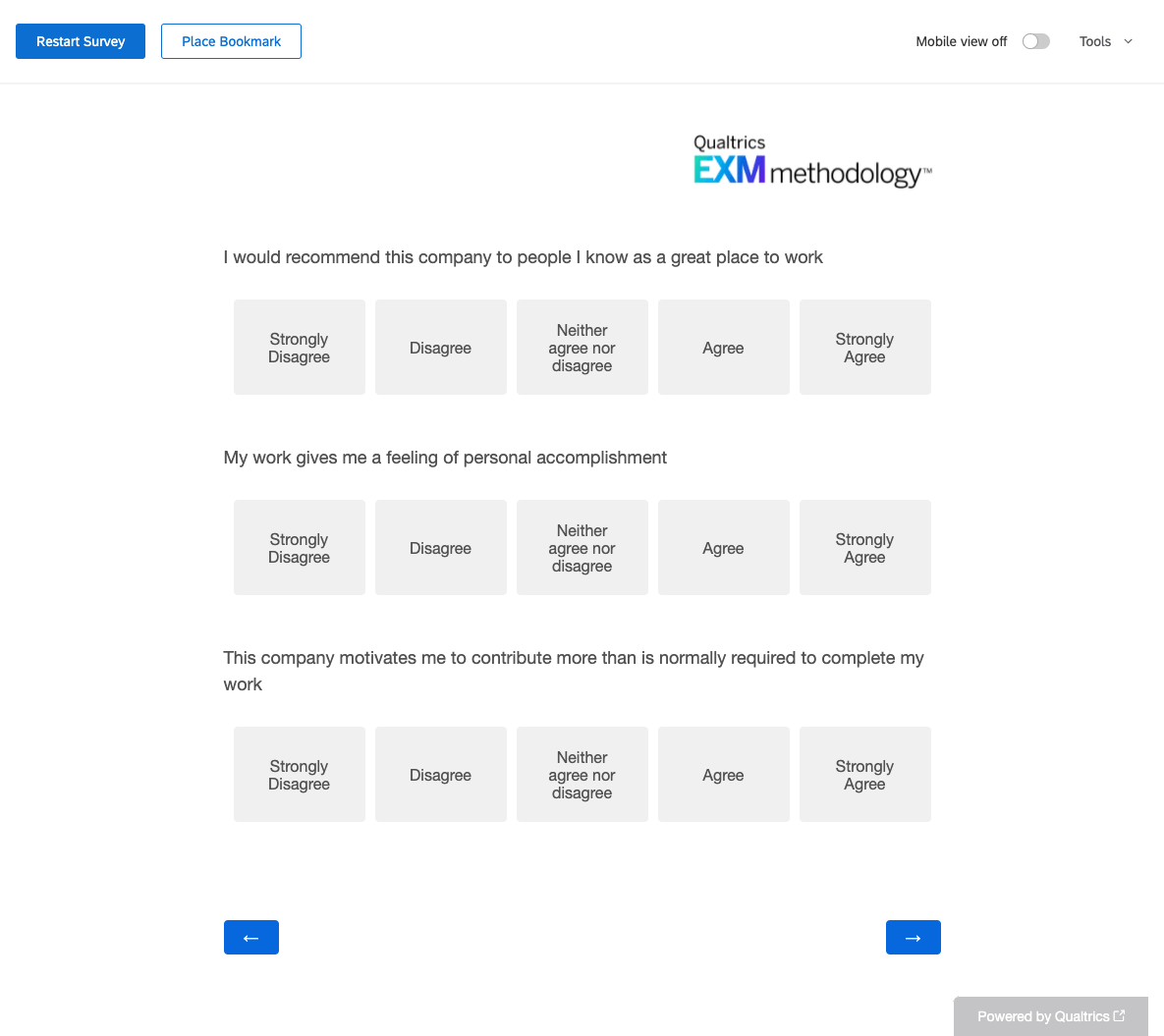 A modern and trusted approach
Remove the guesswork and time required to develop an engagement program from the ground with our validated EX25 methodology and pre-built survey design. Quickly launch a listening program that's comprehensive, yet agile to meet evolving employee needs, and delivers standardized datasets for ongoing analysis and benchmarking.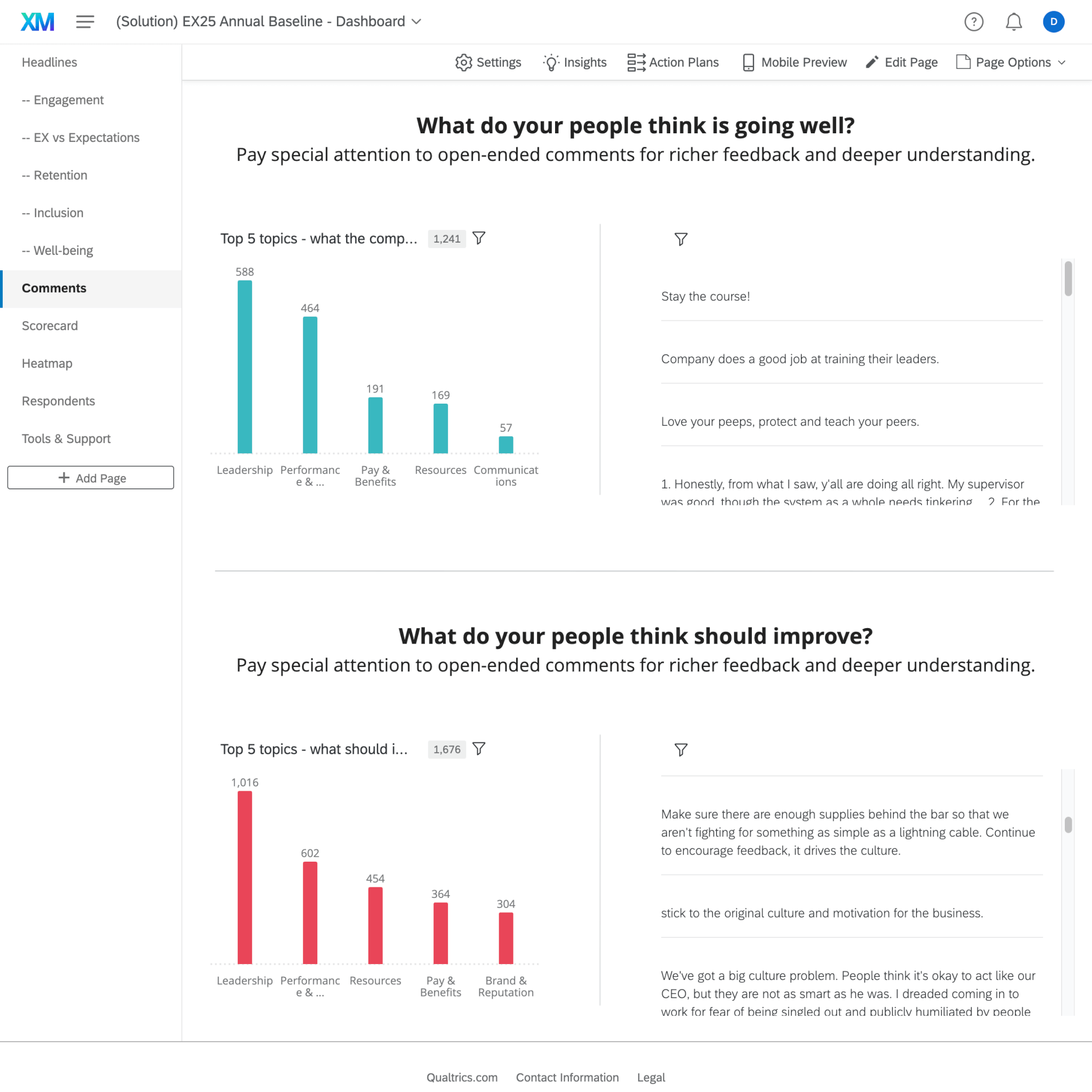 Real-time insights in no time
Get a live view of employee feedback as data flows in from your EX25 listening program. There's no waiting on reports with our expert-designed and pre-built dashboard, which comes standard with advanced iQ analysis to automatically help you get to insights faster.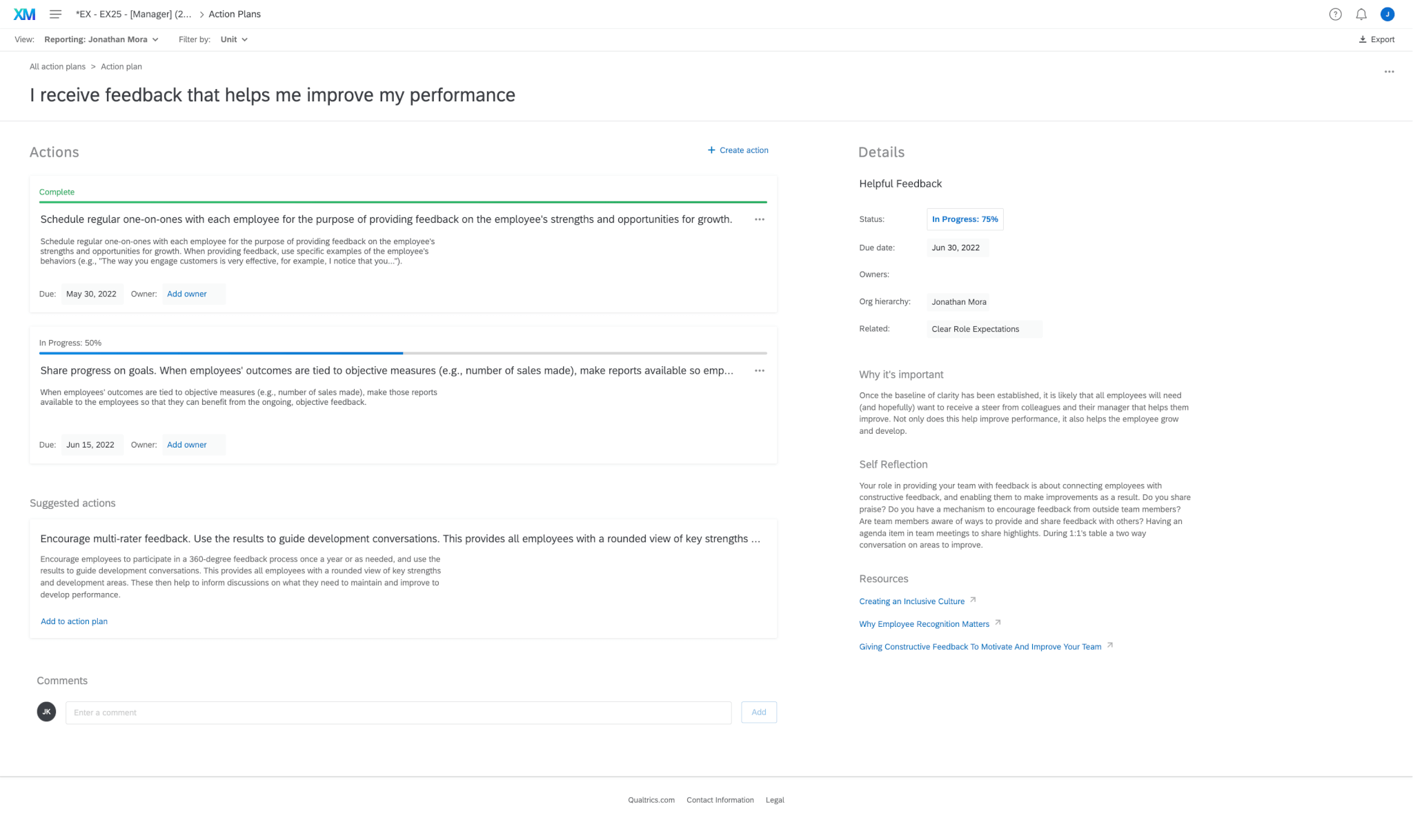 Continuously drive action and improvement
Managers can access their team's results to easily identify what they can do to improve the holistic employee experience. And with focus areas, action planning tips, and status reporting built in, managers are empowered to stay on track to drive continuous improvement and business outcomes.
What You Get
Expert-built Surveys
Expert-built survey template, pre-loaded with scientifically-validated questions to help you save time and get results faster. The EX25 methodology includes topics that measure:
5 EX KPIs: Outcome measures that indicate how your organization is doing across key aspects of the employee experience.
Engagement

Likelihood to recommend your organization
Willingness to go above and beyond
Sense of accomplishment at work

Experience vs. Expectations: To what extent employee expectations are met at work
Intent to Stay: How long employees intend to stay at your organization
Well-Being

Energy
Positivity
Relationships

Inclusion

Belonging
Authenticity
Equity
Top 25 Drivers of EX: Aspects of the employee experience that influence the 5 EX KPIs. Understanding each driver provides critical signals for where to start to improve the holistic employee experience.
Authority & Empowerment
Collaboration
Communication
Corporate Social Responsibility
Customer Focus
Ethics
Growth & Development
Innovation
Living the Values
Managing Change
Pay & Benefits
Performance & Accountability
Psychological Safety
Recognition
Resources
Respect
Role Fit
Safety
Strategic Alignment
Survey Follow-up
Training
Trust in Leadership
Trust in Manger
Work-Life Balance
Work Process
Program Communications
Proactive program communications help employees feel prepared for providing feedback and meaningful responses. The EX25 XM Solution contains the following pre-loaded and customizable communication templates, which are available in 13 languages:
Survey introduction
Employee confidentiality statement
Feedback invitations and reminders
Dashboard invitations for leaders and managers
Pre-Built Reports and Dashboards
Get instant analysis of your data. Pre-built reports with key driver analysis, focus areas, and text analytics help you spend less time analyzing data, and more time delivering results.
Headlines Report
Engagement Report
Experience vs. Expectations Report
Retention Report
Inclusion Report
Well-being Report
Comments Analysis
Scorecard
Heatmap
Response Rates
Documentation and best practice guides for building and running an EX25 program:
Program Design Guide
Survey Items & Rationale
Dashboard Guide
Communications Guide
Guided Action Planning Tips
Solution Details
The EX25 XM Solution is available to any customer with the following SKUs:
Engagement
EX 1a, EX3, EX5
Additional Resources
Languages
English (US), English (UK), German, Japanese, Spanish (LATAM), Spanish (EU), French, Dutch, Portuguese (Brazil), Italian, Korean, Chinese (Simplified), Chinese (Traditional)
Category Tags
Not a Qualtrics XM Customer?
Qualtrics Experience Management Platform™ is used by the world's most iconic brands to
optimize the four core experiences of business.