Qualtrics CoreXM
Rapidly collect, analyse and act on business insights at scale
Through a suite of best-in-class analytics tools and an intuitive drag-and-drop interface, empower everyone in your organisation to run holistic market research projects and generate high-quality insights faster than ever.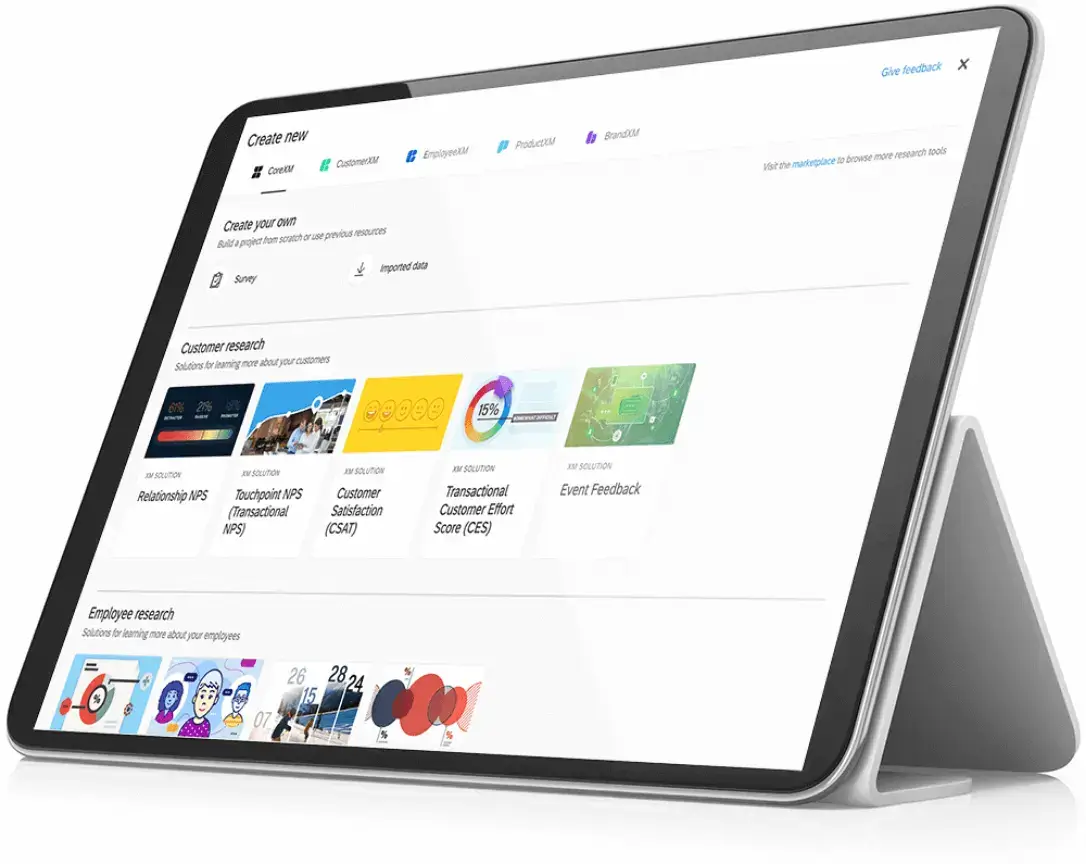 Increase confidence in your data
Leverage AI-powered analytics and embedded machine learning to mine structured and unstructured data
Maximise respondent data quality and vet methodologies with built-in survey intelligence
Construct professional-quality research studies with pre-built survey templates designed by industry experts

Decrease your research costs
Bring more research in-house and leverage technology to complete feedback initiatives
Consolidate research and centralise insights with one platform — no need to jump between software
Enterprise-grade security to mitigate liability and minimise costs associated with data breaches

Improve research productivity
Enable everyone in the organisation to carry out research with our easy-to-use survey tool
Get research off the ground faster with pre-built survey templates
Complete research projects in-house and reduce reliance on slow, outsourced vendors
ADAPTABLE
Fast and flexible research that
empowers everyone
With pre-built survey templates designed by industry experts, flexible research services and unmatched integrations that work with your existing systems, Qualtrics CoreXM equips your teams to adapt research to the needs of the project, budget or organisation.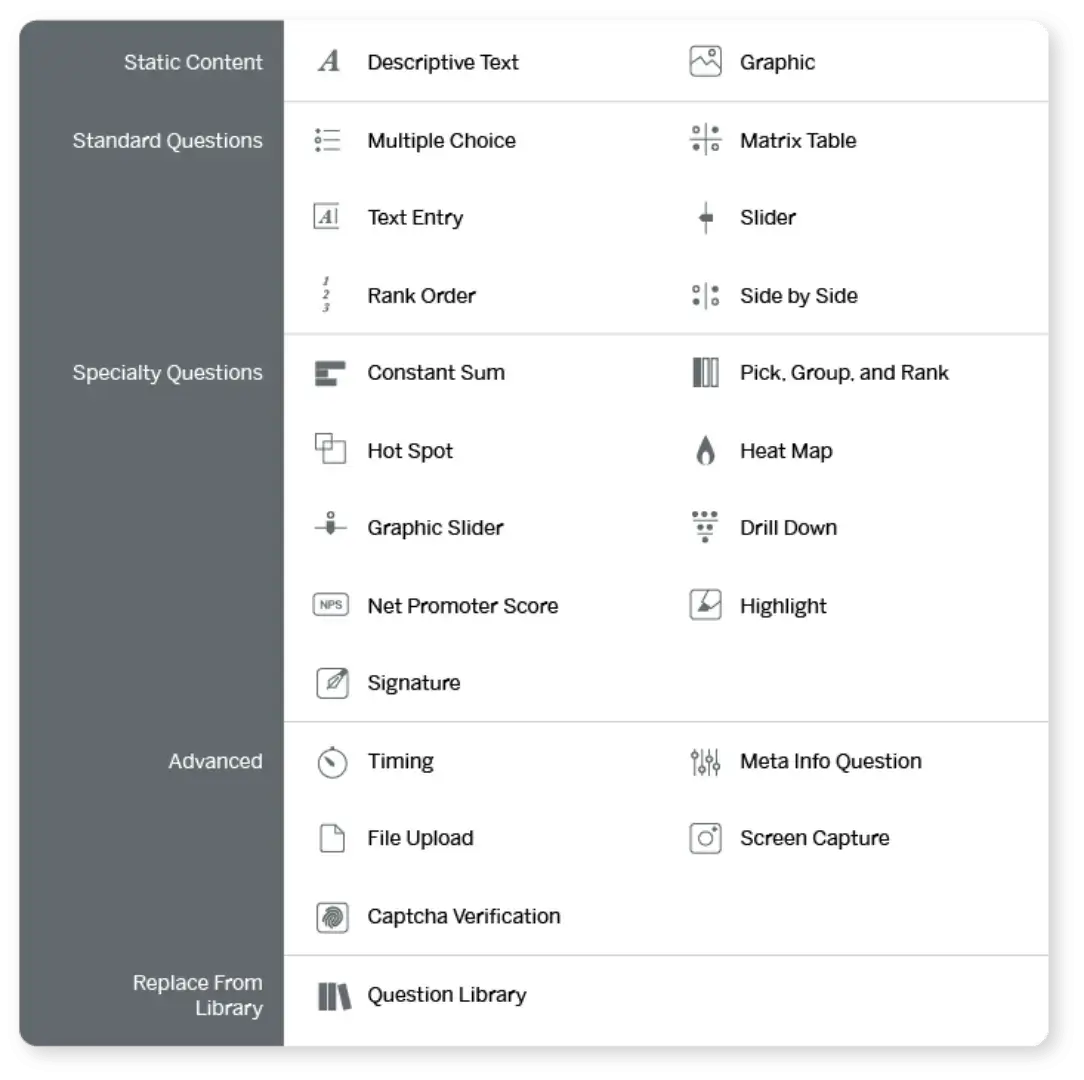 INTELLIGENT
Make complicated processes simple
and effective
Whether it's sophisticated statistical analysis like describe, relate or regression, Stats iQ — our AI-powered point-and-click solution — makes it all easy. Plus, with Text iQ, machine learning does the heavy lifting for you, automatically analysing open-text feedback to give you deeper insights into how your respondents actually think.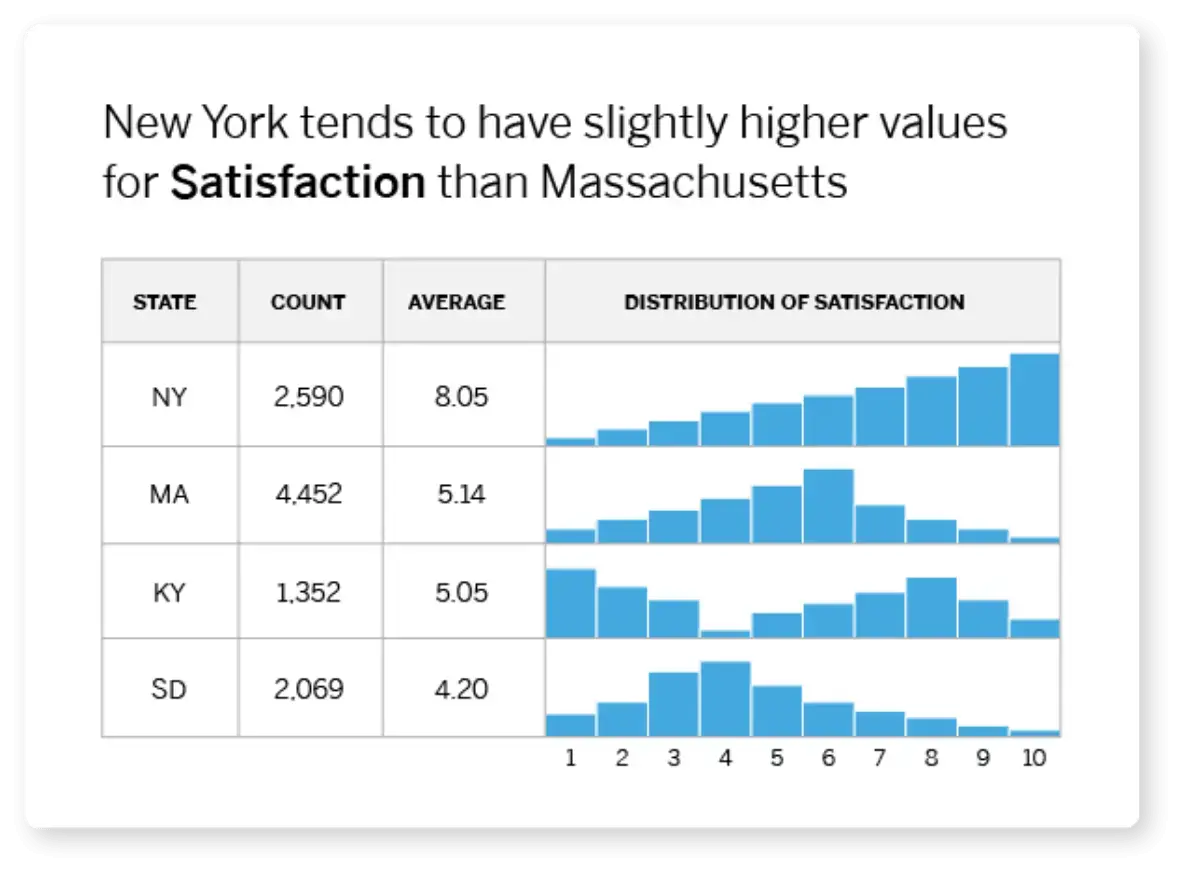 TRUSTED
Manage and protect information with
end-to-end security
Mitigate risk exposure with unbeatable enterprise grade security, compliance and governance through industry-leading certificates, including GDPR, ISO270001, Privacy Shield and more. Build confidence in your data with built-in survey methodology, survey quality checks, and world-class analytics.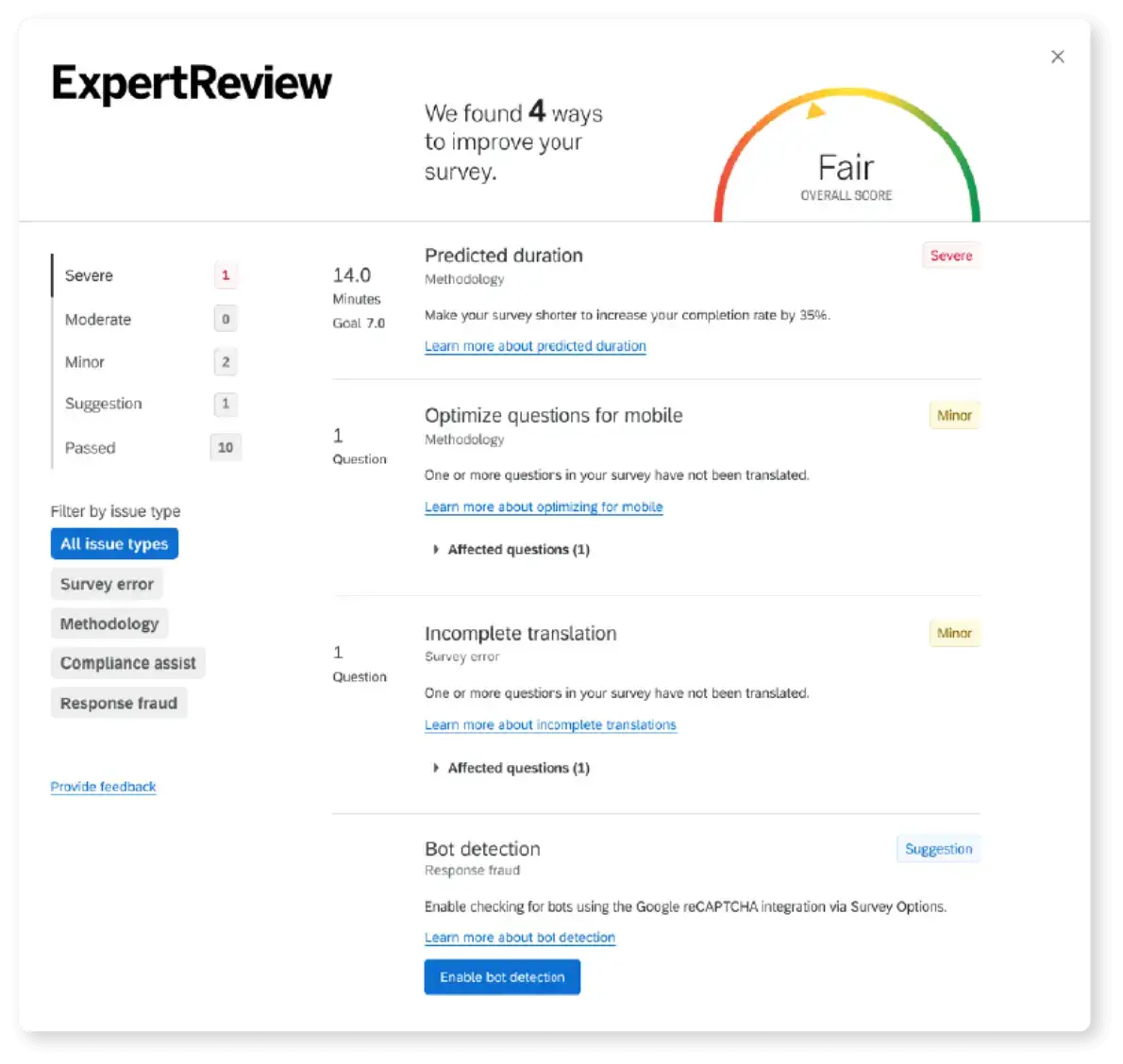 Choose the product
that's right for you
Free Account
Key features
8 question types
4 survey themes
500 responses
CoreXM
Key features
22 question types
Unlimited survey themes
1,000+ responses
Skip, display, and branch logic
Basic Stats iQ
Basic Text iQ
DesignXM
Key features
All of CoreXM plus:
Advanced Stats iQ
Advanced Text iQ
20+ XM Solutions (including Concept testing, Driver analysis, Conjoint with MaxDiff)
Video Feedback
Role-based Dashboards
Audience Management
Expert-designed projects that scale across the organisation
Below you'll find a selection of expert-designed survey and questionnaire templates. Suitable for every situation, you can access your survey at the click of a button, adapt as needed, or deploy as designed with minimal fuss.
Customer satisfaction (CSAT) survey
The customer satisfaction (CSAT) survey is invaluable to understand how people feel about their experience with you. This template keeps it simple, but ensures you're getting the right data to make important decisions that improve loyalty and retention.
Net Promoter Score (NPS) survey
The NPS survey is a valuable part of any relationship management program. Take the right steps to improve loyalty by getting a gauge on how likely your customers are to recommend you, or not.
Event signup, planning and feedback
How did your most recent event go? How do you know? With our free event survey, organisers can easily manage the signup, planning and post-event feedback so you can constantly improve.
Store & online purchase feedback
Improve every customer experience, whether in-store or online, by collecting in-the-moment feedback across any channel with this survey.
Employee satisfaction survey
Create a positive employee experience and thriving work environment with this survey.
Employee engagement
Drive revenue, productivity, and workforce creativity by better understanding what you can do to improve their experience.
New hire onboarding
Get the employee experience right from day 1. Understand the needs of your employees so they are empowered to succeed.
Candidate experience survey feedback
Interviewing a candidate is a two-way process. Make sure you're giving every candidate the best chance of success with this survey.
Manager feedback
Your manager is a valuable asset to your career progression and day to day success. Help them, help you with a manager feedback survey.
IT help desk
With remote work more common than ever, the IT help desk is a vital part of the employee experience. Give your people the tools to highlight flaws in the process, or communicate their appreciation for saving the day.
Product satisfaction
Find out how users feel about your product, why they use it, and what their goals are – so you can better meet their needs.
Early access feedback
The key to any good product is constant iteration. Early access feedback is an important component of that process.
New product idea
You have a new product idea, but how well does it really solve the needs of your audience? Ask them – so you know what steps to take next.
Pricing study
When launching a product, leave nothing to chance. Especially the price. Understand the expectations of your audience through our free survey, so you can price it right.
Product naming & package testing
There's only one way to have confidence in your product name and packaging – by testing it out with your audience. Hear their thoughts and act accordingly.
Brand awareness and performance
Understand what people think of your brand, analyse your performance and track your progress.
Creative & A/B testing
Collect customer feedback using creative testing and optimize performance so you can go to market with confidence.
Demographic poll
Learn more about your audience so you can understand what influences their behaviours, interests and opinions.
Faculty satisfaction
Make sure every faculty member is providing a satisfactory experience. Understand what works well, target areas of improvement, and make an action plan to rectify them.
Informed consent form
Make administrative processes easier by quickly collecting student consent with this survey.
Student recruitment
Understand the difference between a student choosing you, or not – so you know what areas you need to improve.
Student satisfaction
Hear what students think and understand how they feel about every aspect of their experience with this survey.