---
If you want to greatly increase the odds of turning a product concept into a profitable asset, market research testing is essential. Product concept testing identifies points of product weakness and potential market failure that can be fixed before launch. It can also reveal product strengths that would be useful to enhance. Done well, concept testing is a powerful mechanism to help you identify:
The effectiveness of individual concept assets
Barriers to achieving a concept's full potential
Consumer relationships with a concept
Status of a concept in a competitive context
Failures of advertising to communicate clearly
Weaknesses due to unmemorable product personality
Failure caused by lack of perceived value
Brand equity assets
Potential consistencies and inconsistencies in brand image and consumer perceptions
Unrecognized product benefits
Failures of the brand to integrate into the consumer's lifestyle
Elusive aspects of the brand and concept personality
Value of Concept Testing
Concept testing is crucial to product launches. Only 50 percent of product launches meet business targets, according to McKinsey.
Companies that fail to product test can face costly consequences.
In 1957, Ford spent the equivalent of $3.1 billion in the "car of the future," the Ford Edsel. While Ford conducted consumer polls, they failed to implement feedback and many of the touted new features were unreliable.
Coors made a similar blunder when they attempted to enter the bottled water market in 1990. The packaging and branding of Coors Rocky Mountain Spring Water was similar to Coors beer, which frightened many of Coors' target demographic.
Poor test-and-learn execution has been known to hobble a company's fortunes for years to come."  – Bain & Company
But there is hope. Many product launches fail because organizations do not fully prepare to market their products, according to the Harvard Business Review. On the flip side, brands have leveraged product testing to make decisions that have tremendous payoffs.
Emerging fashion brand Shinola used customer research to verify which watches to feature in their spring 2018 collection.
Yamaha used concept testing to make a product design decision about using a knob or a sliding fader in a new electronic keyboard. Understanding customer preferences has helped Yamaha maintain its top keyboard in the industry.
Chobani used product testing to adjust packaging in one of its new products, Chobani Oats and Ancient Grains. This helped the brand increase the user-friendliness of the product and maintain the top spot as Australia's preferred yogurt brand.
Survey Methodology
Before designing your concept testing survey, consider which methodology will best fit your needs. Some of the most common survey methodologies include:
Single Concept Evaluation (Monadic). Respondents complete a full evaluation of a single concept.
Multiple Concept Evaluation (Sequential Monadic). Respondents complete full evaluations for multiple concepts.
Concept Selection (Comparative). Respondents choose which concept they like best.
Concept Selection and Evaluation (Comparative Monadic). Respondents choose which concept they like best and complete a full evaluation of that concept.
Each test methodology comes with its own tradeoffs.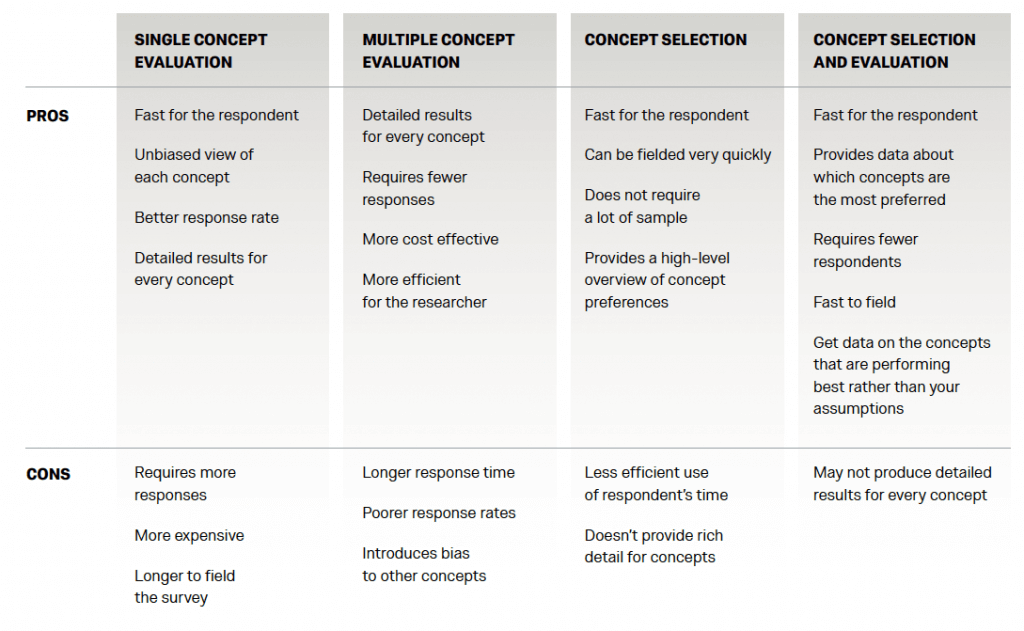 ---
Survey Components for a Basic New Product Concept Survey
Concept tests can easily be constructed once the researcher has determined the key components for the survey. Of course, these components will vary with the purpose of the concept study. Carefully consider the objectives of the concept test to make sure the measures used will successfully answer your team's questions.
Major Components of a Concept Test:
Overall concept reaction measurement
Concept need / relative improvement over current method of doing things
Overall reaction to the concept (acceptability, desirability, interest)
Likelihood to purchase concept
Detailed Concept Analysis Evaluation
Likes and dislikes about the concept
Attribute list evaluation
Awareness of competing products
Awareness of substitute and complementing products
Superiority over other existing products
Use Situation Evaluation
Likelihood of use in specified situations
Current use of similar / competing products
Frequency of product use
Value Analysis
Estimate product value
Preferred method of purchase
Segmentation Analysis
Market segments most likely to use (order and prioritize)
Elements of a Typical Concept Test
The flow of your concept test survey is an important part of ensuring that respondents understand and buy into the survey they are taking. Here is a suggested flow, though your survey may require customization depending upon your objectives.
Introduce your survey and qualify respondents
Measure awareness of product brands
Measure brands purchased (within the product class) in past three months
Introduce concept descriptions with measures of likelihood of purchase
Identify purchase dimensions: number of bottles, frequency of purchase
What is the perceived value of the product concept
Innovativeness of concept measure
Affective evaluation: like-dislike measure
Measure the concept's power to replace the current brand purchased
Frequency of consumption in a day
Believability of concept
Relevance of concept to the respondent
Attribute and benefit evaluations:

Is a good value for the money
Would help me to….(do something more easily or better)
Would benefit me… (tastes good or is something I would consume everyday)
Has attractive packaging
Would improve my health

Source of purchase (location)
Demographics
Concept testing is a great money-saving technique because there's little that wastes more money than launching a faulty concept. Concept testing research alone is enough to justify the cost of most market research programs.
Identify the Most Promising Concept
Once you have fielded your study, we recommend splitting your analysis into two sections:
Overall results will give you a high-level view of which concepts performed the best.
Individual results allow you to dive into each concept, understanding how each one fared and why.
Open-ended analysis can be a challenge with concept testing. Parsing out common themes, strengths, and weaknesses can be a daunting task. Using a tool like Qualtrics Text iQ can make this analysis simple.
Concept testing is an essential, money-saving technique simply because few things waste more time and capital than launching a faulty product. Concept testing research gives you the insights you need to make adjustments that allow you to move forward with confidence.