XM for Customer Frontlines

Digital

Root out friction in every digital experience, super-charge conversion rates, and optimize digital self-service

Care

Uncover insights from any interaction, deliver AI-powered agent coaching, and reduce cost to serve

Locations

Increase revenue and loyalty with real-time insights and recommendations delivered straight to teams on the ground

XM for People Teams

Engage

Know exactly how your people feel and empower managers to improve employee engagement, productivity, and retention

Lifecycle

Take action in the moments that matter most along the employee journey and drive bottom line growth

Analytics

Whatever they're are saying, wherever they're saying it, know exactly what's going on with your people

XM for Strategy & Research

Research

Get faster, richer insights with qual and quant tools that make powerful market research available to everyone

User Experience

Run concept tests, pricing studies, prototyping + more with fast, powerful studies designed by UX research experts

Brand

Track your brand performance 24/7 and act quickly to respond to opportunities and challenges in your market

XM Platform

Explore the platform powering Experience Management

Teams

For Digital

For Customer Care

For Human Resources

For Researchers

All Teams

Industries

Healthcare

Education

Financial Services

Government

All Industries

Customer Experience

Employee Experience

Employee Exit Interviews

Net Promoter Score

Voice of Customer

Customer Success Hub

Product Documentation

Training & Certification

Community

XM Institute

About Us

Careers

Partnerships

Marketplace

X4 Summit

The annual gathering of the experience leaders at the world's iconic brands building breakthrough business results, live in Salt Lake City.
Market Research
Insights are great — but taking action is what we need now
Jack Davies
// July 14, 2020 // 6min read
We all have insights — and right now many organizations have more than they ever had before. Find out how to go one step further and use them to drive real change and take action to improve the experience for customers and employees
The way we work has changed forever. Digital transformation has accelerated at an unprecedented pace, workplaces and working practices have changed beyond recognition in 3 short months, and customer needs have radically changed.
None of this is 'new' as such, more that recent events have accelerated changes that were already underway, hitting fast forward on everything from the rise of remote working, to demands for brands to play their part in the global movement for social justice.
It's forced brands to be agile, and across the board we're seeing brands respond with four key activities:
Listen more — as employee and customer needs change, organizations need to keep a pulse on what's happening
Listen across channels — with customers switching to digital at a faster rate, it's more important than ever to install listening posts across physical and digital channels
Identify experience gaps — what worked before, won't necessarily work now, so as new customer and employee needs emerge, many organizations will be finding gaps that weren't there before
Act fast — knowing what's not working, and why, is one thing but organizations need to take the right actions to close the gaps and respond to the changing needs of their stakeholders
It's all about taking the right actions — something that's far from easy at a time when there's no playbook to follow or past experience to learn from.
The key is to go from insights — and let's face it most businesses are drowning in data and insights — to action, in order to move fast and close experience gaps as (or even before!) they emerge.
How to go from insights to action
For over a decade, organizations have been amassing more and more data, and applying analytics to draw out key insights whether it's in their product development, customer service, or employee experience.
Today, insights are not enough — the most successful companies are those that take the next step, and translate them into actions and tangible change for their employees and customers.
At Qualtrics, we built the Experience Management Platform™ to enable you to do exactly that.
Yes, there are more than 125 channels you can use to listen to customers and employees. And of course, there's a powerful, predictive intelligence engine under the hood working 24/7 to turn that into breakthrough insights.
But to take it one step further, we've added a host of capabilities that help you go from insights to action.
Text iQ — part of our predictive intelligence engine, it automatically structures open text feedback, like survey responses or chatbot conversations to identify trending topics and sentiment
Smart Conversations — using Text iQ, it makes feedback a two-way process, automatically identifying what people are talking about, and responding accordingly - no wasted questions, just 2-way conversations about the things your customers and employees care most about
Automated Actions — you have your insights, now you need to take action. XM Automated Actions uses custom workflows to take the actions for you. With no code workflows that integrate into your existing systems, it triggers the right actions in the right teams across the organization whether it's creating a ticket, updating your records, or alerting a specific individual in the company.
With insights, you know there's a problem. With a system of action, you not only know what to do about it — you're already doing something.
It's something you can apply across your employee, customer, product, and brand experience programs to help close experience gaps.
Here's a few examples of how it's being put into practice:
Follow up quickly with employee feedback — in your regular employee feedback, certain topics can trigger an immediate follow-up via a notification to the HR team or an automated Slack message. We've seen this used to close the loop quickly on topics around employee safety and diversity and inclusion, to take action quickly on issues that are important to employees.
Prevent customer churn — Text iQ can pick up negative sentiment in feedback from premier customer segments, triggering an automatic action to raise a ticket with the customer service team to get in touch, resolve the problem and help prevent a valuable customer leaving.
Detailed product feedback — Smart Conversations are a great way to gather feedback about products, and can help turn any customer interaction into a chance to improve the product. Say for example someone is chatting to your customer service team online to complain that a product arrived late. They might also mention that the product was too big, triggering Smart Conversations (based on your topics in Text iQ) to respond with '"we see that you are having problems with the fit, what can we do to improve it?" once the delivery issue has been resolved. This could then trigger a Slack message to the product team to ensure they get the feedback, even though it was mentioned in an interaction with customer service.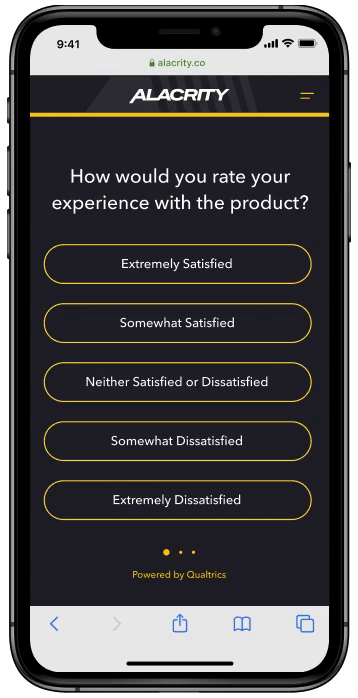 That's just a few of the ways we're seeing Qualtrics users make the most of the XM system of action to respond quickly, take action and make changes that have a big impact on their customers and employees.
Learn how to take action today with QualtricsXM