All your company's research. One platform.
---
Remove redundancies, reduce costs, and decrease time to value with a single, modern platform for all your research requirements
Impactful insights, in the blink of an eye
---
Regressions, segmentation, crosstabs, MaxDiff - you name it, iQ has it covered. The most advanced statistical tests are applied across your entire dataset automatically to uncover insights in a fraction of the time of traditional research.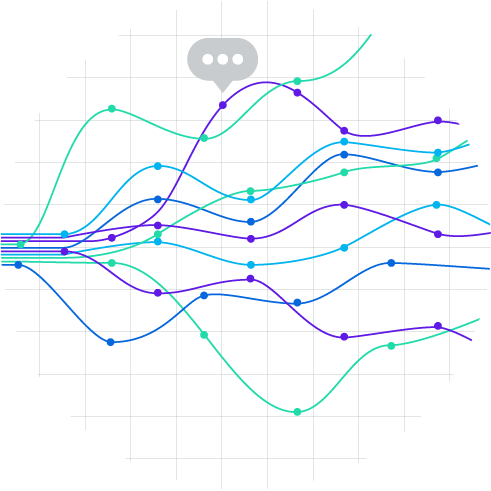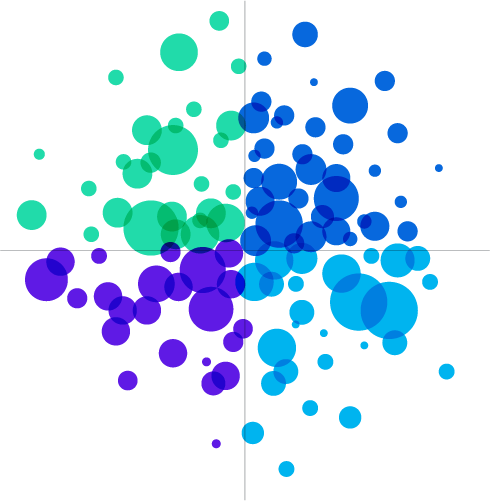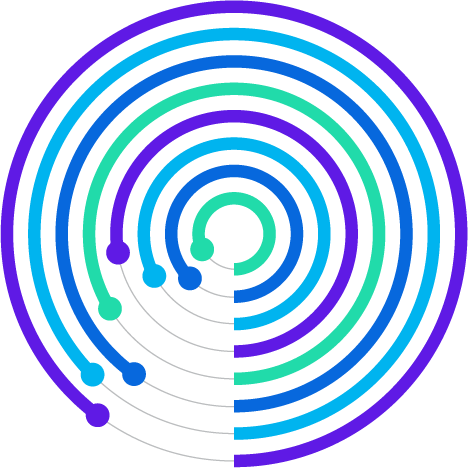 Open text, structured
Automatically analyze tens of thousands of open text comments with Text iQ. AI and natural language processing take open text and automatically categorize it by topic and sentiment so you can draw insights from the richest feedback of all — human language.
Prioritize what matters most
Instantly see the key drivers of anything from purchase intent to customer satisfaction with Driver iQ. Our automatic key driver analysis learns across your entire dataset to surface the key drivers you can focus on to have the biggest impact on the business.
Uncover trends and patterns
No matter how big your dataset, or how many teams are involved, Stats iQ connects the dots for you. It's always running in the background, identifying the right test, running it, and alerting you to new trends, relationships and connections across the business.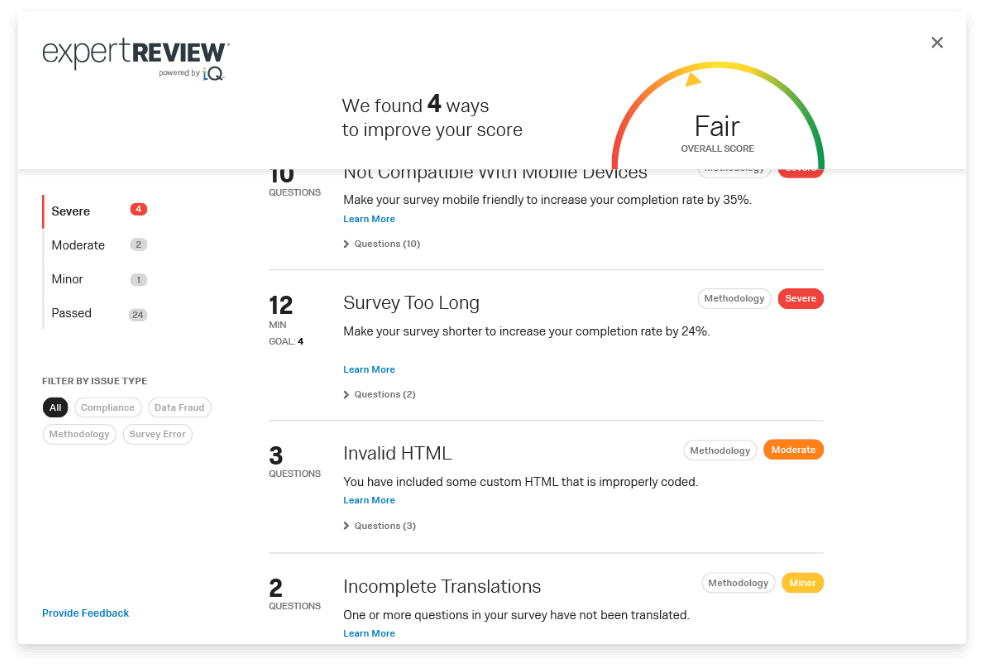 expert review
Improve research quality and avoid costly errors with ExpertReview
ExpertReview is your personal research assistant that uses AI to detect and remove quality gaps at every stage of the insights lifecycle.
Avoid painful and costly errors when conducting research, and eliminate errors that come from poorly-designed studies
Automatically flag problems like broken question logic, methodology errors, mobile compatibility, and even compliance issues
Flag any sensitive or PII data, or poor-quality responses coming from bots, duplicates, cheaters, gibberish and other forms of disengaged respondents
Detect, delete and redact poor quality responses with a single click
Launch in minutes, not days with fully automated, guided research solutions. Each solution comes with expert-designed, pre-built listening instruments, analytics and reporting. Choose from 25+ solutions designed by Qualtrics XM scientists . Streamline your data collection and increase insights outputs.


SCALE YOUR IMPACT
Access experts and a flexible engagement model to scale your team and expertise
Access to 75+ experts, XM scientists and research managers to help you with design, analytics, reporting and respondent sourcing.
12,000+ customers, including 75% of F500. Top awards by Forbes, Fast Company, CNBC, Gartner Tech, Greenbook, Quirks, Trust Radius, G2 Crowd and more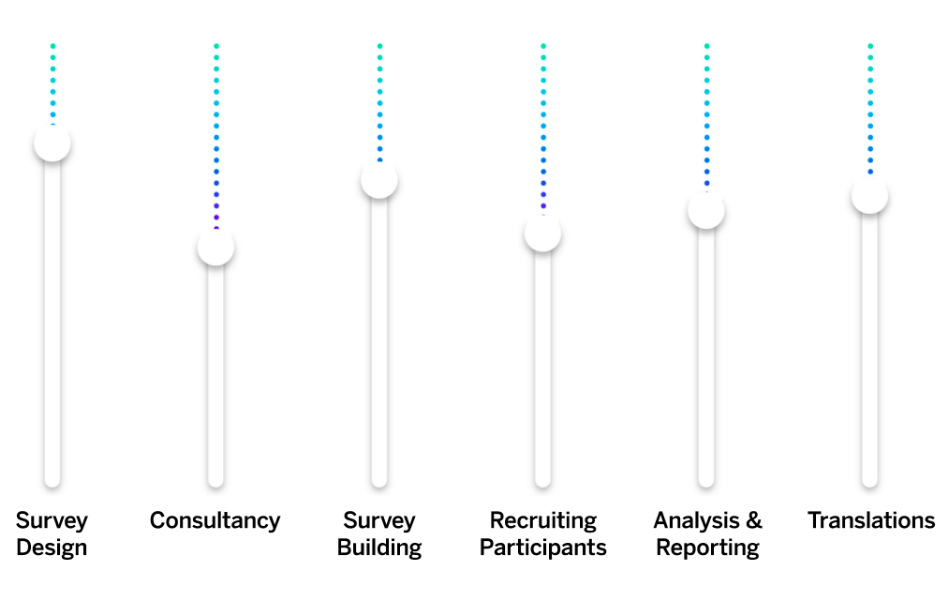 Qualtrics' Flexible Service Model
We know that sometimes you need someone else to manage a project so you can allocate energy to other initiatives. Other times, you need the flexibility and agility to manage the details yourself. Our offering gives you the freedom and power to dial up or dial back the services at any time during the program.
Advisory
XM Scientists
XM Institute
Tech Consultants
Deliver
Tech Consultants
Solution Architects
Program Architects
Support
Customer Success
Qualtrics Support
Technical Account Manager
Experience Basecamp
QUALTRICS RESEARCH SERVICES
Make your research work harder for you
Uncover deeper and more targeted insights with Qualtrics Research Services and our network of partners. Trained research experts help unlock cost and time savings, while flexible service options let you choose how much – or how little – support you need.
Learn More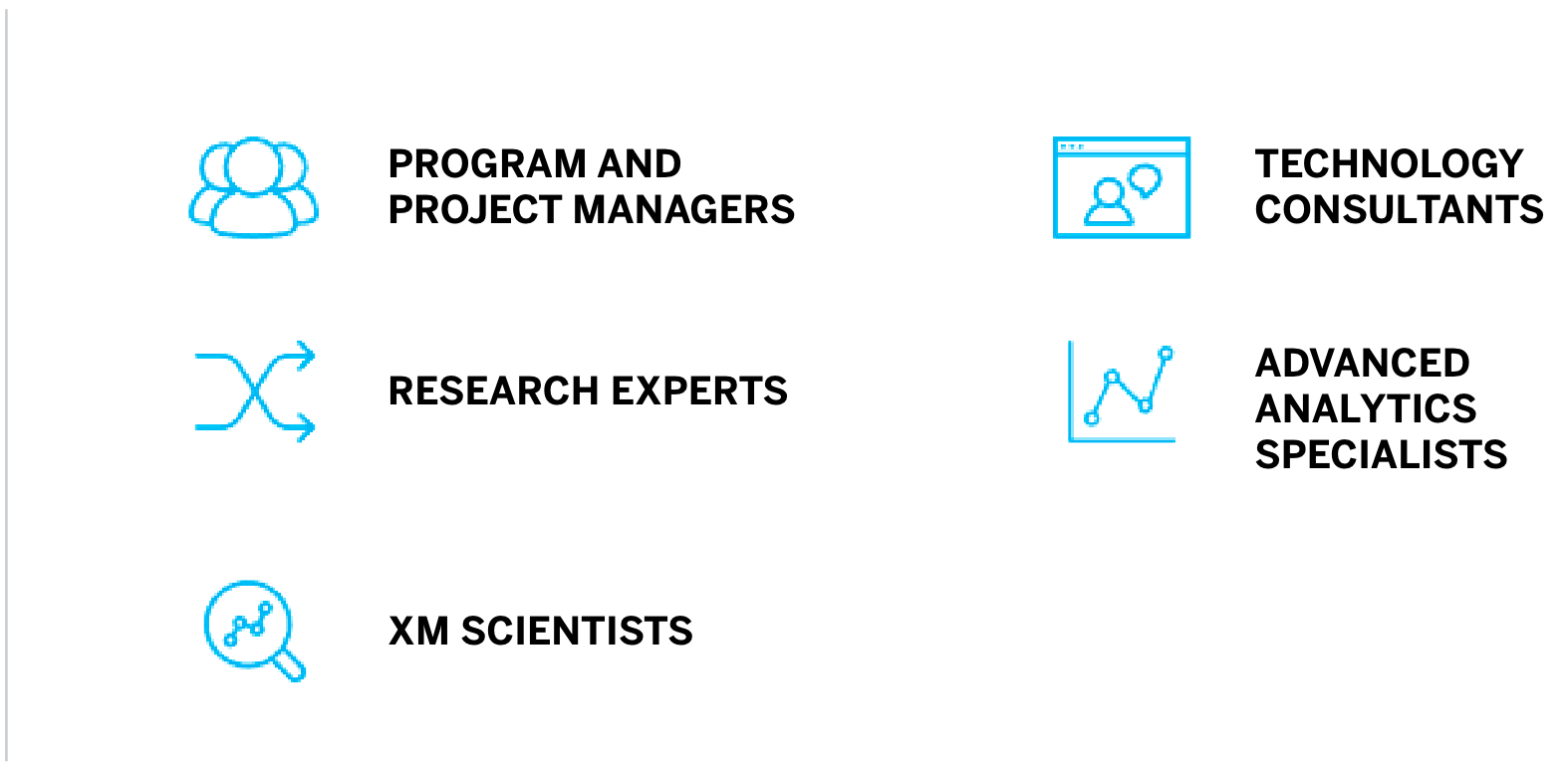 On my first day using Qualtrics I was able to do my surveys in HALF THE AMOUNT OF TIME it would have taken me using other survey tools — and I hadn't even been trained in Qualtrics yet.
Qualtrics helps me CONNECT THE DOTS – bringing together all of the insights we have into clear, thorough, and actionable insights, which are brought to the stakeholders in a way that is easy for them to understand both the insight and what action should be taken by us.
See how Qualtrics can improve your market research