Employee Experience
50 powerful leadership quotes to inspire your organization
In the spirit of leadership development, we gathered a few quotes about leadership from noteworthy leaders, helping us define what separates good leaders from great ones. Share these leadership quotes with your team members and managers when they need a bit of motivation.
These quotes have resonated with us at Qualtrics and we hope they do the same for you.
Download your favorite quote as a desktop background
10 powerful quotes on making your own way
A great leader knows how to translate vision into reality, even when one person's vision seems like a dream. Here are 10 powerful quotes on striking your own path:
"Innovation distinguishes between a leader and a follower."
-Steve Jobs, Apple co-founder
"Do not follow where the path may lead. Go instead where there is no path and leave a trail."
-Ralph Waldo Emerson
"The true mark of a leader is the willingness to stick with a bold course of action — an unconventional business strategy, a unique product-development roadmap, a controversial marketing campaign — even as the rest of the world wonders why you're not marching in step with the status quo. In other words, real leaders are happy to zig while others zag. They understand that in an era of hyper-competition and non-stop disruption, the only way to stand out from the crowd is to stand for something special."
-Bill Taylor, from the article "Do You Pass the Leadership Test?"
"The very essence of leadership is that you have to have vision. You can't blow an uncertain trumpet."
-Theodore M. Hesburgh
"You gain strength, courage and confidence by every experience in which you really stop to look fear in the face. You must do the thing you think you cannot do."
-Eleanor Roosevelt
"In matters of style, swim with the current; in matters of principle, stand like a rock."
-Thomas Jefferson
"Never doubt that a small group of thoughtful, concerned citizens can change the world. Indeed it is the only thing that ever has."
-Margeret Mead
"A genuine leader is not a searcher for consensus but a molder of consensus."
-Martin Luther King Jr.
"It is not the strongest of the species that survive, nor the most intelligent, but the one most responsive to change."
-Charles Darwin
"Leaders grasp nettles."
-David Ogilvy
10 important quotes on how good leaders raise the bar and unlock potential
Excellent leaders raise the bar, inspiring others to achieve the most that is possible. Here are 10 powerful quotes on unlocking people's potential:
"I start with the premise that the function of leadership is to produce more leaders, not more followers."
-Ralph Nader
"The single biggest way to impact an organization is to focus on leadership development. There is almost no limit to the potential of an organization that recruits good people, raises them up as leaders and continually develops them."
-John Maxwell
"A good objective of leadership is to help those who are doing poorly to do well and to help those who are doing well to do even better."
-Jim Rohn
"Leaders instill in their people a hope for success and a belief in themselves. Positive leaders empower people to accomplish their goals."
-Unknown
"If your actions inspire others to dream more, learn more, do more and become more, you are a leader."
-John Quincy Adams
"A great person attracts great people and knows how to hold them together."
-Johann Wolfgang Von Goethe
"Leadership is the art of giving people a platform for spreading ideas that work."
-Seth Godin
"A leader is best when people barely know he exists. When his work is done, his aim fulfilled, they will say: we did it ourselves."
-Lao Tzu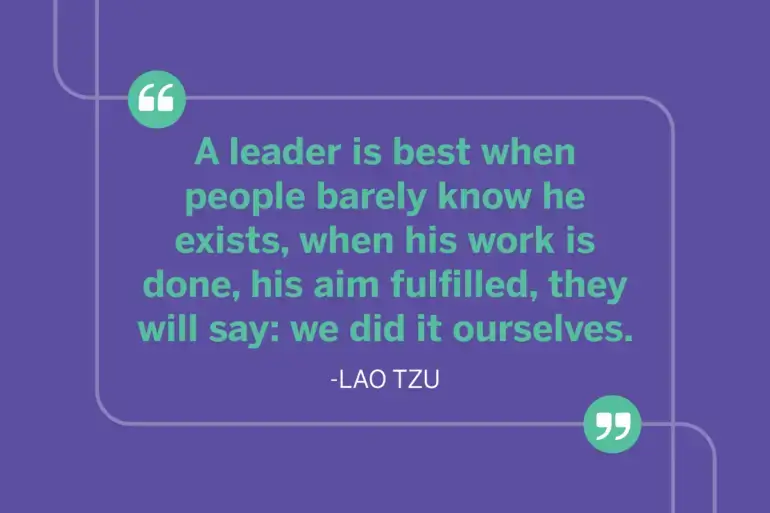 "A leader takes people where they want to go. A great leader takes people where they don't necessarily want to go, but ought to be."
-Rosalynn Carter
"Before you are a leader, success is all about growing yourself. When you become a leader, success is all about growing others."
-Jack Welch
10 leadership quotes on the qualities of a great leader
Average leaders raise questions and find the roadblocks - skillful leaders seize on what they don't know and find the answers. Here are 10 leadership quotes on the necessary qualities of a great leader:
"The pessimist complains about the wind. The optimist expects it to change. The leader adjusts the sails."
-John Maxwell
"Leadership and learning are indispensable to each other."
-John F. Kennedy
"Wise leaders generally have wise counselors because it takes a wise person themselves to distinguish them."
-Diogenes of Sinope
"The mediocre teacher tells. The good teacher explains. The superior teacher demonstrates. The great teacher inspires."
-William Arthur Ward
"No man will make a great leader who wants to do it all himself, or to get all the credit for doing it."
-Andrew Carnegie
"Anyone can hold the helm when the sea is calm."
-Publilius Syrus
"A good leader takes a little more than his share of the blame, a little less than his share of the credit."
-Arnold Glasow
"The most dangerous leadership myth is that leaders are born-that there is a genetic factor to leadership. This myth asserts that people simply either have certain charismatic qualities or not. That's nonsense; in fact, the opposite is true. Leaders are made rather than born."
-Warren Bennis
"Mastery is great, but even that is not enough. You have to be able to change course without a bead of sweat, or remorse."
-Tom Peters
"Good leaders build products. Great leaders build cultures. Good leaders deliver results. Great leaders develop people. Good leaders have vision. Great leaders have values. Good leaders are role models at work. Great leaders are role models in life."
-Adam Grant
10 quotes on how brilliant leaders deliver results
Leadership isn't just about having great ideas - leadership is the ability to deliver results even in the face of adversity, and knowing where to dedicate your and other people's energy. Here are 10 leadership quotes on how good leaders get results:
"Champions keep playing until they get it right."
-Billie Jean King
"You don't get any medal for trying something, you get medals for results."
-Bill Parcells
"He who knows when he can fight and when he cannot, will be victorious."
-Sun Tzu
"He who would accomplish little must sacrifice little; he who would achieve much must sacrifice much; he who would attain highly must sacrifice greatly."
-James Allen
"If you spend too much time thinking about a thing, you'll never get it done."
-Bruce Lee
"Optimism is the faith that leads to achievement. Nothing can be done without hope and confidence."
-Helen Keller
"Effective leadership is not about making speeches or being liked; leadership is defined by results not attributes."
-Peter Drucker
"Success is not final, failure is not fatal: it is the courage to continue that count."
-Winston Churchill
"Victory has a hundred fathers and defeat is an orphan."
-John F. Kennedy
"Action springs not from thought, but from a readiness for responsibility."
-Dietrich Bonhoeffer
10 quotes on how the greatest leaders inspire action
Having radical ideas, inspiring others, and getting results requires an excellent leader to inspire action. Here are 10 motivational quotes on how to the greatest leaders mobilize their teams:
"The greatest leaders mobilize others by coalescing people around a shared vision."
-Ken Blanchard
 "If you want to build a ship, don't drum up the men to gather wood, divide the work and give orders. Instead, teach them to yearn for the vast and endless sea."
-Antoine de Saint-Exupery
"Don't tell people how to do things; tell them what to do and let them surprise you with their results."
-George S. Patton Jr.
"Example is not the main thing in influencing others. It is the only thing."
-Albert Schweitzer
"A leader ... is like a shepherd. He stays behind the flock, letting the most nimble go out ahead, whereupon the others follow, not realizing that all along they are being directed from behind."
-Nelson Mandela
"Silent gratitude isn't very much to anyone."
-Gertrude Stein
"The best executive is the one who has sense enough to pick good men to do what he wants done, and self-restraint to keep from meddling with them while they do it."
-Theodore Roosevelt
"Leadership is the art of getting someone else to do something you want done because he wants to do it."
-Dwight D. Eisenhower
"Keep your fears to yourself, but share your courage with others."
-Robert Louis Stevenson
"To handle yourself, use your head; to handle others, use your heart."
-Eleanor Roosevelt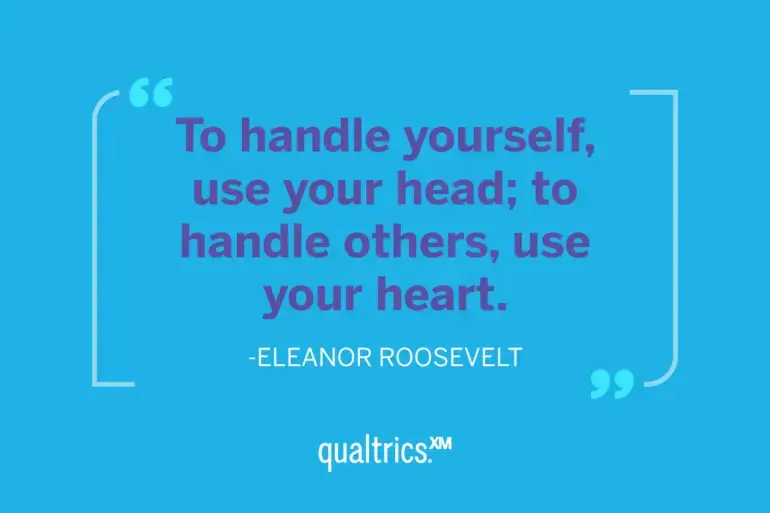 How great leaders inspire us at Qualtrics
At Qualtrics, we believe that a primary focus of an employee experience program is career and leadership development for employees. Qualtrics does this using our 360-degree feedback software, allowing your team to get fair feedback that will inspire them to even greater progression.
Inspire your team with these leadership quotes and vital feedback on each person's performance.
Download your favourite quote as a desktop background