Featured
Bank less, delight more: How Bankwest built an engine room for customer obsession
When a bank promises "less BS" - bank stuff, that is - you know that it's got customers at the heart of the organisation. At the recent X4 on Tour Sydney event, Dr. Jarrad Dunning (Head of Market Insights, Bankwest) shared how he turned the research and insights function into trusted advisors, in the process driving customer obsession into every part of the business. (This session is available on-demand now.)
Say hello to Bankwest.
Established 1895 but operating with the spunk of a young challenger, its customer-centricity is most apparent in its call to customers to 'bank less'.
This pluckiness has driven it to do things differently, including adopting an Agile way of working throughout the organisation in order to respond more quickly to changing markets.
But it wasn't always this way.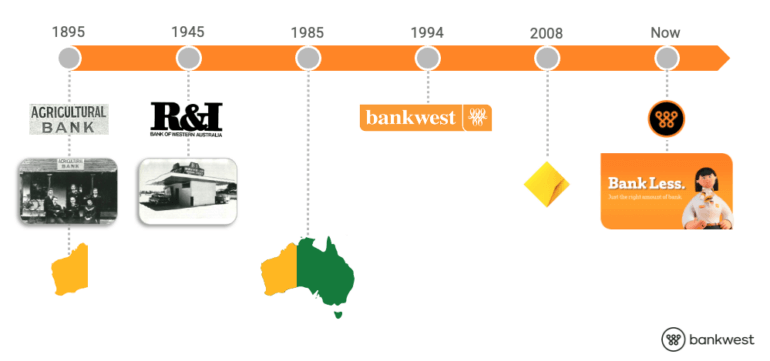 Bankwest has a long history dating back to 1895 when it was established in Perth, Western Australia.
The market research & insights team that needed to find its mojo
Dial back five years and the market insights functions in Bankwest looked mighty different.
Its small team was spread thinly across the organisation. Budgets were dwindling as other departments within the bank either weren't aware of the team or didn't know how to get value out of them.
Its research program was also disparate. With different Customer Experience and research tools used, there was a disconnect between insights from the digital channels and the frontline. Whilst its brand health program relied on using external agencies which was cost-limiting.
The insights team was also caught in the middle of an evolving 'two-speed' operating model as Bankwest moved to Agile ways of working. Some teams like marketing still use project-based, 'waterfall' methods, while the rest of the organisation in Agile teams are looking for faster, sharper, iterative insights in line with sprint rhythms.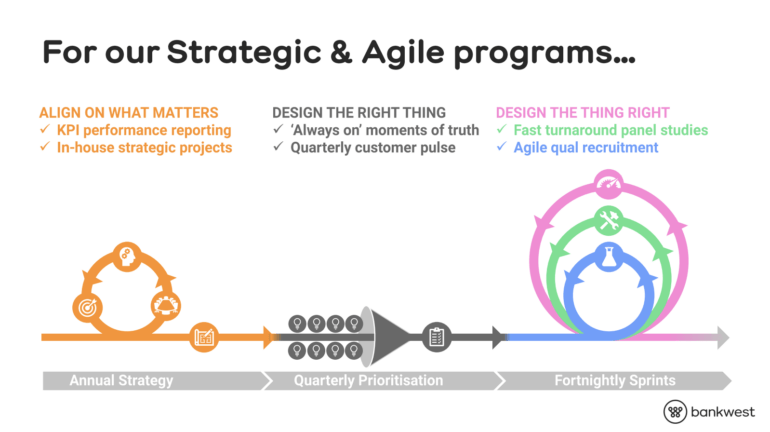 "There was low awareness among the business of what we did. Our frontline teams and marketing teams did engage, because a lot of their reporting metrics and KPIs depended on our research. But outside of these silos, we weren't having the impact we wanted."
- Dr. Jarrad Dunning, Head of Market Insights, Bankwest
Key steps to building an engine room that serves all teams
Jarrad began with the most important: people.
"We had to build the right capability and culture if we were to move from data providers to trusted advisers. We set about recruiting and nurturing experienced market researchers with strong technical skills. But more importantly, they were passionately curious problem-solvers who communicate with and influence our internal stakeholders," Jarrad says.`
With the right people in place, Jarrad tackled problem number two - technology. Bankwest consolidated the multiple solutions down to one: Qualtrics.
"Consolidating our tools had immediate benefits. It freed up the team to focus on research by dramatically reducing the admin overhead. With everyone on the same platform, we could learn together and flex to support each other whenever we needed. The Qualtrics solution had a lot of DIY capability, which meant the business could self-serve data requests."
– Dr. Jarrad Dunning Head of Market Insights, Bankwest.
This then opened up whole new DIY capabilities to conduct sophisticated research in-house (including choice modelling and MaxDiff), build real-time CX and brand dashboards, and importantly, manage and grow a research panel that allows Bankwest to scale up research with speed and cost efficiency.
"Typically, if we'd wanted to conduct choice modelling or conjoint analysis, we would have used an external research agency. Bringing this kind of research in-house saves time and money. It showed the business we were far more than middle-men who got others to provide the insights. It showed them that we could be leveraged as trusted advisors," Jarrad says.
At the same time, the team also focused on building momentum through internal storytelling. They worked key advocates from their Contact Centre and External Communications teams to identify success stories with real impact. And they built strong partnerships with internal communications teams to amplify stories through internal channels and weave insights into other content.
Infusing every business activity with customer insight
"We successfully demonstrated our value to the business. We showed we could provide more bang for our buck. And we changed the way we supported colleagues in the different teams"
– Dr. Jarrad Dunning Head of Market Insights at Bankwest.
Having an integrated view of customer journeys (always-on 'moments of truth'), rapid research through Qualtrics' panel management solution, and brand tracking (e.g. market segment testing, value proposition testing) has made the Market Insights Team an engine room for insights that drive decision making in the organisation.
"Our CX moments of truth program has taken off in the last few years. In 2018 we had 7 moments of truth surveys running in the business. By 2023 we increased that by 500% to 36 surveys and counting," Jarrad says.
Since 2018, Bankwest has seen a 15 point increase in Net Promoter Score.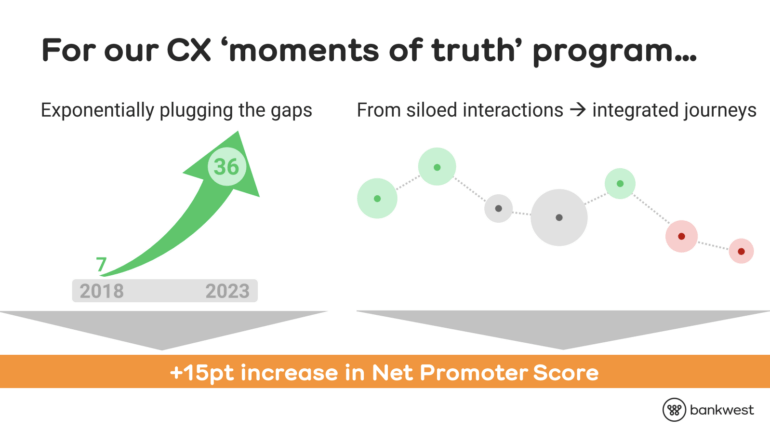 And the Market Research & Insights Team looks to continue maturing its insights operations to continue delivering value to business. Including further developing its qualitative capabilities, enhancing the sophistication of its digital channel survey program, incorporating internal data to better understand customer feedback, and piloting video feedback capability to capture feedback at scale.
"Our team has become a fast, efficient and technically expert function. We have a better idea of what our customers want from us, and we have brought our stakeholders along on the journey. It's fair to say we are a critical engine room in driving customer obsession across the Bankwest business," Jarrad says.
Watch Bankwest's full session on-demand today to get across all of the insights shared. Learn more about XM for Strategy and Research and watch a demo today.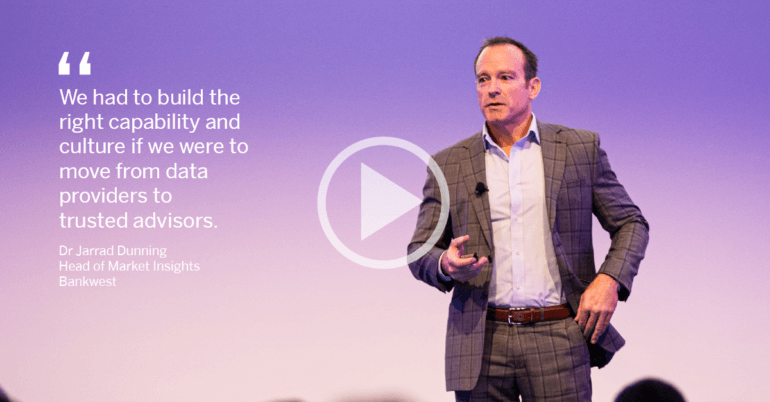 Related Articles