Employee Experience
How ready are we to work from home?
The COVID-19 pandemic is rapidly changing the way we work. The U.S. federal government first issued nationwide social distancing guidelines on March 16. Employers that could encouraged their employees to work remotely, and for the first time in modern history, a nationwide lockdown began. The work-from-home guidance is already having significant effects on workers' anxiety levels, testing their confidence in their business leaders, and requiring them to adjust to new ways of working.
To measure how employees are managing this unprecedented change, Qualtrics identified more than one thousand working-age employees (n=1,006) who typically worked full time in an office or onsite with their company and were now working remotely in response to the COVID-19 situation. We asked them about their habits, their wellbeing, their productivity, and how the new situation was affecting them. The poll was conducted in the United States between March 19-20.
Stress and anxiety spike
Working remotely can be a jarring experience as workers deal with uncertainty, develop new habits, and often merge different parts of their lives: 52% of newly remote workers feel more anxious working from home, compared with just 18% who feel less anxious.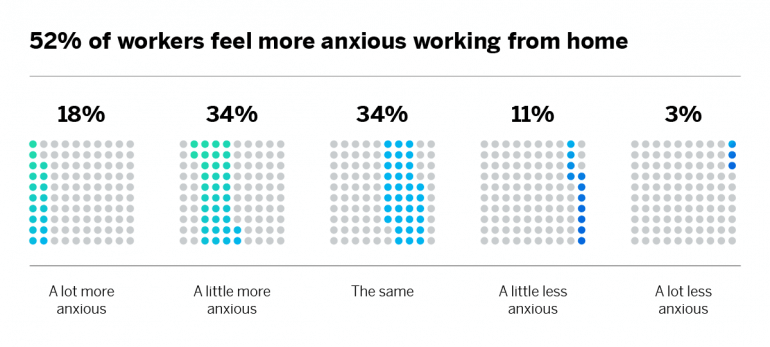 Workers shared the reasons for their increased anxiety, which include general stress about income and job prospects, alarming news and social media posts about the COVID-19 virus, concerns about contracting or spreading the virus, the need to take care of kids and family, and perceived pressure to be working all the time.
I am expected to do my job from home, which I have never done. I am in charge of my 1-year-old alone all day. I'm unsure of how to do my job effectively online.
Half of new at-home workers also have a spouse or partner working from home, compounding the uncertainty. And while working from home seems to affect men and women mostly the same, some specific differences did emerge:
Women report more anxiety: Women were 9 percentage points more likely than men (55% vs. 46%) to say they felt more anxious working from home.
Men report slightly more clarity in work expectations: Men were 9 percentage points more likely than women (70% vs 61%) to say they had clear expectations for what was expected of them.
Working from home with a partner seems to stress men more: Men were 9 percentage points more likely than women (22% vs. 13%) to say they were feeling a lot of additional stress working from home with their partner.
[I'm] scared I will contract it. Worried my work won't be good enough. Worried about the strain my work puts on my family when we are home together. Worried that I am not as available to my child as I should be.
Workers crave clarity
People can deal with change, but we struggle with uncertainty. And while 83% feel support from their immediate supervisor in the shift to working from home, a much smaller portion (65%) feels clear about what is expected from them in the new normal.
Clarity from managers goes a long way to both reduce anxiety and increase productivity among newly remote workers. One in three newly remote workers report only having a somewhat clear, or worse, understanding of what is expected of them. Those who lack clear expectations are 51% more likely to feel less productive at home. Many feel less productive because of at-home distractions, unfamiliar working environments, and family responsibilities.
Newly remote workers who don't receive clear expectations from managers are twice as likely to feel anxiety since working at home than those whose managers do provide clear expectations.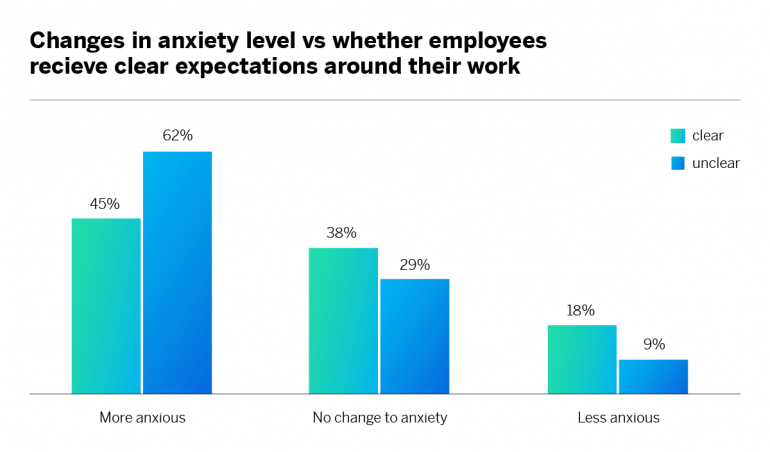 I feel like I have too many coworkers that are unsure of their duties, which makes me unsure of how to answer them when they ask me (because I am not a supervisor)
And clarity from managers affects employees' overall relationship with their company: 90% of workers with clear expectations of them say they feel supported by their company, while 70% of workers lacking clarity around expectations of them say they feel supported.
Company communication is essential
In the fast-changing information environment, worldwide people trust COVID-19 communications from work leaders more than from either traditional media or the government.
Employers are a key source of guidance, not just for what to do at work, but about their own wellbeing. With so many sources of information available, 80% of newly remote workers say the communication from their company helps them feel more confident in the actions they can take for themselves during the crisis.
No information about employees with symptoms, [so I'm] not sure if i should go to my second job or be around my mother.
With so much in flux, it actually might be hard to overcommunicate.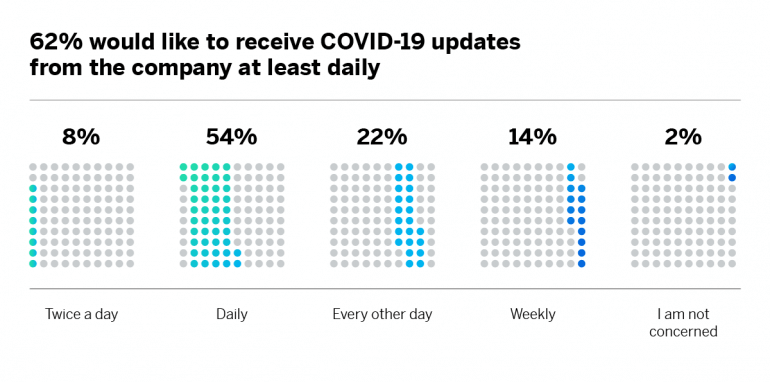 10 most helpful work-from-home tips
Newly remote workers are adjusting and advice can help. As they manage the shift to remote work, they identified the three tips that are most helpful to them. The three most popular: creating a designated work space at home, managing the day with a to-do list, and preparing for each day as if you were going to the office.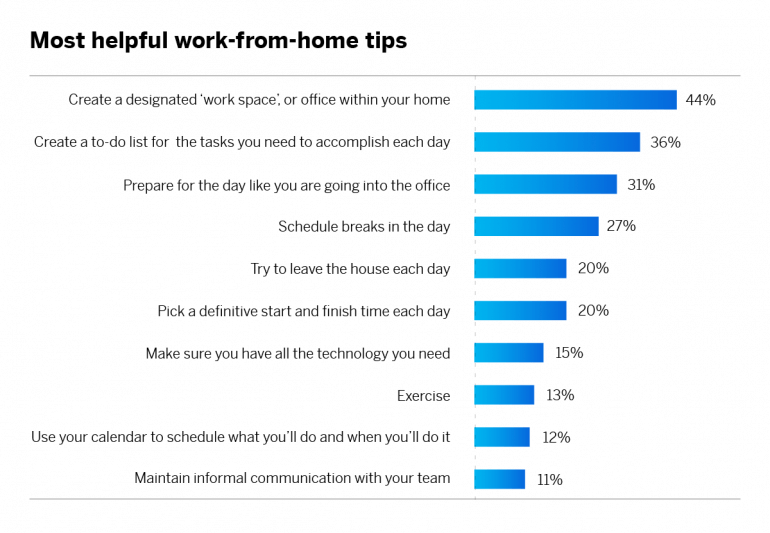 While remote workers generally feel the same amount of productivity, that may change as the time spent working from home progresses.
Industry insights
Employees in every industry are responding slightly differently to the new normal. Some highlights:
Retail and manufacturing workers feel the most supported by their supervisors (87% and 85%, respectively), citing the ability to work remotely and flexible hours.
77% of government works feel supported by their immediate supervisor/manager.
1 out of 4 education workers doesn't feel supported by their supervisors. In fact, education workers feel they have the least clarity compared to workers in other industries: 19% were unclear about what was expected of them (followed by food service workers at 14% and then government and manufacturing workers at 10%).
Relationship boost?
While most are neutral, 1 out of 3 respondents says working from home is having a positive impact on their relationship.
Barriers and challenges
The new normal is affecting everything from workspaces to deadlines to family time. Managers should account for the workplace constraints and the psychological uncertainty.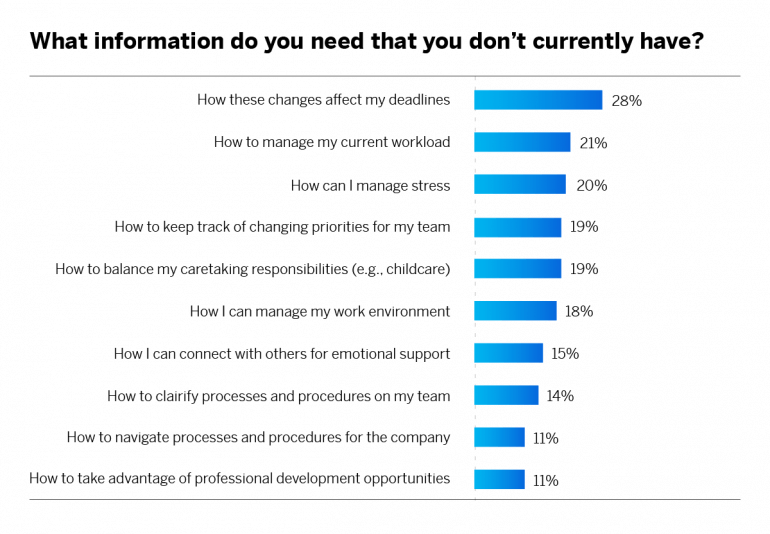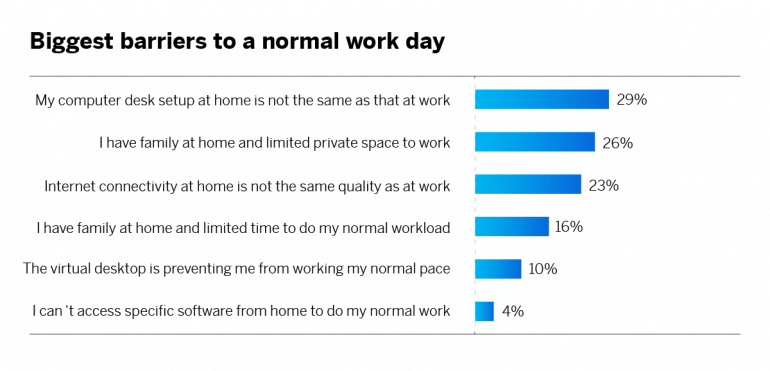 While it's unclear how long social distancing and remote work will be the norm, it's clear that both will continue to have profound effects on the workforce. Over the past month, millions of Americans have found themselves without jobs as businesses struggle to shoulder the economic impact of the coronavirus outbreak. Those that still have a job have found themselves in a completely new setting, adapting to a home office – either isolated or sharing a space with family – and pivoting priorities to accommodate a completely different world.
Now more than ever, organizations need to step up and help. At Qualtrics, we've made a number of services available to help businesses, educators and frontline healthcare workers take on the overwhelming challenges and realities shaping their work. For example, Remote Work Pulse is a free resource from Qualtrics that helps organizations navigate the new normal of teams working remotely for an extended period of time. The service helps managers stay better connected with employees and ensure they have what they need to succeed in this new environment.
eBook: The HR leader's success kit to enabling a remote workforce