Customer Experience Management Software
Turn customers into fans
Hear every customer's voice, fix every broken experience, and increase customer loyalty and spend. With Qualtrics CustomerXM, you get the power of the ultimate listening engine, predictive intelligence and analytics, and full closed-loop actioning capabilities. So you can gain a holistic understanding of your customers' experiences and take the right actions that drive meaningful impact.
The System of Action that takes you beyond measurement to breakthrough results
Business value realisation
Take actions that make an impact
Go beyond measurement and take the actions that will generate real business value. Designed to be scalable and sustainable, CustomerXM helps you drive action throughout the organisation.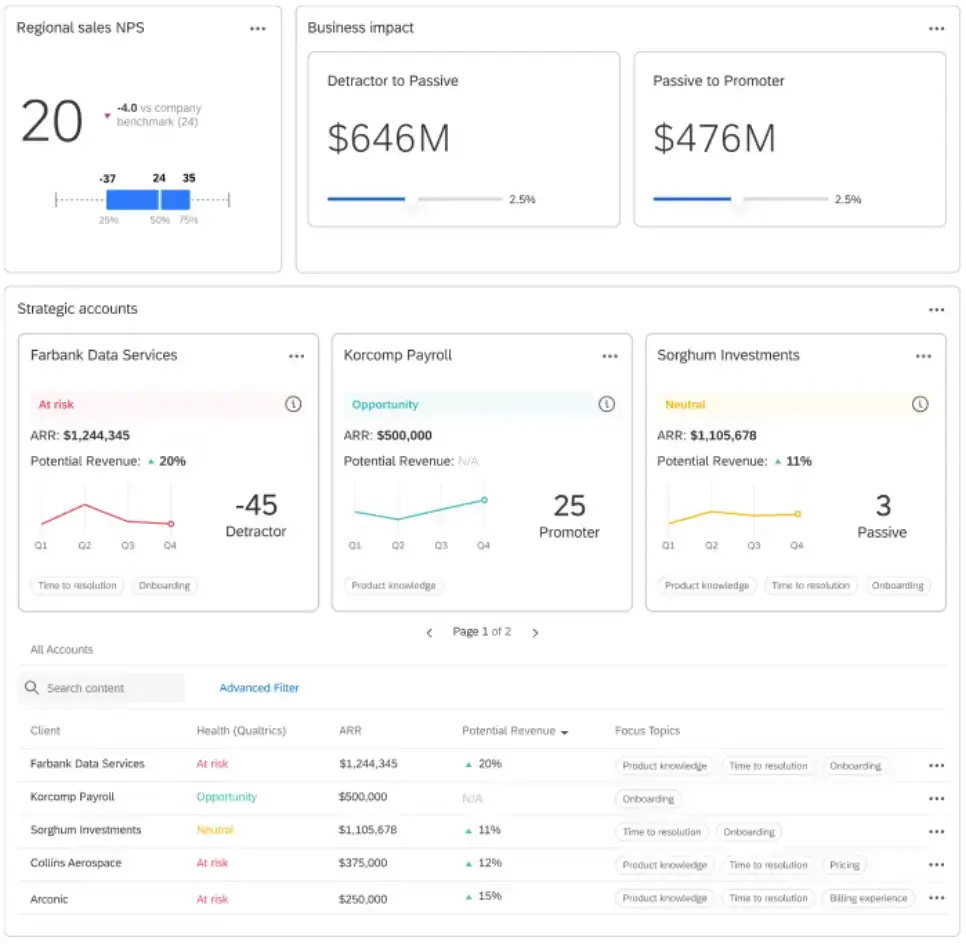 Taking detractors to passive will
net £170 million more than turning
passives into promoters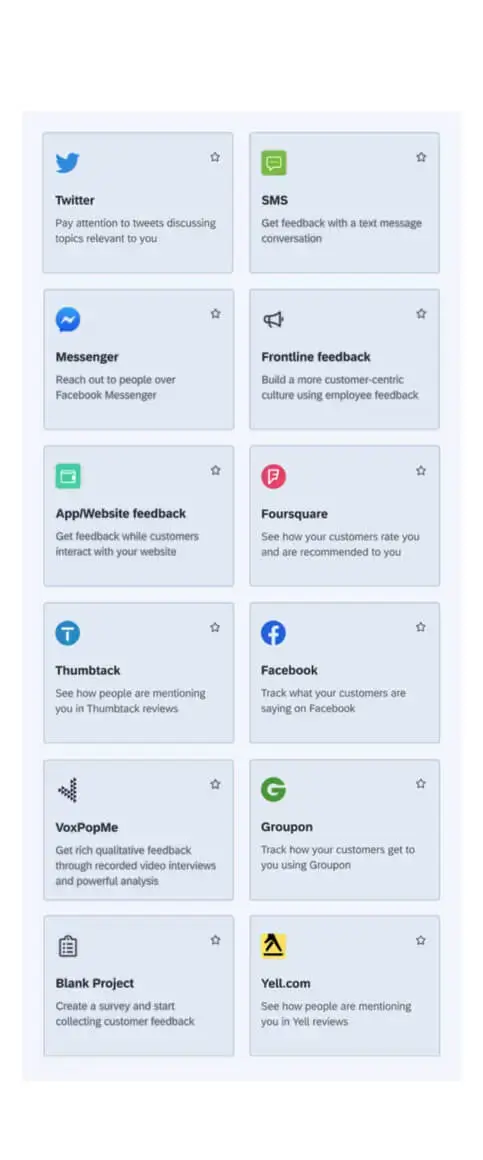 Ultimate listening
Hear every
single customer
Meet your customers where they are and capture real-time feedback in the moments that matter. With 27 channels and 128 data sources all feeding into one platform, you'll get a complete view of what customers are thinking and feeling.
Predictive AI
Know exactly how to retain customers
Uncover trends, patterns and key drivers of customer loyalty with iQ, our predictive intelligence engine. Access prescriptive insights, instantly - so you can focus on the areas that will maximise impact.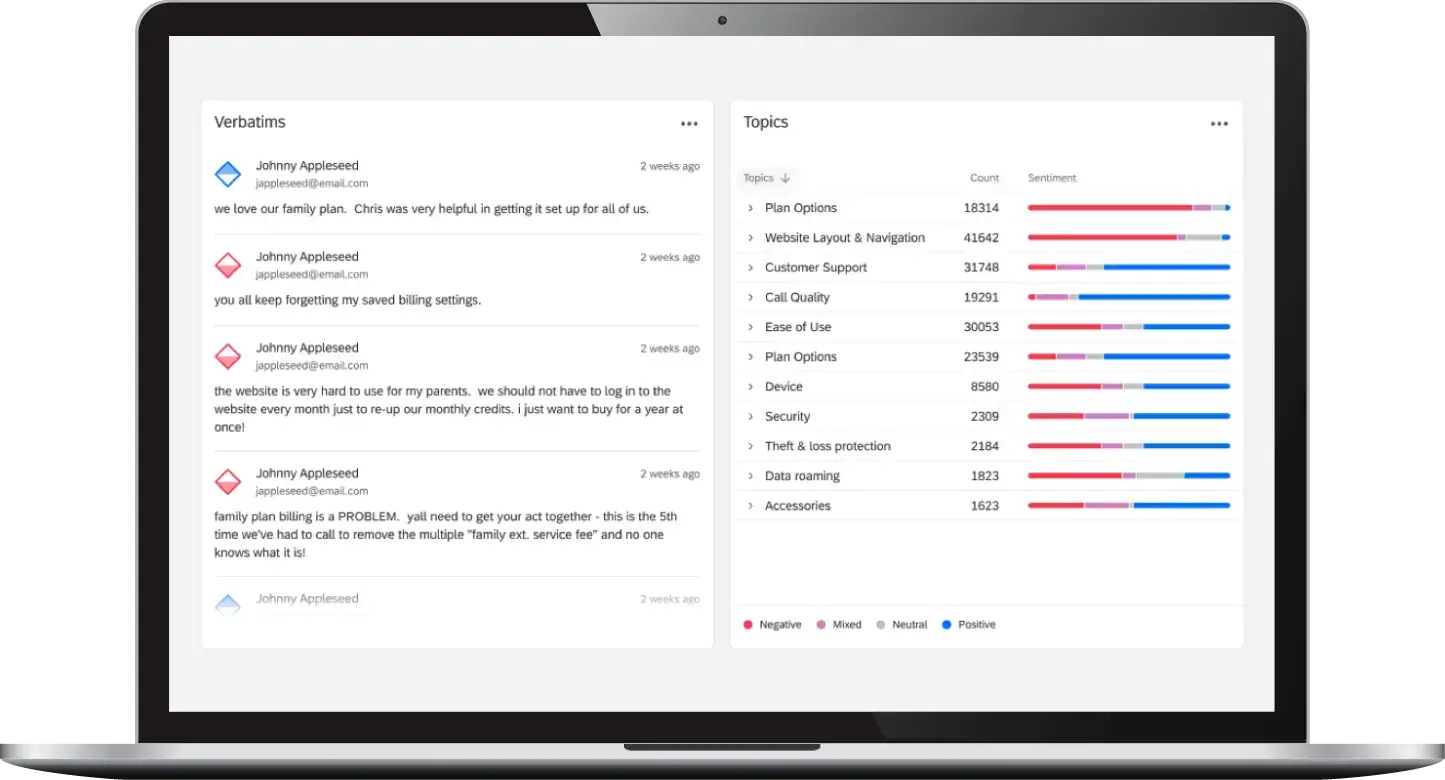 Automated Actions
Deliver recommended actions to the people in the best position
to respond
CustomerXM automatically sends recommended actions to the right teams, in the tools they use, so they can take the steps that will improve customer satisfaction, spend, and loyalty.
Drag-and-drop integrations automatically trigger actions in your CRM, ticketing systems, messaging apps and more, to create a single System of Action that puts the customer at the heart of the organisation.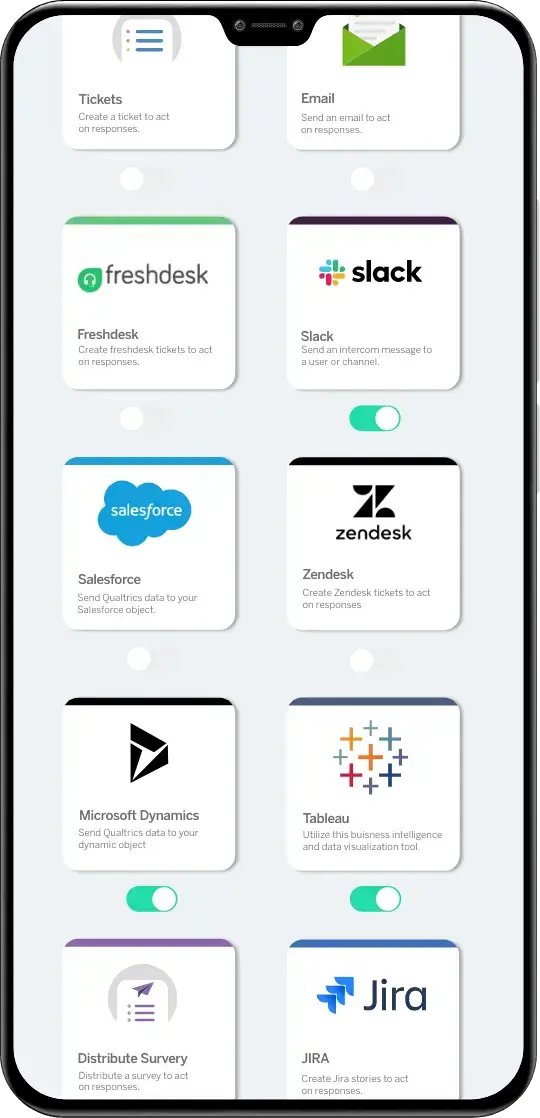 Order 9751-HU-23 arrived
with broken items.
Reship broken items ASAP.
Shipping is a negative topic.
Multiple customers mentioned broken items.
Adjust packaging process.
Enterprise Grade
One platform -
safe, secure, and trusted
Have complete peace of mind with an enterprise-grade platform that offers best-in-class security, compliance and manageability.
With robust management tools, you can control team and department access too, ensuring the right data flows to the right people.
A trusted partner on your CX journey
Build a world-class program with our services, train your teams on the skills they'll need to drive your program forward, and check in regularly to optimise your program once it's live.
Advisory
XM Scientists
Customer Success
Tech Consultants
Implementation
Tech Consultants
Solution architects
Program Architects
Realisation
Training & Certification
Community Support
Customer Success
Tech Acct Mgr
Expert guidance from the fastest-growing XM ecosystem
Whether it's one of our 120+ partners, the XM Institute or our team of industry-expert XM Scientists, our team is your team and we're here to help you succeed. From focused help to managing your program end-to-end, we'll tailor services to your unique needs.
---

Guided programs turbocharge customer experience programs with pre-configured surveys, expert-validated methods,
and dashboards tailored to your industry or use case.
View XM Solutions


Expert-designed.
Straight out of the box.
Get your CX program up and running faster with XM Solutions—expert-designed solutions featuring proven methodology, guided workflows and time-saving automation.
Includes all your feedback collection, dashboards and program roadmaps
Tested in some of the world's most successful organisations and customised for your industry
Easy-to-launch relational, transactional and full-journey customer experience programs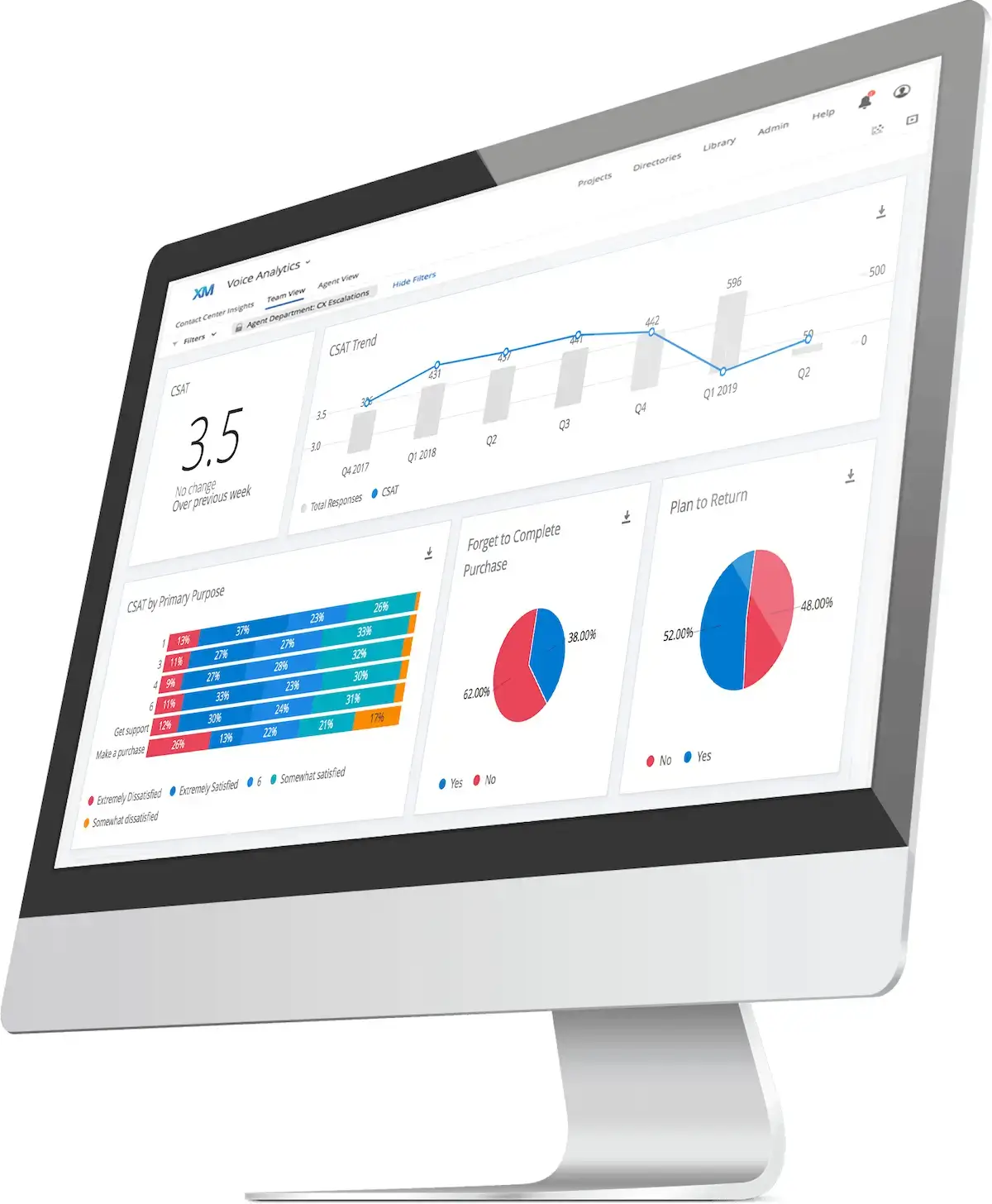 Qualtrics CustomerXM has a 633% ROI
Qualtrics commissioned Forrester Consulting to conduct a Total Economic Impact™ (TEI) study and examine the potential return on investment (ROI) enterprises may realise by deploying its customer experience (CX) platform.
Read the full report here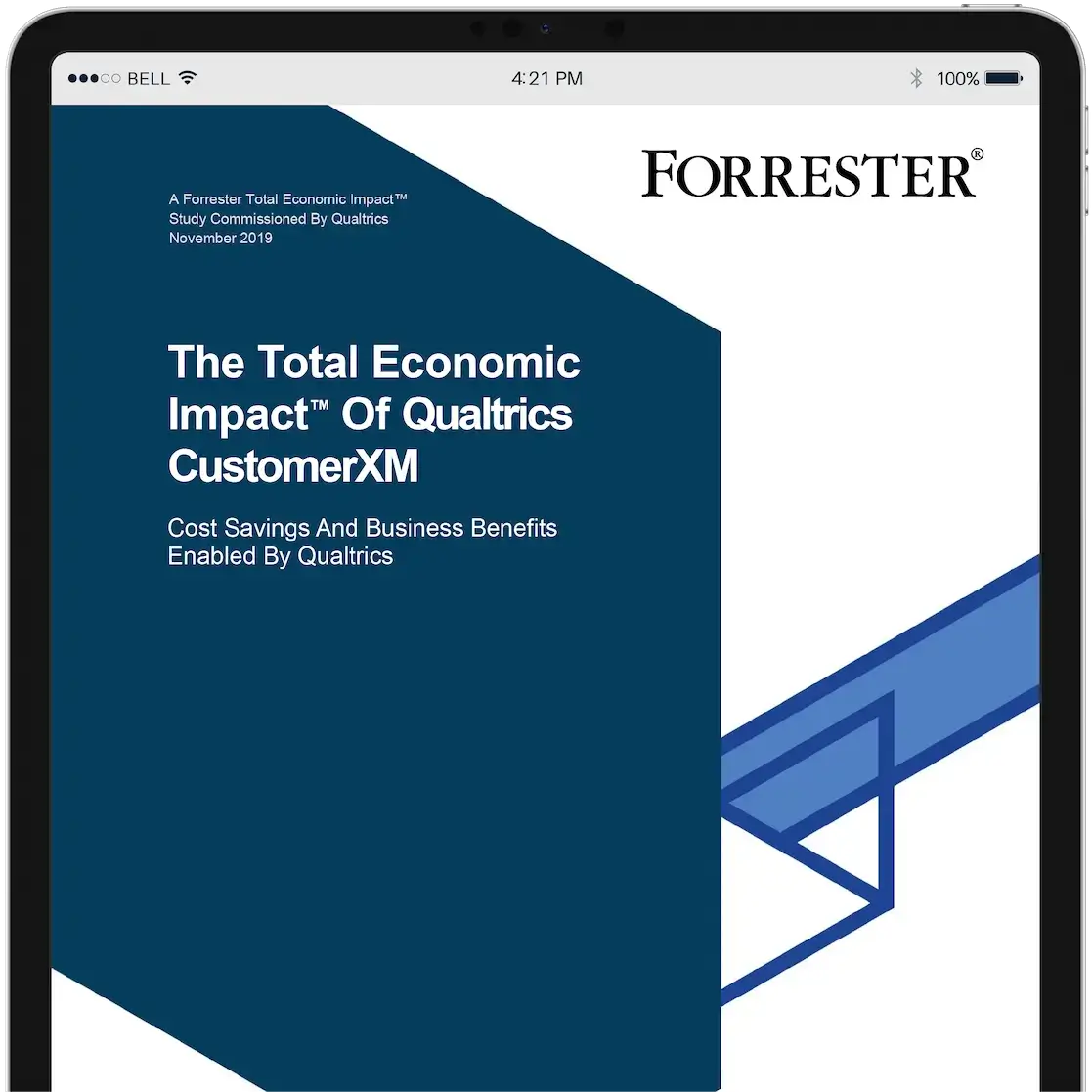 Top rated customer experience software
The crowd has spoken. Qualtrics is proud to be the XM pioneer and one of the customer experience software category leaders on the #1 independent software review site.

Read unbiased reviews from real customers and compare for yourself.
Ready to take your customer experience to the next level?
What is Customer Experience Management?
Customer experience (CX) is the total perception someone has of your organisation. It's the cumulation of all the various experiences customers have with your company, and can help:
Improve customer retention and loyalty
Increase customer share of wallet
Optimise customer acquisition
Reduce cost to serve
Increase brand awareness and equity
The best customer experience management software programs track every customer interaction and
analyse the data to close the gap between what customers expect and what the experience currently being delivered.
A recent study showed that "Customer Experience Leaders" grow 2x faster and maintain operations that are 15% leaner than the average company.
Learn more about customer experience