---
Today's CHROs make data-driven decisions that have a ripple impact on the entire organisation. This new generation of HR professionals understands the key categories of organisational data, how people analytics fit within the overall operational data strategy, and most importantly, the workplace strategies that actively influence the overall performance of their company.
New to the world of people analytics? Here's a closer look at what they are, the metrics you should measure, how to get started, and a case study demonstrating people analytics in action.
Discover the ROI on people analytics
What are people analytics?
In the not-so-distant past, human resources departments would attempt to justify investments, programs, and strategies by recording and tracking their impact on retention. They would use abstract "cost of replacement" calculations based on outside data science research to show how employee engagement or participation in leadership development programs would save money through more retained employees.
Essentially, they tried indirectly to show correlation to profitability.
Nowadays, savvy HR professionals leverage rapid data gathering techniques and data analytics platforms like Qualtrics to acquire and demonstrate where there are direct correlations between their actions and the overall performance of the business.
Get started with your free Qualtrics account.
The data collected via these techniques and platforms is people analytics, also commonly known as HR analytics or workforce analytics. With people analytics, organisations can make smarter, more strategic, and data-backed talent decisions throughout the employee lifecycle – from more diverse hiring decisions and better performance management to improved retention rates. People analytics develop data-driven insights to improve the way your organisation does business – and the impact HR has on the bottom line.
"At Rogers Communications, we take people data seriously. We do rigorous analytics with this data so we can decide what people programs to build, what people strategies to implement, and what ultimately will take our organisation to the next level."

We're trying to help our leaders do the right thing for our employees, our customers  , and the company, based on the best evidence and people data."
GEOFF HO, PHD, DIRECTOR OF ORGANIsATION DEVELOPMENT RESEARCH AT ROGERS COMMUNICATIONS
What types of people analytics should I measure?
To use people analytics to support your organisation, you must look at four different types of data across the organisation:
Organisational performance metrics
At the top level are organisational performance metrics that employee actions influence.
Historically, human resources departments would attempt to justify investments, programs and strategies by recording and tracking the impact on employee retention. Many newcomers to workplace strategy still rely on retention research to market and sell their tools, focusing on likelihood to leave in the next six months and providing things like smart alerts for retention issues. Both of these measures are fine, but they are pretty basic when it comes to HR data.
You no longer need to indirectly relate to key business metrics. Rapid data collection techniques and data analytics platforms like Qualtrics help human resources identify where there are direct correlations between their actions and overall business performance
The key organisational performance metrics that today's sophisticated people analytics team aims to impact are:
Revenue per employee – revenue divided by the number of employees in the organisation.
Operating margin – profit represented by the percentage of revenue left over after all operating expenses are subtracted.
Earnings per share and total shareholder return – a measurement of the amount of profit or value a holder of one share of the company would receive.
Return on assets (ROA) – net income divided by assets.
Workplace monitoring metrics
These form the basis of what people typically call a "big data" set when they are merged with the other data sets to see which individual and combined elements influence the key organisational metrics. These metrics include:
Open hiring requisitions
Time to fill open requisitions
Cost per hire – including costs from recruiters, job advertising, talent management systems and the cost of having senior leaders interview candidates
Number of candidates/interviews per hire
Worker productivity
Worker quality
Absentee rate
Safety incidents
Voluntary vs. involuntary terminations
Average performance rating
Key customer metrics
These are typically gathered and tracked by marketing or customer experience (CX) teams. A centralised and combined database of HR and CX data is integral to analyzing and tracking the impact your team has on the metrics that define (and better and refine) the outcomes of your work.
And because employee experience affects customer experience, customer-based metrics are strongly connected to your employees' actions.
Both key customer metrics and workplace monitoring metrics above are strongly influenced by voice of the employee data. When you are doing a combined data analysis it's important to explore how changes in voice of the employee data influence key customer metrics, workplace monitoring metrics and organisational performance metrics.
Typically, data scientists in marketing or customer experience teams gather and track this information, and collaborating with those teams will create a centralised and combined database of HR  processes and customer data. By analyzing and tracking the impact your team has on these metrics, you'll be able to further define and refine your outcomes and deliver the most benefit.
Some of the most common customer metrics are:
Share of wallet
Number of products purchased
Profitability
Voice of the employee data
This helps organisations understand behavioural, opinion, and other qualitative data about employees to allow them to draw new conclusions and pinpoint actions, management techniques, and operational changes by uncovering which factors have the largest impact on organisational performance, workplace monitoring, and key customer metrics.
These metrics are gathered via:
Development program evaluations
Assessment results
Each of these data elements will inform and influence different areas of the organisation, but when analysed together, they will allow you to make a compelling business case for how and why you want to execute any sort of initiative, project, or program.
Identify which metrics you hope to influence at each level and how you hope to influence them by showing the correlations (or connections) between each effort and metric.
Learn more about collecting voice of the employee data with an Employee Pulse Survey.
What are the benefits of people analytics?
Now that you're familiar with which HR data to gather and measure, you're probably wondering about the benefits of doing so.
With a people analytics program, you can:
Enhance business performance. Leveraging people analytics improves revenue per employee by four percent.
Improve diversity, equity and inclusion. Identifying metrics for diversity ratios at every stage of the hiring process helps ensure equity throughout it. With metrics, you can also set tangible goals for fostering a culture of belonging.
Tackle your turnover problem. People analytics allow you to identify the cost savings of retention programs by analysing the direct and indirect costs of turnover in relation to compensation, absenteeism, productivity, and learning and development.
Solicit investment in your programs. Show your executives the impact of your initiatives over time and convince them to keep investing in your work by predicting the outcomes of your efforts.
Build a world-class employee experience. Every interaction an employee has with an organisation is a data point that can be utilised to glean insights – and improve EX.
"Many companies strive to make their sales force more effective and efficient, but few look at them through the lens of people data to do so."
PIYUSH MATHUR, GLOBAL HEAD OF WORKFORCE ANALYTICS AT JOHNSON & JOHNSON
"At Johnson & Johnson, we ask ourselves: what characteristics do successful salespeople have in common? How can we recruit and develop our people to replicate traits that will lead to success? People analytics can help answer these questions in a way that drives direct business impact."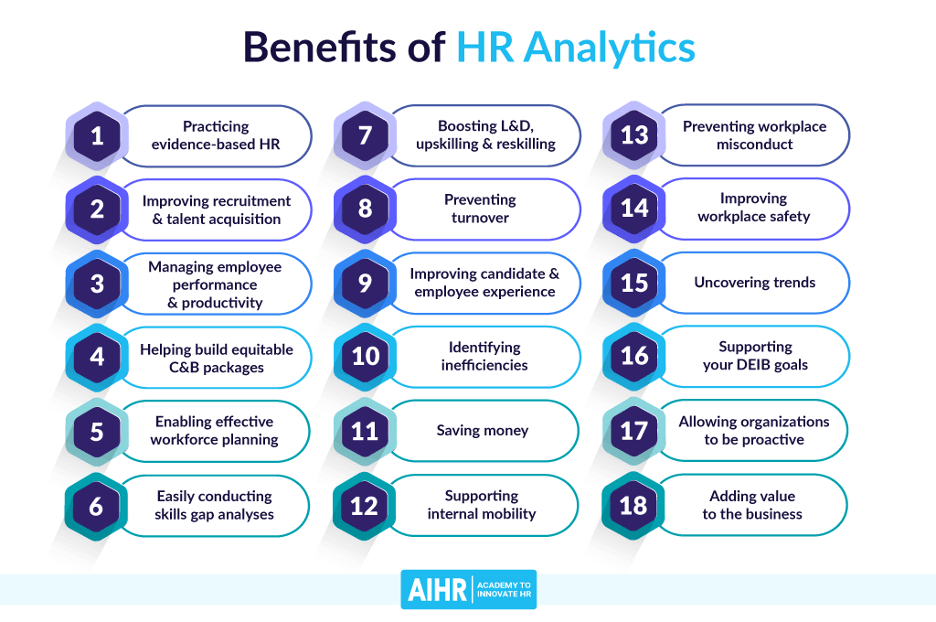 What does a people analytics program look like?
Image credit: https://www.ford.com/
Like many organisations, Ford Motor Company had relied on broad, traditional surveys to understand how employees were feeling.
"After extensive research, we realised the organisation would benefit from more focused, frequent, and comprehensive employee sentiment data," said Dr. Marina Pearce, Global Talent Analytics Lead at Ford.
As a result, Ford developed an 'ask-listen-observe' approach — this involves compiling active and passive data elements to tell a more comprehensive story (versus the data collected from just one survey per year, as an example).
What Ford does
Where (and how) Ford collects data
Ask
In a very structured way, Ford explicitly asks people to give their opinions and feedback on a particular thing.
● Focus groups
● Pulses
● Surveys
● Polls
● Interviews
Listen
Ford listens to employees, which is a very unstructured way to learn what your employees are naturally talking about in a public forum.
● Social media posts
● Glassdoor reviews
● Informal discussions during meetings
Observe
Observing is about quantifying behavior around a specific sentiment topic (such as culture change).
Ex. culture change — if Ford wants to know the employee behaviours around culture, they measure:
● Are employees attending events about culture?
● Are they watching videos about culture?
● Are they downloading culture playbooks?
● Are they interacting with culture-related content in a positive and expected way?
Combining those 'ask-listen-observe' results, Dr. Pearce and her global talent analytics team then share them with Ford's internal decision-makers to help shape new programs to meet the needs and desires of employees.
How do I get started with people analytics?
Feeling inspired to make data-driven decisions and improve employee experience at your organisation? Here's a quick guide to getting started with people analytics:
Assess the readiness of your organisation. Are members of your board or C-suite asking about ways to improve efficiency? Have business leaders (in other departments) discussed the positive ROI of analytics and technology? If the answers to these questions are yes, your people analytics program is already in good company.
Identify your data champions. Finding fellow (internal) data champions can help you get buy-in, build your business case, and navigate any potential cultural changes as a result of putting people analytics to use.
Formulate impactful questions. To draw insight into your organisation, look at your overall business goals. Determine how HR and EX fit into those goals, then work backwards to the types of questions you'd like answered – and the areas you want to improve on.
Be prepared to look deeper in your data. People analytics will enable you to go beyond typical HR questions to understand the "why" – such as:
Why are you overspending on your overtime budget?
Why aren't total rewards aligned with the actual needs and wants of your employees?
Why are voluntary terminations increasing?
Choose your people analytics software. Qualtrics offers a suite of HR and EX tools for gathering and analysing your people data.
8 trends in the field of people analytics to keep on your radar
Of course the big news in people analytics recently has been the pandemic, the post-pandemic return to work, and the future of work itself. New challenges have emerged: hybrid working, The Great Resignation, employee engagement, employee retention, and the shortage of workers in some sectors. There's never been a greater need to take a data-driven approach to decision-making.
But HR departments are doubting their people analytics capabilities more now than they did in 2019, according to one study. 24% of people in HR teams felt confident in their ability to use data and people analytics tools in 2019, against 21% in 2020:

Image Source: home.kpmg
So, at this fragile time, underestimate people analytics solutions at your peril. The market size is currently estimated to be worth $1.7 billion (and growing quickly). So where are the challenges and the opportunities, and what do you need to keep on your radar?
1. Working environment: remote, in-house or hybrid?
People analytics have never been more useful for managing talent and workforce planning than they are today. Many businesses have shifted to a remote or hybrid working model, and both existing employees and job candidates are becoming more demanding about when, where and how they work.
Companies must make business decisions about what sort of workplace they are going to support in the future: back to an office? All remote? A hybrid workplace? People analytics that supply high-quality data on employee engagement, productivity, and retention are essential to assess how successful each workplace initiative is at delivering positive business outcomes.
2. More focus on Diversity, Equity & Inclusion (DEI) and Belonging
A combination of 2020's Black Lives Matter protests, and the irrefutable data that diverse companies are 1.32 times more productive than those that lack diversity has led to more focus on DEI. A data-driven culture can use people analytics to highlight incidents of unconscious bias, undiscovered workplace inequalities, and gaps in DEI training.
Leading organisations also know that a culture of belonging, which is the top employee experience driver linked to engagement and well-being, can be nurtured by listening to everyone in the workforce. The real-world data that results from people analytics can help make a great workplace even greater – and deliver stellar business results.
3. Employee experience (EX) must be a priority
Employees are making a much bigger commitment to their employer than consumers commit to a company and brand, so why aren't we spending just as much on the employee experience? And with the Great Resignation, and more emphasis on work-life balance demanded after the pandemic, people analytics are essential for understanding:
Why people are leaving, e.g. promotion, raise
Where they are going, e.g. to competitors or a completely different career
How this attrition is going to affect the company
A good people analytics solution will be able to pinpoint what is going wrong with your employee experience so that you can fix it before you lose more good people.
4. More data-driven decision-making
It's no longer enough to act 'on a hunch' or 'take a punt' on a business decision. Cutting-edge business demands the input of high-quality data to help make the decisions that drive better performance. Hugely successful companies go further and cultivate a data culture, knowing that data on its own is useless without analytics.
Data science consultants MillanChicago recommend focusing on the following four areas to help build a data-driven culture:
Human resource processes: the right ones in place to run people analytics across the whole employee journey, from applicant tracking systems to exit surveys
Human resource capabilities: data science specialists to run your people analytics project, who know best practices for data gathering, analysis and reporting
Technology processes: the software, appropriate security and privacy policies to store and analyse data safely
Technology capabilities: commercial platforms or bespoke solutions that can store, process and manage your gathered data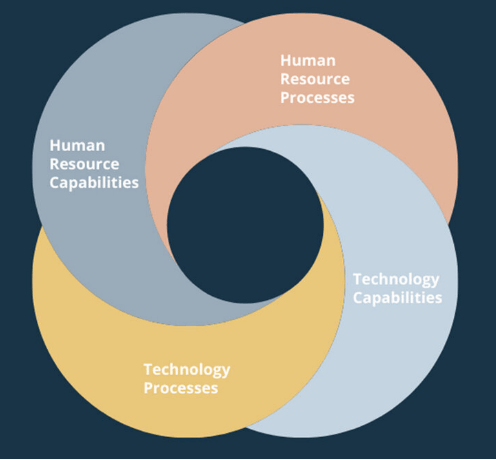 Image Source: millanchicago
5. AI, AI, and more AI
Artificial intelligence (AI) has permeated into every facet of HR, from recruitment to employee experience, right through to L&D, and, of course, people analytics.
It's going to free up HR to focus on problem-solving
Excitingly, people analytics is embracing AI. One way it's doing this is by leveraging predictive analytics, machine learning and modeling to do the heavy data lifting — freeing up business leaders to focus on the strategy and big-picture problem-solving.
AI is not going to replace us
Although AI is becoming ubiquitous within EX, the consensus is that it can never fully replace humans. The best results will be achieved with humans and AI complementing each other. This is necessary as AI is missing a fundamentally crucial aspect of HR: empathy.
This includes things like being able to predict resilience and emotional intelligence. Despite this, we'll undoubtedly still try — but by using AI to predict these aspects of potential, we run the risk of falling further into an already deep human-based bias hole.
Potential skills gap
Although the emergence of AI in these areas is making some roles redundant, it's also creating new roles in its wake. According to one speaker, for every job that's currently eliminated, 2-3+ jobs are created to support the building of an AI infrastructure.
However, the main thing to watch out for is the potential skills gap within this area, as the expertise that's needed for these new roles is different and often more advanced. The need for upskilling may become more urgent with time, so it's crucial to get ahead of the curve.
An exciting EX opportunity
Ultimately, AI offers a great opportunity for improving EX when done right. For example, AI-powered chatbots, libraries and knowledge bases are perfectly placed to provide answers to HR-related topics and questions frequently asked by employees — allowing them to self-serve and get the information they need faster.
6. Use people analytics to build stories
Want leaders to pay attention to your analyses? Then humanize and tell stories around data. Help decision-makers understand the meaning behind the numbers. However, one watch out: these must always tie back to the business challenge or they risk being overlooked.
Create strong narratives
The way to do this is by developing confident, coherent narratives. Direct these at those you're trying to influence. But a word of warning: don't get bogged down with the tools and methodology.
Humanize data
In the past, the goal was to democratize data and insights. Now the goal should be to humanize the data. This can be achieved through storytelling and making people aware of the impact this work can have for good. It's not just fundamental; people analytics teams have a responsibility to do it.
Be realistic
There is a need to strike a healthy balance between ambition and reality — and some even say there's no such thing as "big data" in HR due to limits in data sets.
For example, predictors or high-performance employees, manager bias, etc. aren't yet as reliable as we need them to be. As AI and big data continue to evolve, HR leaders need to strike a balance between relying on these data sets and making human decisions to drive their workforce forward.
7. Organizational shifts are happening in HR
There's long been a complicated relationship between traditional HR and people analytics.
Intuition and people analytics
Originally seen as a marketing fad or re-brand of HR, people analytics is now gaining credibility and effectiveness. However, there's still a disconnect between data science "geeks in the basement" and HR leaders. Working together is the only way to bridge this gap.
New management models needed
There was a call for new management models, given the disruption of the digital work environment and AI. And a prediction that HR, operations and IT will come together to be part of a larger work strategy.
8. Taking a user-centric approach to 'work tech'
"HR tech" is for HR people. Instead, we should be thinking about the technologies that facilitate EX as "work tech".
Work tech is for everyone in the organization (including employees and candidates). And this is the way we should be viewing EX. It's important that it's adopted at all levels.
The importance of journey mapping
The next steps for people analytics teams could be journey-mapping workshops and techniques to co-design processes and experiences — all with the end users in mind and part of the process.
Personalize
Just as CX cottoned onto personalization creating a more engaging experience for consumers, so must employers with the EX solutions.
Employees increasingly expect their employer's tech to reflect their consumer experiences. But the more vendors, interfaces and applications you plug in, the greater the risk you have to negatively impact EX. Make simple, make it seamless.
Want to know more about how we can help?
Take a look at how our people analytics software can help you surface insights and take action on employee feedback.
With Qualtrics, you can use Stats IQ™ to input all the data elements you have gathered and use the correlation functionality to automatically understand the relationship between the levels of data. If you've previously run voice of the employee programs, enter that data in as well.
Use the Qualtrics EX functionality to field surveys to provide you with data that can be used to uncover the actions and interactions about employees, managers and customers which predict the other levels of data.
We call these drivers.
The results of a full driver analysis incorporates data elements from each of the four levels of data we've talked about, revealing exactly which programs and initiatives will move the needle on your organization's performance.
Identify which metrics you hope to influence at each level and how, by showing the correlations (or connections) between each effort and metric. Show your executives the impact of your initiatives over time and convince them to keep investing in your work by predicting the outcomes of your efforts.
Armed with that information, you can present an incredibly compelling, data science-driven business case for how and why you want to execute any sort of initiative, project or program. You'll be able to convince your CHRO to do anything.