360° feedback software
If one point of view is valuable, multiple points of view can be transformational. 360° feedback helps employees gain both broad and deep insights on their performance from a wide range of professional contacts. And with Qualtrics tools, the feedback process couldn't be simpler.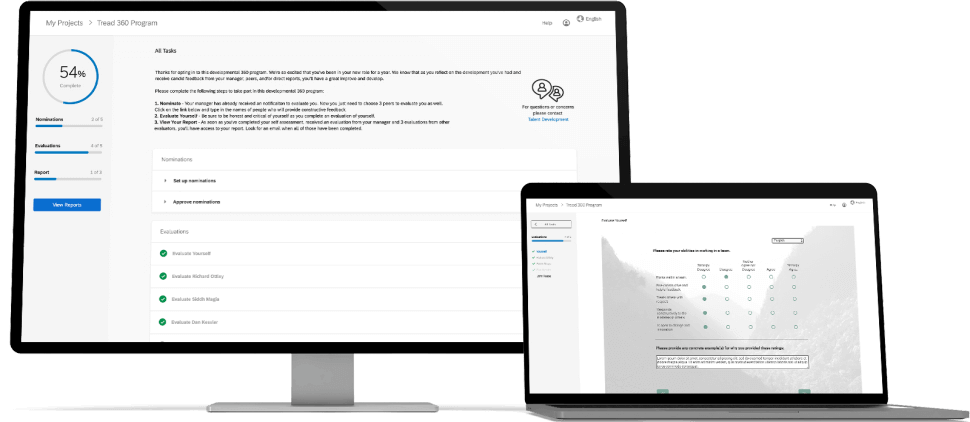 Develop your team with 360° Feedback? Request a free demo.
13,000 brands and 99 of the top 100 business schools use Qualtrics
---
Automatic, actionable 360° development reviews
---
EASIER, FASTER, MORE AFFORDABLE
Understand every experience that matters to your employees and automatically deliver real-time insights to their managers so they can take action. Employee feedback automatically maps to your organisation's org chart so everyone can see the insights that matter most to them.
FAST FEEDBACK, WITH NO CHASING
Give managers instant feedback about their direct reports, get real-time progress updates to see which raters have completed their reviews, and access customised task lists.
ACTIONABLE INSIGHTS THAT DRIVE IMPACT
Turn your employee feedback into genuine improvements with analytics designed to drive actions. As data flows into the platform, you'll see which key drivers to focus on so you can have the biggest impact on engagement, as well as the ability to track your improvements with action-planning tools and follow-up pulse surveys.
Connected insights across the lifecycle
Ever wondered how staff development affects your key metrics like productivity, engagement and attrition? With the Qualtrics XM Platform™, you'll have all your feedback and data from across the employee lifecycle on a single platform. So you can join the dots and see how your employee development initiatives are impacting the business and helping to keep staff engaged, productive and in-seat for longer.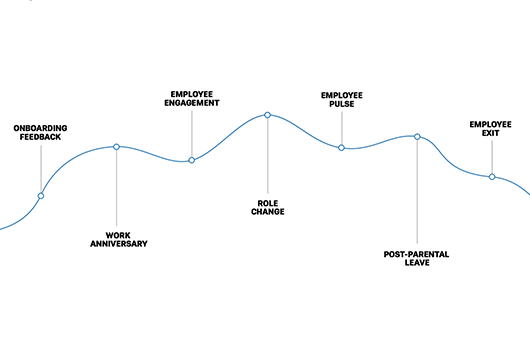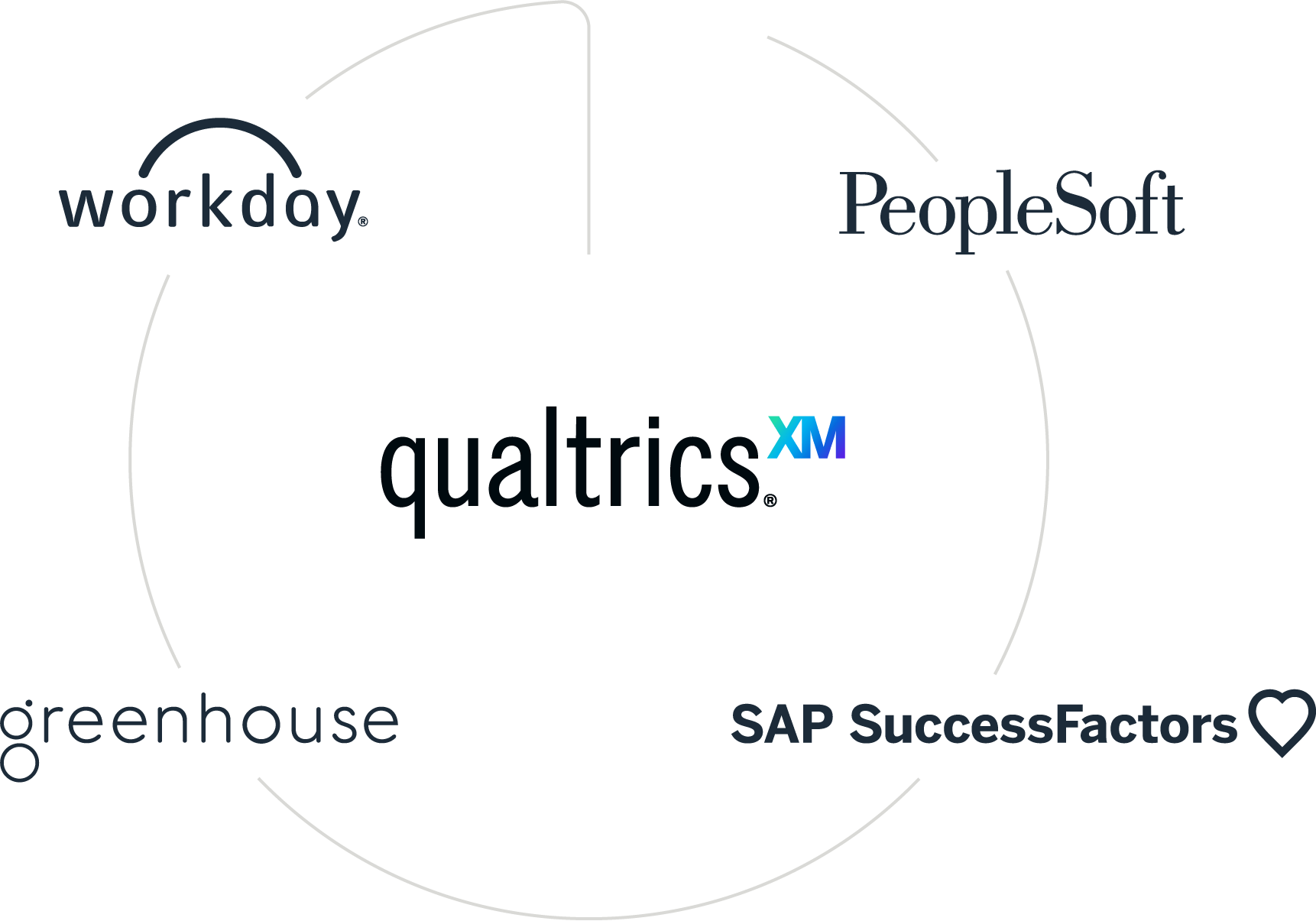 All the insights, none of the hassle
Save time on managing your review process with automated 360° reviews – with APIs into your HRIS, requests and reminders for employee feedback are sent out automatically so you spend less time managing the 360° process.
Qualtrics Employee Experience platform integrates with leader HRIS platforms such as Workday, PeopleSoft, Greenhouse, SAP SuccessFactors and others with APIs.
Drive company-wide improvements
Enable leaders at every level of the organisation to drive change and monitor progress. With customisable and pre-built action plans, managers can set due dates, collaborate with other leaders or team members and outline the specific tasks they need to complete to achieve results.
You'll be able to keep them on track too with action planning reports that make it easy to track progress by team, department, and topic, so you'll be able to see where you need to focus your efforts to help managers drive through their improvements.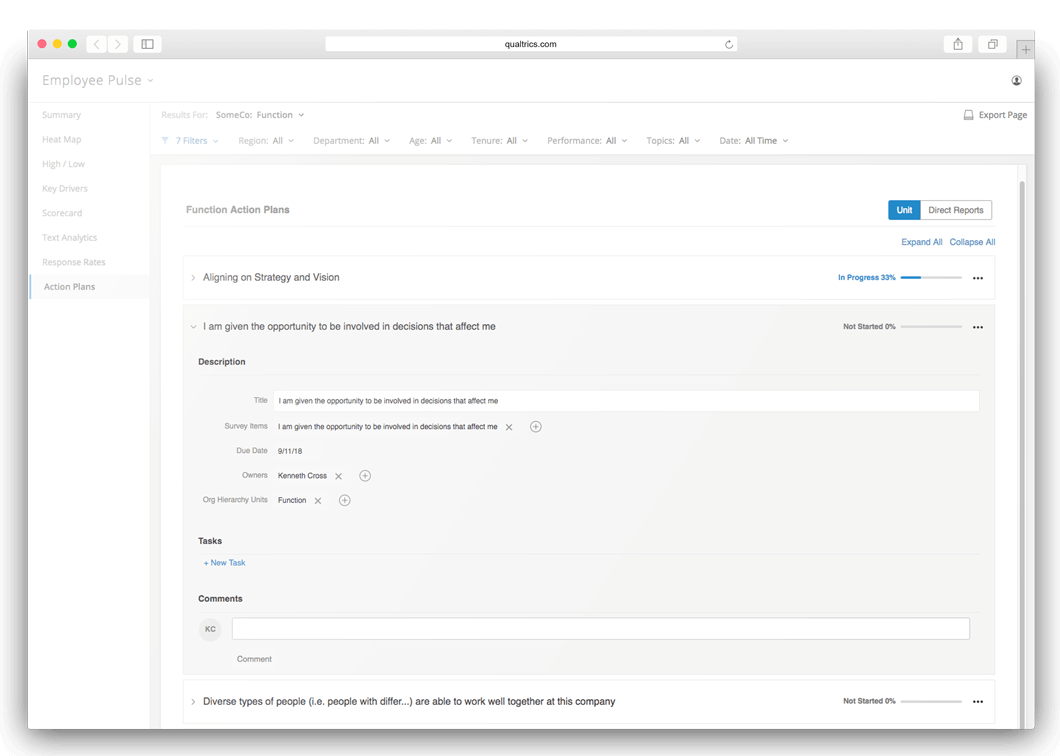 Top rated 360° feedback software
---