EXECUTIVE VIRTUAL XM EXCHANGE
Banking challenges solved with Experience Management
November 18, 2020 / 10:00 am PT / 1:00 pm ET
---
Retail banking, as we've always known it, was overdue for disruption before COVID-19 wreaked havoc on the entire industry. Nothing was unaffected; deposits, loans and payments were all thrown into upheaval and customer behaviors were forcefully, and maybe permanently, altered.
Within chaos lies opportunity, however, and several key experience management trends have emerged to help banking and XM professionals mitigate risk and grow revenue in 2021. Join us to learn:
The effect that open banking and APIs will have on customer loyalty and the role of customer service.
Why eliminating friction from customer journeys is essential amid a newly forming channel mix of in-branch, ATM, website, app, and phone-based interactions.
How the future of products is up for grabs as competitive advantages shift and next-generation customers discover that they need banking, but maybe not banks…
What is an XM Exchange?
It's the workshop experience, online – live presentations, worksheets, group activities, and the chance to connect with peers around the world.
Featuring
---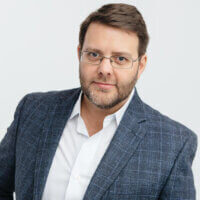 Luke Williams
Principal XM Catalyst. Luke Williams is an award-winning CX practitioner and a researcher, speaker, and thought leaders at Qualtrics. Prior to Qualtrics, Luke was Vice President and global leader of AECOM's Client Care Program, that firm's global client feedback and analytics function. Before AECOM, he spent eight years with the world's largest survey research firm rising to head of consulting and research methods. There, he was responsible for the research and analytics design of large-scale projects and difficult/unique research problems. He has helped build, upgrade and execute more than 150+ customer experience programs that delivered measurable ROI. Luke is author of a NY Times and USA Today Bestseller (The Wallet Allocation Rule), a Bookscan Bestseller (Why Loyalty Matters), as well as over a dozen academic and trade publications.
More than 16,000 brands and 99 of the top 100 business schools use Qualtrics
---