Qualtrics Receives Top Scores in Current Offering Category in Employee Experience Management Platforms Report by Independent Research Firm
Last updated: March 18, 2020
---
Qualtrics EmployeeXM named a Leader in Forrester report and receives a Differentiated rating across seven criteria
SALT LAKE CITY and SEATTLE, March 18, 2020 — Qualtrics, the creator of the experience management category, today announced that it has been named a leader in Forrester's report – The Forrester New Wave™: EX Management Platforms for Large Enterprises, Q1 2020. Qualtrics is the only Leader who received a Differentiated rating in seven of ten criteria.
"Forrester's recognition of employee experience management platforms as an emerging category comes at a critical time when companies across industries and regions are listening more intentionally and more often to their employees to help them navigate workplace, health, and economic changes," said Jay Choi, EVP and GM of EmployeeXM, Qualtrics. "We're delighted to be recognized by Forrester as a leader in Employee Experience Management as we invest aggressively to help companies transform daily listening into daily actions that unlock employee potential and improve wellbeing."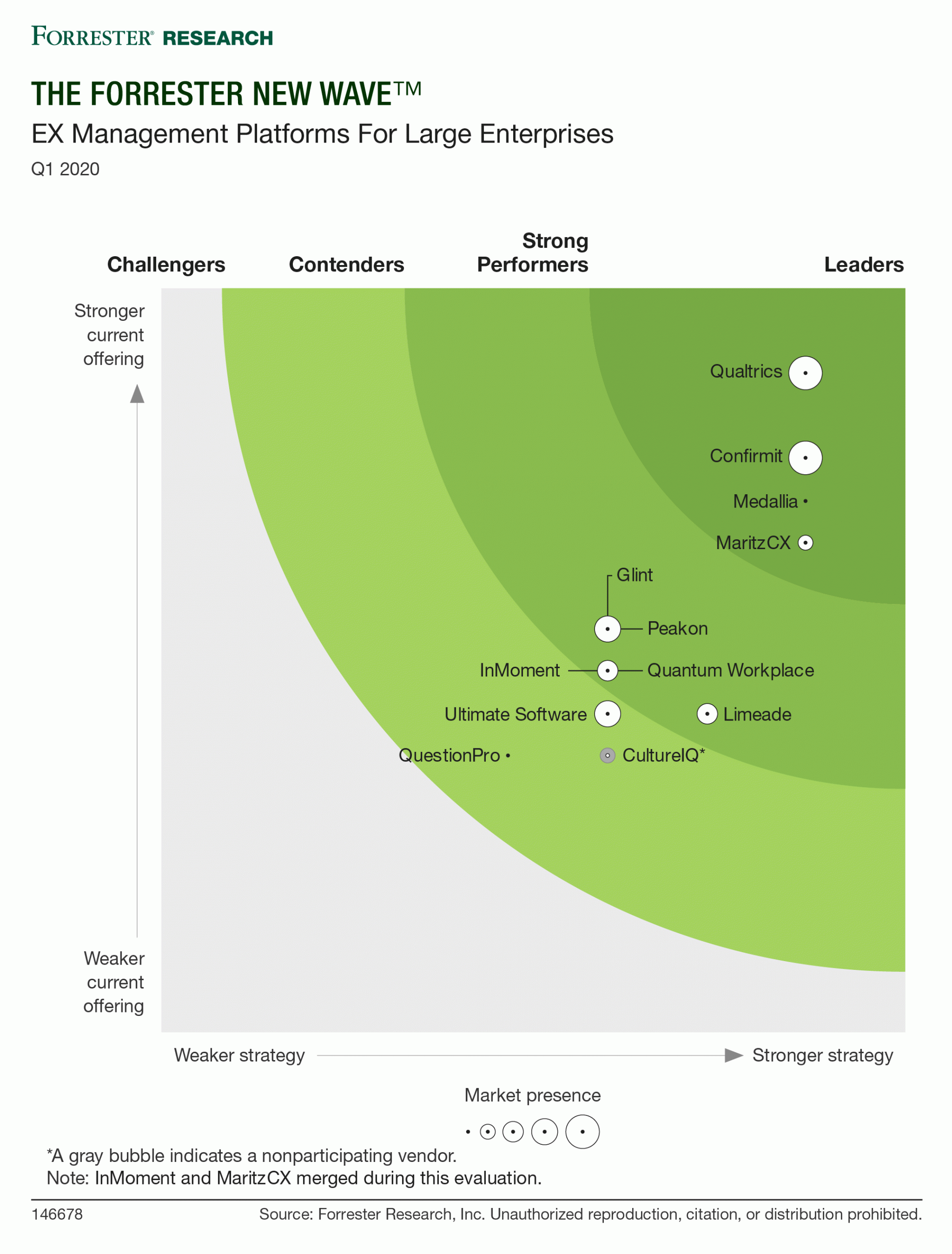 Qualtrics EmployeeXM™ received the highest possible score for the following criteria:
Vision
Market approach
Customization
Recommendations and workflow
Tooling and ease of use
Validity and correlation
Surveying methods
Forrester's report noted that interviewed Qualtrics customers "praised [Qualtrics EmployeeXM] for its flexibility, integration capabilities, text analytics, and dashboards — and [the company] for its general willingness to partner with them along the way."
To learn more about Qualtrics and the Forrester New Wave™, please visit this page.
About Qualtrics
Qualtrics, the leader in customer experience and creator of the Experience Management (XM) category, is changing the way organizations manage and improve the four core experiences of business––customer, employee, product, and brand. Over 11,000 organizations around the world are using Qualtrics to listen, understand, and take action on experience data (X-data™)––the beliefs, emotions, and intentions that tell you why things are happening, and what to do about it. The Qualtrics XM Platform™ is a system of action that helps businesses attract customers who stay longer and buy more, engage employees who build a positive culture, develop breakthrough products people love, and build a brand people are passionate about. To learn more, please visit qualtrics.com.
---