QUALTRICS SURVEY SOFTWARE
Create Powerful Surveys Online
Request your demo today and get started creating dynamic online surveys!
13k+ of the world's best brands have turned to Qualtrics
---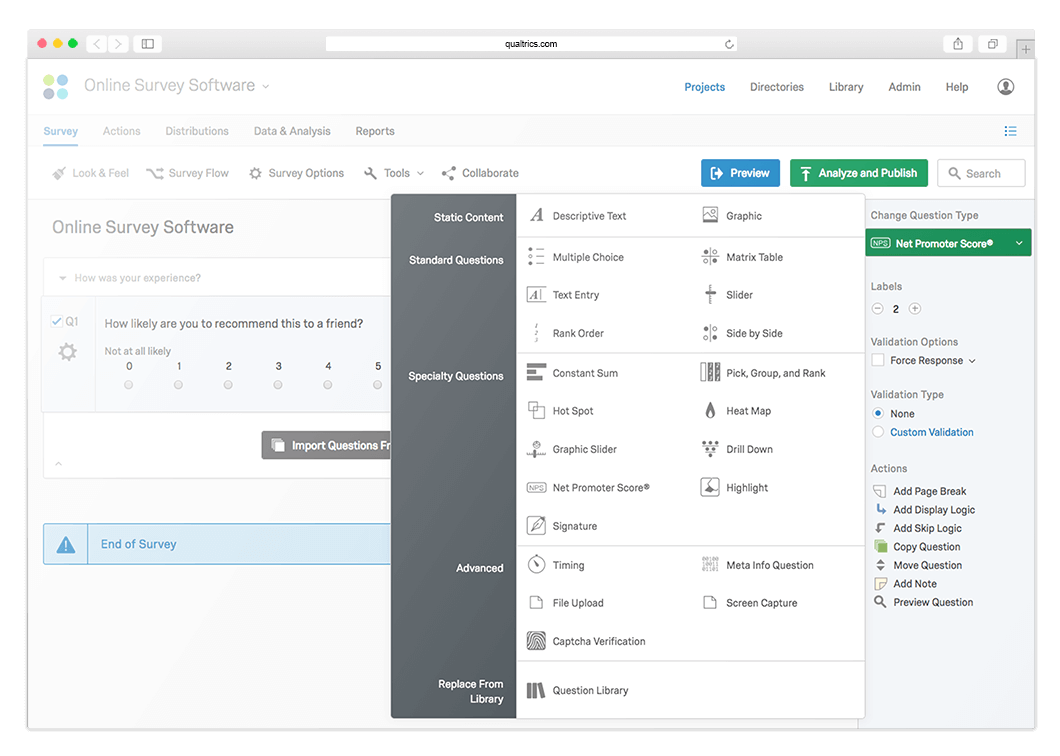 Get answers to your most important market, brand, customer, and product questions with survey software that can handle everything from simple questionnaires to detailed research projects for the world's biggest brands. Design your survey with our intuitive drag-and-drop survey tool, powerful logic, 100 plus question types, and pre-built survey templates
Reach respondents wherever they are with surveys on mobile devices, apps, websites, chatbots and many more
Create and test surveys in real time and collaborate effortlessly
Uncover new insights with predictive intelligence and powerful statistical analysis built-in
Launch your survey with confidence and improve survey quality with -Powered by iQ
Integrate your surveys into your existing systems like Zendesk, Marketo, Adobe and many more
The most sophisticated survey software tool is also the easiest to use
---
Drag-and-drop simplicity for even the most advanced surveys
Choose from 100+ question types and use advanced logic, branching, quotas, API integrations into Zendesk and email triggers to build and launch your project. It's all done in an intuitive drag-and-drop software interface that makes even the most sophisticated surveys easy to create, launch and analyze.
Complete confidence in every decision
Make better decisions with real-time insights and reports you can share in seconds. Choose from over 30 different graph types, share reports online or export survey data popular programs formats and programs like Word, Powerpoint, PDF, CSV and SPSS.
Built-in intelligence with every type of survey
ExpertReview analyzes every question in real-time and offers personalized survey design recommendations to boost response rates and get better quality data. It's powered by iQ and applies artificial intelligence and PhD-designed best practices to give you complete confidence before you launch. And when your results come in, iQ applies detailed statistical and text analysis to get straight to the insights you need – all at the click of a button.
The #1 rated survey software