XM for Customer Frontlines

Digital

Root out friction in every digital experience, super-charge conversion rates, and optimize digital self-service

Care

Uncover insights from any interaction, deliver AI-powered agent coaching, and reduce cost to serve

Locations

Increase revenue and loyalty with real-time insights and recommendations delivered straight to teams on the ground

XM for People Teams

Engage

Know exactly how your people feel and empower managers to improve employee engagement, productivity, and retention

Lifecycle

Take action in the moments that matter most along the employee journey and drive bottom line growth

Analytics

Whatever they're are saying, wherever they're saying it, know exactly what's going on with your people

XM for Strategy & Research

Research

Get faster, richer insights with qual and quant tools that make powerful market research available to everyone

User Experience

Run concept tests, pricing studies, prototyping + more with fast, powerful studies designed by UX research experts

Brand

Track your brand performance 24/7 and act quickly to respond to opportunities and challenges in your market

XM Platform

Explore the platform powering Experience Management

Teams

For Digital

For Customer Care

For Human Resources

For Researchers

All Teams

Industries

Healthcare

Education

Financial Services

Government

All Industries

Customer Experience

Employee Experience

Employee Exit Interviews

Net Promoter Score

Voice of Customer

Customer Success Hub

Product Documentation

Training & Certification

Community

XM Institute

About Us

Careers

Partnerships

Marketplace

X4 Summit

The annual gathering of the experience leaders at the world's iconic brands building breakthrough business results, live in Salt Lake City.
Brand Experience
The 4 market research trends redefining insights in 2024
3,000+ researchers. 14 countries. And 4 key market research trends shaping the new year. Welcome to the 2024 research trends: The year AI-fueled innovation takes research to new heights.
Market research has never been more critical to an organization's success than right now, and it's never been more valued. From increasing market share to developing new products and building enduring brands, organizations are leaning in on the consumer insights provided by market research teams to make smarter, faster decisions.
We're giving you a taste of the 4 emerging trends from our 2024 Research Trends report. For the full details and strategies, be sure to download the full report.
Download the full 2024 Research trends report here
The top market research industry trends in 2024
Trend 1: Market Research is ripe for innovation
Recent advances in artificial intelligence (AI) have changed the way organizations across every industry work, spurring innovation across the board. As teams grapple with how best to utilize new solutions like ChatGPT, market research serves as a blueprint for how to not only use AI-powered tools, but embrace them. And that's in large part due to researchers having worked hand-in-hand - so to speak - with AI for the past decade. According to our report, when it comes to understanding how to apply AI to their research activities:
26% say they feel "extremely confident"
46% say "very confident"
19% say somewhat confident
7% say they are "not very confident" or "not at all confident"
That comfort level has enabled research teams to infuse AI and machine learning into numerous aspects of their work, like task automation and using AI to quickly process qualitative insights from research like survey responses, focus group transcripts, and more, faster than human analysis ever could.
Trend 2: Digital qual opens the door for deep understanding at scale
In a perfect world organizations can support mountains of research, bringing in valuable data without breaking the bank.
Unfortunately, most budgets don't allow research projects at that scale.
Traditional qualitative research methods like mobile surveys, focus groups, and interviews are costly and take time to deploy, segment, and analyze.
But, in a post-pandemic world, as digital technology continues to evolve, consumers have adopted a more digital-first approach to how they interact with brands and businesses. Inturn, this has caused qualitative researchers to increasingly shift their focus online. And it's here that organizations can realize the best of both worlds.
How much qualitative research is conducted remotely or online?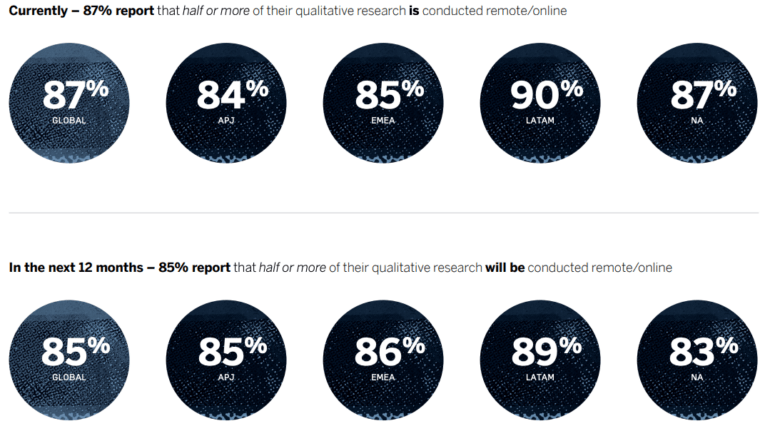 Digital solutions like online platforms, social media, and unstructured data analytics offer a way for research teams to conduct market research in a cost-effective way, while achieving more precise customer insights of their target audience.
This ability to drill down allows teams to truly personalize research at a time when consumers and businesses alike are all-in on personalization.
It also opens the door for research teams to increase their emphasis on diversity and inclusivity, while avoiding bias and discrimination, all at a cheaper cost than traditional market research methods.
Ultimately, more research will be completed, and when combined with artificial intelligence, it will be completed faster.
"One of the most obvious changes in market research tools and technologies is the transition from traditional methods, such as surveys, interviews, and focus groups, to digital methods, such as online platforms, social media, and analytics."
Karen Goldstein,
Principal Product Scientist, XM for Strategy & Research, Qualtrics
Trend 3: Better technology + better data = better decisions
Every organization is a collection of decisions.
From which products you build, to how you engage with customers, the decisions you make dictate your direction and invite delight or scrutiny from your customers. The organizations that are winning today are increasingly turning to data to inform their decisions at every level to ensure their next moves are the right ones.
This has placed a large spotlight on market research teams to deliver high quality insights. According to our data, 62% of market researchers say that "my company depends on our research and insights significantly more today than in the past 2 years."
Organizations are increasingly recognizing the value of data-driven decision-making by integrating market research data into strategic planning and financial decisions, thereby making their decision-making process more reliable and accurate.
And with that added value comes collaboration. Because market research is no longer an isolated job. Research teams are collaborating with other departments like product development, marketing, and sales to provide timely and actionable insights that inform strategic decisions and improve customer satisfaction.
But, as technology and consumers continue to evolve, data collection has become complicated. Respondents concerned about data privacy are less willing to provide personal information and participants with bad intentions have become skilled at avoiding quality assurance traps.
AI is helping research teams here too.
Businesses are utilizing tools, like an automated data quality solution, to weed out poor responses (think straight-liners and speeders) before data can be analyzed to ensure data integrity. According to our research, 30% of respondents say they already use AI to detect fraudulent activity in surveys.
Data quality can't be achieved in a vacuum. It needs to be championed throughout every level of your business because good data leads to informed decisions.
Trend 4: The skills gap is widening, and AI can close it fast 
The past few years have seen AI permeate every level of an organization, from HR to sales, delivering competitive advantages to businesses. As mass adoption continues, how we work is evolving and the necessary skills required to complete tasks are being reshaped.
Unfortunately, we're seeing technology evolve faster than individual skill sets can keep up. According to our data, research teams' top pressures include:
Struggling to keep up with new methods
Increasing demand for research
Lacking analytical skills to turn data into insights.
This is also translating to increased costs as research teams outsource processes. 33% of the researchers we talked to said the main reason for outsourcing market resource products and services is because their teams don't have the research skills necessary to manage them internally.
As the rapid adoption of AI shows no sign of slowing down anytime soon, businesses must place a heavy emphasis on reskilling and retooling their teams to meet the moment. Our research shows teams are taking advantage of AI-powered automation to offset the skills gap.
By automating much of the mundane and tedious tasks in a researchers' day-to-day, teams can shift their focus to more creative, analytical and strategic work that lead to valuable insights and a competitive edge. Tasks like cleaning or formatting data for reports are prime candidates for automation that can free up time for teams to also focus on seeking opportunities for upskilling and better understanding consumer behavior.
Automated market research can be a game changer for any organization, but lacking the skills to fully take advantage of AI-powered tools can halt progress. While there's no quick and easy solution to closing the skills gap, AI does provide a way to fill in the gaps so you can continue to keep pace with innovation.
Smarter, faster research comes from well-equipped teams
Market research has become more important and more of a priority for businesses as they look to uncover market trends, reduce labor costs, and deliver the right product experiences.
From pricing and ad testing, to customer feedback and brand tracking, research teams empowered to do their best work provide businesses with better insights into ever-changing consumer preferences.
AI tools are giving research teams a more powerful way to analyze consumer behavior and trends and allowing experiences to be personalized for every respondent or participant on any channel like email, mobile, website, social, interactive voice response, chatbots, and more.
Business leaders should continue to not only support market research, but emphasize its importance at every level of the organization.
In our 2024 Research Trends report, you can explore how to do this and more in further detail.
The report features data breakdowns by region and the steps leaders can take to move forward - download your copy of the report, and focus on making smarter, more human-focused decisions fueled by market research
2024 Research Trends Report