XM for Customer Frontlines

Digital

Root out friction in every digital experience, super-charge conversion rates, and optimize digital self-service

Care

Uncover insights from any interaction, deliver AI-powered agent coaching, and reduce cost to serve

Locations

Increase revenue and loyalty with real-time insights and recommendations delivered to teams on the ground

XM for People Teams

Engage

Know how your people feel and empower managers to improve employee engagement, productivity, and retention

Lifecycle

Take action in the moments that matter most along the employee journey and drive bottom line growth

Analytics

Whatever they're are saying, wherever they're saying it, know exactly what's going on with your people

XM for Strategy & Research

Research

Get faster, richer insights with qual and quant tools that make powerful market research available to everyone

User Experience

Run concept tests, pricing studies, prototyping + more with fast, powerful studies designed by UX research experts

Brand

Track your brand performance 24/7 and act quickly to respond to opportunities and challenges in your market

XM Platform

Explore the platform powering Experience Management

Teams

For Digital

For Customer Care

For Human Resources

For Researchers

All Teams

Industries

Healthcare

Education

Financial Services

Government

All Industries

Customer Experience

Employee Experience

Employee Exit Interviews

Net Promoter Score

Voice of Customer

Customer Success Hub

Product Documentation

Training & Certification

Community

XM Institute

About Us

Careers

Partnerships

Marketplace

X4 Summit

The annual gathering of the experience leaders at the world's iconic brands building breakthrough business results, live in Salt Lake City.
Candidate experience management software
Make candidate experience your competitive advantage
Candidate experience doesn't just impact the quality of your talent attraction and hiring –it impacts your employer brand, the employee experience for those who are hired, and even company performance.
Design + improve your candidate experience
Build a winning talent brand that attracts the
best candidates
Grow candidate pipeline and accelerate candidate conversion rate
Reduce your costs by tightening up processes around sourcing, recruiting, and interviewing talent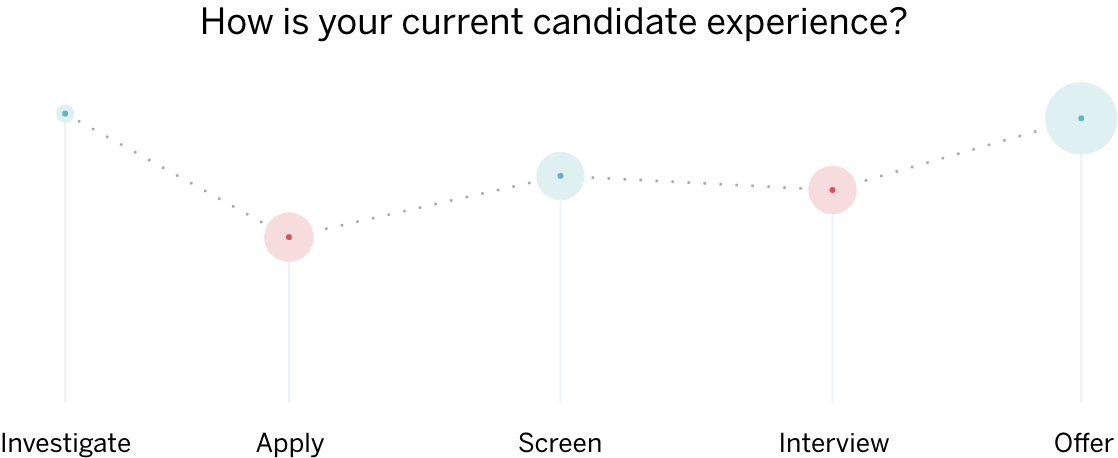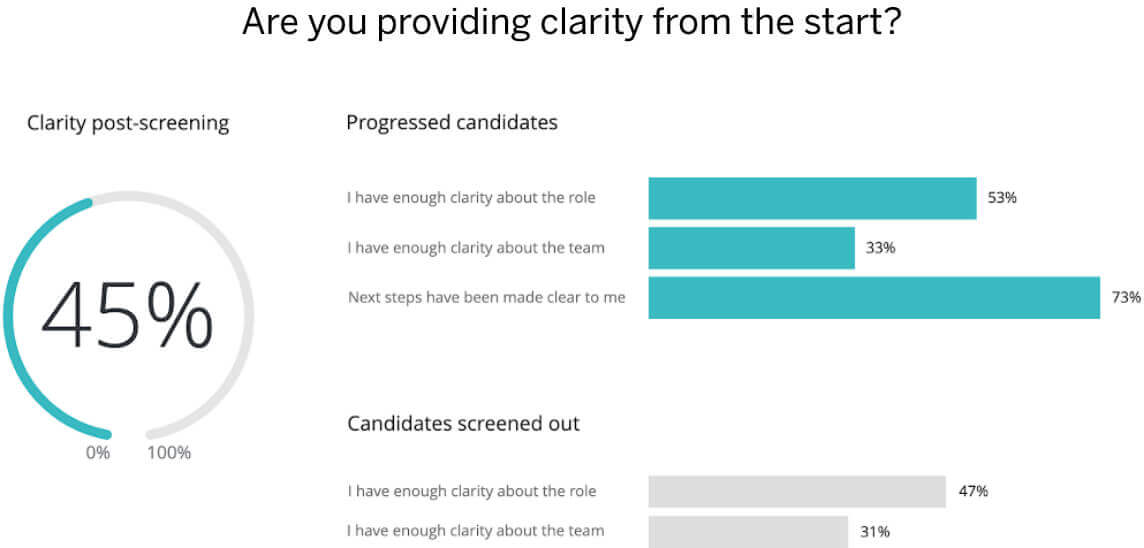 End-to-end insights
for every touchpoint
that matters
Close experience gaps in your recruitment process with invaluable candidate insights.
Multi-touch programs: drill deeper into any stage of the candidate journey to see what went well and the actions you need to take to improve the experience for your candidates.
Contact frequency: you'll get the data you need for every stage of the candidate's experience, while making sure you're not over surveying. You'll have total control over how often, when, and how your candidates are contacted based on your preferences.
Jump start your program with research-backed expertise
We know that candidate experiences differ from role to role and organization to organization. That's why our solution is built to flex to your needs. Our candidate experience question library enables you to pick and choose from expert-designed questions and dive deeper into important aspects of your candidate experience.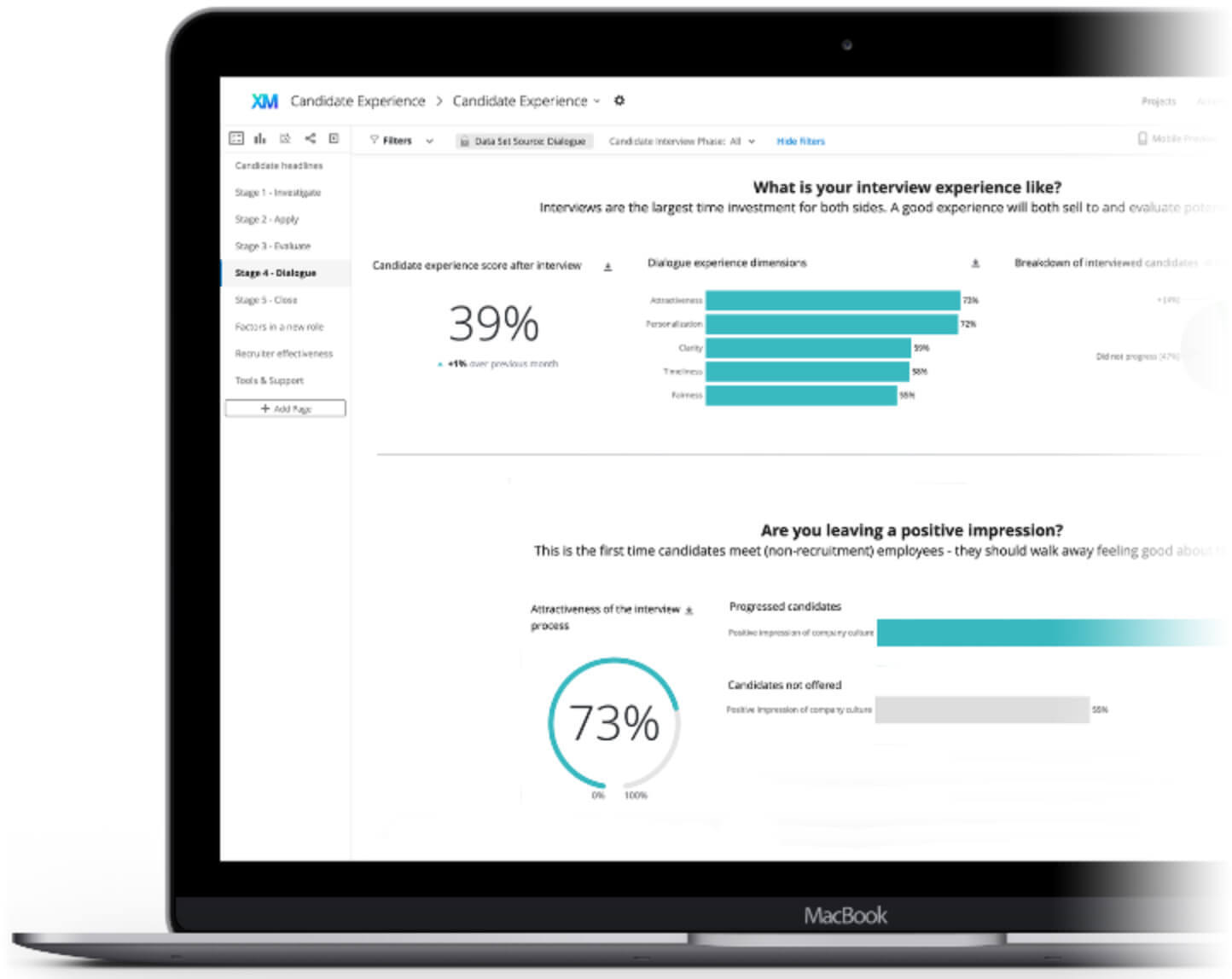 What is candidate experience?
The candidate experience is how job seekers perceive and feel about your hiring process (and company) from beginning to end. This includes everything from the initial job search and application to the interview process and eventual onboarding.
Companies with great candidate experiences act on and personalize every touchpoint, helping them to not only attract the best talent, but also elevate their brand in the process. They also leverage end-to-end insights — through surveys and analytics — to identify experience gaps across the recruitment strategy and understand the actions they need to take.
Having a great candidate experience strategy is crucial because in today's market, candidates hold all the cards. Therefore, to bolster talent acquisition, companies must make employer branding and recruitment strategy a core part of what they do.
Learn more about the candidate experience
Frequently asked questions
---
Like how employee experience solutions evaluate how employees feel about the companies they work for, candidate experience operates in much the same way — but for job seekers.

A good candidate experience acknowledges the challenges, concerns and needs of each applicant to create an engaging and structured candidate journey from start to finish.

This includes clear job descriptions, prompt communication (whether an applicant is successful or not), challenges that enable applicants to showcase their real abilities, briefing and debriefing to help them feel comfortable, post-interview surveys to identify areas of improvement, structured processes and much, much more.

With a good candidate experience, even if a candidate is unsuccessful — or you happen to find someone more suited to the role — you can maintain a great pool of quality candidates, many of whom you might deem suitable for other positions.
Candidate experience is important because it helps companies to make a great first impression, attract the most qualified candidates and increase the likelihood of applicants accepting to work for them. A good candidate experience strategy will increase candidate engagement as well, which is absolutely essential in today's market.

When a candidate has a bad experience — whether because of the process, hiring manager or poor communication — it reflects poorly on the company. Applicants who choose to withdraw from the recruitment cycle might leave negative reviews or persuade others to not apply, hindering opportunities for companies to attract the best talent.
Candidate experience software (or candidate experience platforms), enable organizations to not just manage the candidate experience, but also leverage smart technologies to personalize the experience, uncover opportunities and make recruiters more efficient.

The net result of candidate experience software is that it helps elevate brands to a new level. Recruitment is no longer a textbook exercise but a core part of the overall experience an organization delivers — which pays tremendous dividends in terms of brand sentiment and building deeper connections with candidates.

Candidate experience software also helps organizations to build career sites or content repositories for candidates to browse. Through these platforms, they can find out more about the role they're applying for — from who they're going to work with to information about the wider company.