---
Talent acquisition is a strategic, proactive process for finding, attracting, and hiring skilled employees, taking a long-term view of the organization's current and future goals and priorities.
It has never been more difficult for organizations to find the right talent to help them drive growth. A study by Korn Ferry has revealed that by 2030, there will be a global human talent shortage of 85 million people (that's almost the whole population of Turkey).
It's estimated that:
USA and Russia will be each be short by 6 million skilled people
China will have a shortage of 12 million people
Brazil, Indonesia and Japan will each lack 18 million people
If organizations don't do anything to address this talent shortage, it could result in a colossal $8.5 trillion of lost annual revenues. Just in the tech sector alone, the USA could lose $162 billion in revenues every year, unless it employs more high-tech employees.
Governments and organizations must make talent strategy a key priority and take steps now to educate, train, and upskill their existing workforces."
– Yannick Binvel, president of Korn Ferry's Global Industrial Markets practice.
What is talent acquisition?
Talent acquisition is a strategic, proactive process for finding, attracting, and hiring skilled employees, taking a long-term view of the organization's current and future goals and priorities. Whereas traditional recruitment stops at vacancy filling, talent acquisition is more of a strategic long haul: recruiting, developing, training and retaining great people who chime with the company culture and vision.
Free eBook: How HR and IT can partner to retain top talent
Why is talent acquisition important?
Talent acquisition plays an integral role in the health and growth of an organization. Here's why it's important.
Future-proofing
By forecasting future needs, talent acquisition specialists help organizations prepare better for the future, ensuring they're not caught off guard when key roles become vacant.
Quality of hire
A good talent acquisition strategy enhances the quality of potential candidates brought onboard. With targeted sourcing and thorough vetting, hiring managers can ensure they hire great talent who make big contributions.
Employer branding
A strong employer brand plays a key role in any effective approach to talent acquisition; in today's world, it can make the difference when deciding between potential employers for many candidates. It's also important to consider the brand perceptions of employees who have been rejected – would you want them to apply for a similar role in the future? Are they current or prospective customers?
Reduced hiring time
A talent acquisition team will build and nurture a talent pipeline, which can significantly cut down the time it takes to fill vacancies. Reduced hiring time can promote business continuity and limit productivity loss.
Competitive advantage
Ultimately, the talent pool within an organization is what sets it apart. Strategic talent acquisition ensures that a company has the people to innovate, help generate growth and outperform competitors.
Why is it important to get the right talent?
An organization is only ever as good as its workforce – those skilled employees who know the ins and outs of the business, and who keep customers coming back.
The right talent:
Adds value to the business through their contributions
Helps grow the business
Outperforms competitors
Helps make the business scalable
Closes skills gaps
The talent acquisition process
Your talent acquisition process is bound up with your candidate experience; how you do it affects the way potential candidates feel about your organization from the get-go – and whether they want to come and work for you.
An astonishing 49% of jobseekers would reject the offer of a job if they had a poor candidate experience along the recruitment process.
The five steps of the talent acquisition process are:
1. The career site experience
Engaging job descriptions make a strong first impression with qualified, high quality candidates as they browse the career sites. Then post your engaging job openings in the places where the right people are looking, such as your organization's career page, industry-specific, specialized job boards, traditional job boards, social media platforms, and talent marketplaces.
2. The application experience
How easy is it for highly qualified candidates to apply for the job? Can they easily upload CVs and documents or take required tests?
3. The screening process experience
Which candidates performed well in tests and assessments and need an interview? Which candidates took the tests but were unsuitable? How you treat both successful and unsuccessful candidates reflects on your brand reputation.
4. The interview process experience
To ensure fairness and to eliminate bias, you need to put in place a standardized interview process that's a positive experience for prospective employees, with seamlessly centralized feedback, making sure that you evaluate all individuals objectively.
5. The offer process experience
Once you've chosen the most qualified and suitable person for the role, make a job offer as soon as possible, following a standardized process of: offer call, candidate questions, and a written offer with an accept/decline deadline.

Elevating your talent acquisition process
Every organization has a rough idea of how to attract talent with advertising, reading CVs, tests, screening and interviews – this is traditional recruitment, after all.
But to elevate your recruitment to talent acquisition, your process must ensure you attract the right people in the first place, and if people happen to drop out of the talent funnel, you need to know where, and maybe more importantly – why.
What are the challenges when it comes to improving talent acquisition?
Acquiring talent is an expensive, time-consuming process, and drop-outs cost money. In order to do it properly, and successfully find and attract the very best candidates who fit your business's long-term goals, you need:
A strategic approach
Events of the past few years and the changing nature of work have made it difficult to predict future talent requirements. The talent acquisition strategies are holistic, combining workforce planning, employer branding, employee experience and hiring strategy, covering sufficient bases to make the best possible strategic decisions.
Implementing such a holistic solution that's easy to use and cross-functional across teams will help everyone make those better decisions.
A strong employer brand
Make sure your employee value proposition (EVP) is the best it can be. Organizations that struggle to communicate their EVP and company culture to prospective candidates attract and engage fewer good people.
The right kind of technology
To  integrate seamlessly with your HRIS, ATS and other HR tech and recruitment tools – too many companies use slow, outdated, complicated HR processes for recruitment. By switching to digital processes and AI you can automate tasks, boost workflows and sharpen decision making.
Knowing where and why candidates drop out
This is a massive challenge for organizations. The best candidates are in high demand, and many receive multiple offers from different employers desperate to snap them up. A lackluster candidate experience can be the deciding factor in your top talent jumping over to a competitor, so you need to pinpoint what is lacking and act to make candidate experiences better.
Create a successful talent acquisition strategy with Qualtrics Candidate Experience
Our candidate experience management software helps you not only manage the candidate experience, but also personalize the experience, uncover opportunities and make your talent acquisition process more efficient using smart technologies.
With Qualtrics Candidate Experience, you'll get real-time, multi-touch, actionable insights at every stage of your candidate journey, giving you the heads-up to take action on the most impactful gaps. This maximizes hiring impact while reducing cost, time to hire and time to value.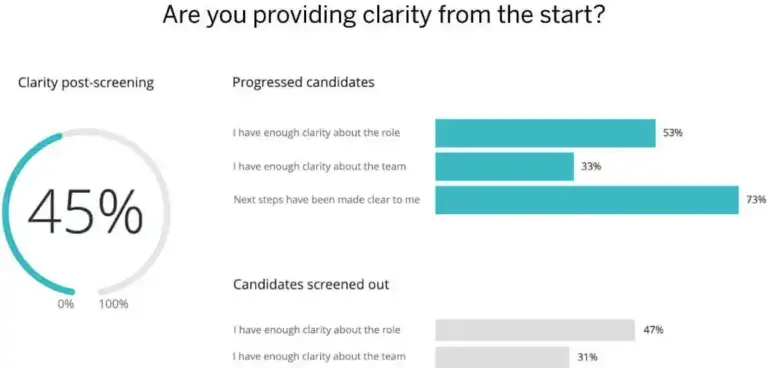 Qualtrics Candidate Experience gives you robust and ongoing experience insights, including:
research-backed survey items and program guidance to improve talent acquisition and enhance your organization's reputation when it comes to recruitment
multi-touch programs offering the ability to deep dive on multiple moments across the candidate journey, so you have a holistic view of what is happening and why it matters
guided setup workflows and pre-built surveys and dashboards for your teams to see what's happening and spend less time on admin or data gathering
What are the benefits of Qualtrics Candidate Experience?
The quality of your candidate experience doesn't just impact the success of your talent acquisition and hiring process – it also has wider impacts for your employer brand, the employee experience of those who you have hired, and even company performance.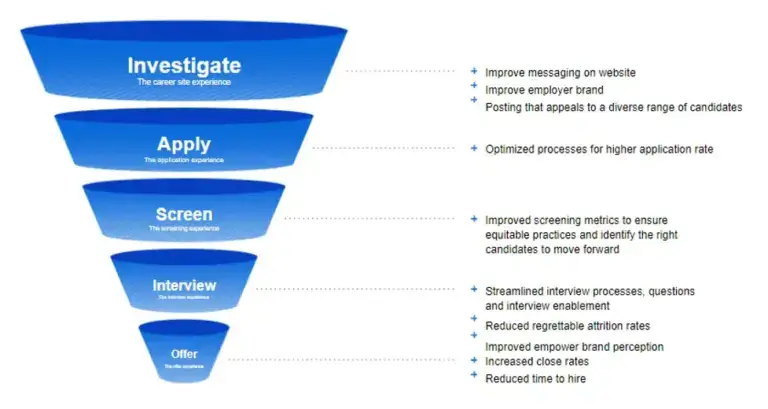 When you use our candidate experience software, you'll:
Improve the candidate journey and brand sentiment
When you deliver experiences that meet the expectations of the people you want to hire, you increase the likelihood of a successful hire. And, even if you fail, it's likely the candidates will recommend your brand or speak of it fondly. Win win.
Close gaps across the candidate journey
Make it easy for candidates to love your organization by finding out what went well with the process and identifying areas that need improvement – then acting on them.
Develop your candidate pipeline
Having an on-demand pool of prospective candidates who could be current employees, former employees, referrals or unsuccessful qualified candidates and keeping in touch with them can help talent acquisition teams fill open positions as they arise.
Choose contact frequency
You'll have total control over how often, when, and how your candidates are contacted based on preferences. You can choose where and when you communicate with candidates.
Save money
Tighten up talent acquisition processes around sourcing, recruiting, and interviewing candidates.
Elevate your brand to a new level with Qualtrics Candidate Experience.  Make talent acquisition a core part of the overall experience your organization delivers – which pays dividends in brand sentiment and building deeper connections with candidates.