---
In today's global economy, embracing diversity, equity and inclusion isn't just the right thing for businesses to do – it's also great for the bottom line. Whether it's marketing or sales, engineering or PR, diverse teams bring innovative ideas, perspectives, and opportunities that help boost business outcomes and improve your culture.
And inclusive hiring is what enables organizations to create these diverse teams.
However, when it comes to inclusive hiring, things aren't always easy. There are sometimes unintentional barriers that can and often do skew hiring processes, such as unconscious bias, a lack of role models in the workplace (e.g. people not seeing themselves represented), communication barriers, or a lack of training (e.g. a lack of education around diversity and inclusion).
It's clear today that inclusive hiring isn't only a job for HR and people teams – it has to be a part of the company culture to consistently deliver good results. Achieving that means gaining the buy-in of all employees at every level of your business.
The good news is that this is already happening at scale – many organizations have made inclusive hiring into a strength. These companies understand that their power lies in diversity, and they're committed to creating an equitable environment for all.
Here we outline how you can join them.
What is inclusive hiring?
Inclusive hiring is the collective name for recruitment practices and processes that are intentionally designed to create equal job opportunities for all. By taking steps to eliminate bias and ensure a fair hiring process, inclusive hiring focuses on employing the most qualified candidates, regardless of their gender, race or any other demographic factor.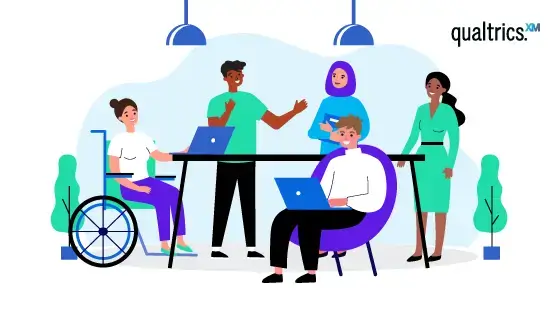 Why is inclusive hiring important?
Inclusive hiring helps to ensure diversity in the workplace, which comes with many benefits, strengthens the organization's culture, and unlocks opportunities and value.
For example, when companies hire a diverse range of people, they get different ideas and perspectives – reflecting the diversity of their customers and society at large – which can lead to more creative and effective solutions. Workforce diversity can improve problem solving and decision making, which can go as far as boosting company performance and profits.
Across the globe, there are huge reputational gains for any organization making authentic efforts to hire inclusively – which is particularly important in a competitive job market. Right now, many of the world's leading companies are building and following inclusive hiring plans to develop and nurture diverse talent pipelines.
Beyond business, inclusive hiring is a key contributor to a fairer, more equitable society. It helps to break down barriers and create more opportunities for everyone.
Free eBook: How to apply DEI to your employee experience program
A 7-stage guide to inclusive hiring — with tips!
The end-to-end recruitment journey is made up of many stages that can both include and exclude people. Every one of these stages gives potential employers an opportunity to have a positive impact and bring down barriers.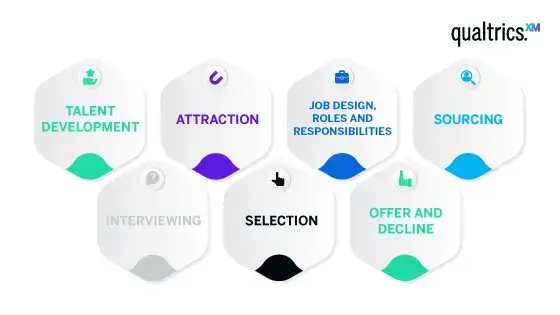 1. Talent development
Inclusive hiring starts well before the hiring process itself.
An organization committed to inclusivity should aim to foster an environment that encourages personal and professional growth for everyone, with training, educational and promotion opportunities available and accessible to all – irrespective of their background, identity or where they find themselves in the business.
For example, underrepresented role models within your company can play the crucial role of highlighting that your company is inclusive and challenging social stereotypes. This could be across ethnic minority groups or genders. This kind of investment and visibility is vital because it helps encourage people into careers, positions or industries that they may have never considered — and could be a great fit for.
2. Attraction
The way a company presents itself to the world plays an important role in its attractiveness to any potential employee. Here the brand and the products it sells are crucial, so too is the organization's employer value proposition (EVP), which is particularly important in reflecting its commitment to inclusivity.
Here, you could highlight your diversity and inclusion initiatives on your website, or show a diverse range of employees in your promotional materials. It's also worthwhile creating content that's relevant to a wide range of audiences, such as diversity-focused blog content, employee spotlights, or email campaigns.
With any tactic that's deployed, however, it's essential that it's done with authenticity. Actions speak louder than words, so make sure that the company you're displaying externally is consistent with the one your people experience everyday.
3. Job design, roles and responsibilities
When designing a job role, be specific about what success looks like for that role – this includes explaining the necessary knowledge, skills and experience required.
Here you have to avoid any requirements that aren't truly necessary, as they can exclude people who are actually fully qualified. The most common example of this is requiring a bachelor's degree for a role that doesn't need one.
This isn't about lowering standards – it's about ensuring that your entry requirements are fair and relevant to the job. Ultimately, a clear, concise and inclusively designed role will attract more diverse and qualified applicants.
4. Sourcing
Creating a more diverse and inclusive workforce can't be achieved if you never change how you look for people.
Instead of solely relying on traditional channels, consider platforms or recruitment agencies that specifically cater to underrepresented groups, or partner with organizations that can help you expand your reach to new candidates. You might even want to build your own opt-in talent networks for diverse and/or underrepresented groups, so they can keep in touch with you — and you with them.
Also, ensure your job postings are inclusive, use gender-neutral language, and avoid jargon and industry-specific terms that might alienate some.
The goal is to eliminate bias and ensure that every candidate feels welcomed to apply and confident that there are no barriers to a successful application.
5. Interviewing
Inclusive interviewing practices begin with providing reasonable accommodations, so all candidates have an equal opportunity to showcase their abilities. A standardized interview process is key here because it minimizes subjective judgements and personal biases.
This could include maintaining a consistent set of questions and evaluation criteria, and only using trained interviewers who understand unconscious bias. This way, all candidates are evaluated based on the same standards and criteria.
Interviewers themselves play a crucial role in creating an inclusive experience for applicants. To ensure that all candidates are evaluated fairly and respectfully, your interviewers should be trained to respect different identities, cultures and backgrounds, and to be aware of unconscious bias. Remember, a diverse interview panel doesn't necessarily equal an inclusive interview.
6. Selection
All of these stages play a crucial role in inclusive hiring, but none more so than the selection phase.
Here a single decision maker can be standard procedure – and very problematic: one person making a decision significantly increases the risk of individual biases creeping in. A diverse hiring committee, on the other hand, can mitigate such issues and allow for a range of perspectives when evaluating candidates.
However, the makeup of the committee alone doesn't ensure fairness. This is why it's a good idea to consider implementing calibrations, where hiring decisions are reviewed by others to ensure they are made fairly and consistently.
7. Offer and decline
The final stage in any hiring journey – and make or break when it comes to an inclusive process. Whether making an offer or declining a candidate, your communication should embody the inclusive values you want your organization to uphold.
For those receiving an offer from your company, an inclusive experience means fair pay, benefits and a job title, and a crystal clear breakdown of the role's responsibilities and expectations (which will have already been communicated from stage three).
For candidates who aren't selected, prioritize providing respectful and constructive feedback. This will first and foremost enhance their personal experience with your organization, and also demonstrate your commitment to fair and respectful practices.
Find out how you can enhance every aspect of the employee and candidate experience with XM® for People Teams: Lifecycle.
Inclusive hiring best practices
We've covered a few best practices and tips in the stages above, but here are a few more things you should consider to ensure your hiring processes are as inclusive as possible.
Apply bias-disrupting practices
Unconscious biases have a huge influence on decision making in the hiring process, but the good news is that one of the best ways to disrupt them is to simply know that they exist.
You should provide unconscious bias training to your hiring team to help them recognize and mitigate any biases. This should be combined with blind hiring processes to further prevent bias in the initial screening stages. There are also tools available that remove faces and names from CVs. It's best that you look around to find those that work with your interview process.
Foster an authentic inclusive brand
Your employer brand should genuinely reflect your commitment to diversity and inclusion. To do this you should find ways to authentically showcase your company's diverse workforce, inclusive culture and the initiatives that positively impact both.
Accessibility in hiring process
Accessibility is a key part of inclusivity, particularly in relation to people with both visible and invisible disabilities.
Accessible hiring processes include an accessible website and application, offering accommodation at the interview stage and using inclusive language throughout.
Implement an actionable EEO statement
An equal employment opportunity (EEO) statement is crucial for any business prioritizing inclusivity, but it's only effective if it's applied in practice.
Make sure that your actions reflect your commitment to equal opportunities for all, regardless of race, color, religion, sex or any other demographic factor.
Promote inclusive internal mobility
Inclusive internal mobility means clear, unbiased pathways for promotions and career progression within your company – making sure that all employees feel valued and motivated to advance within your company.
Good communication is the most important thing here. If you ensure that new opportunities are communicated transparently and are accessible to all employees, you're off to a great start.
Measure and track your diversity efforts
This is an important one. As you start to attract more diverse candidates, ensure you know where they're coming from so you can identify your best campaigns and channels. You'll also want to see how they're progressive through the hiring process. This might mean an applicant tracking system (ATS) that provides metrics for every source, program or campaign.
Over time, you can start to cross-reference where you were at the beginning versus where you are now — and any improvements, e.g. going from 25% representation of ethnic minorities or women to 40%, helps build your brand and demonstrate your commitment to inclusive hiring.
Get feedback throughout the candidate experience
If you want to understand how inclusive your candidate experience is, asking for feedback at the most important stages is a great way to go.
An end-to-end candidate experience program allows you to continuously measure and act on candidate feedback across recruitment touchpoints — so you can identify inclusion issues before they become detrimental.
But that's not all, you can also learn more about candidate behavior to determine what attracts top, diverse talent to your organization, including what they're looking for in their next  role. All of this helps you to close experience gaps and deliver on what candidates expect.
Leverage your employee referral program
If your entire organization believes in its commitment to diversity, equity and inclusion — and those efforts have been made clear from the top down — it'll be a lot easier to encourage employees to look out for and recommend people from underrepresented groups. When the entire organization takes responsibility for furthering inclusion (and diversity and equity), it becomes much easier to scale your efforts and find the best people.
Designing a world-class and inclusive employee and candidate experience
The world of work has undergone a lot of change – today, workplace culture, candidate experience and employee experience have never been more important.
However, once you've got people on board following inclusive hiring practices, how do you ensure that you keep them?
Look — we all know that great employee experiences not only improve talent attraction and retention, but they also support bottom-line business results. After all, when organizations are able to hire, retain and keep the best talent engaged — their workforce delivers better outcomes.
Safe to say, it's never been more important to invest in your employee experience programs.
But the question now is, where do you start?
Written by our team of employee experience experts, 'Employee Experience for the New Era' is our playbook for how best-in-class HR teams are transforming employee experience and reaping huge rewards.
In this ebook, you'll learn:
The five key performance indicators (KPIs) top HR team are using, updated to include two new measures of success
The 25 drivers of employee experience critical to engagement and retention
How to turn aha! moments into action