---
Shared values, goals, ethics, expectations, and beliefs all add up to company culture. They drive how decisions are made, what actions are taken, and the business results that follow. Typically, culture originates with an organization's founders or leaders and trickles down to employees.
What is company culture?
When you search for a definition of 'company culture', it's likely that you'll come across something like the interpretation above. But how does this manifest itself when a new hire walks through a company's door?
Most explanations seem nebulous at best, although psychologist Edgar Schein's model can help analyze and understand what makes up organizational culture:
1. Artifacts: these are the visible aspects of company culture – building style, technology, office layout, facilities, employee behaviors, language, traditions, stories and rituals, dress code.
2. Espoused values: The strategies, goals and philosophies declared and endorsed by the organization, employees' shared opinion on 'how we do things round here' in the company, ie. 'how things should be'.
3. Underlying assumptions: ultimately, what drives the organization – the unconscious beliefs employees hold to be true, but without verifying or challenging them themselves.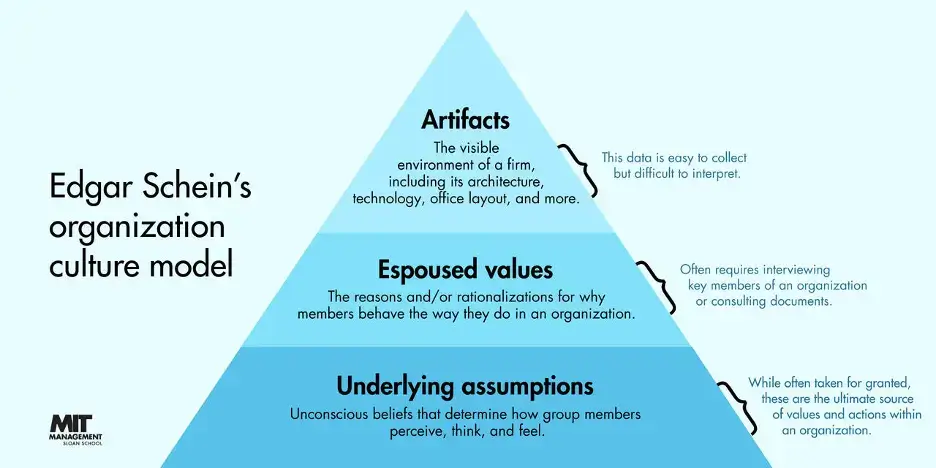 Image from mitsloan.mit.edu
In modern day organizations, culture might take the form described by Frances Frei and Anne Morriss in the Harvard Business Review:
Culture guides discretionary behavior and it picks up where the employee handbook leaves off. Culture tells us how to respond to an unprecedented service request. It tells us whether to risk telling our bosses about our new ideas, and whether to surface or hide problems. Employees make hundreds of decisions on their own every day, and culture is our guide. Culture tells us what to do when the CEO isn't in the room, which is of course most of the time."
Whether a company consists of ten employees or ten thousand, organizational culture dictates the workplace environment – even when that workplace is remote.
Discover how 3 leading companies get culture right
Why does having a great company culture matter?
Workplace culture plays an integral role in employees' overall job satisfaction and success. Cultural alignment is important, because:
1. People with the same set of values are brought into the company
2. Behaviors are consistent throughout the organization, especially among its senior leaders
When people feel their personal values and needs fit with their organization's culture, they're more likely to enjoy going to work, get on well with their colleagues, and be more productive. And there are even more benefits to a strong culture:
Higher employee engagement
Employees who report better experiences at work are naturally more engaged, and 88% of employees believe a distinct workplace culture is important to a business being successful. Conversely, disengaged employees cost U.S. companies up to $550 billion a year, according to a study conducted by The Engagement Institute.
Generally, employees enjoy their work when their values align with those of their company mission. Our Global EX Trends Report 2023 found that being employed isn't just about having a job —it's a part of a person's value system. When employees feel that their organization embodies these values, they're 27% more likely to have higher engagement scores.
Reduced stress
Work-related stress and mental illness caused by a toxic workplace culture costs US businesses more than $300 billion a year in health costs, absenteeism, and poor performance:
A healthy company culture should alleviate stress, not cause it.
Increased employee satisfaction and wellbeing
The American Psychological Association reports that 89% of employees will recommend their company as a good place to work if the company supports wellbeing initiatives.

Increased employee retention
When employees chime with the company's culture, they tend to stay – increasing retention rates and lowering costs associated with hiring. Another finding from our Global EX Trends Report 2023 was: when employees feel that their organization embodies their values, they're 23% more likely to stay working for more than 3 years.
Increased productivity
When employees are aligned with the company's culture and engaged with their work, businesses see higher levels of productivity. For example, if your company is team-oriented, hiring people who thrive in a collaborative environment will help drive productivity.
Increased revenue
Engaged employees help drive business success and company growth. According to a Gallup report, highly engaged teams show 21% greater profitability than those who are not.
Attract the right talent for the culture
Company culture makes a huge difference in hiring success. A strong company culture is important for prospective employees when they evaluate potential employers. 46% of job seekers said a company's culture was one of their deciding factors when applying for a job. A stellar organizational culture attracts top talent, whereas those businesses that need to improve company culture risk 15% of job seekers declining a job.
Types of corporate culture
When you look around your friends, chances are some will wear suits to work while others get away with slouchware; some will have a loose approach to keeping office hours, and others seem to socialize almost exclusively with work colleagues. All these behaviors reflect the cultures of the companies they work for. Not all of them lead to employee happiness, though.
Here are some categories of company culture you'll find in the business world:
1. Hierarchy culture
This is a company with traditional hierarchies, strict guidelines governing roles, dress code, and departments that don't tend to interact. This risk-averse culture tends to focus on numbers, and is bottom-line driven, sometimes putting profit over customer experience. It's the CEO who makes the decisions, leaving little room for input from employees further down the line, who may feel frustrated or 'just a cog in a machine.'
2. Team first culture
A more enlightened company, that has employee engagement as its top priority, just above customer experience. Departments intermingle socially inside and outside work, good work-life balance is standard, people take pride in their environment, and feedback is solicited often and responded to thoughtfully.
3. Elite culture
An intense place to work, elite companies aim to take risks, and disrupt and change the world. They hire the best from many highly-qualified applicants, expect them to make work a priority and put in long hours, promote them rapidly, and take notice when their people question things or suggest improvements. It can be a high-pressured environment, which requires superior perks and wellbeing programs to balance out the intensity.
4. Horizontal culture
When the CEO makes you a coffee and asks the intern what they think of a new project proposal, the company is probably horizontal. Common in new startups, the culture is collaborative, flexes with the market, feedback, and employee suggestions, everyone mucks in and gets their hands dirty, and the customer is king and queen.
5. Adhocracy culture
An authentic adhocracy culture is one that is sufficiently agile to adapt rapidly to change. Adhocracies encourage individual initiative, empower employees to get on with the job, and allow flexibility. Leadership is less clearly defined than the other organisational cultures, which can lead to both chaos and creativity.
6. Clan culture
This is a company with a friendly, family atmosphere where employees have similar interests and are heavily involved in the business. Often a feature of small companies and startups, there are fewer management levels, high employee engagement, and an emphasis on teamwork and collaboration. The C-suites are less monsters, and more mentors.
7. Toxic culture (unfortunately)
A toxic organizational culture is the main reason employees quit, and turnover is one of the biggest drains on a company. When employees are terrified of making a mistake, people's roles and responsibilities are unclear and confusing, workers feel they are disrespected, and there's bias and inequality, these are red flags of toxic company culture. Other signs are: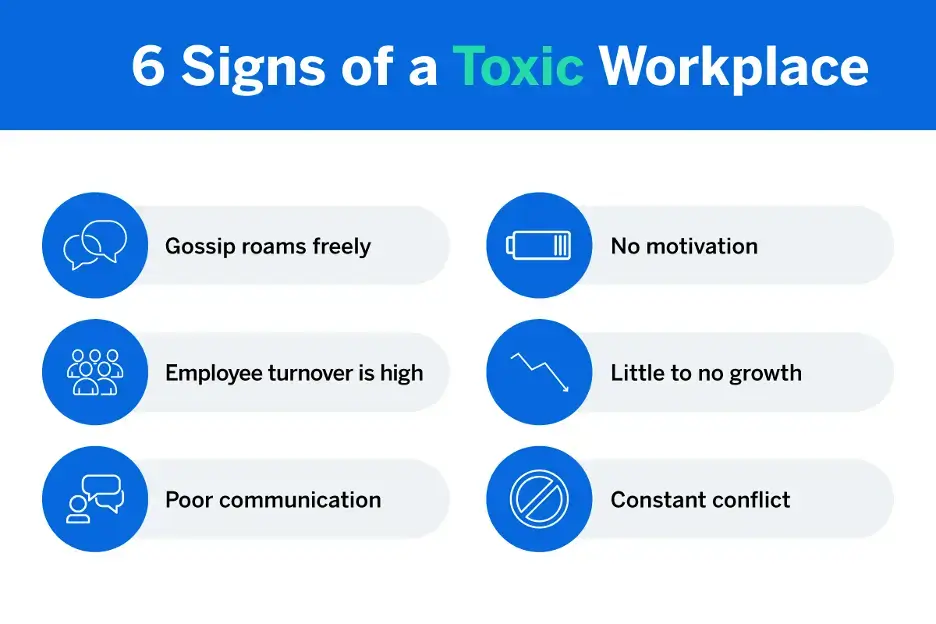 How to improve your company culture
Improved communication has been a clear driver in improving company culture. The mission for leaders now is to have the right listening in place, at the right time and acting on that information to ensure they are keeping their employees engaged."
— Phil Pringle, Employee Experience Specialist at Qualtrics
1. Listen to your employees
This has to be your number one consideration when planning to improve company culture. Hearing your employees by opening up opportunities at scale through employee listening initiatives is an integral part of maintaining or improving organizational culture. Give all employees a chance to voice their opinions by setting up inclusive discussions around culture to reshape cultural norms and behaviors.
Listening initiatives can include:
Surveys
One on one meetings
Omni-channel listening
Conversational analytics
Passive listening
Leaders may agree on what they think organizational culture is, but that doesn't mean all employees see it in the same light. By listening to employees and analyzing employee experience data you'll be able to develop strategies that support your business's objectives and goals around creating a good company culture.
What questions you ask in your engagement and pulse surveys and the responses you get will tell you a lot about the company culture.
Our conversational analytics platform can help you understand what people are saying about your company, wherever they're saying it. The technology can measure sentiment and help with building company culture.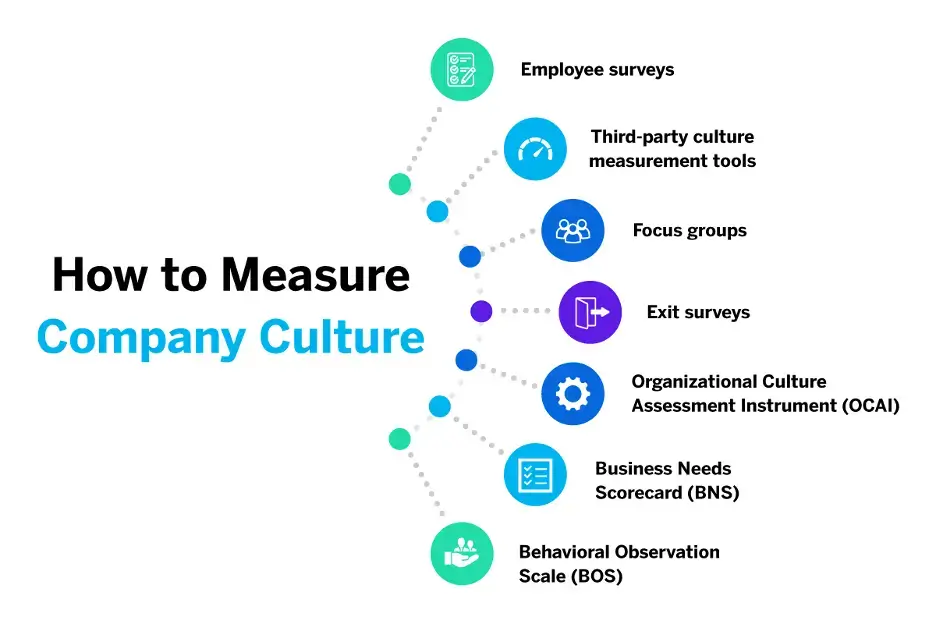 2. Action the issues highlighted by employee listening
When you have collected and analyzed data from your employee listening program, make sure you act on it. People will feel respected and heard. And where issues cannot be actioned, acknowledge this and be transparent about what is, and isn't, possible.
3. Take well being seriously
According to a report in 2021, 86% of employers considered wellbeing a top priority, but nearly half (49%) of respondents said they hadn't yet formalized a strategy. Be in that 51% that takes well being seriously.
Our Global EX Trends Report 2023 highlights the importance of formalizing a wellbeing strategy. It found that employees have been operating at surge levels for years, and going above and beyond for a company had become the expectation rather than the exception. Now, employees are reclaiming boundaries by reshaping the relationship they have with work.
When workers have a good work-life balance, the company benefits too. Our research found that of those employees who feel that they have a good work-life balance, almost two-thirds (63%) are willing to go above and beyond for their organization.
4. Have a killer employer value proposition (EVP)
An EVP is the offering to current employees and potential job applicants setting out the statement of the values, rewards, recognition, support, and company culture that makes you a desirable employer, and enables employees to do their best work and achieve their highest potential. As your company's mission, it has to be uniquely good, true and representative to encourage top talent to choose you over your competitors, or elect to stay with you.
Since the pandemic had a huge impact on the relationship between people and work, focusing more on feelings and work life balance, prospective employers' EVPs need to keep up with the current thinking about work environment and practices.
According to Gartner, post pandemic EVPs now need to target company culture, and offer:
Deeper connections: by understanding employees not just through work relationships, but with their family and community connections too
Radical flexibility: by empowering employees to be autonomous and flexible in all aspects of their job, not just location and timing
Personal growth: by helping employees to grow as authentic people, more than just their job role, and to feel valued.
Holistic well-being: by doing more than simply making holistic well-being initiatives available, actively encouraging employees to use them, and making employees feel cared for.
Shared purpose: by making employees feel invested by getting involved with the local community, and taking a stance on societal and cultural issues.
5. Reward and recognise
As the world economic situation and markets become more volatile, job security and financial certainty are understandably a priority for employees.
More than anything, people want to know that the organization they're working for will continue to be successful in the future, and pay a competitive salary. Instilling confidence that you are sailing the successful company ship is critical to your employee experience – and company culture.
We found that just over half (57%) of employees are satisfied with their current pay and benefits, and that satisfaction has dropped 10 points since last year.
There are rewards other than just salary: from Employee of the Year, to a quick message saying 'thanks for a great job', appreciating your employees is pivotal for good company culture. Get HR to make sure that appropriate awards go to employees who best demonstrate a good grasp of company values.
6. Introduce and demonstrate your core values
Revisit your mission statement, through HR programs, such as your careers webpage, orientation, training, and performance management.
7. Equip your workforce well
The past few challenging years have overturned the normal ways that businesses operate – from the hiring processes, the equipment they use and the processes in place to get things done.
Our Global EX Trends Report 2023 discovered that more than a third (38%) of employees feel they're burnt out, and the top driver of burnout this year is ineffective processes and systems. A strong company culture relies on employees being well resourced to be able to get on with their jobs, and to feel empowered to ask if they are not.
8. Hire for culture contribution, not fit
Progressive companies recruit new employees for culture contribution, rather than just those who fit the corporate mold, to bring unique perspectives and help grow the business. That means hiring employees who not only align to your company's values, but also bring diverse experiences and backgrounds to the table.
Diversity is good for business. Look for people who are doers, historically getting stuff done, and remember that your employees are representatives of your company, even outside work where people talk freely.
9. Give meaningful workplace benefits
Installing a ping-pong table or a coffee machine won't inspire your employees to make your startup a unicorn. But an on-site gym, free canteen, unlimited holidays, life coaching, travel allowances, or bringing your dog to work are perks that make a real difference to people. 57% of people say decent perks are a top consideration when choosing to join a company.
10. Give back
It's no longer enough to see profit as the sole reason for your company to exist – it's Planet, People and Profit now, and about giving something back. Whether it's donating money to charity, sharing skills with local non-profits, pro bono work, paid volunteering days or going green, companies whose employees give back report fewer sick days on average, making the company more productive.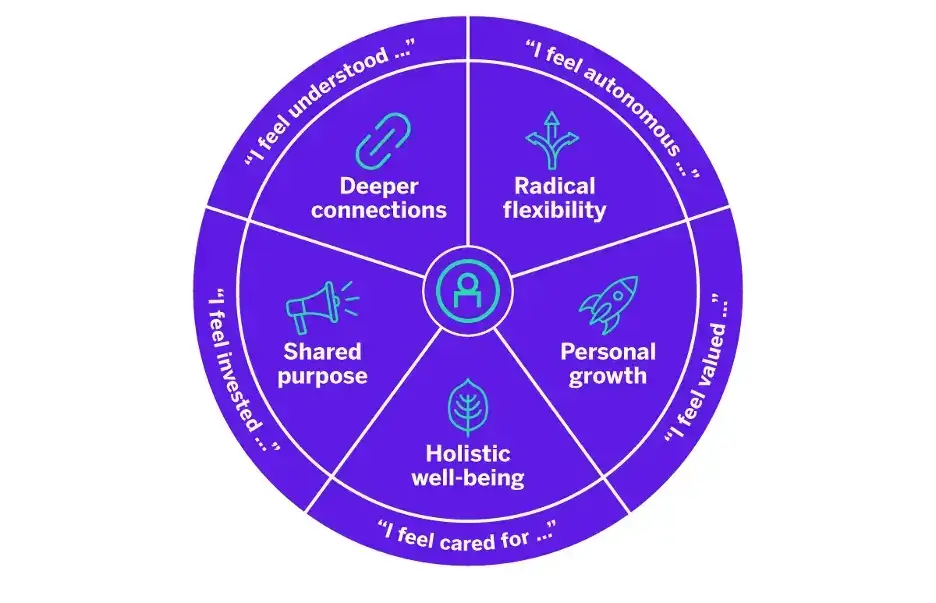 3 companies with great cultures
"We have a 100+ volunteer force of employees called The Happy Crew, tasked with organizing activities around moments that matter to our people. From bringing employees together to welcome new Zoomies, to planning company-wide events and intersecting with our community at large, The Happy Crew is an important driver of employee experience at Zoom. To keep things organized, they even have their own leadership team (including a captain!) and various sub-crews.
The Happy Crew played a huge part in Zoom being recognized by Comparably as the work culture with the happiest employees."
– Lynne Oldham, Chief People Officer
"Patagonia is a cause disguised as a company.
If you get arrested protesting in support of the environment, we pay for bail. For a nursing mom, we'll pay for the mom and the nanny and the baby to travel. Those are not difficult decisions for Patagonia. They're just in line with the culture.
With a cause so intense, we have to make sure our programs, policies, and procedures align with the culture. Anything we propose in HR that's not aligned gets rejected immediately."
– Dean Carter, Chief Human Resources Officer
"Our employee engagement survey is a super valuable tool. It makes people feel heard and it also gives us insight. We follow up with focus groups, and we do store visits. We ask questions like, "If you were talking to the big boss, what's one thing you would ask to change as a company?"
– Karalyn Smith, former Chief People Officer