XM for Customer Frontlines

Digital

Root out friction in every digital experience, super-charge conversion rates, and optimize digital self-service

Care

Uncover insights from any interaction, deliver AI-powered agent coaching, and reduce cost to serve

Locations

Increase revenue and loyalty with real-time insights and recommendations delivered straight to teams on the ground

XM for People Teams

Engage

Know exactly how your people feel and empower managers to improve employee engagement, productivity, and retention

Lifecycle

Take action in the moments that matter most along the employee journey and drive bottom line growth

Analytics

Whatever they're are saying, wherever they're saying it, know exactly what's going on with your people

XM for Strategy & Research

Research

Get faster, richer insights with qual and quant tools that make powerful market research available to everyone

User Experience

Run concept tests, pricing studies, prototyping + more with fast, powerful studies designed by UX research experts

Brand

Track your brand performance 24/7 and act quickly to respond to opportunities and challenges in your market

XM Platform

Explore the platform powering Experience Management

Teams

For Digital

For Customer Care

For Human Resources

For Researchers

All Teams

Industries

Healthcare

Education

Financial Services

Government

All Industries

Customer Experience

Employee Experience

Employee Exit Interviews

Net Promoter Score

Voice of Customer

Customer Success Hub

Product Documentation

Training & Certification

Community

XM Institute

About Us

Careers

Partnerships

Marketplace

X4 Summit

The annual gathering of the experience leaders at the world's iconic brands building breakthrough business results, live in Salt Lake City.
Pricing Research Software
Capture more profits from your product investment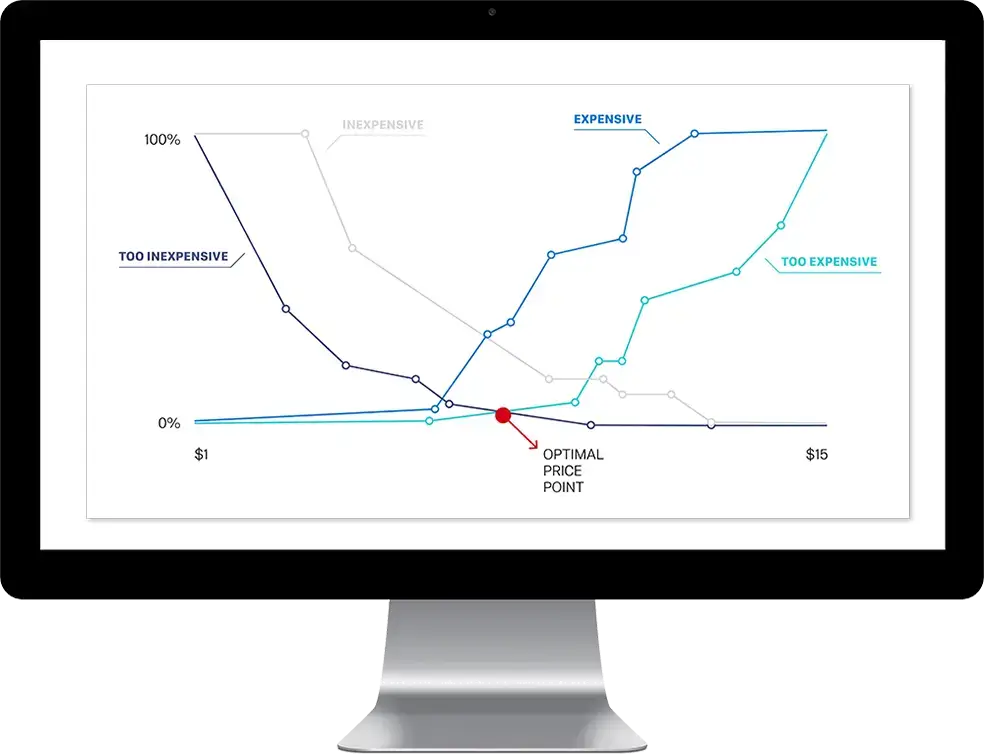 Over 16K brands and 99 of the top 100
business schools use Qualtrics
---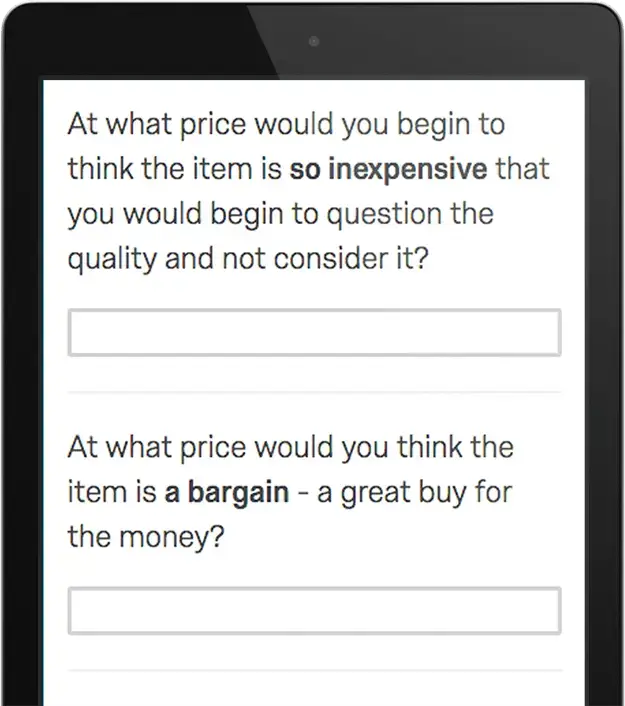 Tailoring products and marketing to your customers is a powerful way to grow your brand and your profits. With market segmentation software from Qualtrics, you'll know exactly what works (and what doesn't) for every customer segment, no matter how complex.
Drive demand with products and services tailored to specific customer segments
Improve your marketing campaigns by targeting the right customers with the right messages
Grow your revenue and profitability with a detailed understanding of how much customers are willing to pay
Price products for maximum profitability
---
Single platform for pricing research
Powerful survey design
Pricing studies require rigorous survey design and complex logic and data visualization. Qualtrics makes it easy to program sophisticated studies like Gabor-Granger or conjoint analysis. Visualize key results like demand curves or price elasticity for optimum pricing.
Complex conjoint studies made simple
Conjoint analysis used to require a specialized degree, but no longer. With a few clicks, Qualtrics XM Solutions helps you find the product features your respondents will love, set the optimal price point, and know which tradeoffs are your best bets.
Find your perfect price with Qualtrics ProductXM™
Streamlined Van Westendorp pricing studies
Use Qualtrics to effortlessly generate your volume maximizing price ranges leveraging the Van Westendorp Price Sensitivity Meter:
At what price would you begin to think the product is so inexpensive that you would begin to question the quality?
At what price would you think the product is a bargain?
At what price would you think the product is getting expensive, but you might consider it?
At what price would you think the product is too expensive?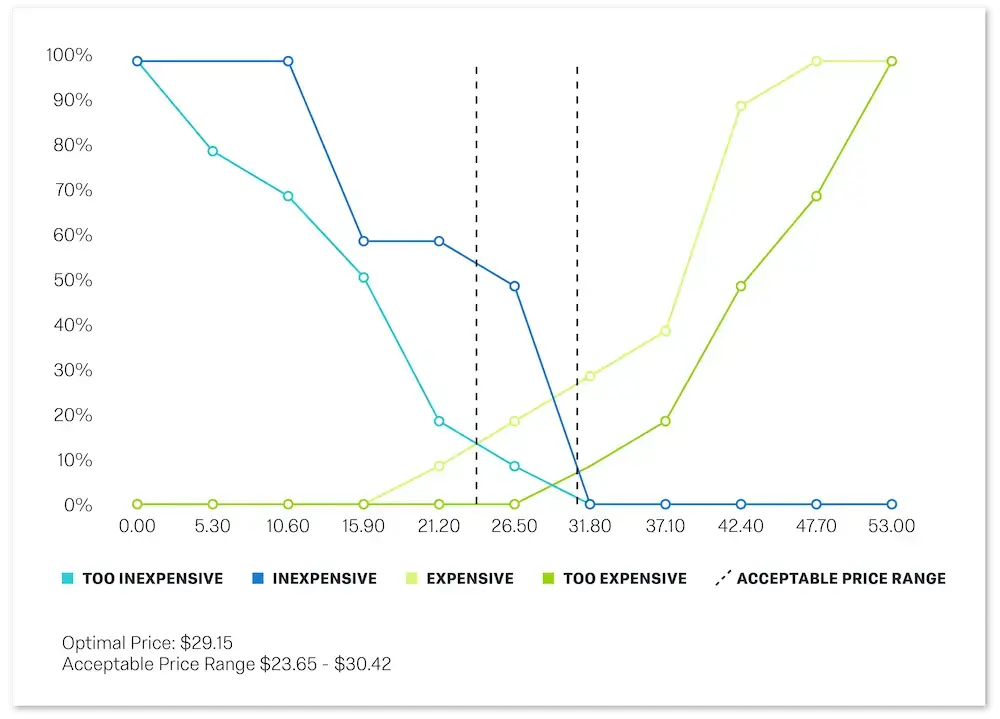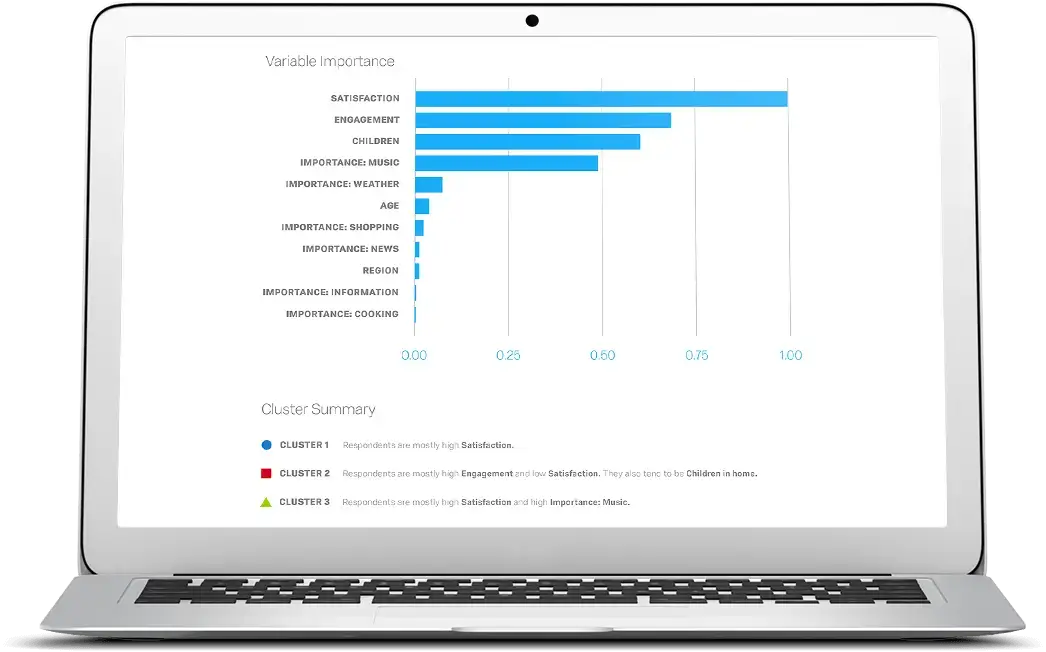 Powerful Gabor Granger pricing studies
Gabor Granger studies, while simple for the respondent can be complex to program. Leverage Qualtrics' powerful capabilities and advanced logic to measure price elasticity. Learn your market's price tolerances and generate demand and revenue curves to find the revenue-maximizing price.
Complex conjoint price-optimization studies with a few clicks
Traditional conjoint analysis required sophisticated statistical chops and survey expertise. Those days are in the past. With just a few clicks, compare product features or services to understand what matters the most to your customers.

Customer insights at your fingertips
Simulate real-world pricing scenarios by targeting the right audience. Target typical consumers or any desired B2B/B2C customer base. If you don't have a panel of respondents, Qualtrics can find them for you — whether you need general population data or niche results.
What is pricing research?
Pricing studies help discover what customers are willing to pay for a product or a service, and by doing so, uncover the optimal price point to maximize profit, revenue, or market share. Pricing research also determines how an organization can increase revenue and profit margins by increasing or decreasing prices.
Product Satisfaction Surveys
Product Testing & Research