---
Workforce planning is the strategic evaluation and management of an organization's present and future talent requirements. A workforce plan is a people strategy, and involves analyzing, forecasting, and planning workforce supply and demand. The goal is to make sure that organizations have the 4 Rs: the Right people with the Right skills in the Right places at the Right times to drive success.
Organizations are facing challenging times: trying to create stability in a period of uncertainty, adapting to the future of work, digital disruption and transformation, skills shortages, and the need to become more agile and scalable.
Your HR teams are at the forefront of meeting these formidable challenges: they must connect talent and skills to future goals by establishing a clear strategy that brings people, technology and processes together to achieve those goals.
A key part of this is analyzing the current workforce and future personnel needs to identify areas of opportunity, or for improvement. In short, workforce planning.
Discover How Experience Optimizer Can Help You
What is workforce planning?
The cold, hard, traditional definition of workforce planning is 'reviewing the current employee base, as well as assessing current and future personnel needs and identifying gaps between supply and demand'.
Workforce planners focus on monitoring and managing skills gaps – but often they are missing something – the critical role that experience plays in their organization's ability to attract, develop and retain the people they need for future growth and success.
The operative word here is 'people'.  Organizations are living, breathing entities that should reflect and reinforce the spirit of the people who come into them.  A smart organization uses workforce planning — through their people — to set the strategic direction for building their skills, culture and competitiveness, and being ready to flex to the (inevitable) unexpected.
In other words, put the 'human' back into 'human resources' – and your workforce planning.
Especially in a time where frequent, deep workforce disruptions have become our new normal, organizational agility in planning is essential to survival.
Why is workforce planning important?
The aim of workforce planning is to keep an organization appropriately staffed and skilled. It equips the organization to meet its specific business priorities, while keeping within budget and avoiding excessive overheads.
Without effective workforce planning, the organization could quickly become chaotic:
losing key people and not being agile enough to replace them in a timely way
expensive agency or consultancy fees for temporary cover
overstaffing with its attendant excessive payroll
understaffing and unable to meet customer demand
Low employee morale and engagement due to chaotic lack of planning
The most savvy organizations, however, listen to their employees to understand where the opportunities and gaps are in the workforce before those cause chaos. Tools such as continuous listening, surveys and ad-hoc pulse programs are invaluable to get insight into what's going on, and take action.
Our 5 steps for effective workforce planning
1. Set the direction for strategic workforce planning
Start with these questions:
"Where are leaders taking the organization in terms of product, service or outcome to be delivered?"
And based on that: "What are the key skill sets the organization will need for that future state to be successful?"
"What kind of organizational culture do leaders want to create that will support our business goals?"
These will set the vision that you can use to inform the business plan, strategic objectives, goals, budgets and resources.
Ask these questions in a pulse survey to leaders, and then feed the responses back to them so they can validate them.
2. Supply and demand analysis
Then you'll need to look at your talent pool, to ascertain whether you have enough skilled people to service the demand now and in the future. Or have you got too many people?
You can do this with pulse surveys:
Pulse leaders to let you know what skills are required for the future business direction
Pulse managers to assess whether their current employees have the right skills required for performance now, and for future needs
Pulse employees (this is best practice) to ask whether they feel they have the right skills for today, what skills are missing, and what skills they want to develop for future roles
Survey analysis will reveal: intent to leave, drivers of attrition, drivers of retention, employees' willingness to upskill/reskill and what skills they are interested in pursuing, how well the organization meets expectations for cultural fit and what you could do to develop a better culture.
As well as surveys, you can use other employee research tools to gauge how your workforce feels about their experiences with the organization, and where they think the gaps are.
3. Gap analysis
You've identified the workforce gaps. Now how can you close them? Do you need to upskill employees? Reskill them? Create new departments? Close old ones?
Sometimes workforce planning leads to major restructuring. If you do this, it's essential to use employee listening such as Qualtrics® People Engage to manage the change associated with that disruption.  Listen to what affected employees need, and design a restructuring experience that will prevent departing employees damaging your brand reputation by badmouthing it. And listen to what your remaining employees need as they survive the departure of their colleagues.
4. Develop and implement solutions
You've identified what you need to do to close the gaps, now you need to take practical action. You may need to hire more people, bring temporary workers or contractors into your existing workforce, and maybe upgrade technological processes to meet changed business needs.
If you're bringing in a multi-sector workforce, you'll need to manage it carefully to prevent internal friction that can distract employees from full performance.
For those organizations electing to hire more talent, candidate experience is your friend here – listen throughout the recruitment and hiring process so you can fine-tune your hiring strategy to reach the talent you really need.
5. Monitor
Use employee listening to monitor the impact of the changes brought about by your workforce planning. Be ready and agile enough to jump on any issues and sort them out immediately.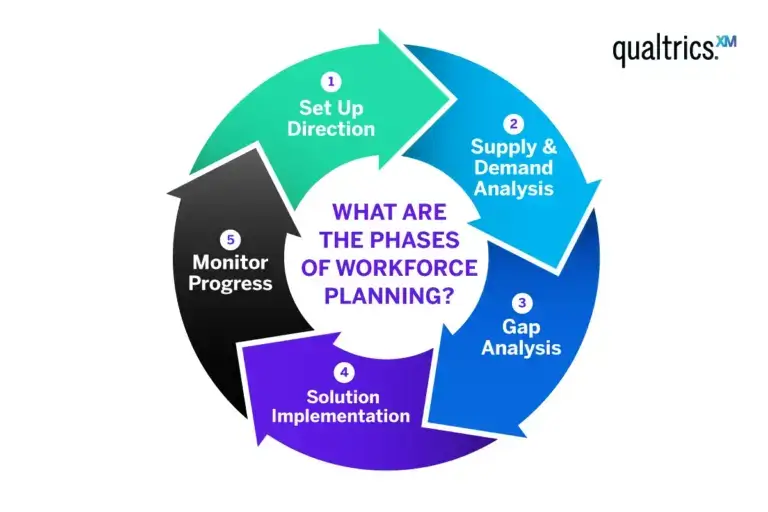 Workforce planning tools
There are various tools you can use to help with workforce planning. These include:
The 9-box grid
The 9-box grid is a traditional employee assessment tool that divides and plots your people across 9 key data points. The grid is used to evaluate each employee's performance level and potential for growth, fitting them into each of these 9 segments.
| Low | Moderate | High |
| --- | --- | --- |
| Low performer with high potential | Moderate performer with high potential | High performer with high potential |
| Low performer with moderate potential | Moderate performer with moderate potential | High performer moderate potential |
| Low performer low potential | Needs development | High performer low potential |
At Qualtrics, we don't really like this sterile approach. We strive to make business more human, and the traditional 9-box grid tends to treat people as check marks in a box. If you must use it, a more human-centric grid would be: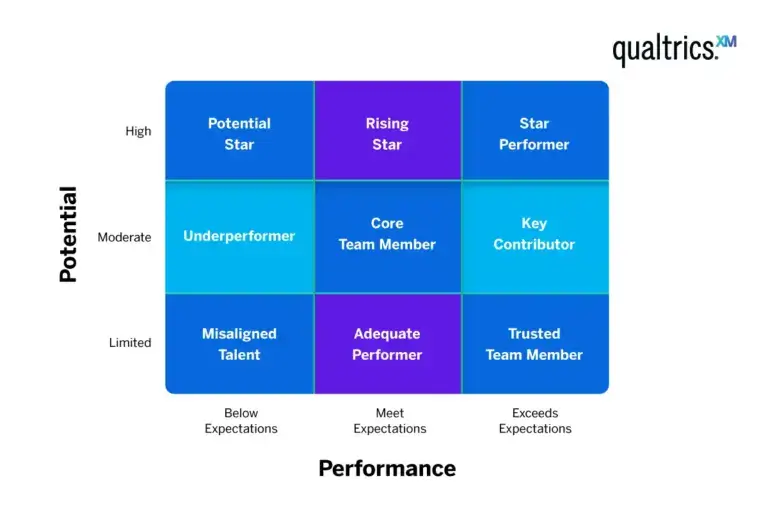 HR analytics and reporting
The best people analytics software helps you gather holistic, organization-wide insights from any channel where employees share feedback. You'll be able to analyze emotion, sentiment, intent, effort and reactions in real time, and:
Pick up early warning signs of attrition – what's really happening in the workplace?
Uncover potential productivity blockers by understanding team performance
Hire the best talent with applicant/candidate experience tools to understand how talent attraction is working and if it's on target with business needs
Identify where to take action to address employee experience issues before they escalate
Compensation and benefits analysis
A very important part of every organization's workforce planning is attracting and retaining world-class talent – especially today.
Having the right mix of compensation and benefits is vital to getting your best people to stay — and attracting the right talent to help close the gaps.
As part of workforce planning, it's not just about what you'll pay for the best, it's also about how you plan to help those people grow and support them both inside and outside work (benefits).
Great people change over time: a talented new hire rises up the ranks, maybe raises a family and wants to slow their career trajectory to focus on them, and then wants less work stress later in their career.
Finding the right balance is therefore crucial. Our Benefits Optimizer helps your people choose which benefits they value most, so HR teams can prioritize what to offer.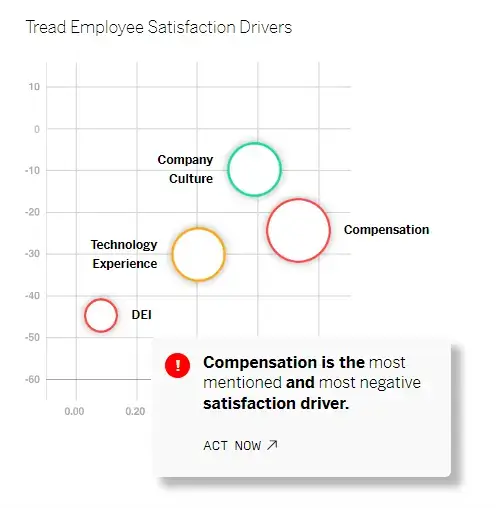 Employee experience solutions
HR leaders and talent planners need an undiluted, crystal-clear view of where things are happening in the organization, and what needs to (or should) change. A holistic understanding of the end-to-end employee experience is what is required.
EX solutions such as Employee XM® will help you understand what's really going on in your organization. With powerful employee sentiment analysis tools, you'll be able to:
Listen to what employees are saying, wherever they're saying it
Know why people leave
Help your best people stay
Understand what's driving employee experience, engagement, productivity, intent to stay, and much more
Trust Qualtrics with your workforce planning process
As we've discussed above, it's critical that organizations understand how their employees feel (and how well they feel they're performing) to see where opportunities, successes and gaps are.
Our research and stakeholder engagement capabilities empower CHROs and their teams to give organizational leaders the deep and timely insights they need to drive organizational effectiveness:
Employee research
Employee Research helps HR teams to author and distribute surveys, collect and analyze data for two core types of needs:
HR teams that want to increase the use of employee feedback for situations and decisions that fall outside of a normal employee engagement cycle or lifecycle moment
HR teams that are starting to recognize employee experience as a strategic priority but are not ready or equipped to build out a fully-fledged employee listening program just yet
For workforce planning, the best insights come from the employees themselves, who are living and breathing their jobs every day.
Pulse
The annual engagement survey doesn't really cut it anymore. Leaders need to understand what employees think, feel and care about — not just about their jobs but also their personal lives.
This increased listening  offered by pulse not only supplements existing programs, but also provides greater depth for the 'moments between moments'.
From a workforce planning perspective, the kind of insight offered by pulse is paramount because leaders rapidly find out how employees feel about their jobs, their performance, and the organization.
Continuous Listening/EX Discover
Organizations ideally need a solution that allows them to capture employee feedback wherever, whenever. This enables them to know exactly what their people (and the organization as a result) need, even if they don't send out a survey or pulse.
EX Discover is a powerful sentiment analysis tool that empowers HR leaders to listen to what employees are saying, on whatever channel they are saying it (Slack, social media etc).
From a workforce planning angle, EX discover automatically identifies, categorizes, and prioritizes key attrition issues from employee feedback, so you can automatically take action to improve the employee experience and retain the best talent. This in turn increases brand advocacy, helping to attract the best people.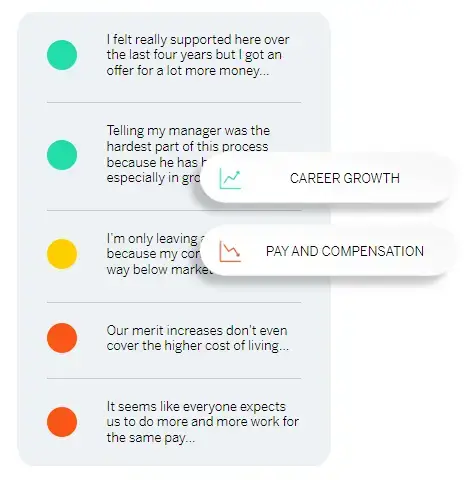 Experience Optimiser
With our Experience Optimiser, you can attract the best candidates with competitive reward and compensation packages. You can turn your employee feedback into the perfect benefits package to attract the most suitable candidates.
It helps you plan your workforce effectively if you need to support or expand specific teams because it improves the attractiveness of your organization as a great, rewarding place to work to high-quality, talented people in the market.