---
Employee listening is a pivotal part of the employee experience. Offering a best-in-class employee experience has become critical to an organization's success – from attracting top talent, to increasing employee engagement across the entire employee lifecycle. And employees themselves are keen to play a part in building an incredible workplace culture. Our research found that 77% of employees wanted to give feedback more often than once a year.
Other research found: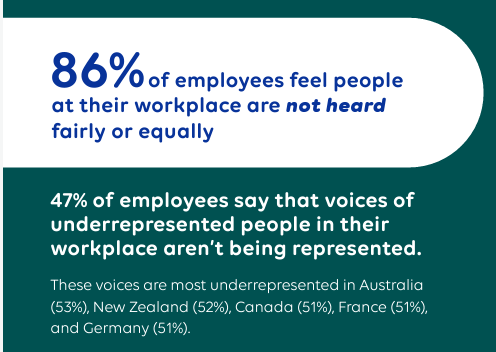 Watch a limited release of the X4 Summit 2023 sessions on demand
Why is employee listening pivotal for business?
Employee listening will ultimately boost employee engagement
Employee engagement is essential for a business because it affects:
productivity
absenteeism
ability to innovate
adapting more easily in times of disruption and change
When people feel they are being heard, they are more engaged with their organization and their work. And when a company listens, then takes action on its employees' feedback to make improvements, people feel they belong. And belonging is the top driver of employee engagement.
Here are some enlightening statistics from The Workforce Institute at UKG:
Employees who are highly engaged are three times more likely to feel heard at work (92%) than highly disengaged employees (30%)
Employees who have a high sense of belonging are more than three times more likely to feel heard at work (95%) than employees who have a low sense of belonging (25%)
(86%) of employees feel people at their organization are not heard fairly or equally. Of those, nearly half (47%) say that underrepresented voices: employees identifying as underserved races and ethnicities, and essential workers younger workers, are undervalued by their employers.
Employee listening boosts productivity
Listening helps build trust between employees and customers. Teamwork, confidence and productivity can be enhanced by listening to employees' suggestions.
74% of employees are more effective in their work when they feel heard, with 71% feeling sufficiently confident to share their feedback and ideas in the future.
Employee listening helps retain talent
34% of employees would rather look for a position on a different team or even at a different company than share their concerns and views with management. Listening to employee feedback, embracing it and taking action may mean the difference between retaining a top performer and having to go to the expense of recruiting someone to fill their role.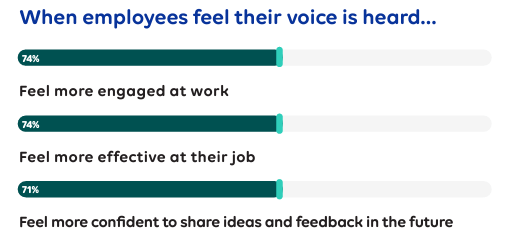 What is an employee listening strategy?
Some HR leaders continue to struggle with how best to listen to their employees and take action to improve the employee experience. Traditional mechanisms – e.g. the annual survey – have outlived their usefulness when it comes to turning feedback into action. And experience gaps emerge when HR teams don't understand what their employees really want – either because they're not gathering the right feedback, or not listening often enough.
They need an employee listening strategy. This is an initiative to understand your valuable people better, and improve their employee experience. It's specially designed as continuous employee listening – gathering real-time feedback from mechanisms such as multichannel listening, employee surveys, engagement surveys, focus groups, and performance reviews.
Why do I need an employee listening strategy?
1. To understand your employees' needs
Most business leaders will say that they offer their workers a positive employee experience. The workforce's perspective may be in reality quite different. In a changing world of work with a distributed workforce, it's essential you know how people feel, wherever they are in the world.
2. To strengthen your relationship with your employees
When people are listened to and valued, they know they are important to the organization. They will be more engaged, the relationship between management and employees becomes stronger, and there's a healthy turnover rate.
3. To inform you whether your employee feedback actions were successful
You asked, they gave feedback, you acted. Now you need to know if the actions you took as a result of the survey responses have been effective. A continuous listening strategy will help you know whether your actions have been successful – in real time.
How to build a successful employee listening strategy
1. Identify an issue to be solved
You cannot listen to and act on everything. So for your employee listening strategy to be a foundation to build upon, identify an issue that needs addressing – the 'what?'.
Then delve into the 'why?' Why is the problem happening? Why is this important?
2. Communicate, explain, be transparent
Keep employees in the loop right from the word go about what your surveys or focus groups are intended to examine and resolve. Clear explanation of the 'what' and the 'why' will encourage project participation, a good response rate, and trust. And of course implement the correct governance so that the responses are private and secure.
3. Decide how you will gather the information
Online surveys and an employee listening tool such as EmployeeXM™ are a tried and trusted way to listen to your employees. Savvy HR leaders move away from annual engagement surveys: choose a pulse survey, or 360 feedback, or a one-on-one performance review survey. Focus groups can yield valuable information too.
4. Collect and analyze the data
Firstly, beware of survey fatigue – the result of sending out so many employee surveys that your workforce gets bored of taking them. Then design your survey. We have a whole comprehensive guide on employee engagement surveys: what questions to ask and why, here.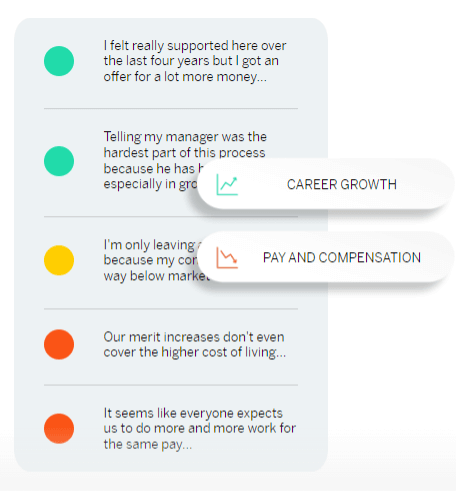 5. Act on the feedback
It's essential that feedback gets acted upon to demonstrate that the employer is listening – and in a timely way. Where feedback cannot be actioned, an explanation of why not must be forthcoming, otherwise employees will question why they should even bother filling out surveys.
6. Keep measuring the results
Don't stop at the 'act on the feedback' stage. Keep monitoring those actions with employee listening to make sure that what you put in place as the result of feedback has improved.
3 examples of innovative employee listening
Here are 3 examples of how EX leaders have used technology to listen to their employees in more effective ways and improved overall employee experience:
1. Giving every employee a voice – in a scalable way
Companies that want to make their organization customer-centric know it doesn't happen overnight. It's not a case of asking a few customer-centricity questions in the annual engagement survey. It's something that really needs to live and breathe in the day-to-day environment.
We're often asked by organizations how they can provide employees a way of giving feedback on their own terms – especially regarding topics that have no end-date, or so that employees can recommend new, better ways of serving customers.
We worked with one company to offer employees a portal through which they can share their ideas to improve a product or a customer experience.
When they submit their ideas, it's not just an open text box or an email into the abyss. Each employee can follow the progress of their idea and see how it's acted on over time.
They can also vote or downvote their peers' ideas, enabling the organization to see what employees' main concerns are.
What makes this innovative?
It makes every employee a part of customer-centricity – even those that don't interact with customers directly
Employees feel empowered to share their feedback…on their own terms, and when they're interested in sharing it
The organization is prepared to follow up on employee feedback using specific tracking features
It democratizes data by allowing employees themselves to prioritize the actionable insights they think will work best for customers
2. Using the company intranet to meet employees in the moment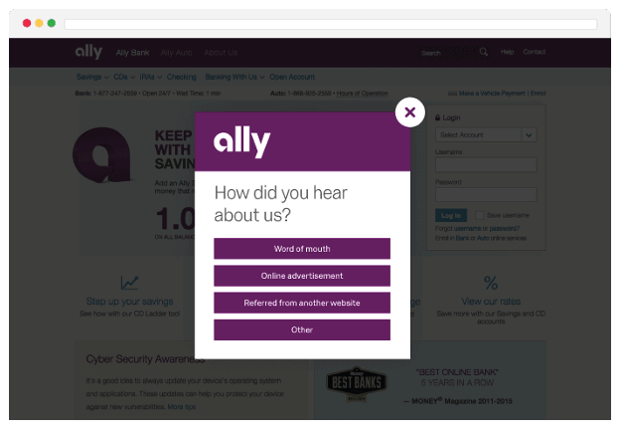 Intranets are something most of us use on a day-to-day basis. And many of us spend too much time struggling to find the information we need.
One company we worked with heard through its annual employee engagement survey that employees' productivity was being severely hindered by limited access to resources and the right information.
They wanted to find a root cause of those issues, at the point when an employee was trying to search for something on their intranet or access a specific resource. Instead of just using a point in time survey to gather feedback, this company used a 'site intercept' – a pop-up window when an employee had been on a page for a certain amount of time or been through a certain number of pages.
On that pop up were a couple of very brief questions about whether or not they were able to find the resources that they needed. If not, the organization could take the feedback and make specific changes to how their employee intranet is organized.
What makes this innovative?
It's easier to measure if investment in an intranet is having the desired effect or whether there remains work to be done
You can close out a survey in a more helpful way – for example, instead of a generic "Thank you", companies can serve up relevant and helpful content based on responses
3. Gathering feedback at a time of upheaval and change
Since 2020, there has been a huge amount of upheaval for nearly every company, and feedback is particularly crucial at this time. Mergers and acquisitions too are a heightened time of change, particularly for the company being acquired.
We worked with one company going through a mergers and acquisitions process. The acquired company had established an integration team to focus on the critical months post-acquisition and support the change management process. As part of its remit, it was tasked with measuring integration effectiveness and understanding the support that employees felt that they were getting.
We helped the company improve its own feedback process with other real-time triggered alerts. So when an employee completed a survey, and they used certain words in their open-text responses on the change process, the integration team would get an alert. This meant the team was able to respond to issues faster and didn't have to crawl through thousands of responses manually.
What makes this innovative?
The integration team could proactively manage issues and concerns during a time of change
The integration team could focus on what matters most to employees, based on their own feedback
Enables a company to respond quickly to any issues instead of allowing problems to develop and escalate
It's a better experience for the people on the integrations team because they're getting real-time insights to maximize their effectiveness.
Listen across every channel
With an employee listening strategy and the most comprehensive suite of listening tools in place, you'll be able to go from sometimes asking for feedback to always listening for it. You'll bring in experience data from any channel, and the analysis will highlight experience gaps while delivering automatic recommendations on the actions you need to take to resolve them.