Customer Experience
3 ways to build a customer-centric culture
The customer is always right. Right? Whether you agree or not, the customer should always be the main focus of your business. Senior Principal Analyst at the Qualtrics XM Institute, Aimee Lucas, explains how to create a customer-centric culture that's at the heart of your organization.
Aimee Lucas knows XM (experience management). After all, she has more than 18 years of experience building successful CX (customer experience) programs.
But for XM to flourish, employees at all levels — especially leaders — have to support continuous experience improvement. In other words, this means it's not just a one-off task, it means weaving CX into the very fabric of your culture. But what do we mean when we talk about culture? Aimee explains...
'Culture is how employees act when no one's looking'
"Culture is how employees think, believe and act," Aimee says. "Culture is how your employees behave when no one is looking." So how can you embed a customer-centric culture into your organization?
1. Lead with purpose
Aimee says that leading with purpose is not about being a nice person or a likable manager. "It's about acting in a way that motivates employees and creates a higher-performing organization."
Aimee argues that purpose is what will align, motivate and empower your organization. "It's important to communicate and embrace a consistent set of brand values," Aimee says. "Those brand values are the heart of your customer experience strategy.
"Brand values define as an organization how you want to treat your customers. And when everyone in the organization understands that purpose, believes that purpose, embraces those brand values, then the organization is on a path to consistently deliver experiences that resonate with customers.
"Leading with purpose means you're focusing on the fact that values drive behaviors."
"An organization must articulate and commit to a clear purpose that aligns all employees day-to-day decisions and is more compelling than simply increased profits.
"And because leaders are ultimately responsible for ensuring that an organization behaves is that cohesive unit, they themselves must demonstrate what we call the 5 Ps of purposeful leaders."
The 5 Ps of purposeful leaders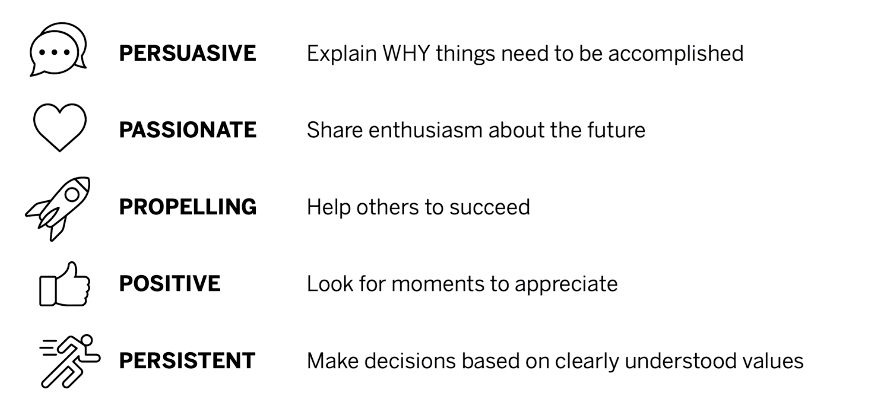 2. Make change a habit
It's important to get employees in the habit of accepting and promoting change. This is because organizations naturally support that status quo and the people that work for them are creatures of habit, according to Aimee.
But it's crucial that we get into the habit of accepting change. Even if it's small.
"Every day we're bringing in X- and O-data that's helping to show us where we need to make changes," says Aimee. "We've got to find ways to build that muscle that helps people prepare for ongoing adjustments with a little resistance to making changes.
"We need to actively learn from successes and failures. Sometimes during transformations things work. Other times they don't, and both successes and failures can teach the organization lessons and those lessons should then be reapplied to future activities.
"So for these efforts to be successful, many employees have to do things differently. And doing something differently requires the complete destruction of the status quo.
"As Pablo Picasso said: 'every act of creation is first of all, an act of destruction.' Picasso was probably not thinking about customer experience," Aimee jokes, but then again — there is truth in this, after all: "any major initiative requires significant change, typically crossing over organizational boundaries."
3. Propel insightful decisions
That brings us neatly to our third way: using analytics to grow the use of data-driven insights. Organizations need to create a mindset for using experience management data to run their business and evolve well beyond just looking for a readout of metrics.
In a data-driven organization a few things are clear. The first of which, according to Aimee is that facts trump intuition.
"The organization is compelled to make decisions based on facts rather than gut feel."
Aimee explains that traditionally, CX programs merely ask the question, 'what's the score?' But this isn't enough. To get real insight we need to not only be measuring, but describing why something is happening, then predicting what will happen next, and most importantly prescribing what to do about the problem. This, Aimee explains, is where the insights start getting juicy.
"Being able to predict where the largest impact of a poor experience will be can be incredibly helpful in directing effort where it is more important to the company."
"It's about bringing your O-and X-data together to uncover specific prescriptions of what actions it should take to address the experience issue you're having."
This means you're saving time and money misdirecting your efforts into things that just aren't valued by your customers — and instead leaving you time to focus on the things that'll make a real difference.
Want to Hear All 5 of Aimee's Insights?
Related Articles